THIS POST MAY CONTAIN COMPENSATED LINKS. FIND MORE INFO IN MY
DISCLAIMER
.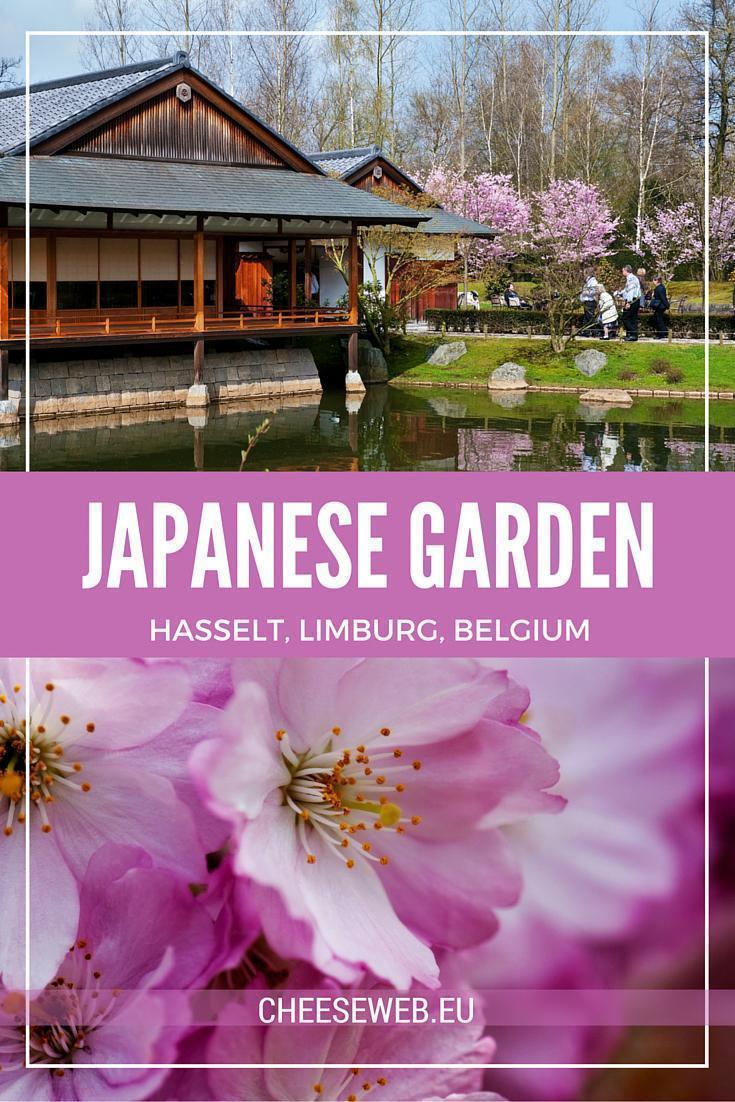 Just when I was lamenting the lack of things to write about, I suddenly find myself with a whole hat full of things to tell you. I'll begin by posting about our Sunday outing to the Japanese Garden in Hasselt.
I had read about the Japanese Garden a few months ago while I was researching gardens for photo shoots. I was surprised to find that Belgium had a Japanese Garden at all, let alone the largest one in Europe. It turns out that it was built in 1992 with the help of Hasselt's sister city, Itami, Japan and is based on a 17th-century tea garden.
We arrived at the garden around 2 pm as it was opening for the afternoon. It was the first open weekend of the season and we couldn't have chosen a better day to visit. The weather on Sunday was beautiful, wrapping up a week of 17-20 degree temperatures. The cherry blossoms, which were my main reason for visiting, were in full and glorious bloom, made even more dramatic because the leaves were just barely emerging from their buds. The pink and white blossoms stood out brilliantly against the blue sky.
We were also treated to a Japanese drum performance by Belgian group Feniks Taiko. The group was energetic and the beats were lively. It was definitely fun to watch.
The only downside to our visit was the crowd of people who flocked to the garden to enjoy the sunshine. I'm sure on a weekday morning it's a fairly tranquil and peaceful place. It was far from tranquil on Sunday.
After we left, I noticed in the garden guide an advertisement for the largest garden centre in Benelux. Well, the timing couldn't have been better. I've been planning 'Terrace Makeover 2009' for months now. Since we will be spending the summer in Brussels this year, and we are without a yard, I want to make our terrace a beautiful and relaxing place to be as well as a useful supplement to my kitchen. For me, this involves flowers, cooking herbs and maybe even a few veggies if we have space. So, we programmed the address into the GPS and made our way to the greenhouse.
What we weren't anticipating was that everyone else in Belgium had the same plans for a sunny, Sunday afternoon. It was so busy there were parking attendants and we were directed, by orange air-traffic controller batons, to the overflow parking lots.
It was big, and it was packed. My crowd tolerance was already at a lower level from the Japanese Garden but we did manage to find a few things I was looking for and make a quick and (relatively) painless escape.
Monday I put phase one of the terrace makeover into effect. I moved some furniture around, potted up some herbs, planted salad leaves, installed my newly purchased passionflower vine on my wall and made a little ice plant garden. Once (if) things start blooming, I'll post some photos. (Update: click the following link to see photos from Project Terrific Terrace.)
For now, you can see more photos of the Hasselt Japanese Gardens on my photography site.
Latest posts by Alison Cornford-Matheson
(see all)