THIS POST MAY CONTAIN COMPENSATED LINKS. FIND MORE INFO IN MY
DISCLAIMER
.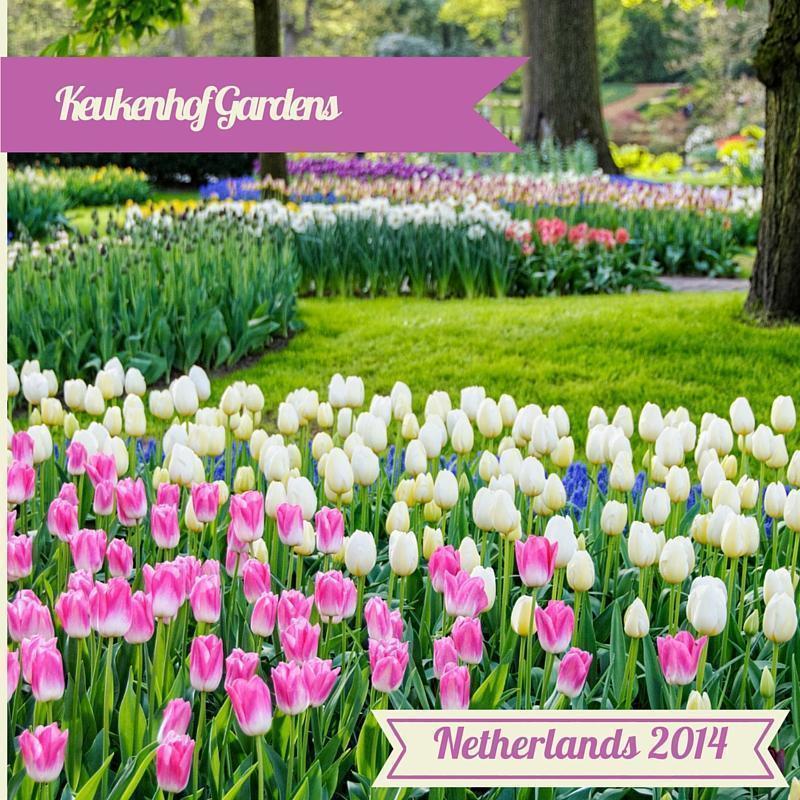 Keukenhof Gardens in Lisse, the Netherlands is synonymous with tulips. We've visited Keukenhof nine times, since 2005, and I thought I knew everything there was to know. However, last weekend, we were invited to talk to a few of the people who work behind the scenes. Their stories were full of surprises.
Today, I'd like to share 25 facts you may not know about Keukenhof Gardens and the iconic tulip, as well as my favourite photos from our past nine visits.
All About Keukenhof
1. 2014 is Keukenhof's 65th opening to the public.
2. Keukenhof is only open eight weeks each year and, in that time, welcomes 800,000 visitors.
3. Nearly 50 million people have visited Keukenhof since it first opened and, nowadays, 75% come from more than 100 countries abroad.
4. More than 7 million bulbs are planted in Keukenhof's 32 hectares (79 acres), which are supplied, for free, by 100 bulb growers.
5. The gardeners dig out these bulbs, at the end of each open season, and destroy them (by order of the growers). Most are used as food for livestock.
6. Each year, Keukenhof has a different theme. For 2014, the theme is Holland, represented by a 23x13m mosaic made of 60,000 tulips and muscaris. The mosaic shows a row of traditional canal houses beside a giant tulip, demonstrating how the tulip once cost as much as a house.
7. Keukenhof launched a new interactive exhibition on Tulip Mania this year, showing how the tulip came to be synonymous with Holland.
8. There are about 30 full-time gardeners, who work year-round at Keukenhof.
9. Each autumn, the gardeners plant the bulbs, by hand, in a completely new design. It takes about 3 months. The bulbs are selected to bloom throughout the eight-week opening period.
10. The bright green grass, around the park, is a special quick growing variety, needed to cope with the shady trees. It is reseeded each year.
11. In addition to the tulip gardens, Keukenhof also hosts a Japanese garden, an English landscape garden, a spring meadow, a natural garden, a historic garden, a garden maze, and seven inspiration gardens that are different each year.
12. Inside each of the three main pavilions, 30 flower and plant shows take place, each year. A panel of experts chooses the best example in each category.
13. Although known for tulips, Keukenhof is home to the world's largest lily show, during the last ten days of the opening season.
14. Keukenhof began, in 1857, as an English landscape garden, designed by the Zocher firm, who also designed Vondelpark in Amsterdam.
15. Keukenhof's name has even older origins. Countess Jacoba van Beieren owned the land in the 15th century. The uncultivated land was used for hunting and gathering herbs for the castle's kitchen, hence Keukenhof, or Kitchen Garden.
16. Twenty Dutch bulb growers came together, in 1949, with a plan to use Keukenhof as a showcase for spring bulbs. The following year, the park opened to 236,000 visitors.
The History of the Tulip
17. Despite its long association with the Netherlands, the tulip actually originates in the Tian Shan mountain region of the Himalaya.
18. Tulips came to Holland via Turkey, in the 16th century, where sultans organised tulip parties each spring.
19. The first tulips actually appeared in Antwerp and Mechelen around 1560 and, in 1593, were installed in the Hortus Botanicus in Leiden, by Carolus Clusius.
20. 'Tulip Mania' reached its peak in Holland between 1634 and 1637, when one bulb could fetch more than a thousand guilders, more than the cost of a canal house in Amsterdam.
21. The striped tulips, so popular in the 17th century, got their colouring from a virus, transferred by aphids, only discovered in 1931. These days, multi-coloured tulips are bred to look that way.
22. Dutch tulips have a Canadian connection. In 1943, Princess Margriet was born in the Ottawa Civic Hospital, as the Dutch royal family was being sheltered from the war. The maternity ward was declared international territory so she would inherit only her Dutch citizenship from her mother, Princess Juliana. Each year, the royal family sends 10,000 bulbs to Ottawa for the tulip festival. Three plaques (in English, Dutch and French) sporting the Canadian coat of arms, adorn the Juliana Pavilion in Keukenhof.
The Tulip Today
23. Growing 4.2 million bulbs a year, the Netherlands is the world's largest producer of tulip bulbs. Half of which are exported.
24. There are almost 2000 varieties (or cultivars) sold commercially and about 100 new cultivars are added each year.
25. The main bulb-growing region of Holland stretches from Leiden to Haarlem. The number of hectares for bulb production has increased from 10,000 hectares in 1960 to more than 23,500 hectares in 2007. However, the number of growers is decreasing, from 13,000 in 1960 to only 2000, in 2007.
Bonus Tulip Fact
26. Although you can't pick the tulips at Keukenhof, we've discovered somewhere you can create your own beautiful tulip bouquet – Annemieke's Pluktuin. Annemieke, the wife of tulip grower, Pieter, started this gorgeous garden as a hobby. It has since turned into a booming (blooming) business. Organically grown tulips of all colours and varieties are only .20 a stem. Once the tulips have faded, Annemieke replaces them with beautiful summer flowers. Taking home blooms from the Pluktuin is a perfect way to end your tulip-filled visit at Keukenhof.
We first visited Keukenhof Gardens back in 2005. It was the most beautiful garden I had ever seen. Although I had always been interested in nature photography, that first Keukenhof visit sparked my passion for garden photography.
While researching this article, I went back through all of my Keukenhof photos and was surprised to see how it (and my photography) has changed over the years. Here are my favourite photos from each year of our visit.
If you are planning a visit to Keukenhof this year, the garden is open from March 23 until May 21, 2017. Then the gardeners will be busily preparing for next year. If you want to know when to plan your visit, read our article on the Best Time to Visit Keukenhof Gardens.
Coming up, we'll have a video with more from our behind the scenes visit to Keukenhof, including our interview with one of the head gardeners. Stay tuned!
Latest posts by Alison Cornford-Matheson
(see all)