THIS POST MAY CONTAIN COMPENSATED LINKS. FIND MORE INFO IN MY
DISCLAIMER
.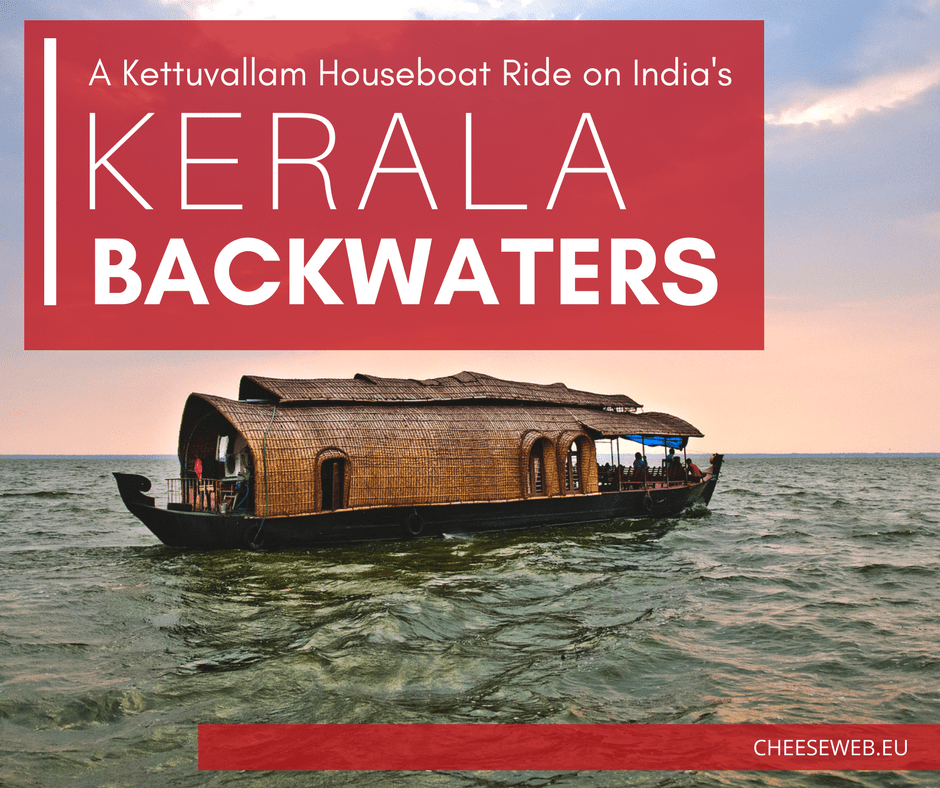 Although Andrew and I were disappointed to leave the Taj Kumarakom so soon, we were looking forward to our last day in Kerala. About a year ago, I read an article, in a travel magazine, about exploring the Kerala backwaters by houseboat and I was excited to spend our final day doing just that.
Nothing is ever quite as easy as it seems in India. Although our driver picked us up right on time that morning, we had quite a distance to travel to get to our boat. As time ticked by, it became apparent our driver didn't know where he was going. I was getting worried. We only had four hours to enjoy our houseboat trip before we had to leave for our flight back to Bangalore.
Finally, we convinced the driver to call for directions, and we found the boat dock. We could be happily on our way… or not. It seemed no one could find our reservation. Another frantic phone call to our travel agent and we were finally on our way.
The Kerala houseboats, or Kettuvallam, are famous for their unique, traditional, thatched roof design.  Although the houseboats vary in shape and design, they all share the basket-like roof, giving them the nick-name, basket boats. The name Kettuvallam comes from the Malayalam language, where "kettu" means "to tie" and "vallam" means boat.
Traditionally, the Kettuvallam were used to ship goods like rice and spices and could hold up to 30 tons. These days, however, the houseboats almost exclusively ferry tourists from all over India and abroad, through the narrow waterways of the Kerala backwaters.
The Kettuvallam Andrew and I spent the afternoon on was one of the smaller houseboats. Even so, it was plenty big for the two of us. The houseboat had two small bedrooms, with en-suite bathrooms, a kitchen and a living-room area, at the front of the boat, behind the captain. Our crew consisted of one young man, who spoke limited English and one older man, who spoke none at all. (We thought they were related but couldn't quite get the story).
Despite our protests that we were still full from the huge breakfast we had enjoyed at the hotel, our crew insisted we eat lunch on the boat. The older gentleman spent most of his time in the galley, preparing our food. It was quite a feast; vegetable curries, daal, popadoms, rice and whatever beverages we desired. In fact, when Andrew agreed to a beer, the boat was pulled up in the nearest town, and a few minutes later our host appeared with two cold bottles.
Most of our four hours were spent sitting in the living-room area, behind the captain, watching the scenery slowly slip past. I wasn't entirely sure what to expect of the Kerala backwaters, but it was even more beautiful and colourful than I anticipated.
The abundance of water keeps the landscape looking lush and tropical. Palm trees tower over the small, one level houses and thick vegetation sprouts up from every corner of ground that isn't developed.
Contrasting with every shade of green imaginable are all the brilliant colours of the rainbow. Every building is brightly painted, and the pathways are strewn with laundry-lines with patterned fabric waving like prayer flags in the breeze.
During our visit, a political campaign was underway, and every stationary surface was plastered with posters of local politicians. Kerala is one of the three Communist states in India. As such, it has the highest literacy rate in the country, as well as the longest life expectancy. And while the poverty didn't seem quite as crushing here as we had seen elsewhere in India, the dichotomies still exist.
We cruised past an immense compound with several large cars in the driveway. As we looked at how it towered over all of the small one and two-room houses around it, our captain pointed to it and said "local politician house." It seemed he didn't get the memo about comrades sharing everything equally.
In the Kerala backwaters, everything happens on the water. Roads are small and slow, so boats are the primary form of transportation. Just like in Venice, the bus system consists of long passenger boats. Our captain pointed out a boat-bus that had just cut us off and sent our houseboat rocking. Apparently, bus captains are as bad as regular bus drivers.
Even though it was off-season, I could see several more Kettuvallams ahead of us and behind us, filled with more tourists, snapping photos and watching the people on the shore. I can only imagine what it must be like in peak-season when the backwaters are choked with houseboats.
Watching daily life happen as we quietly motored by was fascinating, although I couldn't help feeling a bit voyeuristic. People were working, cooking, doing laundry, even bathing in the backwaters, while we looked on from our boat. I couldn't help thinking how I would feel if hordes of tourists wandered by my windows and watched me eat and work and bathe.  As in all of India, as a tourist, you never forget the discrepancy between rich and poor here.
That said, there's no denying the Kettuvallams bring money to the economy of the backwaters. Although our boat trip was only for an afternoon, many tourists spend days, even weeks, sailing through the waterways. Along the way, they purchase fish and other food items from the local communities. Artisans sell handicrafts during the high-season and boats are staffed with local crew members.
The beauty of the Kerala backwaters is undeniable, and I can think of no better way to enjoy it than on a traditional Kettuvallam. It was the perfect way to end our stay in Kerala and India as a whole.
I hope you've enjoyed our series of India articles. We had a fantastic time in this incredible country, and we can't wait to return.
Latest posts by Alison Cornford-Matheson
(see all)
Read more from this series...
Exploring the Kerala Backwaters by Kettuvallam Houseboat