THIS POST MAY CONTAIN COMPENSATED LINKS. FIND MORE INFO IN MY
DISCLAIMER
.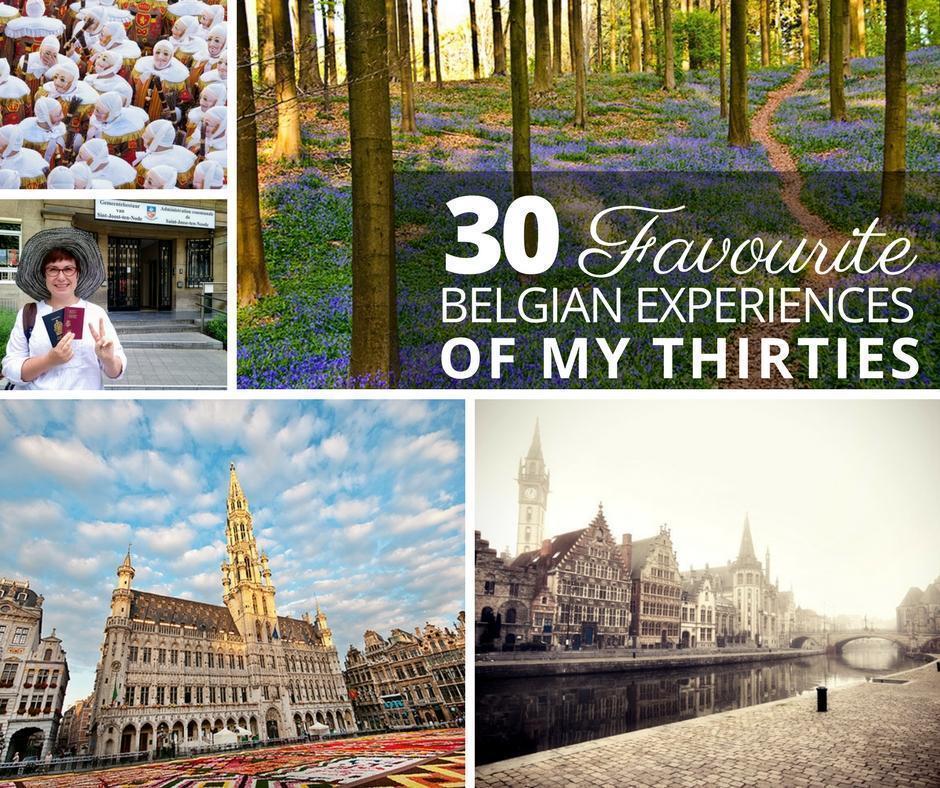 To celebrate my 40th birthday, I'm sharing the 30 best experiences I had in Belgium during my thirties!

Last week I shared my 30 favourite travel experience of my 30s and my 30 favourite foodie experiences, to celebrate turning another decade older. (Hello 40!) However, the bulk of my 30s was spent living in Brussels, and Belgium (and becoming Belgian) is a big part of that story. So today, as the final instalment of the series,  I want to celebrate my decade in Belgium by sharing my 30 favourite experiences in Belgium.
1. Moving to Brussels (May 2008)
We spent our first three years in Belgium living in Flanders, roughly a thirty-minute drive from central Brussels, (give or take a few hours to account for traffic.) After three years of not knowing if we would stay or return to Canada, we finally decided to plant some roots in Belgium. However, we needed to make some changes. We decided to try life in the big city and fell in love with a loft in the heart of the action. It was above our budget, didn't have parking, and we weren't sure if we could handle being smack dab in the middle of the city. It turns out we could. In fact, we loved our loft so much; we stayed there for seven years; the longest we've lived anywhere. It also changed my life. Not driving in Belgium made living in Flanders hard. My new found freedom living just steps from the Metro gave me the ability to go out, make friends, and discover Brussels on my own terms. I loved our multi-cultural neighbourhood, our weekly market, and the wonderful people that lived in our building (at least until our final years.) I still miss that flat, but it served us well for the majority of my 30s.
2. Starting our Christmas Tradition (December 2008)
Living in central Brussels made us much more active. We could easily walk or take public transportation to go out in the evenings, rather than sitting in traffic and relying on Andrew to drive everywhere. One of the events we looked forward to each year was the Brussels Christmas Market. In December of 2008, we began a Christmas tradition that would stick with us throughout our time in Belgium. We would head down to Grand Place in the evening, order a plate of oysters and foie gras, and a bottle of champagne and watch the light show on the square. Sometimes we would go alone; other times we would share the experience with friends. We didn't miss a year for the rest of our time in Belgium.
3. Visiting the Magical Blue Forest of Hallerbos, Belgium (April 2009)
Belgium has countless secrets waiting to be discovered but none are quite so magical as the 'Blue Forest.' Folks in the know flock to Hallerbos, just south of Brussels, each spring to witness a carpet of bluebells spread out beneath the trees. This natural phenomenon only lasts for a few weeks and then it's gone again for another year, so catching it at just the right time takes a little luck and perseverance. Spring of 2009 marked our first visit to Hallerbos, but it wasn't until a few years later we timed everything just right and witnessed the fading golden light highlighting the bright green newly-opened leaves on the trees and the royal blue of the bluebell forest. Simply Magical.
4. Discovering a Crowd-Free Alternative to Keukenhof in Groot-Bijgaarden, Belgium (April 2009)
Keukenhof Gardens in the Netherlands is one of my favourite places on earth and I've visited a dozen times over the years. As a photographer, I can't resist the colourful displays of tulips and other spring blooms. What I don't love, however, are the crowds. So when I heard about a spring flower show at a castle near Brussels, I was intrigued. Groot-Bijgaarden Castle was suitably picturesque and although the flower displays were much smaller-scale than those at Keukenhof, there was plenty to keep my camera busy for hours. Best of all was the fraction of the people who swarm through the famous Dutch gardens. The Groot-Bijgaarden flower show is yet another under-rated gem of Belgium.
5. Exploring the Ruins of Villers Abbey (May 2009)
There's something about a crumbling romantic ruin that draws photographers in droves. I too can't resist the lure of nature overtaking human creations. Villers Abbey in the south of Belgium is one of the prettiest ruins I've seen anywhere. We were shocked at how accessible it was when we visited. We toured the grounds on our own, with few guardrails or even signs keeping us from close contact with the ancient buildings. The restored medicinal garden was particularly attractive, and we loved how the locals used the abbey grounds in much the same way as a park, picnicking and lounging on the grass beneath the stunning ruins.
6. Photographing Europe's Largest Rose Garden, Coloma (June 2010)
A year after learning about the spring flower show at Groot-Bijgaarden, we heard of an even more impressive Belgian garden not far from Brussels. I later learned Coloma Rose Garden is the largest of its kind in Europe, but when we first entered the garden, we had no idea of its scope. From the outside, Coloma seemed to be a collection of a few gardens blooming with roses on the grounds of an old chateau. As we passed through a gate in a hedge, a mind-blowing array of colourful gardens spread out before us. We passed through garden after garden of roses from around the world in every colour and size imaginable. Even then, it wasn't until we climbed to the top of a lookout tower we could actually see the full size of these impressive gardens. I could have spent days photographing the gorgeous flowers, and it's still my wish to return to Coloma for another photography session.
7. Enjoying a Romantic Night in a Former Church in Mechelen (February 2011)
Andrew is excellent at planning surprises, and over the years, he's booked dozens of fun getaways for us. One of the most memorable though was for Valentine's Day of 2011. Somehow he heard about Martin's Patershof, a luxury hotel in a former monastery church. He booked a romantic weekend including dinner at a nearby restaurant with a floating barge terrace. The entire weekend was lovely, but the hotel's architecture is what stays with me the most. From the stained glass and columns in our room to the dramatic lobby to the breath-taking breakfast room, the hotel seamlessly combines the ancient and modern and remains one of my favourite hotels in Belgium.
8. Learning Canadian and Belgian History in Ypres (May 2011)
We visited Ypres with Andrew's parents back in 2006 to witness the Remembrance Day service at Menin Gate. It was particularly moving for all of us, as Andrew's brother was deployed to Afghanistan at the time. We were only in town for the day and knew we wanted to return. It wasn't until 2011; we made it back to Ypres for a longer stay. Knowing Andrew's passion for military history, I had arranged a battlefield tour package that would take us to several battlefields and cemeteries. Our guide was excellent, and we both learned a great deal. We also visited the excellent In Flanders Fields Museum, which I would recommend to anyone. However, we learned there was more to Ypres than just war history. We stayed and ate at the fantastic Ariane Hotel, explored Ypres green spaces, and poked around in the little shops and cafes. It was the start of a turning point for us that solidified in the following listing.
9. Realising Belgium was 'Somewhere' Worth Writing About in Dinant (November 2011)
When I started CheeseWeb back in 2004, it was simply a personal journal to help me remember our time in Europe. By about 2007, I realised more people were reading my words than just my friends and family back home. I started taking myself and CheeseWeb more seriously and focused on expat issues and the difficulties of being a trailing spouse, in addition to chronicling our travels. Throughout that period, we had been travelling all over Europe, but still hadn't spent much time discovering Belgium. Like everyone, when holiday time came around, we left the country. But in late 2011, we decided that needed to change. If people were turning to CheeseWeb for advice on Belgium, we had better get out and SEE Belgium. We had made a number of day-trips to Dinant previously, but we decided to spend a weekend and get to know the city better. We thoroughly enjoyed ourselves and made some great little discoveries. While it would be years before we'd coin our tagline 'Everywhere is Somewhere,' it was that weekend in Dinant that made us realise we wanted to slow down our travels and spend more time getting to know a place – and one place worth getting to know was Belgium.
10. Exploring German Belgium (January & June 2012)
After our revelation that we wanted to uncover Belgium's hidden gems, we set about choosing corners of the country to base our weekend explorations. I had always been fascinated by Belgium's tiny German-speaking community – and the fact they have equal representation in the government. We decided to visit the capital of the region, Eupen and booked a weekend at two different B&Bs. While both were lovely, we completely fell for B&B Julevi in the heart of Eupen and hit it off with the propriatrice. She gave us excellent restaurant recommendations and told us all about the excellent hiking in the nearby Hautes Fagnes Park. We decided to return and explore for ourselves when the weather got better, and we hit the trails in June. We spent the entire day hiking (with a lunch stop for an excellent German meal) and were completely stunned by what we discovered. It was the first time in Belgium we actually felt some sense of wilderness. It was incredible to be in nature and not be constantly surrounded by signs of humans. But, at the end of the day, it was wonderful to rest our weary bones at the beautiful B&B after an excellent meal at a nearby restaurant. It really was the best of both worlds.
11. Falling For Ghent in a Big Way (March & August 2012)
Like Dinant, we had been to Ghent on various day-trips, but with our new-found passion for discovering Belgium, we decided it deserved more than just a few hours of our time. Our first weekend visit was in March. We toured the excellent city museum and had a few great meals. We returned in August for an art weekend and had a fantastic time exploring parts of the city we would never have visited if it wasn't for the art walk route. The weather was perfect, and we spent almost all of our time outdoors, a rarity in Belgium. Up until this point, Antwerp had always been second to Brussels for us, but after that weekend, Ghent pulled into the lead. I continue to encourage people visiting Flanders to base themselves in Ghent rather than Bruges. While Bruges is lovely in a 'frozen in time' sort of way, Ghent has all the history and beauty of its sister city with a vibrant university town atmosphere. I would certainly consider living in Ghent given the opportunity.
12. Experiencing Three Unique Music Festivals in Flanders (May-September 2012)
By 2012, we had finally gotten on the radar of the Belgian tourist offices (although it would continue to be a struggle throughout our time there). That summer, we were asked to be part of a campaign for Visit Flanders called Flanders is a Festival, highlighting the countless music festivals throughout the region. We both love music and attended concerts on a regular basis. However, when I think of music festivals, I think of crowds, and when I think of Belgium, I think of unpredictable weather, so outdoor music festivals had never been a priority. But when I saw the list of festivals to choose from, I realised there was a lot more to the Belgian festival scene than just the big pop and rock concerts. We chose three festivals I had no idea even existed and ended up having a great time at each one – AND we had good weather! We began with the Afro-Latino Festival where we got up close and personal with Shaggy. It was good fun and gave me the opportunity to hone my concert photography skills. Next, we hit up the Antilliaanse Feesten, the largest Caribbean music festival in the world, located in rural Flanders. This was probably our favourite (although it's hard to choose) and we fell for the Greek reggae band Locomondo. Our final festival was completely different. Laus Polyphoniea is an early music festival held in Antwerp at the stunning AMUZ concert hall in a converted church. Before the concert, we were served a meal inspired by the show, and the setting was simply beautiful. We would likely have never even known about these festivals let alone attended them without the invitation. It was a good lesson that there's so much more to Belgium than meets the eye.
13. Meeting the Animals of the World in Belgium (June & October 2012)
I have mixed feeling about zoos, having been to some excellent ones and some equally terrible ones over the years. But a number of people I trusted had recommended Belgium's Pairi Daiza, so we decided to see for ourselves. From the moment we entered the gates, we knew this was no ordinary zoo. While animals are the stars of the park, Pairi Daiza is also a botanical garden and a cultural showcase. Different areas of the park represent different countries or regions of the world. It's interactive, and in many instances, you can get up close and personal with the animals. We visited Pairi Daiza three times over the years and always found something new to discover. I got to pet a giraffe, have fruit bats fly around me in a former crypt, have a fish pedicure, and see pandas up close. Like so many things in Belgium, Pairi Daiza is a surprise for all the right reasons and an attraction we highly recommend.
14. Photographing the Brussels Flower Carpet (August 2012)
Every second year, Brussels' Grand Place is filled with colour for a few short days, as the world-renowned Flower Carpet is created. We had seen it once, in our early days in Belgium, but often missed it as we usually visited Canada in the summer. In 2012, we had friends visiting, and we knew we had to take them for a look. Luckily, one of our friends is an early riser, and he convinced us to see the carpet for sunrise. Thinking of the photos, I agreed, and I'm so glad I did. We were virtually alone on the square that in an hour or two would be jammed with eager visitors. The light was absolutely perfect that morning, and I was thrilled with the photos I was able to make.
15. Giving Andrew the Ride of His Life (September 2012)
As I mentioned earlier, Andrew is great at surprises. But I have a few tricks up my sleeve too. For his birthday in 2012, I gave him a gift certificate that allowed him to drive his favourite car on a racetrack with a professional driver. The packages, sold by Sprint Racing, offer a whole variety of supercars, but when I saw the Aston Martin v8 Vantage, I knew I had to book it for Andrew. Although his birthday is in May, he didn't have the chance to schedule his trip until September. It was worth the wait – for both of us. Andrew was like a kid in a candy shop and watching him get so excited about driving his dream car on the racetrack was a thrill for me too.
16. Exploring the World's Smallest Town in Durbuy (June 2013)
Belgium has a lot of weird – which is good, because we like weird. One of the country's quirks is the tiny village of Durbuy. It calls itself the "Plus petit ville du monde," (The smallest city in the world). The city status is a quirk of paperwork (imagine that in Belgium) but whether city or village, Durbuy is a quaint and entertaining place to spend a day, as we discovered. There are plenty of tasty things on offer for foodies, from local beer, to goat cheese, to one of the best little gourmet shops we've found in Belgium. There is also a castle and a topiary garden (speaking of quirky) and the town centre is picturesque local stone.
17. Watching Ommegang from the Good Seats (July 2013)
After years of trying to make inroads with the tourism office for Wallonia, I finally made a connection (in the Netherlands for Chinese visitors. But that's a story for another day). Our first official invite was actually for a festival in Brussels – the annual Ommegang Procession. The press trip included some unique events including a subterranean dinner at the former Palace of Coudenberg, a tour of the Port de Hal Museum, and an unforgettable visit to the Crossbow Guild Museum. Of course, the highlight of the weekend was attending the Ommegang Festival itself. As I was taking photos, I was offered excellent seats in the stands to get a bird's-eye view of the procession. Andrew, shooting video, was sitting on the square itself, and was able to get up close and personal with the performers. What a way to experience one of Brussels' colourful pageants.
18. Touring Hasselt with a Local Guide (August 2013)
Writing CheeseWeb allowed me to meet and network with so many fascinating expats in Belgium. While the majority of them were based in Brussels, we knew some others scattered around the country, one of whom was based in Hasselt. She had offered to give us a tour of her hometown if we were in the area, so we decided to book a weekend and take her up on her kind offer. We loved Hasselt and found it had a lot in common with some of the Dutch cities we had visited. Our guide showed us all of her favourite local places and gave us great suggestions for places to eat, including the phenomenal JER, and nearby sights to discover in Limburg Province.
19. Falling for Flowers in Brussels' City Hall (August 2013)
In 2013, Brussels piloted a summer flower festival for the years between the Flower Carpet, called Floralïentime. (Thankfully they changed the name to the more pronounceable Flower Time, for subsequent years.) I was invited to the press opening and was allowed a sneak peek at the flower displays set up inside the City Hall. Not only were the floral designs spectacular but the festival allows visitors an exclusive look inside some of the rooms of the stunning City Hall. It's the perfect counterpoint to the Flower Carpet, and I'm glad the festival has since become a semi-annual event.
20. Discovering Wallonia's Unique Cuisine (August 2013)
When one of my favourite travellers was awarded a foodie tour of some of Wallonia's hidden culinary gems, and she asked if I'd like to join her and another blogger, I readily agreed. We met in Liege and had an insider's look at an organic brewery, an artisanal bakery, the strawberry museum, two local baked goods, and even a snail farm. It's hard to believe so many unique, artisanal foods are represented in such a small area, but we had a great time discovering them.
21. Being Surprised by the Belgian Coast in Oostende (September 2013)
Andrew and I were pretty down on the Belgian coast. We had visited on a number of occasions and found it grey, dreary, and crowded. For the most part, we avoided it in favour of Dutch Zeeland. But an invitation from Visit Oostende changed all that. We were invited to visit the city and discover what it had to offer beyond the beach. The answer – a lot. First of all, we ate incredibly well (which frankly shouldn't have been a surprise in Belgium, by this point). We also discovered some museums and art installations and visited the Atlantic Wall. We took the Marvin Gaye walking tour and even found a stunning little Japanese Garden. We learned (yet again) places have a lot to offer if you take the time to dig beneath the surface.
22. Listening to Mating Calls in the Walloon Woods (September 2013)
I have done A LOT of weird things in Belgium over the years. In any other country, standing around in the pitch dark in the middle of the forest waiting to hear a deer mating call would top the list. In Belgium, it only made it to number two. (We'll get to number one in a moment.) Despite the overall strangeness of the situation, once the stags started to 'bugle' we understood what all the fuss was about. I have never heard anything so eerie in my life. The calls seemed to surround us in the dark and despite our giggles before the event, once the calls began, everyone in our group was struck speechless.
23. Getting Down on the Farm in Geel (November 2013)
I love cheese. I also love goats; all furry creatures for that matter. So when we heard about Debbie & Stuart's smallholding in Geel, we wanted to check it out. In addition to making delicious goat cheeses, hosting farm-to-table dinners, and running classes on all manner of interesting topics, Debbie and Stuart are genuinely kind and open people. They also have a whole bevvy of adorable animals. November 2013 was our first visit to the farm, but it certainly wasn't our last.
24. The Single Weirdest Moment of my Life in Binche (March 2014)
Listening to deer mating calls was a weird hour of my life. Attending the Binche Carnival was three solid days of uniquely Belgian strangeness – in the best possible way. I watched costumed adults throw oranges at each other, witnessed some of the craziest costumes I've ever seen, I even sang and danced with strangers. But the single weirdest moment of my life (thus far) was standing in a stranger's living room, drinking champagne at 4 am watching as a daughter stuffs straw down her father's pants. As odd as it was for me, it must have been even stranger for the family to have half a dozen unknown journalists in their house drinking their booze and photographing this emotional event. Because while the Binche Carnival is a huge party, it's also a historic tradition participants take part in year after year and even generation after generation. So despite its weirdness to me, this festival is something so ingrained in the fabric of Binche and the surrounding communities, nothing could be more normal than taking part each year. It is an experience I will never forget and something I am truly grateful to have witnessed firsthand.
25. Photographing the Venetian Carnival in Annevoie (April 2014)
Photographing the Venetian Carnival is, I'm sure, an extraordinary experience. Photographing it on the grounds of a Belgian chateau is surreally Belgian. For some reason, which remains unclear to me, each year, the Chateau d'Annevoie hosts dozens of fully costumed Venetian Carnival participants for a weekend event. It begins with a parade, followed by opportunities to photograph the costumed participants up close around the gardens. As a photographer, the event is spectacular. The costumes are hand-made and incredibly detailed. The colours and decorations are a feast for the eyes. It is a must-see event in Belgium.
26. Becoming Belgian (June 2014)
When we landed in Belgium in 2005, for what was supposed to be only two years, I never dreamed what an impact the country and its people would have on me. Even when I began the paperwork to become a Belgian citizen, it was more about creating options for the future than actually becoming Belgian. But in June of 2014, when I was unceremoniously handed my brand new Belgian passport at the St. Josse commune, it started to hit me; from here on out, I would have two homes in the world, not just in my head or my heart, but by law. I still identify as Canadian, reflexively. It's my birth country and will likely always feel like my primary nationality. But becoming Belgian has meant so much more than me than getting a legal document. My connection to this small, quirky country has been solidified. It will always be part of me and I of it.
27. Going Back in Time in Tongeren (August 2014)
One of the things Andrew and I find so fascinating about Europe is the layers of history. Like an onion, you can peel away a layer at a time, back to the beginning of history, in some cases. While this is the case all over Belgium, in the cosy city of Tongeren it is prominent. From our boutique hotel to the city walls and the ground beneath our feet, Tongeren oozes history.  We loved the world-class Gallo-Roman museum and the UNESCO-listed basilica and beguinage. With so much history, it's easy to see why Tongeren is home to the biggest antique market in Benelux.
28. Touring Brussels' Art Nouveau Houses (January 2015)
In late 2014, Andrew was laid off from his job, and we decided to accelerate our Motorhome Adventure by a year. This meant our spending took an abrupt halt. There were few meals out and no more weekend getaways that weren't sponsored work trips. But we did have one priority – see the things we had been putting off in Brussels because 'we could always do that later.' Once we left Brussels, we had no idea when (or, as it turned out, if) we'd be returning. For me, this meant finding a way to get inside some of Brussels' stunning Art Nouveau buildings. We made a plan to visit a new museum or historic site every other week. While we didn't manage to get to them all, we made a real dent. My favourites were the Maison Cauchie and spending almost a full day at the highly under-rated Cinquantenaire Museum (and still not seeing everything!)
29. Celebrating Chinese New Year Through Dance (February 2015)
During our time in Belgium, we made friends with expats from all over the world. We were fortunate to also know some wonderful Belgians from both sides of the language borders. One of my Belgian blogger friends invited me to attend a dance spectacle in celebration of Chinese New Year. I don't get the chance to write about everything I do on CheeseWeb. If it's a one-time event, there's not much point writing about something that's already happened. The Legend of the Sun was one of those events. But just because it didn't make it to CheeseWeb didn't mean it wasn't memorable. In fact, it was one of the most beautiful dance performances I've had the opportunity to see in person and photographing it was a rare treat.
30. Motorhome Shopping in Belgium (February 2015)
Because our Motorhome Adventure was accelerated by a year, we didn't have as much time to shop for our home-on-wheels as we would have liked. Attending RV shows and visiting 'Camping Car' showrooms was a whole new experience for us. We also had to learn an entirely new language, as the word motorhome is barely used in Europe at all. We saw a lot of duds, but when we found Amelia, it was love at first sight. Despite being out of our budget (our theme song), we negotiated our way into our new home. Although it was touch and go on whether we'd get her in time, she arrived just a few days before we said goodbye to Brussels.
Living in Belgium changed my life – in every single way. I honestly believe I would not be the person I am today without the eleven years' worth of experiences I had in this wonderful, maddening, quirky, and supremely under-rated little country. While I may not be able to return for a while yet, I will return. Belgium is in my blood and my heart forever.
Latest posts by Alison Cornford-Matheson
(see all)
Read more from this series...
My 30 Best Experiences in Belgium