THIS POST MAY CONTAIN COMPENSATED LINKS. FIND MORE INFO IN MY
DISCLAIMER
.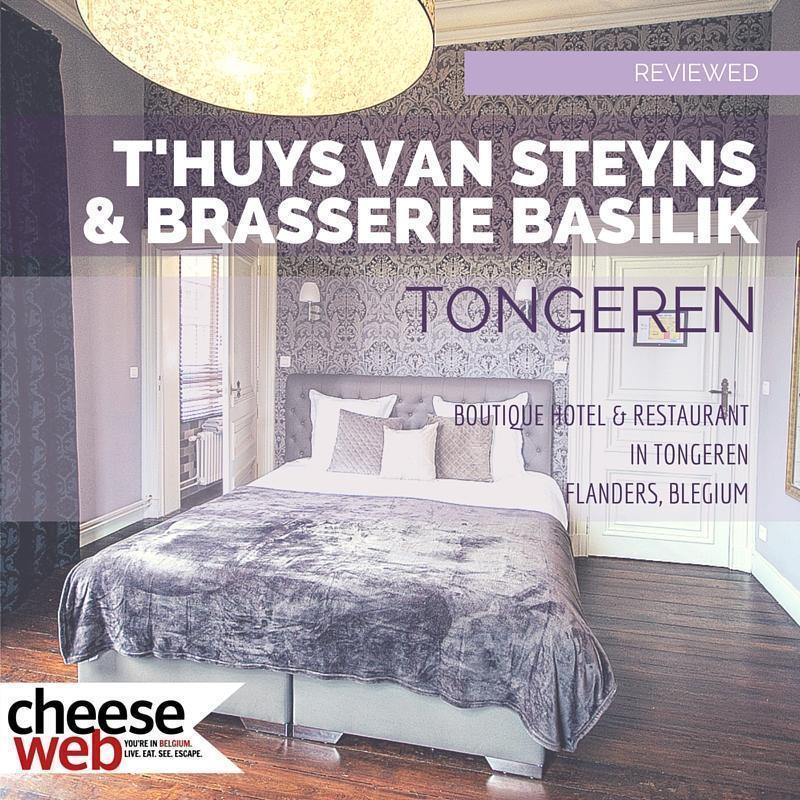 T'Huys Van Steyns is a beautifully restored Boutique Hotel, in Tongeren, Belgium. Paired with a meal at the Brasserie Basilik, it makes a great getaway weekend in Flanders.
We've been trying to organise a weekend in Tongeren for ages. In fact, you may remember our last (misguided) attempt actually landed us in Nord-Pas-de-Calais. We finally made it to Tongeren, the last, rainy weekend in August and we thoroughly enjoyed this cosy, Flemish city.
One of the highlights of our stay was our accommodation, at the stylish, boutique hotel t'Huys Van Steyns. This gorgeous, restored townhouse is brimming with charm and character, but also with history.
The townhouse, now housing nine unique hotel rooms, was once the home of Tongeren businessman Louis Steyn. Steyn founded the luxury shoe brand Ambiorix, worn by the Belgian Royal Family and (the other royal family in Belgium) the Belgian Red Devils. The hotel's décor reflects hints of this history.
Entering the hotel, you're greeted by a little homage to Ambiorix shoes, at the reception desk.  Throughout the halls and common areas are bits of memorabilia from the Ambiorix Company and the house itself.
However, there's much more to the décor at t'Huys Van Steyns than pictures of shoes. The current owner, Laurent Meertens, along with his father and his brother, lovingly renovated the house. Meertens and his family own several restaurants and another boutique hotel in Tongeren. In fact, the Hotel Caelus VII was so busy; Meertens decided a second hotel was needed to accommodate the overflow.
Renovating t'Huys Van Steyns wasn't easy. Parts of the 1892 townhouse are protected heritage monuments, such as the beautiful high ceilings. But despite maintaining the period character of the building, with its beautiful tile and parquet floors, the hotel doesn't feel stuffy and dated. In fact, the interior, particularly in the guestrooms, feels contemporary, yet sympathetic to the hotel's past. It's a seamless and elegant combination of past and present.
Our room in the Huys Van Steyns contained everything we need for a perfect hotel stay:
a super comfortable bed with nice linens and fluffy pillows
good reading lights
a super rain-shower with plenty of hot water and good pressure
space in the bathroom to put our toiletries
a hairdryer so powerful I actually wrote down the model number for when I replace my own
in-room coffee, tea, and water
Private parking
We also loved the cosy common room filled with magazines, a flat-screen TV, and a minibar stocked with wine, beer, and soft drinks.
Of course, great food always gets bonus marks from us. Our breakfast scored full points. We were presented with a cake tray filled with meat, cheese, jams, and pastries, as well as a basket of breads. For me, this was plenty, but there's a hot option too. Breakfast-lover, Andrew, was also served bacon and eggs, and we both enjoyed fresh orange juice and coffee. It was a great way to start our day.
While t'Huys Van Steyns doesn't contain a restaurant, Laurent invited us to try his family's restaurant in the city centre, Brasserie Bazilik, (about a 7 minute walk.)
The Brasserie is large and it was bustling when we arrived. We ordered a glass of bubbles and a local beer, La Cress, which actually contains watercress, a local speciality. (Can you guess who ordered what?) Then we started to browse the menu.
Bazilik's menu is what you would expect of a typical Belgian Brasserie: fresh made pastas, steaks, seafood, and a variety of daily specials. A unique feature, however, are the beer and wine recommendations included for each course – a nice touch if you're indecisive.
I opted to start with a tuna carpaccio. It was nicely presented, a good size, and very fresh and colourful. My only niggle was the addition of raw, red onion, which, to me, overpowered the delicate flavour of the fish.
Andrew started with scallops, which were seared perfectly and served with a vegetable medley and a strip of bacon. It was right up his alley.
For our main course, we both opted for steak. Mine was served with pepper sauce and mashed potatoes and I had no complaints with anything. Andrew chose the shoestring fries, which were a veritable fry mountain on his steak. I may have sneaked a couple and, if I did, I would say they were crispy and delicious.
We were both much too full for dessert, so we enjoyed our beer and wine, before calling it a night.
Overall, we highly recommend t'Huys Van Steyns (and we're sure its sister hotel, the Caelus VII is just as nice) for a weekend in Tongeren. We'll be sharing our top tips on what to do in the city in an upcoming post. While you're there, be sure to stop by the Brasserie Basilik for a bite (or two, or three…).
Boutique Hotel t'Huys Van Steyns
Henisstraat 20,
3700 Tongeren
Brasserie Basilik
Kloosterstraat 1-3,
3700 Tongeren
For more great restaurants in Belgium and beyond, check out our Restaurant Review page.
We'd like to thank Laurent Meertens for inviting us to visit t'Huys Van Steyns and Brasserie Basilik to write an honest review. As always, all opinions are entirely our own.
Looking for more of our favourite hotels in Belgium and beyond? Visit our Hotel Reviews page to find out where we've been sleeping.
Latest posts by Alison Cornford-Matheson
(see all)