THIS POST MAY CONTAIN COMPENSATED LINKS. FIND MORE INFO IN MY
DISCLAIMER
.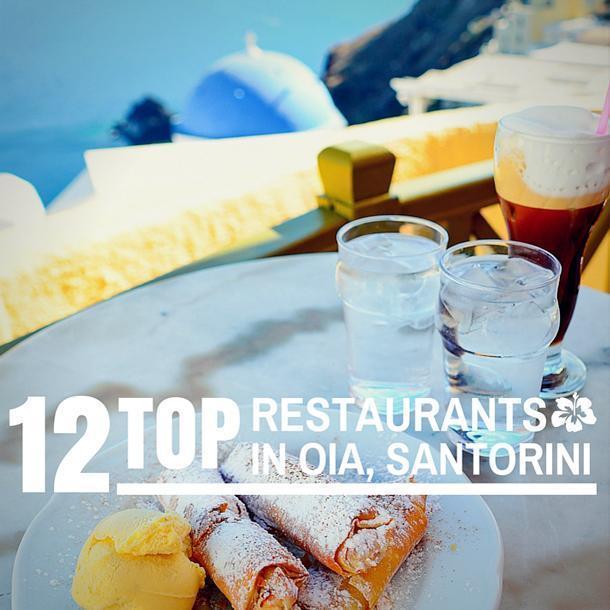 If the gorgeous scenery and sunny beaches weren't enough, Adriana's top 12 restaurants, in Oia, will make you want pack your bags for Santorini, Greece today.
Travel to Santorini, Greece is expensive: flights, lodging, shopping, everything is pricey. Everything, that is, except the food. The choice of reasonably priced restaurants is staggering, with a café or restaurant at every step.
Coming from Belgium, where decent restaurants will cost €50+ for a dinner for two, I was pleasantly surprised to pay as little as €25 for a dinner or lunch for two.
You can use a few cost-saving tricks, in Santorini. One of my favourites was ordering 3-5 appetizers to share. We used this trick for plenty of our lunches on the island. The appetizer lists are huge and interesting so don't think you are shortchanging yourself. It actually gives you the opportunity to try more dishes.
During our week-long trip to Oia, we tried many restaurants in Santorini. These are my top 12 picks for restaurants in Oia.
1. Terpsi – The first restaurant we tried in Oia was Terpsi. It had a lovely atmosphere, great view to the Caldera, and very attentive staff. Here is where we were introduced to a few island specialities like fava santorinis, a dip made from the seeds of a flowering plant that grows here. It's an absolute must. At Terpsi I also had the best white eggplant dip. The white eggplant only grows in Santorini. My main course was a superb fresh salmon steak with new potatoes, capers in a light cream sauce.
2. Thalami Tavern – Our host in Oia, Maria, recommended this restaurant. The food was great. The service was impeccably fast. We had an incredible view over the Caldera, and the prices very affordable. Try the stuffed tomatoes, a mixture of meat, Santorini cherry tomatoes, and veggies made into a patty and lightly deep-fried. Absolutely delicious! The meaty grilled octopus, at Thalami Tavern, is also a winning dish.
3. Lotza – This restaurant, in Oia, is a great choice, if you are looking for huge, inexpensive meals. The starters alone were so big we barely finished them along with the main courses. We shared the insanely large baked potato, filled with a very light tuna salad and capers, and the giant white beans, with vegetables, as starters. We then had orzo pasta, with octopus and veggies, as a main course, which again we shared. There is just too much food to eat alone. The waitress was very friendly and ready to answer food related questions. Moreover, Lotza offered a perfect view to the Caldera.
4. Skala – This restaurant, in Oia, was another recommendation from Maria, and again we were not disappointed.  Skala's terrace is large and has many tables directly facing the Caldera. The service is lightning fast and the prices were the cheapest of all of the restaurants we tried. I recommend the freshly made tzatziki dip, with a splash of Greek olive oil, as a starter. The octopus in white wine, with veggies and rice was so good I wiped the plate clean.
5. Dimitris – After a dip in the sea at St. Nicklas Island, in the Bay of Ammoudi, Oia, I strongly recommend eating at Dimitris. It is beautiful and right by the sea, where the waves come right up to your feet.  We ate some of the best grilled octopus on the island, served by the nicest Canadian waitress, who left Canada to follow her love in Santorini.  I loved seeing the octopus grilling right next to us. We watched them bring it fresh from the sea and slap it on the grill. Now that's fresh!
6. Ammoudi Fish Tavern – Another impeccable restaurant in the Bay of Ammoudi is Ammoudi Fish Tavern. Again, we shared plenty of appetizers. Besides the usual grilled octopus, which was amazing, we were able to taste something I've always wanted to try; sea urchins. They have a strong fish taste, similar to fresh sardines, but served with fresh bread and olive oil, they were quite tasty. At the end of the meal, we were pleasantly surprised by the Greek donuts, served with walnuts and honey, on the house. It was the perfect desert after a perfect meal. The prices here are just a bit higher than the other restaurants, but not by much.
7. The Red Bicycle – One night we splurged on the Red Bicycle, a fine-dining restaurant, in Oia, with a great reputation.  We pampered our taste buds with scallops in squid ink and fava santorinis. As a main dish, I ordered the octopus with a mixture of potatoes, cilantro, and crabmeat, with a splash of truffle oil. I absolutely recommend this restaurant, for a special occasion (or, if your wallet is fat enough, for an everyday dining experience).
8. Patisserie Café Melenio – If you have a sweet tooth, besides the numerous ice cream shops, indulge in the sweet flutes, at the Patisserie Café Melenio. These little pastries with cream are so good, you can't just eat one.
9. Vitrin – As far as cafés go, we loved Vitrin. They make the best ice coffee, insanely good crepes, with numerous toppings, and very good Caipirinha cocktails. My husband particularly loved this place, because the ice coffee wasn't machine-made, but made by the bartender himself. This is also the only café where the prices were not ridiculously expensive. Drinks tend to be on the pricey side in Santorini.
10. Mango Café – Outside Oia, we enjoyed a lovely dinner Mango Café, at Kamari beach. The restaurant is right on the beach. The service is good and the prices are fair. We shared a large seafood plate, for only €16.
11. Golden Sunset Café – Toward the end of our hike from Oia to Fira, we stopped in Firostefani for breakfast, at Golden Sunset Café. Our breakfast was one of the best I've ever had, and I am not saying this because we were so hungry we could not see straight. The fresh Greek yoghurt, served with Greek honey, feta salads, and huge omelettes, and the fabulous view, made the walk from Oia worth it.
12. Street Eats – If you are travelling on an even lower budget, there are plenty of cheap options, like gyros and souvlaki shops. The portions are huge and they will only cost you a few euros. One of my favourite daily snacks was roasted, fresh corn, with butter and salt, sold in the main bus station in Oia.
Even if Oia, Santorini wasn't a beautiful destination, with plenty of entertaining and interesting activities, it would be worth visiting for the food alone. Santorini is definitely a Greek Island worth visiting and tasting.
For more great restaurants around the world, check out our Restaurant Review page.
Looking for a great place to stay in Greece? Book hotels at the best possible rates below: