THIS POST MAY CONTAIN COMPENSATED LINKS. FIND MORE INFO IN MY
DISCLAIMER
.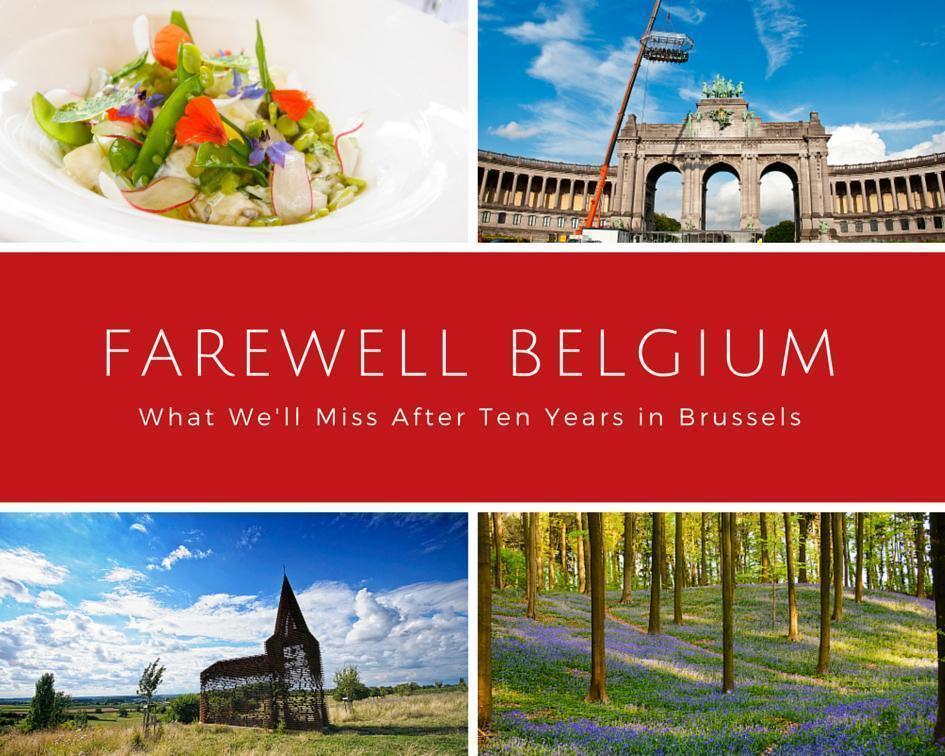 We're saying farewell to Belgium and reflecting on what we'll miss about the country we've called home for ten years.
As you read this, Andrew and I will finally be beginning our motorhome adventure. At least we hope so. As I write this, on April 7th, there are still so many things to do, so many questions unanswered, we both feel there is a very real possibility we'll be camped out somewhere in Belgium, still waiting for our insurance, or some other vital piece to the puzzle that is our lives at the moment.
But what I want to focus on today, is not what we're moving towards, but what we're leaving behind – Belgium. It's strange to be saying farewell to this tiny, beautiful, frustrating, unique, surreal, and endlessly surprising country we've called home for the past ten years.
I've already written a love letter to Belgium and if you've read more than one article on CheeseWeb, you'll know how passionate we both are about this country. Hell, I even became a citizen so I can remain tied to Belgium forever. Believe me, it's not something I take lightly. Our plan has always been to return here, once our travel adventure is over – whether it's to live here full-time again, or part-time, whether it's in a year or ten years, we don't know. But Belgium is, and always will be, our home, just like Canada remains home to us.
Why Belgium? It's a question we hear time and time again. The truth is, for us, like many expats, it was pure chance that brought us here. A temporary job, only two years and yet, here we are ten years later. You hear it from so many expats, "I came for a year… two years… six months. Now I've been here for eight years… twelve years… thirty years. I never left."
What is the pull of this strange little country that keeps us here? It's hard to define. Most expats can't say what it is exactly that keeps them here. Despite the frustrations (I'm looking at you bureaucracy) and the less than perfect weather (but oh, doesn't it make the sunny days that much more wonderful?) it's an easy city – a city with everything you could want. And we can't think of another city that has it all.
Lately, we've been thinking about the things we'll miss when we leave Belgium.
The Food Scene
I'm sure it will come as no shock to anyone; we're going to miss the vibrant Belgian food scene. The quality, calibre, and most of all, variety of cuisine available here is like nowhere else I can think of; certainly not for the value with which we get it here.
My days of eating great Sushi, Lebanese, Ethiopian, Thai, Chinese and of course, great Belgian food, are numbered. Since we plan to slow travel to smaller places, our chances for international cuisine are slim to none. And while I'm sure we'll have great foodie experiences along the way (we always manage to) the variety (and our budget) will be limited.
As for cooking, as much as I complain about the tiny kitchen in my flat, I'm going to be missing it as I try to make curries from scratch in a motorhome. I may be the only motorhomer to appoint an entire cupboard to my spice collection. (A girl has to have priorities!) We'll have no oven, no microwave for defrosting, and no counter space to speak of. This will be a culinary challenge like no other.
The Cultural Scene
We're going to be travelling throughout Europe, and knowing my passion for UNESCO sites, museums, and galleries, I know we'll be getting our culture fix. But let's face it, we're spoiled here in Belgium – Culture comes to us; we don't have to seek it out. We get an endless supply of excellent exhibitions, concerts, theatre, and more festivals than you could attend in a lifetime. There is literally never 'nothing to do here' (the common refrain of boring tourists) if you do even the tiniest bit of research.
The Quirkiness
Trying to understand Belgium is like trying to solve a puzzle and learning half of the pieces have been changed with those from other boxes. It's impossible to figure out – but we love it that way.
In ten years, Belgium has never stopped surprising us and we've never stopped learning more about it. We're sure we could spend an entire lifetime here and still be uncovering Belgium's secrets. I've always said "Normal is boring," and Belgium is anything but boring. I love being surprised and delighted on a daily basis. I love the weird festivals, the crazy traditions, even the 'Belgian shrug,' meaning we don't know why it is the way it is, it just… is.
The Imperfections
Sure, there are imperfections in Belgium I'd like to see fixed (starting with the dog poop on the streets and ending with the Escher nightmare that is Arts-Loi metro station). Nowhere is perfect and Belgium has its share of problems like anywhere else. However, while some people hate the architectural chaos in Brussels, or the lack of consistency in culture and tradition from north to south, or even the lack of information on what should be well promoted tourist sites – I secretly kind of like this. It means every discovery you make feels like an achievement. To really get to know Belgium, you have to work for it – peeling back the layers one by one, to find the gem at the centre.
The Comfort
This isn't specific to Belgium, but it's a huge deal for us. After ten years, we can't say we've got Belgium completely figured out (impossible!) but we are comfortable in our routine here. We know where to get the best spices, bread, fish, meat, and even Mexican food. We know which stores are open on Sundays, where to get free wifi, and who has the best Sunday Brunch. We have a doctor, a dentist, and a vet we trust. We know how to use public transportation and we can speak one of the languages well, and one enough to get by. Belgium has become easy and comfortable and we're about to shake it all up.
As we travel from place to place in our motorhome, every day will be a new challenge. Where will we park, get fresh water, find wifi? Where is the closest bakery, laundromat, take-away pizza? What if we need a doctor, a vet, a mechanic? Well-meaning friends and family ask us these questions all the time. The truth is we don't know – won't know, until we are in the situation where we have to figure it out. It's terrifying but we're not going to back down from chasing our dream because of a few (thousand) unanswered questions. And you know what? We have our time in Belgium to thank for giving us that courage.
The People
More than anything, as we drive off into our sunset, we'll miss the people we've met and the friends we've made in Belgium. Nowhere else can I imagine forming bonds with a more diverse and special group of people. Our friends in Belgium are from around the globe – some from countries I could barely locate on a map before arriving here. Being exposed to these different cultures, life experiences, and ways of thinking, has opened our minds to so many more possibilities. This has enriched our lives in ways we never could have imagined – including invites to stay with friends and family around the world.
But it's not just the international community that has welcomed us. We have been blessed with great Belgian friends, from Flanders, Wallonia, and right here in Brussels. They've been patient with our endless questions (and even our complaints) about their country. They've shared their traditions, opinions, and a lot of great food with us over the years.  I think they are still a little baffled by our obsession with Belgium, but I think (hope) they are glad we have it.
So as we leave Belgium for the next year, it's with excitement for our new adventure but also a bit of sadness. We leave behind some dear friends (please remember we have a spare bed waiting for you on the road) and a country we love. That's why we're only saying 'Farewell Belgium,' because this is not good-bye.
Latest posts by Alison Cornford-Matheson
(see all)