THIS POST MAY CONTAIN COMPENSATED LINKS. FIND MORE INFO IN MY
DISCLAIMER
.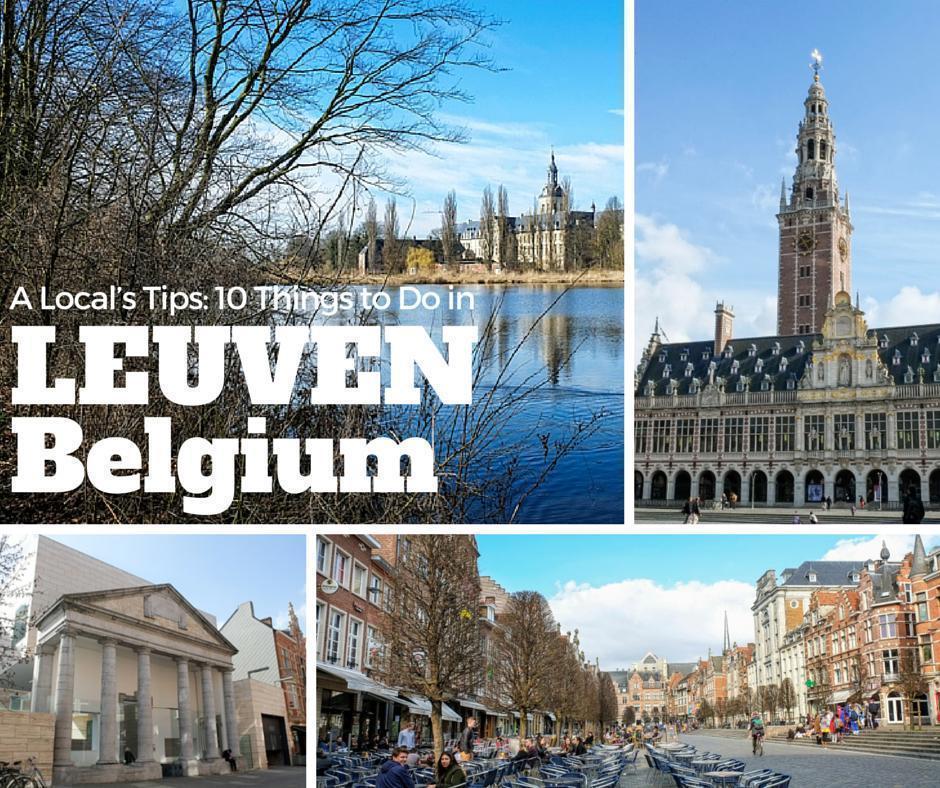 Our expert local contributor, Sofie, shares her top tips for visiting the pretty city of Leuven in Flanders.
I'm a born and raised Belgian and although I have friends all over the country, the city that has played the biggest role in my life so far has to be Leuven.
As a kid, my grandparents would take me to the carnival or the fair there. As a teenager, Leuven was where I went to the movies and on countless shopping sprees. Later, it became the city I studied in, but also where I met my boyfriend. At the moment, I've been living here for five years and I don't think I'll leave soon. Leuven might not be a world city, but it's a charming little place.
It's also just a 20-minute train ride from Brussels and, as such, is perfect for a day trip. To make sure you get the most out of your time there, I want to share my insider tips with you.
1. Avoid the main shopping streets and head towards the Mechelsestraat
When you exit the train station, you immediately walk onto the Bondgenotenlaan. Together with the parallel street Diestsestraat this is the main shopping street of Leuven. All you'll find here are chain stores, though, so avoid these and head to the Mechelsestraat, a cobblestone street with small boutiques and specialty food stores located between the St. Peter's Church and the Vismarkt.
2. Don't just take a photo of the university library, visit it!
Beautiful large halls, a shiny wooden floor… The university library is a sight to see, and not just from the outside. You'd hardly believe this place was built after WWII, such class it has. The library and the library tower can be visited in small groups, but you do have to make a reservation in advance. More information on this can be found on the university's website.
3. Take a stroll through the Grand Beguinage
Leuven's beguinage is a UNESCO World Heritage site, and rightly so. The origins of the beguinage date back to the 13th century, when it served to house women who'd promised not to marry as long as they lived in the beguinage, but who were also free to leave it whenever they wanted. Today, the beguinage is owned by the University of Leuven and used to house academic guests and students.
4. Have a drink at the longest bar in the world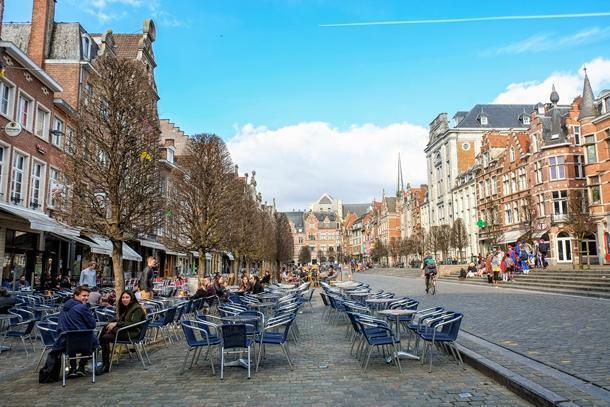 That's right, we have the longest bar in the world! Well, sort of. The Oude Markt is a big market square where all the buildings, except for one, hold a restaurant, bar or something else involving food and drinks. There's a rock cafe, a fancy bar, a reggae bar, a meat restaurant, a Chinese restaurant and so on. This is the perfect place to sit down on one of the many terraces in summer and just watch other people pass by.
Personal tip: I love the homemade Ice Tea at Café Apero.
5. Get artsy at Museum M
Museum M is an architectural beauty with an inner garden and a temporary rooftop bar in summer. The permanent collection consists of 15th-century, early 16th-century and 19th-century art, but there's also always, at least, one temporary exhibition featuring anything from classical to contemporary art and from paintings to video and photography.
6. Visit the breweries
As a kid, I loved visiting the Domus Café as they have great spaghetti, but Domus is actually a brewery making Domus beer. You can visit the brewery if you can create a group of at least eight people and do some tasting afterwards. For more information, check the website of Domus.
If you're more into the big brands, Brewery Stella opens its brewery to individual visitors each Saturday and Sunday. Groups can also visit on other days of the week if they make a reservation. You can find more information on the Stella website.
7. Have lunch at De Werf
De Werf, at the Hogeschoolplein, is a student restaurant, but such a charming and delicious one that I still love going there. They serve warm sandwiches in special sandwich boxes, huge salads in what appear to be bowls of wax and cute desserts like Petit Beurre pie (Petit Beurre is a kind of cookie) and chocomousse for two. They have a huge terrace, where you can always find fleece blankets to keep you warm, and their prices are adapted to the student crowd. A large wrap with chicken will only set you back €5!
8. Get out in nature
If you want to take a break from the city, get on bus 1 to Heverlee Woods. It's only a 15-25 minute ride (depending on where you get on) to reach a large forest where people love to go for a run or to walk their dog.
9. Visit the Abbey of the Park
Another nice place to go for a walk is Abdij van Park, or "Abbey of the Park", located just outside the city center. Here you can walk around the large ponds, which make great ice-skating rinks if it freezes enough in winter. You can visit the abbey from Tuesday until Sunday (April-October) and from Friday until Saturday (October – March). This information is also available on the website of Abdij van Park, but unfortunately only in Dutch.
10. A practical tip: take the train there
I've mentioned the station before because you should definitely take the train to Leuven. The city has a very strict parking policy and parking tickets are handed out generously. If you do want to come by car, park in one of the underground parking lots and expect to pay around €2/hour.
[Editor's Note] We love Leuven and agree it makes a nice day trip from Brussels, or elsewhere in Belgium. Have you been to Leuven? Leave your tips in the comments below.
Looking for deals on hotels in Leuven, Belgium? Book the best available rates below: