THIS POST MAY CONTAIN COMPENSATED LINKS. FIND MORE INFO IN MY
DISCLAIMER
.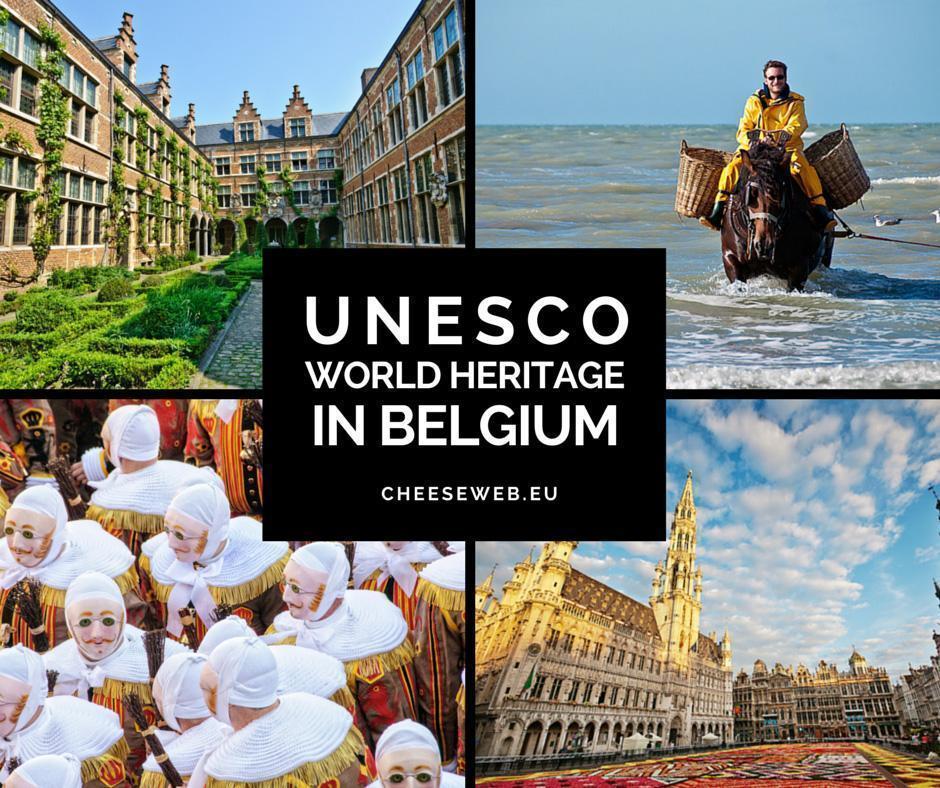 Belgium currently has 13 UNESCO World Heritage sites, 16 tentative sites, and 13 listings of cultural heritage. That's a lot of heritage for one tiny country!
Over our ten years in Belgium, I've made it my mission to visit the UNESCO World Heritage Sites scattered around the country. I've succeeded… mostly, as you'll see below. Although we've listed them all on our UNESCO sites page, we've never covered all the Belgian sites in one article, until now. So, without further ado, we give you all of the UNESCO Sites in Belgium.
1. Grand Place
It goes without saying, Grand Place has earned a well-deserved spot on the UNESCO list. It's one of the most dramatic and beautiful squares in Europe, even when it isn't all dressed up for a festival or celebration.
2. Flemish Béguinages
The beguinages are groupings of buildings, dating from the 13th century, used by women who dedicated themselves to the church. They are essentially towns within a town and many are still used as housing today.
Included in the list are the beguinages from the following cities: (We've visited those in bold)
3.  Historic Centre of Brugge
We first visited picturesque Bruges when we lived in Amsterdam. It was actually the first Belgian city we ever explored. While we tend to prefer lively Ghent, there's no denying the beauty of Bruges' historic buildings and quiet canals, particularly at Christmas time.
4. Major Mining Sites of Wallonia
There are four mines in Wallonia included in this listing: Grand Hornu, Bois-du-Luc, Bois du Cazier, and Blegny-Mine. Of these, we think Blegny offers the most fascinating and complete visit, allowing you to descend into the mine with a guide. Read about our visit to Blegny mine and watch our fun video of the experience.
5. Major Town Houses of the Architect Victor Horta
Known as the father of Art Nouveau in Belgium, architect Victor Horta is honored with four of his most impressive buildings on the UNESCO list. They are the Hôtel Tassel (6 rue P-A Janson), Hôtel Solvay (224 avenue Louise), Hôtel van Eetvelde (2-4 avenue Palmerston), and Maison & Atelier Horta, (23-25 rue Américaine).
Of these, we've only been inside the Horta House. However the Hôtel van Eetvelde is just a few blocks from us and has been a frequent subject of my photos. Read more about Horta and Art Nouveau in Brussels in this article.
6. Plantin-Moretus House-Workshops-Museum Complex
Of all of the UNESCO sites in Belgium, the Plantin-Moretus house might just be my favourite. While a museum dedicated to printing may not sound all that interesting, it's the only museum on the UNESCO list for good reason. Read our article on the Plantin-Moretus museum in Antwerp to find out why you should visit.
7. The Four Lifts on the Canal du Centre and their Environs, La Louvière and Le Roeulx
I didn't expect these canal lifts to be as beautiful or as interesting as they actually are. The towpaths beside them are well maintained and walking between them is a lovely summertime activity. Boat tours are also available to take you through the locks and we think this would be a great way to experience this unique site.
By contrast, you can visit the modern lift that replaced them at Strepy-Theu. Read about our experience visiting all of the boatlifts here.
8. Belfries of Belgium and France
This is a massive listing as there are 55 belfries included, 32 of which are in Belgium. While we certainly haven't climbed them all, we have at least seen most of them. The following are the Belgian belfries (we've visited the ones in bold):
Cathedral of Our Lady, Antwerp
City Hall, Antwerp
Cloth hall, Herentals
City Hall and Belfry tower, Lier
St. Rumbolds Tower of the cathedral, Mechelen
Old Cloth Hall with Belfry, Mechelen
Halletoren, Bruges
City Hall and Belfry, Diksmuide
Halletoren, Kortrijk
Former City Hall with Belfry, Lo-Reninge
City Hall and adjacent Belfry, Menen
Stadshalle, Nieuwpoort
City Hall, City's Market Hall, and Belfry, Roeselare
Hallentoren, Cloth Hall and Aldermen's Chamber, Tielt
Landhuis and belfry, Veurne
Aldermen's House with Belfry, Aalst
City Hall with Belfry, Dendermonde
City Hall with Belfry, Eeklo
Belfry, Cloth Hall and Mammelokker, Ghent
City Hall with Belfry, Oudenaarde
St. Peter's Church and tower, Leuven
St. Germanus Church with Stadstoren, Tienen
St. Leonard's Church, Zoutleeuw
City Hall with Tower, Sint-Truiden
Belfry of the City Hall, Binche
Belfry of the City Hall, Charleroi
Belfry, Mons
Belfry, Thuin
Belfry, Tournai
Belfry, Gembloux
Belfry, Namur
The following are UNESCO sites I count as visited as we made the attempt but were thwarted by reasons beyond our control. I would like to return to all of them and see them properly someday.
9. Stoclet House
Of all Belgium's UNESCO sites, this is the one that irks me most. Not because I don't think Stoclet House deserves the recognition. On the contrary, it's a stunning building. What bothers me is, as a private residence, it is almost never open to the public. This is contrary to the point of the UNESCO sites being for public enjoyment and education.
I would love to see inside this beautiful house. Until then, I mark it as a site we've visited.
10. Neolithic Flint Mines at Spiennes
The same day we visited the historic boatlifts, we also tried to visit the Neolithic Flint Mines and Tournai cathedral. It didn't go quite as we planned. We headed to the flint mines first.
Our brochure said the visitor centre for the mines would 'open in 2014.' Being almost the end of 2014, we decided to have a look. We plugged the address provided into our GPS. Nearing the site, we spotted a sign for the prehistoric mines pointing in the opposite direction as our GPS. We trusted the sign. Bad idea.
We soon found ourselves on a dirt road in the middle of a farmer's field with no more signs in sight. The road ended. No mines.
We turned around and reprogrammed the GPS. We followed it to the end of the road specified. No visitor centre and no sign of the mines. Since we figure we probably drove right over top of them, we're counting it.
I've since learned the opening of the visitor's centre has been delayed until this spring. When it opens, we hope to return and actually see this UNESCO site.
11. Notre-Dame Cathedral in Tournai
While we did actually find Notre-Dame Cathedral, our visit didn't go a whole lot better. As of September 2014, the cathedral looks like this:
"At least, we'll be able to see the inside", I said to Andrew.
"Yeah, unless it's covered in scaffolding too," he joked.
As you've likely guessed, the inside is totally covered in scaffolding. Although there are some lovely photos in the plywood walkway, of what the cathedral should look like. We're counting this as a visit too, but we'll return to see the cathedral in its renovated glory in a few years.
Belgium's Intangible Cultural Heritage of Humanity
In the early 2000s, UNESCO added cultural heritage to its preservation mandate. Belgium, with its distinct cultures and traditions, has 9 listings, a number of which we've had the opportunity to experience:
Marches of Entre-Sambre-et-Meuse
Leuven age set ritual repertoire
Aalst carnival
Houtem Jaarmarkt, annual winter fair and livestock market at Sint-Lievens-Houtem
Krakelingen and Tonnekensbrand, end-of-winter bread and fire feast at Geraardsbergen
Procession of the Holy Blood in Bruges
Two more listings are shared with other countries:
Processional giants and dragons (in Belgium and France)
Falconry, a living human heritage (shared with Czech Republic, France, Spain, Morocco, Mongolia, Qatar, Republic of Korea, Saudi Arabia, Slovak Republic, Syrian Arab Republic, United Arab Emirates)
List of tentative UNESCO World Heritage Sites in Belgium
The tentative list contains all of the sites that have been submitted for consideration by UNESCO.  Belgium currently has 16 sites on the tentative list.
Memorials of the Great War, Westhoek and surrounding area
Historic University of Leuven, Leuven
Galleries of Brussels, including the Galeries Royales Saint-Hubert, Brussels
Buildings by Henry van de Velde
Le plateau des Hautes-Fagnes, Liège
Battlefield of Waterloo, Waterloo, Brussels
Battle of Waterloo Cyclorama, Waterloo, Brussels
The Mosane Citadels
Hoge Kempen Industrial Landscape, Genk, Limburg
Maison Guiette, Antwerp
For a tiny country, Belgium is rich in cultural heritage. All of the sites are well worth visiting and preserving for future generations.
Latest posts by Alison Cornford-Matheson
(see all)