THIS POST MAY CONTAIN COMPENSATED LINKS. FIND MORE INFO IN MY
DISCLAIMER
.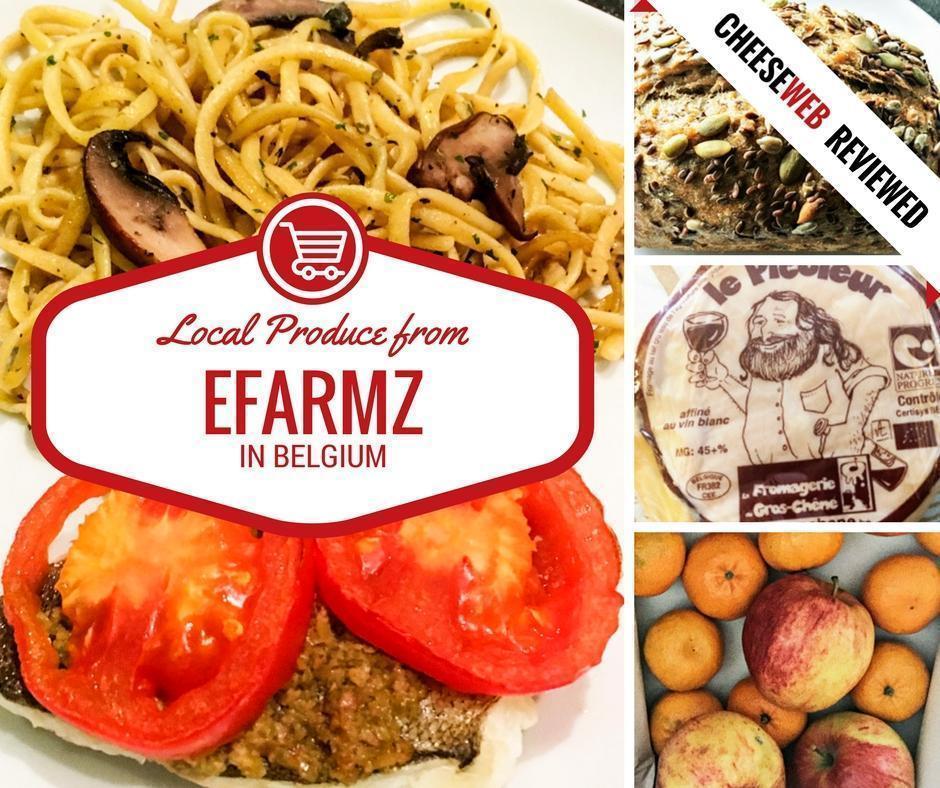 Local, seasonal, and organic produce delivery in Belgium – we review Efarmz.

Have you ever wondered what it would be like to have fresh, seasonal produce delivered directly from the farm to your doorstep? Imagine local and even some organic fruits and vegetables at reasonable prices. It is now possible in Belgium with Efarmz, a venture that helps link Belgian farmers and consumers – all within the comforts of your living room.
I was offered a trial of  Efarmz through their marketing team, but I have since become a loyal customer due to the ease of ordering online, the quality of the products, and the efficiency of the delivery. The website offers a broad range of seasonal products, such as fruit and vegetables, cheeses, cold meats, eggs, organic beer and juices, fish, herbs, bread and many other prepared food items.
You order by Monday for the current week and, depending on the day you have chosen for delivery (Wednesday or Friday), it is delivered to a collection point near you,  where you can pick it up between 7:30 pm-10 pm. There is also the possibility of delivering it straight to your door for a small fee.
For my trail, I was given a coupon of 70 euros, with which I purchased the following items:
Efarmz Dairy products: Milk, Yoghurt, and Cheese
The milk was fresh, delicious, and had a sweetness you never get in store-bought milk. It was pasteurised and came with an expiration date. The bio-yoghurt also lacked the texture of supermarket-bought yoghurt, but yes, it was very satisfying. I am still enjoying cheese fresh from the dairy!
Efarmz Beverages: Juice, Beer and Wine
I ordered a bottle of each beverage. The pear juice was the freshest, without any additives and sugar. I was happy to see the first organic beer brewed in Belgium on the drinks menu chart.  The blonde beer from Abbaye de Brogne Blande is an organic beer, brewed from calcium-rich well-water. It is quite light. The Sauvignon, from the Courtoult Tardieux winery, is also organic. You can feel the pure and citrusy nature of the wine.
Efarmz Organic Fruit, Vegetables, and Bread
The Portobello mushrooms were incredibly flavourful, and I ended up using them for linguine I also ordered from Efarmz. The organic apples were good too, though I was less impressed by the bread and mandarins. The olive and basil tapenade had the right texture and flavour.
Efarmz Chicken, Fish, and Other Goodies
I ordered chicken, fish, spinach burgers, and pasta. The burgers were easy to prepare and tasted strongly of spinach, though they were a little crumbly.
I cooked the chicken with some potatoes, sea salt, and pepper, so the natural flavours stood out. The chicken baked well had a little bite and an excellent natural flavour.
I also purchased the fish of the day and was delivered a whiting. I baked the fish using the olive tapenade as a marinade and served it with the Portobello mushroom linguine. It was delicious if I do say so myself. (This was also certified by my other half who is not an easy soul to please.)
As you can see, my 70 euro coupon went a long way. All the products were packed in an easy to carry carton, and the meat and dairy products were packed in a frozen bag.
The site offers many other products as well, ranging from spreads, jams, and even prepared meals. They also add products depending upon the season, and if you are looking forward to making good use of your seasonality table with affordable prices, Efarmz is the website for you. I know I will definitely shop more from Efarmz in the future.
Monika received a gift certificate to test the Efarmz service. As always, all reviews remain the opinion of the reviewers. We never recommend a product or service on CheeseWeb we don't enjoy.