THIS POST MAY CONTAIN COMPENSATED LINKS. FIND MORE INFO IN MY
DISCLAIMER
.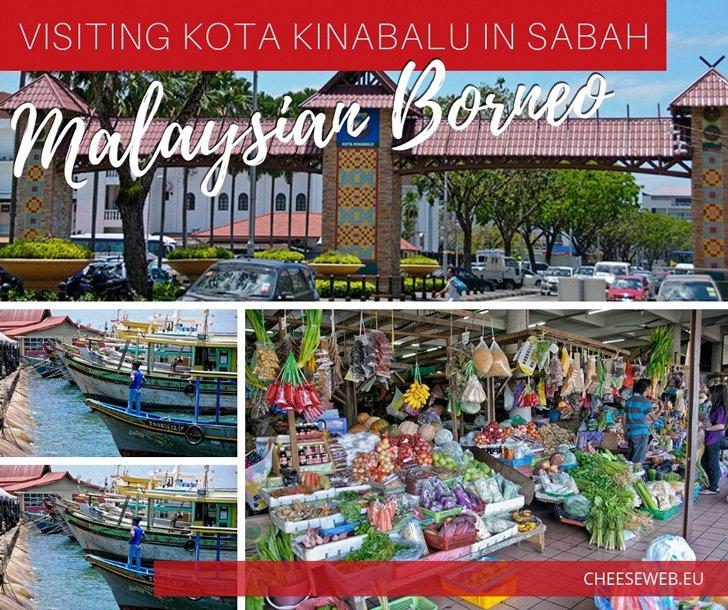 We explore the vibrant city of Kota Kinabalu, Malaysia the perfect hub to explore northern Borneo. Learn the best things to do in Kota Kinabalu and exciting day trips from Kota Kinabalu to Mount Kinabalu, the surrounding islands, Sandakan and more. 
Where is Kota Kinabalu Malaysia?
It all began with a Skyscanner search. Where could we fly cheaply from Hong Kong to escape the busy city for a week?
"Where the heck is Kota Kinabalu?" Andrew looked back at me blankly.
I read about travel destinations constantly. It's my industry, but it's also my passion, as evidenced by the travel guides and magazines dominating our bookshelves. So when I come across a place I've never heard of before, I'm immediately intrigued.
After a quick Google search, we were ready to book our flight to a medium-sized (450,000) coastal city in Malaysian Borneo. Kota Kinabalu, here we come!
Flying from Hong Kong to Kota Kinabalu with Air Asia.
The flight from Hong Kong to Kota Kinabalu (known by locals as KK) was just under three hours, and despite our trepidation at flying with the Asian version of Ryanair, we were very impressed by our Air Asia flight.
We each flew with one piece of checked luggage and a hot meal. Our round-trip cost was about 150 Euro, total. (Yes that does mean the combined total for both of us!). With flights that cheap, we hardly cared what Kota Kinabalu would be like. Fortunately, it was perfect.
Nearing the small airport, we could see KK stretched along the coast below us. Already we liked what we saw. It was sprawling but colourful, hugging the coast, below a cluster of dark green mountains. The turquoise water was speckled with tropical islands. Yes, we were bound to like this place, a lot.
The tiny airport reminded us of landing in the Bahamas, many years ago. In this instance, however, we did have to pass through immigration, where we were granted tourist visas in the blink of an eye. The customs official even welcomed us with a smile.
A short wait in the taxi queue later and we were headed into town. The palm-lined streets and massive development projects reminded me more of Southern Florida than Southeast Asia but as we neared the city centre, we uncovered more of the Asia I expected to see.
Where to Stay in Kota Kinabalu
We pulled up outside the Horizon Hotel, so new on the KK skyline google maps still shows it as a construction site. It's one of only a couple of large, modern hotels in Kota Kinabalu and besides the Meridian, the only one not targeting Chinese tourists.
Things to do in Kota Kinabalu, Malaysia
Go for a Walk
Central Kota Kinabalu is compact and easily walkable, except for two small details. The sidewalks range from shop-fronts spilling onto the street to broken concrete to boards over gaping holes. Then there is the sun, blazing down, ready to blister pasty white skin within minutes.
Dodging from shady corner to awning covered store-front, we explored the city.
For a deeper insight into the city's culture and history, book a guided walking tour of Kota Kinabalu.
Shop until you drop
If you want to shop, KK is your city. Huge, air-conditioned shopping malls wait, practically devoid of shoppers, on nearly every block. According to locals we spoke with, they target rich tourists from neighbouring Brunei and mainland Malaysia. Their only appeal to non-shoppers like us was the offer of a brief cool-down from the 33-degree heat outside.
Take a Day Trip from Kota Kinabalu
Kota Kinabalu's main draw for tourists is as a gateway to the nature of Sabah, Malaysian Borneo's northern province. It's a short ferry ride to the islands of Tunku Abdul Rahman National Park or a 45-minute flight to Sandakan to visit the orangutans. It is also the best place to access the UNESCO World Heritage site, Kinabalu National Park, where the brave (not us) tackle climbing Mount Kinabalu.
Here are more great day-trips from Kota Kinabalu Malaysia:
Visit Kota Kinabalu's Waterfront Markets
But this doesn't mean KK is without its own charms. Although there is no beach in the city centre, there is a lively and bustling waterfront. During the day, it's a hub for the marketplace.  The main market building contains endless varieties of fruit, vegetables and spices.  It had me itching for a kitchen of my own.
Next door there is a large fish market, where creatures from the sea are so fresh, they're still moving.
If you want something you can actually take on a plane with you, there is a vast craft market. I was particularly taken with the row of pedal-powered sewing machines out front.
Eat!
At night, the waterfront comes alive with restaurants, seemingly deserted from the front. But pass through the dining rooms, to the pier out back, to find picnic tables crowded with noisy diners, happily sharing curries, satés and seafood of all varieties.
It should come as no surprise, Andrew and I were most excited about the food. This is where we would normally taunt you with photos of the delicious dishes we consumed over the week. Sadly, karma had something to say about our foodie boasting and Andrew's iphone decided to spontaneously delete our Malaysian foodporn. So you must trust us when we say, if you love Asian cuisine, KK is your place. Highlights for us included crispy, crunchy, salt and pepper crab and BBQ steamed pork buns better than anything we tried in Hong Kong.
All this being said, we didn't spend a great deal of time in KK. Most days, we were off day-tripping to other parts of Sabah, only to return to KK in the evening, when the heavens opened for the nightly downpour. We have never seen so much water fall from the sky in one hour (not even in Belgium!)
But even drenched to the skin, darting through puddles, racing back to our hotel after another belly-stuffing meal, KK was everything we could have wanted in a great holiday destination. Sometimes having no idea where you are going, leads to the best travel adventures.
Latest posts by Alison Cornford-Matheson
(see all)
Read more from this series...
Things to Do in Kota Kinabalu in Sabah, Malaysian Borneo