THIS POST MAY CONTAIN COMPENSATED LINKS. FIND MORE INFO IN MY
DISCLAIMER
.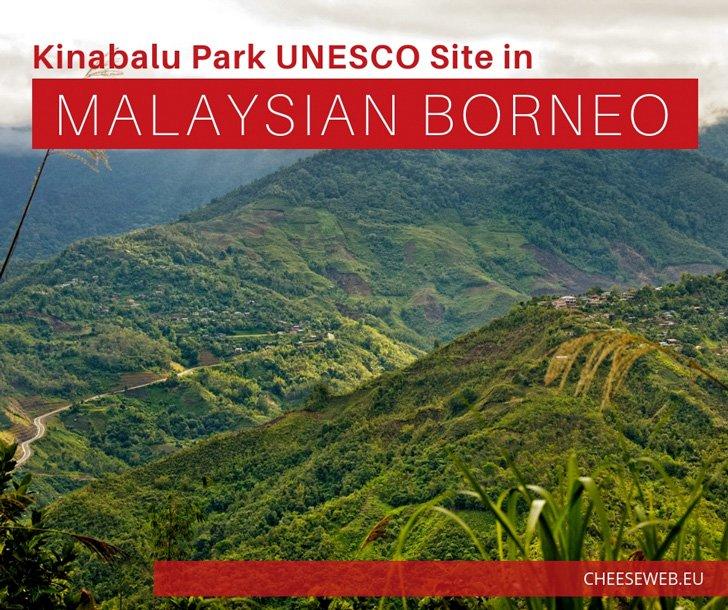 Kinabalu Park is one of the top attractions in Malaysian Borneo. This UNESCO site is home to the stunning Mount Kinabalu. It's an easy day-trip from Kota Kinabalu so read on to learn all about our final day in East Malaysia. 
I faced two of my biggest fears (mostly) without tears. I witnessed a once in a lifetime event. And I spent the day in one of the most beautiful places on earth. All in all, it wasn't a bad last day in Borneo…
As you can tell from our previous posts about Malaysia's Sabah province, Andrew and I weren't having the relaxing beach vacation we originally planned. We were having so much fun exploring the jungles and discovering wildlife; we didn't miss the beach a bit.
In fact, as soon as we returned to our hotel, after our Klias River cruise, we called Borneo Eco Tours to see if we could arrange one last excursion for our final day. The operator didn't seem used to such last-minute requests, but within a few hours, they had found a guide to take us to Kinabalu Park, the following day.
Kinabalu Park Day-Trip from Kota Kinabalu, Malaysia
We were up bright and early to meet our driver and our guide, Adrian. Despite our last minute planning, we managed to score an incredible guide. Adrian had diplomas in botany, birding, wildlife, and more. We had no idea how he had time to be one of Borneo Eco Tours most requested guides, outside of all of his studies.
Our driver pointed our small van towards Mount Kinabalu, which we had flown over on our way to visit the orangutans in Sepilok, and we headed for the park.
Kinabalu Park is one of the top attractions in Sabah, but at 754km2 surrounding Mount Kinabalu, you don't see many crowds, other than at a few popular spots.
Kinabalu Park was designated one of Malaysia's first national parks, in 1964. In 2000, UNESCO added it to the World Heritage List as one of the world's most important biological sites. It's home to more than 4,500 species of flora and fauna, including 326 types of bird and around 100 mammal species.
Before we even reached the park, the scenery passing by our windows was stunning. We climbed ever higher, passing through small villages, catching glimpses of mountains and valleys in the distance.
Kinabalu Park ranges over four climate zones, and we could not only feel the difference in the air temperature as we drove, but we could see the landscape and flora changing as well.
Arriving at the park, our first stop was a quick trip to the Park Headquarters to visit the small museum. Andrew and I probably would have breezed through the informational signs, but Adrian brought them to life for us, with his stories about Sabah's endemic plants, animals and birds.
Kinabalu Botanical Gardens
We jumped back in the van for a short hop to the Kinabalu Botanical Gardens. Kinabalu Park is home to one of the highest concentrations of plant species on earth, an estimated 6000, ranging in size from the world's smallest flower to its largest. There are 711 documented species of orchids here alone.
While hiking is one of the park's big draws, of course, it's not feasible, or environmentally sustainable to have folks tramping all through the park, searching for flowers.
Instead, the majority of plant-lovers come to the botanical gardens, where many of Kinabalu's species have been relocated for easy(ish) viewing.
Once again, if Andrew and I had been on our own, we would have enjoyed a nice walk through the garden (and by 'garden' here I mean 'jungle with pathways.') But as we strolled with Adrian, he was continually stopping, reaching into the leaves, and pulling out some impressive, often tiny, bloom; we would have walked right past.
Sadly, we missed peak orchid season by a few weeks, but we still spotted a few colourful and unusual blossoms.
We also saw many of Kinabalu's carnivorous plants, some of which, Adrian told us, sell for tens of thousands of dollars on the black market. Yes, that's right. There is a healthy black market for rare plants and plant poaching is a real problem in the park. Culprits caught trying to smuggle plants out of the country face lengthy jail time and severe fines. (Sorry Mom, no seeds from this trip!)
Poring Hot Springs Canopy Walk
Flower-gazing over, we headed to Poring Hot Springs, where I would face two of my biggest fears.
I'm not an adventure traveler by anyone's definition. But I'm also not a scaredy-cat. I've been white-water rafting, and I love roller-coasters, but I have no desire to jump out of perfectly good planes or off bridges with only a bungee cord. I hate heights… well, I hate the thought of falling from said heights, to be more precise.
When it comes to the creatures of the world, I like rodents; love bats; snakes and lizards don't faze me, and I love mammals in general. There are only two living things I don't enjoy: big creepy-crawly bugs, particularly spiders, and leeches.
The whole time we were in Borneo, I feared I would discover some giant bug. Other than one unpleasant cockroach (in a restaurant of all places), I didn't see any… at all. It never occurred to me leeches would be a problem. But I'm getting ahead of myself. ..
We were at Poring, not to relax in the hot springs… oh no. We were going to do a canopy walk. "Perfectly safe. Great View," Adrian told us. But, he wasn't coming with us. "Oh I've done it many times, don't need to go again." Hmm, what did he know that we didn't?
The trail was supposed to be an easy walk uphill. Now, first of all, any walk, uphill in the rainforest, is not easy and we were sweating within minutes.
Soon, we discovered what once had been a "manicured trail," was now a "pile of rocks and roots with a gully running through it."
We climbed, and clambered, and stopped to guzzle water. Then we climbed some more; finally reaching the canopy walk.
While we stopped to rest, before climbing the steps to the entrance, I looked up at the canopy walkway. It was essentially a series of aluminum ladders, lashed together, with boards laid on top to walk on. I can read the statistics now – a total length of 373.6 meters and 41 meters from the ground at the highest point. Thank god I didn't know them at the time.
I've climbed a lot of stairs and dealt with a lot of heights in Europe over the years, all in the name of a good photo. How bad could it be? (Insert something about last words being famous here…)
I put my first foot on the walkway. It dipped. I tentatively placed my second foot. The walkway swayed. I could see the only way to get through this was to walk as quickly as I could to each of the five stationary points.
I made it to stations 1 and 2 without too much trouble. When I arrived at 3, the view was breath-taking. But just as I pulled out my camera to photograph the scene, I felt a drop of rain. I had just enough time to get my camera under its raincoat before the heavens opened. I had two more wobbly ladder bridges to cross before terra firma. And now they were slippery.
Andrew walked ahead of me, encouraging me on. My hands were shaking as the wind picked up and the bridges swayed more. The few minutes it took, felt like eons. I wanted to kiss the ground; except, by this point, the ground was a swirling, muddy river.
A school group ahead of us had stopped to try and wait out the rain. Andrew and I looked at each other. We were already soaked, and it didn't look like it would let up anytime soon, so we plunged ahead.
The path, which was so taxing on the way up, was now essentially a mudslide. We splashed in ankle deep water, slipping and sliding.
I noticed something on the back of Andrew's leg and stopped him. He looked down and saw it was a small leech. Oh. My. God.
I frantically searched my own exposed skin and spotted a small one on my foot. I'm not ashamed dear readers. I screamed like a little girl.
Andrew bent down to flick it off, just as another, much, larger leech landed on me. I flipped. Ever the hero, Andrew flung off the leech, before it could attach, grabbed my hand and started to run.
We ran, slipped and slid, to a covered rest area, where a few other unlucky walkers were sheltering. I began a frantic full-body leech check and probably would have started tearing off my clothes right there in front of everyone if Andrew hadn't calmed me down.
[As a side note, I only learned of the existence of the Kinabalu Giant Red Leech after we returned home. Thank Goodness.]
I took a breath. We took a short break and continued the mercifully short distance left to the base of the trail, where Adrian awaited. Although he commented on our drowned rat-like status, he didn't mention my shaking hands and wild-eyed face.
We sloshed back to the van, where we were taken to a nearby restaurant. We made use of the restroom to change into the only dry clothing we had. I donned my bathing-suit top and Andrew's swim trunks, while he threw on a dry t-shirt and made do, by ringing out his soaked shorts. Outside, the rain was still bucketing down.
We fueled up on food and calming Sabah tea. At some point, my racing heart returned to normal. By the time we left, the rain had finally stopped.
Finding Borneo's Rafflesia Flower
While we had our 'adventure,' Adrian had learned from another guide a rafflesia was in bloom, not far into the forest. Did we want to see it?
I was so exhausted from the height/leech incident, I almost said no, to this thing I thought I would have no chance to ever see in the wild. Andrew reminded me how much I had talked about it as we planned our trip.
So, we paid a small fee to the family whose land the flower was on and tramped into the forest once again.
The rafflesia is the world's largest bloom. It's a carnivorous plant that smells of rotting meat, much like the Titan Arum. They are rare and valuable. So much so, a guard stays in the jungle beside the flower 24/7, funded by the Kinabalu Park service. We spotted the guard's tent first. And then the fence – with razor wire. This was some serious flower protection.
We made our way inside the enclosure and there it was, alongside several buds of soon-to-be new rafflesias. Our flower was big but not huge. Rafflesias can be over 100cm in diameter.
I was here. In Borneo. Staring at the world's biggest flower, in the wild. I took a breath. Despite terrifying heights and disgusting leeches, it was the Best. Day. Ever.
We highly recommend our experience with Borneo EcoTours which was in no way sponsored – We just found them a great company to deal with. If you aren't able to book with them, here is a similar tour offered by an alternate company.
Latest posts by Alison Cornford-Matheson
(see all)
Read more from this series...
Kinabalu Park UNESCO Site in Malaysian Borneo