THIS POST MAY CONTAIN COMPENSATED LINKS. FIND MORE INFO IN MY
DISCLAIMER
.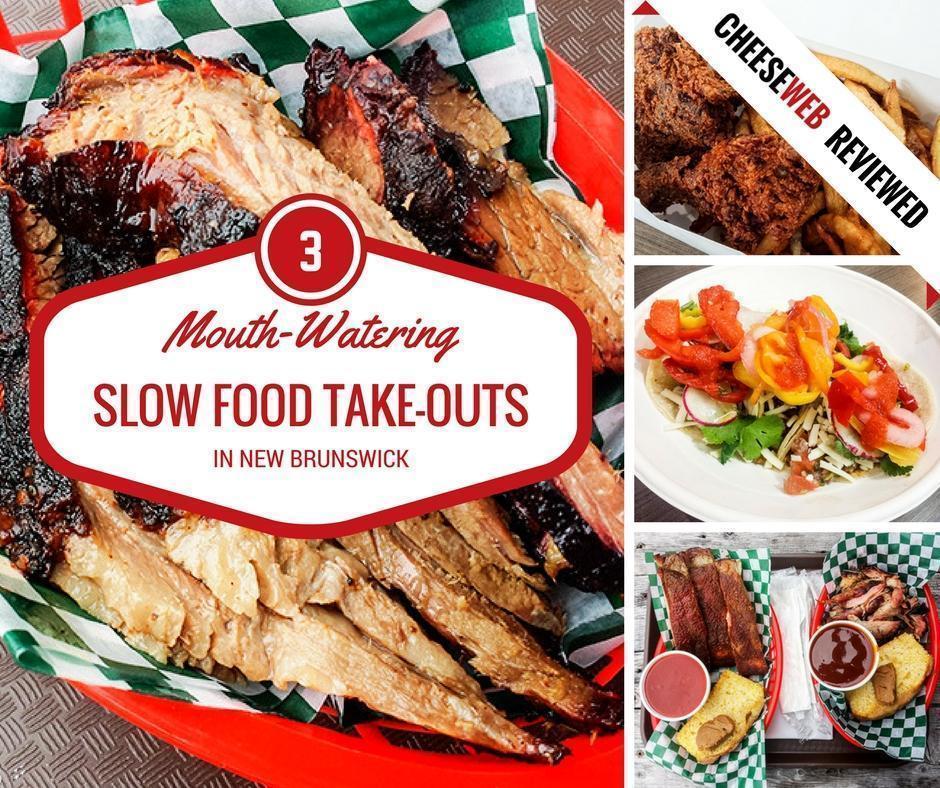 We review the Smoking Pig, Toro Taco, and Barred Rock, 3 local, sustainable, fast food restaurants in Saint John, New Brunswick, headed by Chef Jesse Vergen.

Last summer we visited the Saint John Ale House and have been fans ever since. (You can read our rave review here.) I became a bit of a groupie of Chef Jesse Vergen after watching his stellar performance on Top Chef Canada. (He was robbed I tell you!) Chef Vergen's philosophy is one we stand wholeheartedly behind – producing delicious, accessible food from local and sustainable products.
We are thrilled to see Chef Vergen has been growing his empire and this can only be a good thing for foodies looking for restaurants in Saint John. In addition to the Ale House, we've tasted our way through three more of Chef Vergen's Saint John restaurants, and we're giving you the full scoop on what we thought. [Warning: don't read the follow reviews on an empty stomach.]
The Smoking Pig BBQ
After our experience at the Ale House, we were eager to try Chef Vergen's BBQ joint, The Smoking Pig. The take out is the only one of Jessie Vergen's restaurants not in the Market Square complex in Uptown Saint John. The Smoking Pig is a real, outdoor BBQ, located in a restored caboose at the driving range in Quispamsis, NB (about a 20-minute drive from Uptown Saint John).
We're happy to report; it was well worth the trek to Quispamsis to get your hands on this incredible BBQ. (Sorry vegetarian friends. You may want to look away now.)
Andrew, being a major fan of all things pork, wanted to try everything on the menu, but I managed to restrain him somewhat.  On our first visit, he opted for the wood smoked ribs. The meat was fall-off-the-bone tender, and the flavour far surpassed all of the ribs we tried at the summer Rib Fest in Saint John.
I chose the pulled pork which was also delicious. It was succulent without feeling too greasy. The real magic was in the home-made sauces, though. The Hot Louisiana had a nice kick of heat, and we loved the vinegar acidity of the Carolina Tang. We paired our meals with cornbread topped with (forgive me arteries) pork fat butter.
Because we felt the need to do a thorough review (we are nothing if not dedicated reviewers), we ordered the beef brisket to share. While I normally find brisket dry, this was moist and flavourful.
We have yet to try the smoked turkey and all of the sides, but we'll be making future visits (to make sure the quality remains at the same high standard, of course.)
The only downside to the Smoking Pig is it is only open June-September. But trust us, it's worth the wait.
Toro Taco
If there's one cuisine we love (Who are we kidding? We love all food.) it's Mexican. So when we were passing through Uptown Saint John's Market Square, Toro Taco caught my eye. However, it wasn't until weeks later I learned this little taco take-out and Barred Rock, the fried chicken joint beside it, were part of Chef Vergen's empire.
We love fast food. Who doesn't love a great burger, crispy fries, or delicious fish and chips? But we hate what fast food chains usually mean: low-quality, massed produced 'food' from factory farms thousands of miles away. One of the reasons we love food trucks so much is because we can get fast, cheap, food that's homemade and often locally sourced. We were thrilled to learn this is exactly Chef Vergen's concept for Toro Taco and Barred Rock.
Toro Taco's menu is deceptively short. You can actually customise your meal in countless ways. You choose from 3 small tacos, a burrito, a Toro bowl, or an Ensalada (salad). Then you choose rice, black beans, or refried beans. Finally, you pick your protein: Ancho chicken, smoky pork carnitas, plancha-seared steak, or chilli lime veggies. But the choices don't end there. There's a whole variety of toppings from fresh veggies to house-made pickles (the pickled radish was awesome), and sauces all made on site.
I opted for the tacos with chicken and pretty much every topping. When I asked what their hottest sauce was, my server pulled a small glass bottle marked XXX from under the counter. 'Well, we have ghost pepper sauce,' she said with hesitation. 'It's very hot.' She shot a nervous look at her co-worker who confirmed. 'It's crazy hot.' Sold!
The tacos were magic, and yes, the sauce was not for the faint of heart; exactly how I like it. (Despite the nervous looks I was getting behind the counter.) If I had any complaints (and we're talking minor niggle here), it's that the little tacos were tricky to eat because the tortillas are so small. It was definitely a fantastic light, healthy(ish) lunch I intend to repeat.
Andrew opted for the burrito with (surprise, surprise) pork. He got literally everything they offer in it. This monster is not for those with light appetites. It was bigger than his head – and he loved every bite.
Toro Taco was an absolute win, and, although the competition is very tight, I think my favourite of the three take outs. This is one of the best take-out restaurants in Saint John.
Barred Rock Fried Chicken
We conducted our final (for now) tasting of Chef Vergen's creations a week later with a visit to Barred Rock.
The first dish of Chef Vergen's I ever tried was the buttermilk chicken fingers at the Saint John Ale House, and I became a believer. I usually avoid chicken at restaurants because it's normally bland, dry, and frankly boring. But hell; I'm human and what carnivore doesn't love the crispy, fatty skin on fried chicken? If you want fried chicken with a conscience and a whole lot of flavour, Barred Rock does not disappoint. This isn't your grandma's fried chicken (which I'm sure is lovely. But this is better.)
I chose the real buttermilk fried chicken with fries. It was everything fried chicken should be: crispy, crunchy skin, juicy, flavourful meat. The fresh cut fries were pretty good too (which honestly is the highest praise Canadian fries get after 11 years in Belgium. By local standards they were great.)
Andrew ordered the fried chicken sandwich, which looked a lot like those delicious Ale House chicken fingers on a bun, with a pickle, lettuce, and mayo. He gave it two thumbs up.
Oh, and if you want those delicious chicken fingers, you can get them at Barred Rock too, as well as Barred Rock poutine (which I'll be testing next time). Vegetarians, fear not, there is also a Portobello mushroom sandwich (although if I were going veggie, I'd hit the colourful salads and bowls next door at Toro Taco.)
Needless to say, after our recent foodie experiences, we're even more raving fans of Chef Jesse Vergen. We can't wait to see what his next addition to the best restaurants in Saint John is going to be. (Chef Jesse, if you're reading this, we have some ideas. Two words – Ramen Bar. Just sayin'.)
Be sure to read about more great things to see, do, and eat in New Brunswick, Canada.
Latest posts by Alison Cornford-Matheson
(see all)