THIS POST MAY CONTAIN COMPENSATED LINKS. FIND MORE INFO IN MY
DISCLAIMER
.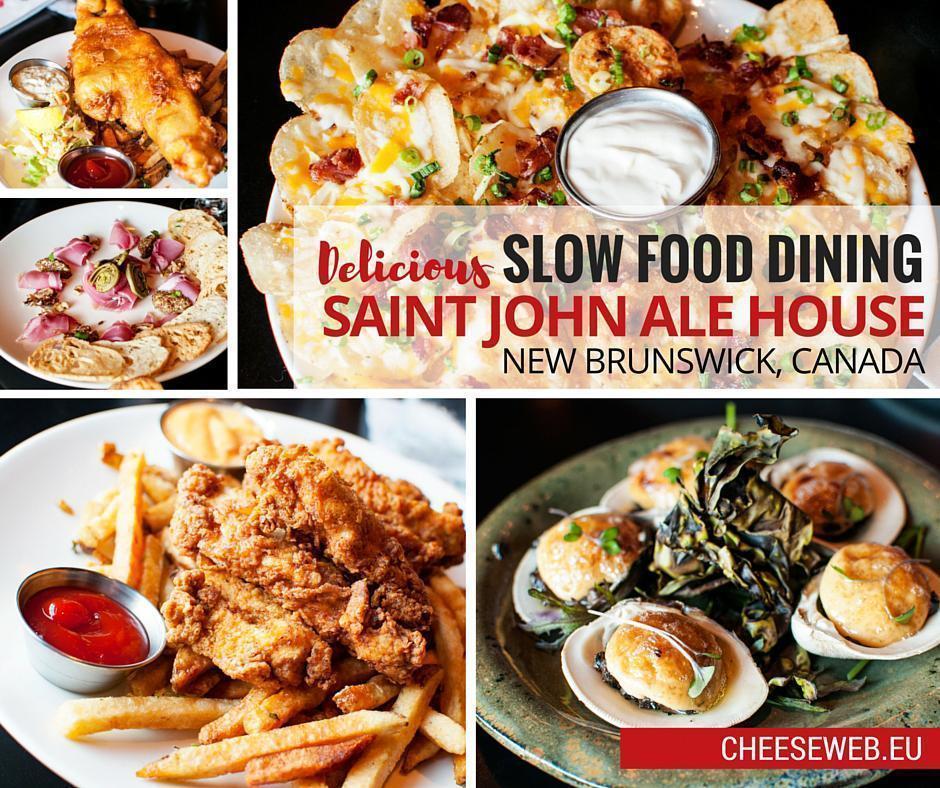 Slow Food and seasonal produce are the highlights of the Saint John Ale House in New Brunswick, Canada. We review this award-winning restaurant in the Port City.
I moved away from my hometown, Saint John, when I was 17. While I like to think that wasn't so long ago, more than 20 years has passed since I lived in the city full-time. (Let's just leave it at that shall we. Ahem…) The food scene in New Brunswick, and particularly Saint John, has changed dramatically during that time. When I was a teen, 'exotic' cuisine maxed out at sweet and sour chicken balls. These days the city boasts Thai, Egyptian, Japanese, and even a growing food truck scene.
Over the past year, Andrew and I have been trying to taste our way around Saint John's new culinary landscape, but, owing to our limited budget, we've neglected much of the higher-end restaurant scene. We keep hearing about a handful of restaurants focusing on slow food menus featuring New Brunswick's best seasonal products. We've got our foodie bucket list, and we're saving our pennies to try them all.
So when New Brunswick Tourism invited us to try the Saint John Ale House (one of the aforementioned restaurants we kept hearing great things about) and catch up with two of our favourite Canadian travel bloggers, Hecktic Travels, in the process, we were all in.
We first met up with Pete and Dalene early on in their world travels when they housesat not far from us in Brussels. It was a thrill to catch up with them years later on our native soil and share our favourite Atlantic Canada secrets with them as they explore the region this summer. What better setting for a discussion about the best of the east coast, than a restaurant featuring the best ingredients from the region?
Although I had never eaten at the Saint John Ale House, it's in a location I know well. Situated on the main floor of Market Square, the restaurant has one of the sunny patios on Saint John's bustling boardwalk. The location has been home to a number of different eateries. Until now, those restaurants have come and gone in a blinding flash of mediocrity. The Ale House is anything but mediocre.
At the heart of SJAH is Chef Jesse Vergen, a young, passionate New Brunswicker with his hands in a lot of foodie pies. In addition to the Ale House, he owns The Smoking Pig BBQ, is the chef and partner of a catering company, and is a farmer and partner in an organic vegetable farm. He is passionate about local food and not only grows, but hunts, fishes, and forages for local produce. Oh, and he's won a truck-load of awards from best local chef to countless top restaurant listings. Chef Vergen even competed in Season 4 of Top Chef Canada and the Ale House has been featured on the Food Network's 'You Gotta Eat Here'… Twice.
It's a lot to live up to. So the question is 'how was the food?' See for yourself:
Because we had some big decisions to make, we began with drinks. SJAH has an impressive craft beer menu with a wide selection from New Brunswick and the Maritimes both in bottles and on tap. While my companions debated the merits of the various brews, my eyes wandered to the cocktails. While I'd love to tell you, I ordered something deliciously local with hints of seaweed and the forest (would that be delicious?) I succumbed to my European side. I had been craving an Aperol Spritz all summer and had not been able to get my hands on a bottle here. My decision was made as soon as I saw the listing. (Even Slow Foodies have to give in to cravings sometimes, right?)
Luckily for my foodie morals, the food menu featured all things local and delicious. We were all still having a hard time choosing our main courses (and talking too much) so we began with some starters to share. Andrew couldn't resist the combination of his three favourite things: Bacon Maple Scallops. Yes, they were as heavenly as they sound.
As one of us doesn't eat seafood, we also chose the SJAH Kettle Chips and the House Cured Ham. The chips were the perfect balance of crisp and chewy and weren't greasy at all, while the ham was served with pickled fiddleheads (another New Brunswick speciality).
We also asked our server if there was anything we absolutely had to try. She informed us the quahog (a hard-shell clam, pronounced co-hog) season was about to end so they'd be off the menu soon. Although it was a close race, these were the best bite of the meal. Cooked in butter and wild mushrooms with a hint of dulse (a local seaweed delicacy) they were creamy and delicious.
The main courses seem like typical pub-style fare. However, SJAH raises these classic dishes to a new and stunning level. In the end, the men opted for English Style Haddock & Hand Cut Fries (i.e. Fish & Chips) and the ladies chose the Buttermilk Chicken "Fingers" & Fries.
We've eaten our fair share of fish and chips since being back in Canada, but this was hands down the best we've tried thus far. The batter was light and crisp without the typical greasiness that comes from deep-frying. The fries were hand cut, and the tartar sauce (like everything) is made in house.
There was a bit of personal irony ordering the chicken 'fingers.' I was a picky eater as a child, and one of the foods I lived on was chicken fingers. It was a running joke when we went to restaurants; if chicken fingers were on the menu, I almost always ordered them.  Our server at the Ale House explained theirs had been one of the foods featured on 'You Gotta Eat Here.' Made with 14 herbs and spices and served with a spicy mayo dipping sauce, the chicken had a bit of a kick and plenty of flavour. It was also moist inside with a crispy buttermilk batter outside. In short, not your ordinary chicken finger and definitely the best I've eaten.
After so much goodness we were going to pass on dessert altogether. Then our server informed us the Chocolate Guinness Cake with whisky caramel sauce had also been featured on television. Purely for research purposes, we ordered a slice and four forks…
The Saint John Ale House's menu changes regularly, depending on what's in season. This practice is something we were used to in Europe, but sadly, it still isn't the norm in these parts. There are sample menus listed on the website, but be sure to ask your server what's fresh (and amazing) when you visit.
On a personal note, it's exciting to see my hometown changing into a foodie city. We have amazing local produce here from the land and the sea, and it's inspiring to see chefs like Jesse Vergen featuring it on their menus. It's been a long time coming but if restaurants like the Saint John Ale House are paving the way Saint John, New Brunswick has a delicious future ahead.
We'd like to thank New Brunswick Tourism for inviting us to try the Saint John Ale House and Hecktic Travels for the great conversation and fun evening (and waiting until I photographed their food!) As always; all opinions are ours alone.
Latest posts by Alison Cornford-Matheson
(see all)