THIS POST MAY CONTAIN COMPENSATED LINKS. FIND MORE INFO IN MY
DISCLAIMER
.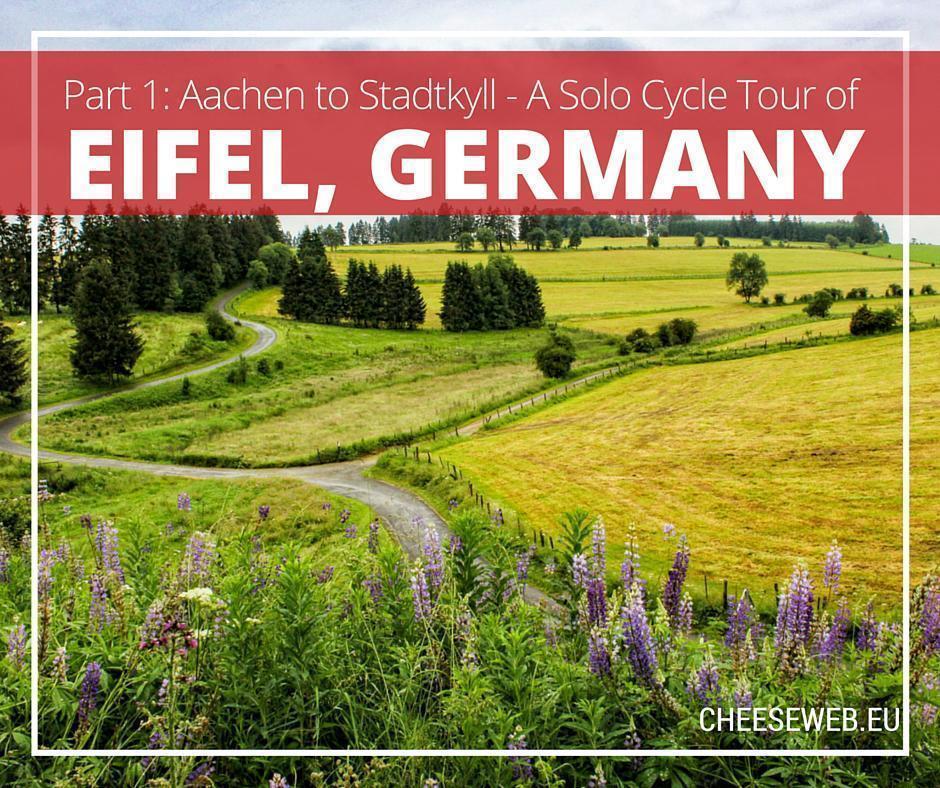 Adrian takes us on a multi-day, solo cycling tour through Germany's beautiful Eifel region. The first stages include Aachen, Monchau, and the far eastern corner of Belgium along the Vennbahn bike trail.
What is even higher than the Eiffel Tower? The Eifel tour! I know the view from Paris' landmark tower is breathtaking, but I'm not taking you there. Instead of a 300-meter climb in an elevator, we'll travel up to 470 meters of altitude, by bicycle. Are you ready to take the challenge? Come with me and let's discover the beautiful region of Eifel, Germany.
Eiffel Tower vs. Eifel Region – A simple name coincidence?
Well, not exactly. The famous tower in Paris bears the name of its engineer and designer, Gustave Eiffel, who in turn takes his name from the German region (with a slight alteration in spelling). Although born in France, Gustave Eiffel had German ancestors. In the 18th-century, one of his ancestors emigrated to Paris from a town in the Eifel region, at the same time changing his family name from Bönickhausen to, Eiffel. It's a charming story with which to begin our journey.
Why Eifel?
After cycling all over Belgium, I discovered one of the most beautiful regions, with the most picturesque landscapes and breath-taking natural scenery is the High Fens area. This Eastern corner of Belgium is home to the country's highest point, with Germany just a stone's throw away. Naturally, I couldn't resist the invitation from the Eifel Tourist Board to cycle solo throughout the Eifel low mountains.
The cycling trip comes as a tour package, planned with passionate cyclists in mind. It is divided into six stages and includes six hotel nights with breakfast. The trajectory winds through breathtaking natural areas and peaceful villages, far from the beaten path. It begins in Aachen and ends in Trier, these being the only big cities on the journey. This way, the trip gives you a feeling of exploration. After you get lost in remote villages surrounded by nature, you are awarded the discovery of another thriving destination, full of life and history.
Eifel Cycling Tour Stages
Prologue: Aachen to Aachen-Walheim – 17 km
Stage 1: Walheim to Waimes (Belgium) via Monschau – 60 km
Stage 3: Waimes to Stadtkyll (near Jünkerath) – 50 km
Stage 4: Stadtkyll to Birresborn via Gerolstein – 35 km
Stage 4: Birresborn to Bitburg – 35 km
Stage 5: Bitburg to Trier – 60 km
The first two stages of my trip followed cycle trails converted from former, disused railway lines, which made the ride smooth and easy. The last three stages took country roads and paths with little traffic, even though they were not necessarily reserved for cyclists. They were still calm and pleasant to ride, but the stages were more challenging, given the steeper climbs and sharper differences in altitude.
As a result, I must be honest – this journey is not for beginners. You don't have to be Lance Armstrong, but you must love cycling and enjoy expending a little effort while travelling. If this sounds like you, let's begin.
In this article, I will describe the first stages of the Eifel cycling tour.
Aachen to Walheim
The closest German city to the Belgian border, Aachen has more to offer than it seems at first sight. Although I had visited before, I was surprised to discover more interesting places, well hidden from the tourist path and only accessible to those of us who like to explore. I'm not talking about crossing dangerous rivers or climbing threatening mountains; just grab a free USE-IT map from the Tourist Office and follow their suggested routes. Discover the ornate facades of Bismarkstrasse. Then take a look at the Frankenberg Castle and its surrounding park, before you arrive at Burtscheider Markt, an unknown pedestrian square, with its mix of old and new architecture. I ended my visit to Aachen in Kapellenstrasse, a simple, straight street with a particular charm provided by its line of trees and cobblestone surface.
Of course, if you want to visit Aachen comprehensively, you should reserve a whole day or more. Its monumental cathedral and the attractive narrow streets in the historic centre are a good place to start. However, as my mission was to explore the whole Eifel region by bike, I decided to go ahead and find my way out of town.
Aachen was the prologue of my trip, set to end at my first hotel, Hotel Brunnenhof, in the suburb of Aachen-Walheim. It was there my 'official' journey would kick off the next day. Now I was just preparing. The distance from Aachen to my hotel was about 17 kilometres, a short trip for a long-time cyclist like me, allowing me to explore the area stress-free.
I cycled the entire way on the Vennbahn – a cycling trail that follows an old scenic railway line. Vennbahn translates to the Fen Railway. This stretch of rail once linked Aachen in Germany to Troisvierges in Luxembourg. No longer used since the early 2000s, the track was dismantled, and the rail bed was converted into the cycle trail it is today. This proved to be an excellent initiative, as the route is now heavily used by cycle tourists.
On my way from Aachen to Walheim, I passed through the village of Kornelimünster. The centre of the village lies at a much lower altitude than the cycling path, but it is definitely worth visiting. With its medieval appearance, it is a picturesque spot to visit, so don't hesitate to leave the trail and go downhill, even if you know you must climb back later.
Alternatively, if you wish to reach the hotel faster, you can leave the visit to Kornelimünster for the next day. As it is only three kilometres away from Walheim, you can begin your first stage here, even if you need to start riding in the opposite direction. That is what I did.
Hotel Brunnenhof is conveniently situated near the Vennbahn. In case you need some refreshments, a Penny supermarket is also nearby.
Walheim to Waimes – the in-and-out-of-Belgium stage
Walheim to Waimes was the first serious stage of my trip. It's where you get to know the Vennbahn better, with its trajectory that repeatedly enters Belgium and then returns to Germany. What's even more interesting is from Raeren, and further on, the whole Vennbahn is officially Belgian territory (and part of the RAVeL network), which creates a number of German enclaves cut from mainland Germany only by the bed of this former railway.
From Walheim to Raeren (Belgium), the cycling path follows a railway line that looks operational; or at least, it could be, as it is certainly not used for regular passenger traffic. Close to the former station of Walheim, I could spot some old rolling stock that seemed to be undergoing restoration. Also, at Raeren, I admired two old Belgian passenger coaches that didn't look completely abandoned. How and when that railway is used is still a mystery to me, but it's something I would like to find out.
From Raeren on, the Vennbahn separates from any operational railway track. Nature surrounds you. The trail is almost continuously climbing. It is smooth because trains were not good climbers, but still going uphill. Be prepared to use your legs quite intensively. But don't worry; there's always a shelter, with benches and tables, where you can take a break. These shelters are usually placed where smaller railway stations once stood.
If you want to discover more about the surroundings, you'll also find many information panels, where you can read stories about the villages you are crossing and their railway past. In Lammersdorf, a museum for farming and rural life is also located near the Vennbahn.
Monschau – the irresistible town in the valley
My advice for this stage of your trip is: save your time and energy for visiting Monschau. I am not asking you to ride in a hurry and ignore the natural scenery, but I am warning you: Monschau is irresistible! If you think you can visit the town in half an hour, you are wrong. Plan your trip such so you have enough time to spend there.
Monschau, known in French as Montjoie, is a pretty, little town cramped in the narrow valley of the Rur River. With its narrow, intertwined, cobblestoned streets and its beautifully preserved half-timbered houses, Monschau is now a popular tourist destination. Countless restaurants and cafés await its visitors. If you are in good shape, which should be the case, given the long cycling trip you are doing, you can hike the various paths that lead to panoramic viewpoints over Monschau. A number of museums are also open, the most popular of them being the Red House, an 18th-century mansion once owned by a prominent cloth producer and trader.
It's a small town, but it is special. Once you get there, you will see it's hard to leave. Be sure to find the right exit from the Vennbahn (look for the signs!), because there is only one place you can leave the trail and head to Monschau. You will go downhill a lot (which means later you'll have to climb hard to get back to your trail), but none of these inconveniences should stop you from visiting this hidden gem of the Eifel.
[Editor's Note: Monschau is also home to an excellent Christmas Market in December and makes an easy day-trip from Brussels, or elsewhere, in Belgium.]
Railbikes and natural scenery
After Monschau, the Vennbahn keeps climbing, up to the village of Sourbrodt. On the way, you will cross one of the most beautiful parts of the High Fens. Forests will give way to open areas, and the calm, green scenery will make you feel relaxed. Personally, I enjoyed these wide open places more than dense forests, but this is a matter of preference. But don't worry, you will have a bit of everything.
Once you enter Belgium, at Leykaul, you'll find the High Fens Railbikes – a fun way to discover the natural area I have just mentioned. Seven kilometres of the railway track are maintained here, from Leykaul to Sourbrodt. But instead of being used by trains, this stretch is now used by railbikes.
Also, at Leykaul, Railway-heritage-hunters can admire a French passenger coach from the 50's now used as a waffle shop. At Sourbrodt, the station building is nicely restored, while some old freight wagons await restoration out front. According to the information I could get, these wagons have not been there since Vennbahn's railway era. They were brought in later, to become part of a future museum of local life. However, to this day, the project does not seem to have materialised, so these wagons are unfortunately rusting quietly by the former station.
From Sourbrodt to Waimes, the route descends. You can now enjoy the view with minimal effort. Once in Waimes, you are in the French-speaking part of Belgium. My destination for the day was Hotel Hotleu; a nice accommodation situated a bit out of the village. This was a good thing, though as I had to leave the RAVeL, allowing me to visit more of the village. Despite worrying about being late (after a very long break in Monschau), I arrived at the hotel around 8 PM.
On the RAVeL, direction Germany
When you set off for the second stage of the Trans-Eifel trip, you will turn around and cycle in the opposite direction for a few kilometres, from Waimes eastwards to Weywertz, where you head right, to Bütgenbach and Büllingen. These are both German-speaking villages in the Walloon region of Belgium. Here, most of the signs are in German, but many people also speak French.
You are now on another branch of the former Fen Railway, called Venquerbahn, linking Weywertz in Belgium to Jünkerath in Germany. Like the previous day, this former railway section is also very scenic. Not only does it cross various natural areas, alternating forests and wide open hills, but it also includes some impressive viaducts, from which you can admire eye-catching panoramas. For instance, the viaduct at Bütgenbach is not only a good spot for panoramic views, but it is also a beautiful work of engineering. It's a pity you can't see it unless you take a detour to the village itself.
Two major dams and their reservoirs are close to the cycle path. First, there is the dam at Bütgenbach, with a holiday park and camping site on the banks of its reservoir. Then, there is the dam at Kronenburg, in Germany this time, which is easy to visit as it is also close to the cycle path.
Several villages lie along this line, so feel free to look around. Personally, I took short tours of Honsfeld, in Belgium, Halschlag, and a small part of Dahlen, in Germany. It was only later I discovered some pictures of the small medieval town of Kronenburg (close to the dam and lake), and now I regret having missed it. If you get there, take a few pictures for me or send me a postcard.
Another lovely sight was a group of wind turbines I spotted soon after entering Germany. I found the view particularly beautiful, with the white giants in the green-blue landscape.
One more thing before I move on: there are a few kilometres in Belgium, where the bike trail is only gravel. Don't worry, though; it won't last long. Keep riding and soon you'll return to a smooth asphalt-surfaced path.
This stretch of railway converted to a bike trail ends in Jünkerath, where it meets an operational railway. The end of my stage was just a few kilometres before, at Stadtkyll, a small spa resort. The former rail station is still standing and seems now to be a private house. Moreover, the owner preserved the rails and the platform, perhaps as a memory of the glory days. The building is well maintained, and it's worth a look. However, keep in mind (ironically),  there is no direct access from the town centre to the bike track at the former station, so you'll have to go there specifically if you wish to see it.
Stadtkyll is small but still lovely. I think it's the feeling of being somewhere remote that makes the journey exciting. It's never a bad idea to take a walk around the town and climb the calm, steep streets that can eventually lead to panoramic viewpoints. One of them is right on the bike path, as you head east to Jünkerath. I could even spot my hotel from there.
I slept at Ponyhof; a family hotel placed literally at the top of the town. My room had a beautiful, relaxing view of a green hill. It was a good place to begin a new stage that would also mark a change in the style of my journey; no more riding along former rail beds. Instead, my trip will follow various secondary mountain roads and calm paths, with directions given by specific signs for cycle tourists.
See you soon for part two of my cycle journey through Germany's Eifel region!
We would like to thank Eifel Tourism for sponsoring Adrian's cycle tour of the area. As always all opinions are those of our writers alone. 
Read more from this series...
A Solo Cycle Tour of Eifel, Germany – Part 1: Aachen to Stadtkyll