THIS POST MAY CONTAIN COMPENSATED LINKS. FIND MORE INFO IN MY
DISCLAIMER
.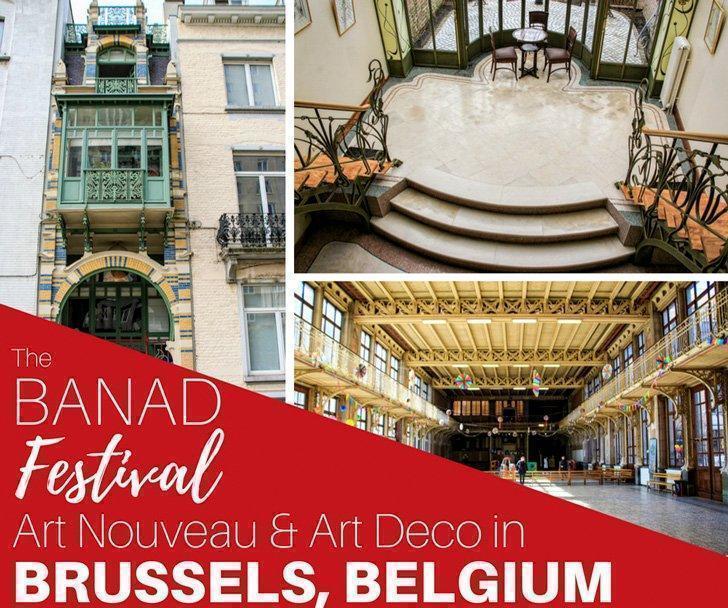 Want to visit Art Nouveau and Art Deco buildings in Brussels, Belgium not normally open to the public? The BANAD Festival takes you behind closed tours for guided tours of Brussels most spectacular buildings.
Ever since I was young, my top interest when visiting a new place has been architecture. The way buildings look, their style, their colour, the way they are preserved; are what make me say "I like this city." These things have always been so important to me, when I was a kid, my parents used to say I should become an architect.
Unfortunately, I did not take any art classes, nor have I had lessons on architectural styles. I had to identify them little by little, on my own. One particular style that got my attention is the organic and rich form of Art Nouveau. Brussels is so proud of being home to this style even the STIB busses are decorated with Art Nouveau elements.
When I learned a festival dedicated to Art Nouveau architecture takes place every year in Brussels, I immediately contacted its organizers to discover more about the BANAD Festival.
Two Architecture styles, one festival – The Brussels Art Nouveau / Art Déco Festival (BANAD)
Although I've been speaking about Art Nouveau, the BANAD festival covers two styles, equally important in modern history. Their similar sounding names create a lot of confusion, but it is important to know they are different in every way.
Art Deco vs Art Nouveau
Art Nouveau emerged at the end of the 19th and early 20th century and is easily recognizable by its curved shapes, inspired by nature. As the name suggests, Art Nouveau was a new style, created as a way to cut ties with the various revival styles (reinterpretations of older styles) prevalent at the time. Remarkably aesthetic and making use of the latest building technologies available, it was expensive and mostly reserved to the wealthy bourgeoisie.
Art Déco is more recent and much more simplified, with straight lines and angular shapes. However, it is still a remarkable style, specific to the first half of the 20th century. Even though it wasn't named as such from its beginning, this style flourished after World War I. While it is still easy for me to confuse Art Déco with Modernism, I can easily distinguish Art Déco from Art Nouveau.
Nathalie Curinckx, a tour guide at the BANAD Festival, explains the differences very well.
How the BANAD Festival Works
During three consecutive weekends in March, a number of notable buildings sporting one of the two architectural styles in question are open to visitors. These buildings are scattered all over Brussels, and they range from smaller, single-family houses to large mansions of the wealthy bourgeois to public buildings, such as schools or hospitals. Professional guides lead all visits, and the tours are available in French, Dutch, English, and German.
Apart from the guided interior visits, various events are held during the two weeks of the festival. These include walking or cycling tours, collectors' fairs, concerts, activities for schools and so on.
As interior visits are the core of the festival, the best way to enjoy BANAD is by purchasing a pass.   These come in two flavours: an 8-visit pass and a 24-visit pass, allowing for their respective number of interior guided tours. In 2018, they were priced 32€ and 70€ respectively, but three specific places required a supplement ranging from 10€ to 25€.
You must, however, plan your visits carefully, right from the buying process, because the number of places is limited. If I were you, I would do the following: browse the festival's website BANAD.brussels beforehand, check out the available tours in my desired language and write down those I am interested in (with their respective day, time and duration). I would then make a plan, according to the schedule of these visits. Once I am ready, I would go ahead and book them while purchasing the pass. Once you start the booking process, you have 70 minutes to complete the transaction, but even so, it might be stressful. So why not make your mind up first and then proceed to booking?
All the information about the buildings open to visitors is on the website, along with their address so that you can create your itinerary.
There are also possibilities to visit certain buildings without booking in advance, whether you have already purchased a pass or not. Keep in mind, in that case; you must pay a supplement at the entrance and admission depends on the number of available places.
Lastly, you won't need a pass for the various activities organized around the festival, such as the exterior guided tours, concerts etc. but some of them require an entry fee.
A Unique Opportunity to See Behind Closed Art Nouveau Doors
It is normal for a traveller to go inside prominent buildings, castles, churches, etc. But it's not so common to visit people's homes. It is also virtually impossible to have a look inside, let's say, a company's headquarters unless you have authorization. But if you are into architecture, it's natural you'd want to enter the door of that impressive, stylish building and see what lies inside. That's what makes the BANAD Festival such a unique opportunity. You have the chance to go inside places that are not usually accessible.
What's more, you have the choice. Do you fancy a luxury mansion, a masterpiece of renowned architects such as Victor Horta or Paul Hankar? Do you prefer to see a school where kids are accustomed to beauty from a young age? Or would you rather say hello to a family lucky enough to live in a well preserved architectural gem?
During the festival, you have plenty of options, and the tour guides know many stories about the buildings in question. You will undoubtedly learn interesting facts about the visions of the architects, how they dealt with the requirements of their clients and how their projects came to life. Guides are also open to questions, so don't hesitate to ask them if something makes you curious.
One important thing I should mention: Photography is not allowed inside the buildings.
The Unmissable: Victor Horta's Art Nouveau Mansions
It's a fact. There are several buildings you should visit above all. I am not saying everything else is unimportant, but these are the best known and the best preserved Art Nouveau buildings in Brussels. While the pricing policy for some of them is debatable, they are truly impressive. So if you don't know where to start, try these suggestions first.
Hôtel Tassel
Head to the Tassel Mansion, the very first pure Art Nouveau work in the world. Built for Horta's friend Émile Tassel between 1892 and 1893, this mansion showcases the architect's innovations, such as creating a light shaft in the middle of the house, just above the staircase, while cutting ties with the conventional layout of houses in Brussels. The stained glass window at the entrance only gives the visitor a hint to what's inside. Our guide even said it's like a lady's cleavage: one can only guess the beauty that hides behind it. And if a lady said it, you'd better believe it.
The Hôtel Tassel is one of the four major town houses of Victor Horta recognized by UNESCO in 2000 and listed as a World Heritage Site. The others are Hôtel Solvay, Hôtel van Eetvelde, and Maison & Atelier Horta (The Horta Museum).
Hôtel Solvay
The Hôtel Solvay is even more impressive, particularly in size, but also in its rich details. The architect had carte blanche from the commissioner, wealthy Armand Solvay, so he put all his creativity to work. Horta started building this substantial townhouse right after finishing the Tassel Mansion, and the construction lasted nine years.
One thing I found particularly interesting is the design language he used in the decorations. Everything is inspired by nature, and there is an emphasis on continuity. For instance, as you climb the floors of the mansion, you'll notice the colour gradually goes from brown to green, then orange and finally white. The colours symbolize nature's elements, such as earth, leaves, sun, and sky.
It may be the most expensive place to visit from the BANAD list (it requires a supplement of 25€), but, for me, it was worth it.
Hôtel Max Hallet
A couple of doors down the same avenue, is the Max Hallet Mansion, another magnificent Art Nouveau building designed by Horta. At first sight, you might notice a more sober style, less flamboyant than the previous examples. Nevertheless, the interior is still spectacular, with every detail carefully crafted and with light placed at the centre of the design.
Our guide showed us the whole building was a turnkey project – even the keys to the doors were designed by Horta himself. As with the Solvay mansion, this building requires an extra fee, this time only 15€.
Hôtel van Eetvelde
I will end the list of Horta's masterpieces with the Hôtel van Eetvelde, situated not far from the European institutions. Built for Edmond van Eetvelde, General Secretary of the Congo Free State, it was designed as a reception house. Our guide explained that, despite Horta's strong personality and stubbornness, he had to make some concessions when he created this mansion, given the high position of the patron. He did not, however, give up his main design ideas, such as bringing natural light to as many areas of the house as possible and using premium materials. The stained glass cupola in the hallway is absolutely gorgeous.
I could never say this is all you should see from Horta's work, but I believe these places are must-sees during the festival, and three of them are classified as UNESCO World Heritage.
Art Nouveau and Art Deco Public Buildings in Brussels
Another category of places to visit as part of the BANAD Festival is public buildings boasting either of the two styles in question. I had the chance to tour an impressive school in the district of Schaarbeek and a very famous concert venue in Ixelles.
School Complex no.1, Schaarbeek
School Complex no. 1 in Schaarbeek is a symbol of the State taking over education from the Catholic community. It is a lay school, meant to illustrate the alderman's idea that "the schools of today will be the churches of tomorrow." The Art Nouveau style was chosen to put children in contact with beauty for educational purposes.
This building is enormous, hosting both a primary school and an industrial school. Visiting the building will give you access to the large inner schoolyard, but also the various hallways of the two institutions and even a couple of classrooms. Perhaps the most interesting aspect is the school complex is still alive today. It remains a school, frequented by students every day, and not a mere museum boasting art pieces from the past. It is impressive, but you won't face the same strict visiting rules like in Horta's monuments.
Flagey Concert Hall
The other public building I toured was the famous Flagey concert venue. Situated in one of my favourite places in Brussels, this building is remarkable for its Art Deco style resembling an ocean liner. If by any chance you have lived in Brussels for a while, you might already know it. It was inaugurated in 1938 to host the INR (National Radio Institute). At that time, its vast Studio 4 was the largest recording studio in the world. Now, it is used for live performances and is famous for its perfect acoustics.
The guided tour took me not only to the studios, now concert halls, but also to adjacent rooms, like the manager's office among others. As the guide explained, the outside of the building is rather modernist, but the inside is pure Art Déco.
When Art Nouveau and Art Déco feel like home
Apart from the monumental buildings already mentioned, there are dozens of chic private houses or apartment blocks to be discovered during the BANAD Festival. This way, you can visit people's homes, see what life looks like in an early 20th century home and how the innovations of that time still make sense today.
On the Art Nouveau side, I visited the small but spacious Blérot 46 house, with its furniture designed by Gustave Serrurier-Bovy and inhabited by a passionate art collector.
I even found out that his daughter makes the top floor available for rent on Airbnb (Get free Airbnb credit by signing up with our link) and that sounds like great accommodation to me.
At the Strauven House, you can hear its story from its current owner, and I can tell you, you'll have a lot to learn. Not only is he proud to live in this Art Nouveau jewel from 1902, but he even restored it to its initial plans.
It is amazing to see how the architect made use of such a narrow plot of land to build such an exuberant home.
If you prefer Art Déco, you won't be disappointed either. In the Coghen 68 house in Uccle, for instance, you will notice how society was changing in the 1930s. This house, with its steamer shaped façade, is adorned with geometrical, industrial motifs. The living room is an open space with no physical separation from the kitchen, while the rooftop is laid out as a terrace for sunbathing.
The Ajoux House in the flower district of Schaarbeek is another excellent example of late Art Déco style. I particularly liked how the architect played with curves, making the living room and the staircase a perfect 8.
Apartment buildings are also prominent in Art Déco architecture. Two great examples can be found in Ixelles, on Boulevard Général Jacques. The Folle Chanson Palace and the Congo Palace are witnesses of an era when architects were trying to bring the bourgeoisie to live in apartments. Rent prices had tripled after World War I, so a horizontal development was necessary, hence the idea of large one-level apartments rather than individual multi-level mansions. It was also an era of speed and fast cars, so large boulevards were being laid out all over the city. The General Jacques Avenue was one of them, and the two buildings are both in line with this dynamic movement.
No festival? No problem! How to See Art Nouveau in Brussels Year-Round
It's great to be able to choose from so many pieces of history. You can find all the necessary information about the festival on BANAD.brussels, including addresses and visit schedules.
But if you are not in Brussels during the festival, you are not entirely out of luck! Read our in-depth article on how to Explore Brussels Art Nouveau for plenty of suggestions from museums to guided tours available year-round.
Some of Horta's masterpieces are open on various occasions throughout the year. You can find out more on Explore Brussels' website.
Also, Horta's own house and workshop is now the Horta Museum and is open throughout the year, from Tuesday to Sunday.
You can also dine in a couple of Art Nouveau restaurants in Brussels. A good place to start is La Porteuse d'Eau in Saint-Gilles (not far from Porte de Hal), a restaurant I have dined a couple of times. Or, if you are into Italian cuisine, you can try Osteria delle Stelle, on the beautiful Avenue Louis Bertrand in Schaarbeek.
If you'd prefer Art Déco instead, then you should check out the Clockarium. This unconventional private museum displays a massive collection of ceramic clocks, very popular with the working class in the 1920s and 30s. If you take a guided tour, you will find out many quirky stories about the pieces on display. The museum is located in a stylish Art Déco house, whose architect was also a building contractor. Therefore, the house itself serves as a showroom and is worth a visit. You will find it on Boulevard Auguste Reyers, close to the Diamant metro station.
This list is definitely not exhaustive. There are so many hidden gems scattered all over Brussels it's impossible for me to list them all here. But the BANAD Festival will surely help you discover many of them and will make you see Brussels through different eyes.
If you know an Art Nouveau or Art Déco building worth mentioning, don't hesitate to share it with us!
CheeseWeb would like to thank the organisers of the BANAD Festival for inviting Adrian to discover some of Brussels architectural gems. As always, all opinions remain those of our writers.