THIS POST MAY CONTAIN COMPENSATED LINKS. FIND MORE INFO IN MY
DISCLAIMER
.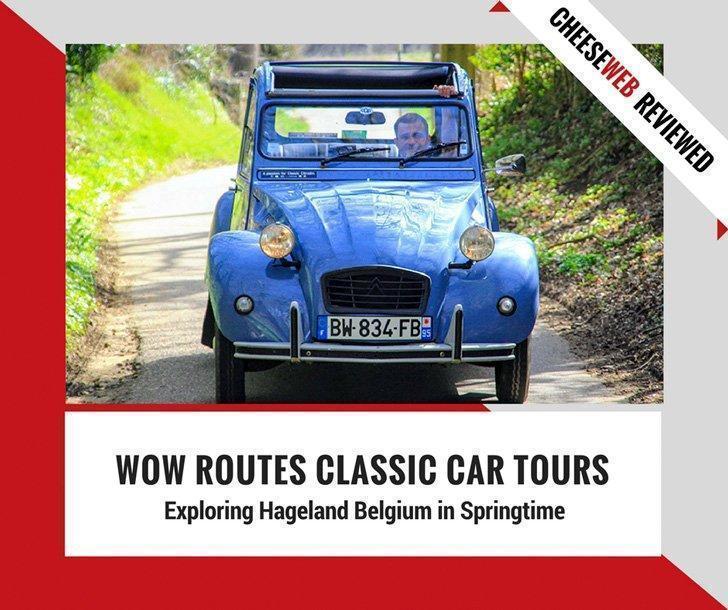 Adrian tours Belgium's Hageland blossom route in a classic 2CV with a tour package from WOW-Routes the perfect spring day-trip from Brussels.
I like Belgium. I think this country has a way of showing its fiercest detractors they are wrong. It's always cold, they say. It rains all the time; there's no sun, they say. There's no way you can enjoy an outdoor activity, have a picnic or a walk. They say it until the sun comes out and officially marked the beginning of spring. Then I'm sure they put on their summer clothes and went for a walk, even though they would never admit it.
But, I'm not here to talk about Belgium's detractors. I merely want to share some ideas for places to go when you want to discover a bit more of Belgium than you already know. Today's tip: tour Hageland in a cute collector's car.
What are WOW-Routes Classic Car Tours?
I know, it's unusual for the bike and train enthusiast that I am, but I must admit, I can hardly resist a classic car, such as a Citroën 2CV. This unconventional ride is possible at WOW-Routes, a company that provides a combined service: on the one hand, they rent these beautifully restored jewels for the day and, on the other hand, they provide you with a guided tour of the Hageland, in the form of a customized GPS device. This device will not only show you the route but will also tell you captivating stories related to the places you are driving through.
Ruth from WOW-Routes invited me to try out their service and share my experience.
I do not have a driving licence (remember my passion for biking and travelling by train?). Therefore a helping hand was needed. An old friend of mine was happy to come along and be the driver. Our significant others joined us, as well as another friend visiting Belgium. We were five people, eager to discover Hageland aboard two cute, blue Citroën 2CV's from the 70's. Yes, two cars, because they are fitted with only four seat belts each. Safety first!
Old-timers are WOW-Routes' specialty – apart from the charming 2CV, they also rent the cool Citroën DS and the adventurous Mehari. But these are not the only options. They also rent Vespa scooters and e-bikes. If you are not into technology, you can trade the GPS for a roadbook. It's understood: you can tour with your friends or family, but you can also go alone.
What is Hageland?
Hageland is not an administrative division of Belgium, but rather a touristic region. You can visualize it as roughly the eastern third of the Flemish Brabant province. Picture the city of Leuven, draw a vertical line through its centre and then take the whole area to the east.
What is nice about this area is it is not heavily urbanized, which makes it calm and picturesque. When the blossom season arrives, in mid-April, it's the best time to visit.
How WOW-Route Tours Work
The WOW-Routes rental centre is located in Sint-Pieters-Rode, a section of Holsbeek, less than 15 kilometres east of Leuven and less than 8 kilometres south of Aarschot. Bus stop Sint-Pieters-Rode Horst, served by line 310, is a ten-minute walk away.
Their offer is extensive and covers various themes and preferences. You can choose a vehicle (Citroën old-timer, scooter, e-bike), that you can rent for a whole day (10 am to 6 pm) or for only half a day (from 2 pm).
You can then opt for a themed route. Options include wine, blossom, museum visits or travelling with kids. Prices range from 25€ (e-bike for half a day) up to 200€ (a Citroën DS for the whole day).
On their website, wow-routes.com, you can have a look at all the options and easily make your choice according to your preference and your budget.
You can also add additional services if you wish. For example, you can order a picnic basket, filled with local produce.
If none of the above fits your needs, or if you wish to organize a specific (private) event, such as teambuilding, it is also possible. In that case, you contact them in advance and ask for a customized service.
Our WOW-Routes Tour of Hageland
We rented two Citroën 2CV cars, and we drove along a 65-kilometre route. The weather was perfect, and we took full advantage of the open roof. We enjoyed the beautiful scenery, driving mostly on narrow country roads, through beautiful villages and away from heavy traffic.
The audio guide told us stories, in English, about the places we were visiting. I noticed the professional sounding audioguide voices and their native British accent.
Several notable places lie on the way.
Gempemolen
First, the Gempemolen, a watermill on the Molenbeek, in the small village of Gempe. The mill itself is no longer in working condition, but it hosts a pub, with a large sunny terrace and even a picnic area. One particular feature was a charging station for e-bikes and even a vending machine for bike innertubes. Well done, given the Gempemolen is a vital node on several biking routes.
Liemau Wines
Later on, we visited the Liemau wine domain, where we were warmly welcomed by the family running the vineyard. Lieve Wuyts and her father Maurice started making wine in 1999 as a hobby and later grew it into a more significant business, while still making almost everything by hand. They now make no less than eleven types of wine: four white, four red, two sparkling and one rosé.
Moedermeule
Another notable place we could visit was the Moedermeule, literally "The Mother Mill" in Limburgish dialect. This colossal windmill was built in 1667 in Mechelen and got its nickname because it was the biggest of the three mills constructed next to each other on the same spot. The mill was later moved to a hilltop in Gelrode and is now used for tourism purposes.
Every first and third Sunday of the month, traditional milling techniques are demonstrated so that visitors can experience a piece of agricultural history. We did not have a chance to see it work, but we enjoyed its exotic look and the view over the village. Also, a restaurant serving local specialties is located at its foot.
Horst Castle
And then there was the Horst Castle, an imposing medieval castle, with a history dating back to the 13th century. This place was also made famous by Willy Vandersteen's Flemish comic strip series "The Red Knight." Unfortunately, the castle itself is closed to visitors, but we could still have a look at its greatness from across the surrounding lake. It is a beautiful photography spot, but also a good place for picnicking.
We returned our cars by six o'clock, as requested, after refilling the tank.
Final thoughts
A pleasant experience overall, we enjoyed riding in an iconic collector's car like the 2CV. Or, as I like to put it, I added a 2CV to my CV. It was also a bit of adventure, as our friend had hard times trying to start his car after a short break on the way. I still don't know whether the car was faulty or simply if special skills were required to drive it. What I do know is that, at one point, a kind local helped him out quite easily.
The route was well designed by the team at WOW-Routes, allowing us to discover places we might not have seen otherwise. The integrated, 2-in-1 device (GPS and audio guide) added perhaps the only touch of modern technology to our trip,
One thing you should keep in mind is you are kindly asked to follow the suggested route and not to get too far away from it. The whole thing is meant to be a touristic package, an original way to explore Hageland and not a mere rent-a-car service. However, do not hesitate to stop as many times as you want, if you wish to visit the locations more in-depth.
If you need more information about their offer, just check out their website. It will be available in English very soon.
Next week, I'll take on another trip to Belgium's Hageland. We will go a little more to the east and, this time, we will explore the area on foot and electric bikes.