THIS POST MAY CONTAIN COMPENSATED LINKS. FIND MORE INFO IN MY
DISCLAIMER
.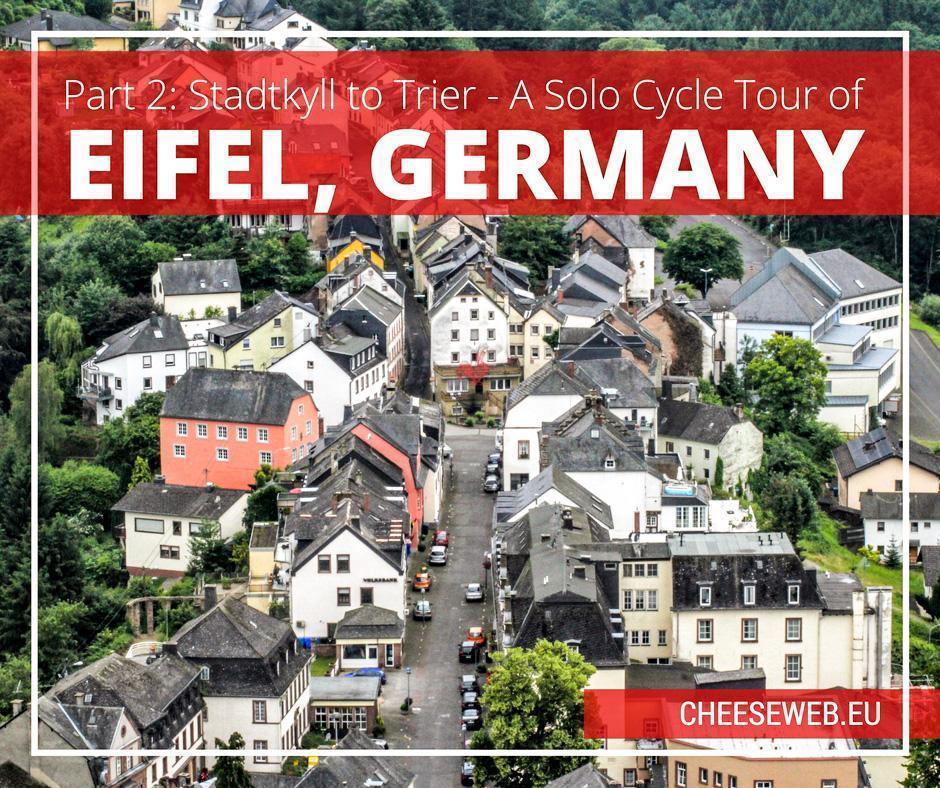 Adrian takes us back to Germany's Eifel region for the second half of his slow travel cycle trip from Stadtkyll to Trier, biking through stunning villages and towns in the German countryside.
A few weeks ago I wrote about the first leg of my cycle tour through the Eifel region of Germany. Today I share the second half of the trip, from Stadtkyll to Trier, via Gerolstein and Bitburg among others.
Biking Along the Kyll Valley
The three stages of the cycle tour, along the Kyll Valley, no longer follow the bike trail converted from a former railway, except for the last three kilometres I enjoyed between Stadtkyll and Jünkerath. From there on, the railway is still operational as the Eifelbahn, linking Cologne and Trier. [As you probably know, biking on an actual railway is never a good idea.] That's why my route switched to secondary mountain roads and calm paths, following the valley of the River Kyll, up to my final destination. Since the Belgian-German border, my route was marked with Kyll or Kylltal (The Kyll Valley) signs, making it easy to know I was on the right track.
Given the natural mountainous scenery and the lack of smooth trailway as on the previous days, this part of the trip was harder than the first two stages. No worries, though, this is not an off-road expedition either. It's the perfect balance between sports and relaxing sightseeing.
Jünkerath, the First Town on the Eifelbahn
Jünkerath offers some interesting places to see. You can discover various pieces of industrial heritage, as well as some typical workers' houses. There is also an Iron Museum, documenting the history of the iron industry in the Eifel.
Personally, I enjoyed a short detour to the Neue Kolonie, a residential area constructed in the 1920s for the railway workers. This group of beautifully preserved houses was built in a ring around an inner garden, with one of the houses serving as an entrance gate. I don't know who lives there now, but the place is beautiful and eye-catching. You can find it on the left (northern) bank of the Kyll. Search for Burgbering on your map, as this is the name of the little ring street.
Speaking of railways, I must say the rail stations on the Eifelbahn are worth a look, even if you are not a train fan. They are all impressive stone houses, built in a similar, dominating style, with lovely architecture. They all look like castles. Jünkerath train station was just the first example.
Leaving Jünkerath, I met some of the cutest locals of my trip. First, there was a large family of Husky dogs who greeted me with their lovely eyes from the other side of the fence. Then, I met a fat white cat who tricked me into thinking she was friendly and then almost confiscated my cycling gloves. If they live in the area, chances are you'll see them too. If you do, say hello on my behalf.
Gerolstein, the Town that Justifies a Short Stage
The stage from Stadtkyll to Birresborn is a short distance for a one-day stage. At only 35 kilometres, it's a distance I would usually ride in less than two hours without stops. But that's the catch; I was there to explore and therefore stop frequently. The short distance allowed me extended stops in various places; the most important being the city of Gerolstein.
Renowned for its mineral water source (and the Gerolsteiner mineral water brand), Gerolstein also boasts a number of historical and natural monuments. It's a lovely place to visit so don't hesitate to hike around its streets, which are never flat, nor straight. One particular spot I took the time to explore was the ruin of a 14th-century castle (destroyed in the 17th). It offers a splendid view over the city and the valley, and you also have a view of the impressive dolomites on the other side of the valley.
What I missed during this long stop is the mineral water source itself – the Helenenquelle, situated in a park on the banks of the Kyll. If you visit, don't do as I did. Refresh yourself with some good mineral water right from the source.
I must also say I visited the city on a Sunday when most of the shops were closed. Therefore, I assume on a weekday the city is even more animated and enjoyable.
My overnight destination, Birresborn, was just a few kilometres away, so I arrived at my hotel stress-free. Hotel zur Krone is situated right in the centre of the village, across the street from the church. I spent my evening enjoying a schnitzel and a local beer in their restaurant, followed by a walk in the quiet streets of the village. One big surprise for me at the hotel: in the room, there was not only a TV but also a radio receiver! That was perfect for a frequent radio listener like me.
A Calm Pause at Sankt-Thomas
The next stage of my trip was also 35 kilometres long, but this time, it was challenging – maybe the most difficult of the whole tour. This difficulty came with a reward, however: great views and lovely scenery.
My first notable stop was the Diocesan retreat house of Sankt-Thomas, set in a former Cistercian monastery. Surrounded by a calm, green park with the Heilbach River flowing nearby, it is now a guesthouse for those who wish to rest in a peaceful and spiritual atmosphere. If you make it there, you'd better take a rest too, because soon you will have to face a hard climb.
After the village of St-Thomas, I ended up on a closed road after missing a turn. I must admit, there were signs everywhere prompting me about the disruption, but I somehow thought the road was closed only for motorists (maybe due to road works) and cyclists could easily pass. If you follow the signs correctly, you will reach the 181-meter-long Dechen Tunnel, where the cycle trail narrows and cramps along the railway, from which it is separated by a tall, solid fence.
Kyllburg – The Steepest Village in Eifel
Soon after that, I arrived at Kyllburg, and I believe it was the steepest village of my journey. I entered the village from the bottom and, to see its centre, I had to work hard. The funny thing is my actual route did not pass through the centre of Kyllburg, so I did not have to go there unless I wanted to. I did want to visit, because, I was curious what lies atop that steep street.
Once I got there, I checked the map on my phone, and I discovered a viewing point nearby. I locked my bike in the village and started another steep climb, on foot this time. My target? The column of Virgin Mary (Mariensäule) on top of a hill, offering a breathtaking view over the village and its surroundings. Yes, it was worth the effort. I was even surprised what beautiful spots can be found in such a small village.
A big castle and church sit on top of another hill, on the opposite side of the village. I could spot them from a distance, but I did not feel the need to visit. I had had enough climbing. I went back to my bike and started carefully downhill, making sure my breaks were strong enough to keep me from a potential freefall.
Once back on my cycling route, guess what – a new steep climb, this time, a mandatory one. I had no choice, so I kept on cycling, even though I had to get off my bike for the final bit. While taking another well-deserved break, I enjoyed the view of the aforementioned castle and church from yet another hilltop. I even had a view of the column I just left. If only they had built a viaduct to link the two spots… How hard could that be?
Bottom-line: Kyllburg is one of the smaller villages along the route, but it was definitely one of the most adventurous places to visit. No wonder my booklet mentioned tourists who do not feel like climbing steep slopes should take the train to the next village, and bicycles can be carried onboard free of charge.
Bitburg, Eifel's Beer Town
My last stopover before Trier was Bitburg, a town that sounded familiar to me, thanks to Bitburger beer. But reaching Bitburg can be tricky if you miss a strategic turn like I did. The city itself is located slightly out of the valley, so to get there, I had to leave the Kylltal bike route. The turn is clearly marked, but it was in a place where I was enjoying such a generous descent, I simply passed it by. It was a bit later I realised I had skipped Bitburg and was heading directly to Trier. That was not my goal, so I had to turn around, find the missed turn, and take the right way to my overnight destination.
I stayed at Hotel Leander, a cosy place where they spoke good English and had a lot of cats. What more could I ask for? Oh, yes: a Bitburger. It is one of the most famous and heavily advertised beers in Western Germany, and it gets its name from this little city in the Eifel region. The Bitburger Brewery is not far from the hotel and is one of the popular tourist attractions in town. Moreover, their slogan "Bitte ein Bit!" ("A Bit, please!") is displayed on the façades of every pub and café in the region. Therefore, having a fresh Bitburger right in Bitburg, after a hard cycling day, was something I had to do. [And no, this paragraph is not sponsored.]
After the refreshment, I went for a relaxed walk downtown. The city is pretty and slightly bigger than the villages I had crossed that day. The houses are clean and bright, while colourful flowers are all over the place – by the windows or in the streets.
I took another walk the next day, to make use of the daylight and to be sure I hadn't missed anything important. When I was happy with my visit, I set off once more for Trier.
The Final Cycling Stage
The last stage of my journey did not include any specific points of interest, just beautiful nature and picturesque villages along the way. I felt, more than before, my route was cramped in the valley, literally following the course of the Kyll. There were 50 kilometres of medium difficulty, with ups and downs and sometimes with gravel instead of smooth asphalt. But most of the time, I rode on small trails, on the opposite side of the river from the main road.
The least attractive part was the area surrounding the harbour of Trier. There, beautiful rural scenery gives way to industrial buildings and dust. Unless you are into urban exploration, it makes you wish it ends soon and luckily it does. After a few turns, I was in Pfalzel, in the suburbs of Trier. One more step further, I met the Moselle and there began my last straight line to my final destination.
Trier – A Thriving City with UNESCO World Heritage Sites
I arrived at the elegant Hotel Deutscher Hof in the late afternoon, and I was as happy as a kid, knowing I had a few long hours ahead, plus the next day, to enjoy this thriving city.
Presenting Trier, in a nutshell, is a difficult task. Like Aachen, it is a city with a lot to offer, and you need to reserve a day or two to see it all. The ladies at the hotel reception were very kind, and they provided me with a map and recommendations of what to visit. Of course, I also used mapping applications on my phone, but it's always good to have some local knowledge.
The starting point is, without a doubt, the city's main square – Hauptmarkt. With its lovely preserved medieval houses, it will surely amaze you. Take time to stroll the city streets and enjoy the architecture and vibrant atmosphere.
At the northern end of the historic centre stands the Porta Nigra. By far the most famous Trier landmark, this Roman city gate was built in the 2nd century and is today the largest Roman city gate north of the Alps. Along with other notable Roman monuments, it is a UNESCO World Heritage site. This is just to give you a hint of the numerous monuments and places of interest you can visit in Trier.
However, as I love panoramic views of cities, it wasn't long before I found myself on top of a hill, looking at Trier lying at my feet. I got there after I spotted the Mariensäule – another column of the Virgin Mary, like the one I had visited in Kyllburg. The view is gorgeous, to say the least. Another nice panorama can be seen from the eastern side of the city, where a pedestrian walkway climbs the Petrisberg hill, to the neighbourhood of the same name.
The next day, I explored even further, and I discovered a lovely residential area with modern, Dutch-style design. If you like contemporary architecture and want to explore this area search for either Wasserband or Peter-Joseph-Lenné-Strasse. I have done all this exploration on foot, but if you want to save some time, you can also get there by bus.
At dinner time, I advise you to check out New Mintons, a pub in the city centre, where they have special offers according to the day of the week. For example, on Tuesday it's Schnitzel Evening, and I had a delicious schnitzel with fries for only 5€.
These are just a few hints about visiting Trier, based on my two-day experience in the city. Like anywhere else, it's best to visit the tourist office or your hotel reception and ask for a map and some basic directions. Then, plan your visit according to your taste and interests. So go ahead, try Trier!
All in all, my cycling tour through Germany's Eifel region was a great experience I would definitely like to try again someday. I am sure there are a few important places and sights I have missed because there is never enough time to quench my travel thirst.
In my next article, I'll offer an overview of my tour package and some tips and advice on how you can have your own cycling adventure in Eifel, Germany.
We would like to thank Eifel Tourism for sponsoring Adrian's cycle tour of the area. As always all opinions are those of our writers alone. 
Read more from this series...
A Solo Cycle Trip in Eifel, Germany – Part 2: Stadtkyll to Trier