THIS POST MAY CONTAIN COMPENSATED LINKS. FIND MORE INFO IN MY
DISCLAIMER
.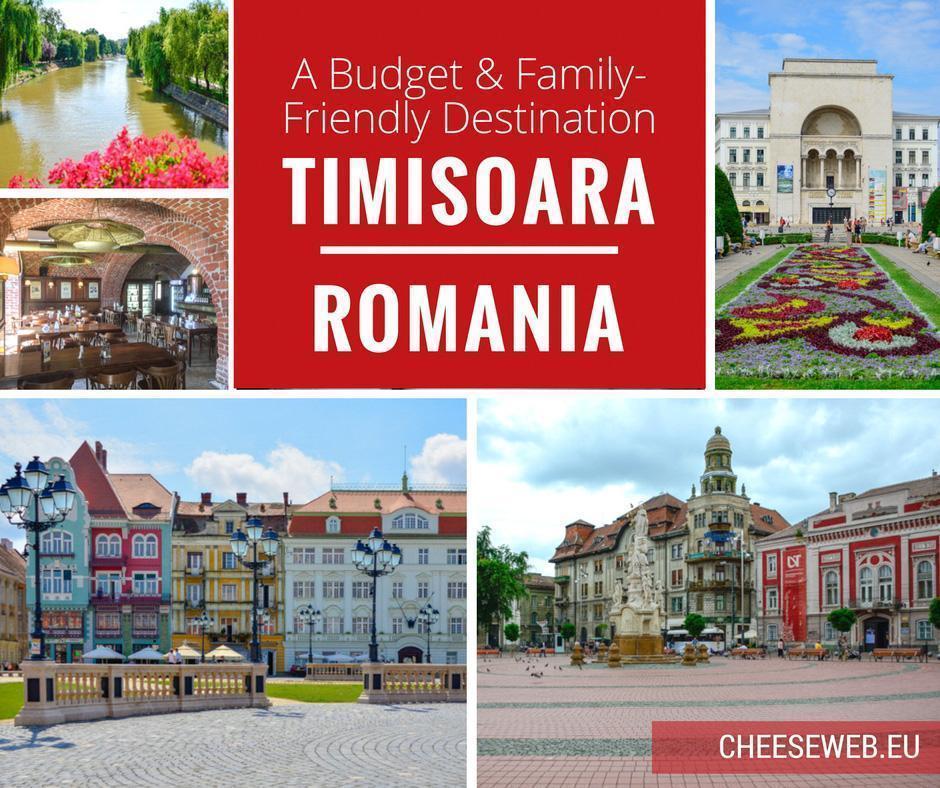 Adi takes us back to her hometown of Timisoara, Romania for a budget and family-friendly Eastern European slow travel destination.
Timisoara is the 3rd largest city in Romania, with a population of 305,000. It is the capital Timis County, located in Western Romania, near the border with Serbia.
When I think of Timisoara, I get warm and fuzzy inside as it is my birthplace and the city I lived in for the first twenty-one years of my life, before leaving Romania. Of course, I will always be biased, but I will try to be objective as I can be writing this article, especially since I had not been home to enjoy the city in almost thirteen years. Because so much time had passed, I could not help but feel like a tourist in the city I once called home. So much has changed in thirteen years, and I am excited to guide you through the highlights of this now vibrant city, which is both affordable and family friendly.
Timisoara's Historic Centre
The centres of most European cities are beautiful, and Timisoara's is no exception. Victory Square, or Piata Victoriei, is as lovely as I remember. Flashback twenty-seven years and Timisoara was the starting point of the revolution against the communist regime. I was seven-years-old at the time and scared of what the future might hold.
Today, however, the only reminder of the revolution is the monument dedicated to the fallen victims, placed in front of the Orthodox Cathedral. Overall, the atmosphere is laid back due to the many cafes lining both sides of the square. This square that once was in turmoil is today a place where you can enjoy a nice cappuccino, have good ice-cream, listen to an occasional local band, enjoy many festivals, and in winter it is the setting of a little Christmas Market. If travelling with kids, let them give the millions of pigeons a good run. It's safe, good fun my kids enjoyed.
Here, you will also find the Opera, and I urge you to buy tickets and see a play or a ballet performance. The tickets, when required, are ridiculously inexpensive, and many of the plays are free!
Liberty Square, or Piata Libertatii, undergone major transformations since I last saw it. It used to be busy with ancient but dying trees and unkempt, old water fountains. Today I found a newly renovated open space lined with benches, young trees and street performers. The best thing to do here is to get yourself an ice-cream, sit down, and let the world pass you by while reading a good book.
Unirii Square, or Piata Unirii, is probably my favourite square in the centre of Timisoara. I left the city with scaffolding surrounding most of the historical, baroque buildings and came back to discover them all dressed in new clothes.
Unirii Square is the epitome of relaxation. Now it is 100% pedestrian (not even bicycles are allowed). The city has replaced the ugly parking lots that plagued the little, narrow, historic streets leading to the square with cafes. The middle of the square offers a green and clean space with historic buildings for history buffs, including the Baroque Palace, built in 1754. It is one of the most important historical buildings in Timisoara, being built after the Kinsky Palace in Vienna.
Parks in Timisoara
I am amazed by how many parks are found in Timisoara. Each is unique in its own way, but they all offer a cool and shaded place on a hot day away from the chaos of the traffic. What impresses me most is many of them are large and very well kept. I appreciate the city's desire to keep green spaces in a modern world consumed with covering everything in concrete.
The most notable parks for me would be: Central Park (Parcul Central), situated right next to the Orthodox Cathedral, Roses Park (Parcul Rozelor), which abounds in roses spreading their intense fragrance, Carmen Sylva and Lidia Parks, which offer children lots of entertainment, and Regina Maria Park, the oldest park in Timisoara, opened in the 19th century. There are many more, small parks which is impressive considering Timisoara only has a population of 305,000.
The Timisoara Zoo
Before this past visit, the last image I have of the zoo in Timisoara was of horrifying and ridiculously small cages keeping in starving animals in a post-communist world that did not care much for these sort of things. I am pleased to say, fast forwarding thirteen years, this is a thing of the past.
Although the size of the zoo hasn't changed much, the area where the animals reside has increased dramatically, and their well-being is evident. Most of the animals are native to Romania, but you will find the occasional exotic animal like monkeys, Shetland ponies, wallabies, and meerkats. Because the zoo is in the forest, on the outskirts of Timisoara (Padurea Verde), it makes for a nice little escape to get some fresh air. The entrance fee is a bargain.
The Botanical Garden
One of the best green spaces in Timisoara is the Botanical Garden. At the time of our visit, the garden was in the midst of reconstruction work. Years ago, the Botanical Garden was unkempt, and many features were destroyed. Today, however, the city is working to change this and refurbishment is underway. We were able to walk inside and enjoy the finished sections. At the end of the renovations, the garden will display ornamental plants, rare species of trees and conifers, and even a Japanese garden. Give this garden a try, especially since the entrance is free.
The Children's Park
I have great memories of the Children's Park, in which, as a child, I would spend enormous amounts of time with my family. It has always been a great space for families with children but today it's even more fun. The admission cost is gone, but inside there are a series of opportunities for great fun for a small fee. You can rent a quad or a scooter, you can buy trampoline time, and you can pay for time on huge inflatable slides. The fees are small, and the fun is guaranteed. But don't think all the entertainment here costs money. There are many slides, swings, and entertainment centres for little ones as well as for the child in you. My kids loved spending time inside.
Bega Canal
Once a dumping area for trash and dead animals, today Bega Canal has a new, clean face offering the perfect area for a little R&R. Bicycle and walking paths line both banks of the canal, and you will also find a few comfy cafes in the centre. At times, two small canal boats are available for canal tours, and you can even rent little paddle boats. It is perfect family entertainment.
Iulius Mall
I know what you might be thinking – why pay the mall a visit while in Timisoara? I will tell you – kid fun! Our stay included a few days when we had no idea what to do. Because I had to meet a friend, we decided to meet at the mall. Summer is scorching in Timisoara and spending time in an air-conditioned place sounded great to me.
I was pleased to discover how many activities at ulius Mall are aimed at keeping the kids entertained during the tedious activity of shopping. Little ones can enjoy a lot of fun at the massive jungle gyms and trampolines while older children can experience virtual reality games and a large play-station area. If you ask my son what the highlight of the trip was, he will tell you "killing zombies at the mall."
Be Cool at the Pool
Timisoara has perfected the pool scene with many pools directed mostly at adults, complete with good music and cocktails. However, I have kids, so the ideal option for us was my neighbourhood pool, UMT Pool.
Back when I was a child, I spent entire summers going here, daily. I used to be a mermaid, never wanting to come out of the water. Keep in mind, back then it wasn't half as nice as it is today. There have been dramatic changes in appearance and quality.
The entrance, as with all the other venues, is inexpensive, and if you go during the week, it's not busy at all. There are many options inside with different pools on offer: a huge lap pool for proficient swimmers, a thermal pool used mostly by the elderly, and two pools for young children. Food and drinks are available inside, but we preferred to bring our own. During winter, you can take advantage of the newly built spa. They offer massages, different beauty treatments, and a sauna.
The Banat Village Museum
This excellent outdoor museum is located in my former neighbourhood, Padurea Verde, and the city has been struggling for years to get it together and make it a place worth visiting. I was happy to see they managed to turn Banat Village Museum into an attraction they can be proud of.
My kids and I loved strolling the walkway leading to the houses displaying village life in the 19th century, in Banat County. The entrance is inexpensive, and you will most likely be alone. Not all the houses allow you to go inside but plenty do. Stepping inside is like stepping back in time, and I loved everything about it. Even my kids enjoyed it; asking questions and being amazed people in the past did not have today's technology. More houses will be added in time as it looked like the museum will expand. Do pay this wonderful place a visit.
Where to Eat in Timisoara
The café and food scene in Timisoara has exploded, with many options for Romanian and international cuisine that will make your taste buds happy. In that regard, I need to point a few of my favourite restaurants.
Casa cu Flori – Situated on Alba Lulia walkway, between Victory Square and Liberty Square, Casa cu Flori offers mostly Romanian cuisine. We visited a few times for one of my absolute favourite Romanian dishes – tripe soup (ciorba de burta). They provide a great portion size, good and fast service, and it I very inexpensive. I especially love that they are on the top floor, on a shaded terrace, offering a beautiful view and a breeze on a hot day.
Musiu – This restaurant was recommended by a good friend so I trusted her advice. Musiu feels like home away from home. Situated in a residential neighbourhood, in the Balcescu area, Musiu offers a tranquil, green space, good music, excellent service, and great food.
Curtea Berarilor – Curtea berarilor is a large, no-frills pub/restaurant situated across the street from the Continental Hotel and the Bega Shopping Center. Eat here if you want to enjoy a large and inexpensive portion of the most Romanian dish I can think of – mici, with mustard and Timisoreana beer. The terrace is inviting but, on a hot day, step inside and enjoy the cool air offered by the air-conditioner. [It seems funny to be mentioning the air-conditioning but in Romania, there is a stigma against it so not many places offer it. You will hear passionate opinions about "the draft" caused by air-conditioning and how bad it is for you. Just one of the quirks of being Romanian.]
One last thing I need to mention is the best Italian gelato I've ever had. Now, when I say 'the best gelato' I am not using the words as a cliche term. I generally dislike Italian gelato (crazy, right?), because I find it too icy. I seek creaminess in an ice cream, creaminess I found at Delizioso Gelato, in Liberty Square, a newly opened ice-cream shop everybody needs to discover. Here you buy the ice cream not by the cup but by weight, and 100g will cost you 5RON or just little over 1 euro.
Tips for visiting Timisoara, Romania
Traffic is chaotic in Timisoara so don't be afraid to use taxis. They are inexpensive and an excellent alternative to public transportation. Pay attention you take a taxi company, not a private car. Use Tudo, Pro, Fan, Euro, and Radio taxis for very inexpensive rates.
If using public transportation, pay attention to your belongings as there are occasional pickpockets on board.
Travelling the city in summer using public transportation can be nightmarish due to the heat, making trams sweltering. Use buses or taxis as most are air-conditioned.
Take out cash! While most stores, cafes, and the mall will take major credit cards, there are many vendors who will only accept cash, so be prepared.
Do not be afraid to travel to Timisoara and Romania in general. It is not a dangerous destination no matter what gypsy stories you may hear in the media.
I can honestly say I loved being back home. Rediscovering Timisoara with my kids was a lot of fun. Timisoara has changed so much in the last decade, making it able to compete with many West European cities in terms of history, architecture, food, and fun! If you ever visit Romania do not skip this beautiful and vibrant city!