THIS POST MAY CONTAIN COMPENSATED LINKS. FIND MORE INFO IN MY
DISCLAIMER
.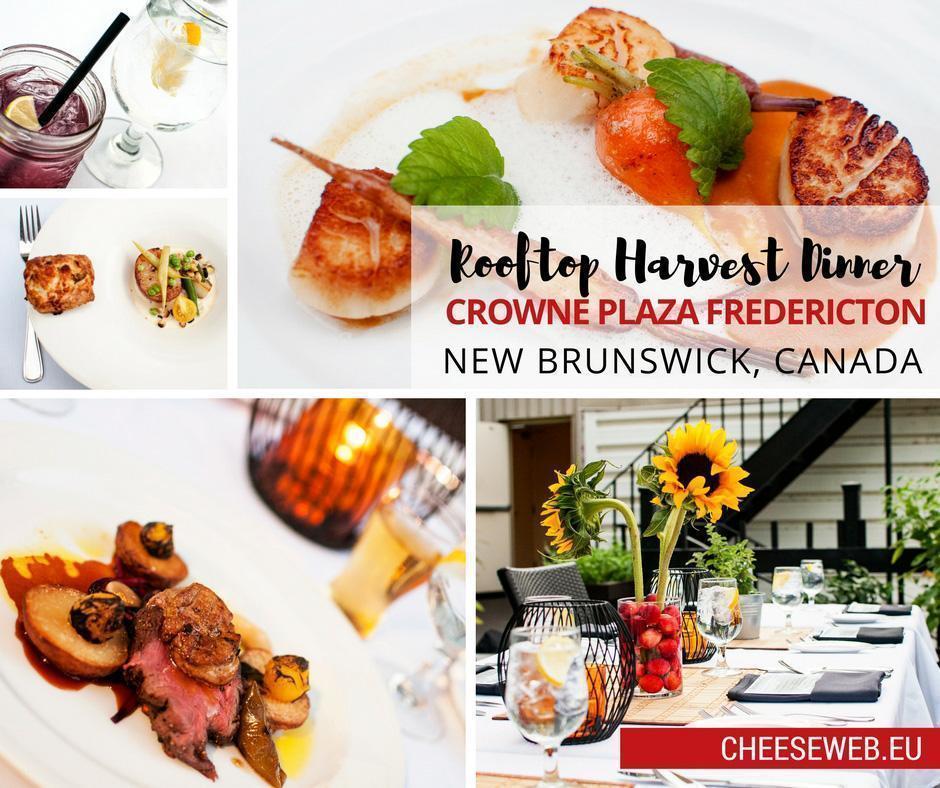 We enjoyed an original slow food menu of hyper-local produce at the Crowne Plaza in Fredericton, New Brunswick, at the Rooftop Harvest Dinner.
It's not often I write about a restaurant twice (in fact, it's only happened once before with Cool Bun in Brussels). However, we just had to share our second amazing, and rather unique experience at the Fredericton Crowne Plaza's restaurant, The Terrace.
Back in the spring, we met Chef Matt MacKenzie and Food and Beverage Manager, Chris Cornhill, for a fun afternoon of foraging for fiddleheads and other New Brunswick wild edibles, followed by a special menu created just for us at The Maverick Room. Before our meal, Chris took us on a tour of the Crowne's facilities, including the rooftop garden. At the time, we remarked how great it would be to host a special dinner up there, and Chris' mental gears started turning. We made him promise, if he followed through on the idea, we'd get an invite.
Now we throw out a lot of ideas when we're chatting with folks (we're always great at ideas, it's the follow-through that's problematic). So I was delightfully surprised when a few weeks later, an invitation to the Crowne Fredericton's Rooftop Harvest Dinner appeared in my inbox.
As many of you know, a lot of things happened for us between spring and the end of August, most notably the passing of my Dad. Following so close on the heels of the funeral, we debated giving our tickets to someone else. In the end, we decided it would be a therapeutic break from the stress and grief of the summer and a great way to honour my Dad. It was the right decision.
We arrived in Fredericton on a balmy evening (it was actually 10 degrees warmer than Saint John, only an hour away). We were greeted warmly by Chris, who led us not to the roof, but the beautiful terrace behind the Crowne. Chris explained there were some insurance and liability issues with hosting guests on the roof (go figure), but the rooftop theme still held. Each of our courses would feature ingredients harvested from the rooftop garden, paired with deliciously local beverages.
We sat down at one of two long tables, dressed in white tablecloths, accented with fresh herbs and sunflowers. It reminded me of a scaled down version of the Vrienden Van de Smaak slow food dinner we enjoyed in Belgium a few years ago.
We greeted our fellow diners and discovered our 'menu' was not quite as straight forward as we expected. It seemed Chris and Chef Matt were having a bit of fun with us, as our menu came in the form of a riddle. We had some hints as to what we were about to eat, but we had to wait and see how close our guesses would be.
We began with a drink (as frankly all good meals should). A crafty concoction from a Crystal mind was a ginger blueberry mojito (craft cocktail) created by Crystal. As a lover of ginger and blueberries (and mojitos) this was right up my alley.
Our first course, White pearls from the sea with a rainbow of roots, we guessed correctly; Pan Seared Digby Sea Scallops, Rooftop tri-coloured carrots, lobster bisque and rooftop tarragon foam. The scallops were perfectly cooked and their sweetness complimented the earthy roots.
Our second course, A hodgepodge of rooftop treasures, was one of the best surprises of the evening; Rooftop Hodge Podge, honey, truffle, baby red potato, snow peas, green beans, charred corn and a rooftop lemon balm biscuit. This vegetarian course blew us away and was a favourite of the night.
It was paired with Red Rover bee-cider made with honey from the beehives on the roof of the Crowne, only available at the James Joyce.
Beef from the nearby valley, rooftop red pearls from the earth, charred fruit that raises the question to what it actually is, was pretty straight forward, as a riddle. The taste, however, was anything but. Local Valley beef tenderloin, pan seared Foie gras, demi-glace duck fat confit baby red potato, charred pear tomato and roast tomatillo. This was heaven on a plate. The beef was sous-vide and meltingly tender, the foie adding an unforgettable richness. It was paired with Hopped sparkling mead, from Sunset meadery.
Dessert was also right up my alley (a challenge as I'm not a big dessert fan.) An ending with cheese and balmy lemon and unfamiliar spice to this pudding party. Jalapeno and lemon balm cheesecake, mille-feuille; Cheese, lemon, and spice… it was a dessert designed for me. That extra kick of spice was a surprising treat.
In all, it was an unforgettable meal in a lovely, congenial setting. We're not sure what the dynamic duo, Chef Matt and Chris, have up their sleeves next, but we can't wait to see, and taste, their next experiment.
(If you want to know what's coming up too, follow Food at the Crowne Downtown on Facebook.)
Once again we'd like to extend a HUGE thank you to Matt and Chris and all the staff at the Crowne for inviting us to be part of this special foodie experience. As always all (fangirl) opinions are my own.
Latest posts by Alison Cornford-Matheson
(see all)