THIS POST MAY CONTAIN COMPENSATED LINKS. FIND MORE INFO IN MY
DISCLAIMER
.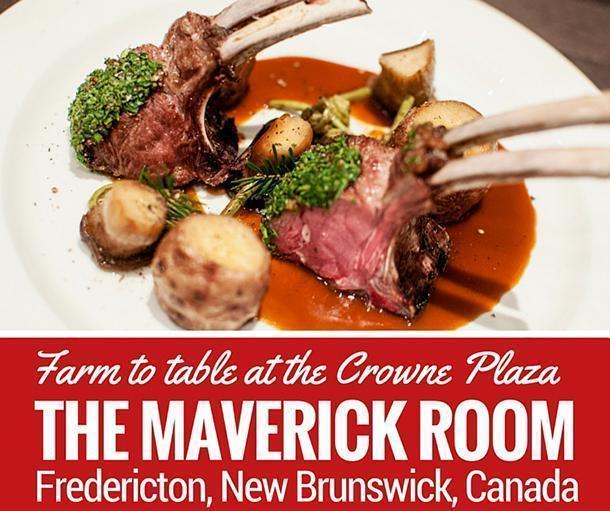 The restaurants of the Crowne Plaza in Fredericton, New Brunswick, Canada, are setting the standard for farm-to-table, slow food dining in the region and are not to be missed.
Last week we wrote about our foraging excursion to find fiddleheads and other wild foods in New Brunswick. Of course, the best part of any foraging adventure is getting to eat what you find, particularly if a professional chef offers to cook it for you. As our foraging partners were Chef Matt MacKenzie and Food and Beverage Manager, Chris Cornhill, from the Crowne Plaza in Fredericton, we were in for a treat indeed. They are in charge of the three restaurants at the Crowne and we were thrilled to learn, these are no ordinary hotel restaurants.
When I wrote about our favourite places to eat in Fredericton (so far), a number of people commented here and on social media, we needed to try the Maverick Room. Always on the lookout for great restaurants to review, I looked it up and found it's located at the Crowne Plaza. Now Andrew and I love IHG hotels, and we've stayed at dozens of Crowne Plazas over the years. While the rooms and service are usually excellent, the best I can say about the restaurants is they are adequate. With this in mind, I wasn't jumping for joy at the thought of eating at the Crowne in Fredericton, until a conversation with our contact at the tourism office. She explained how all three restaurants share a farm-to-table philosophy and feature as much local produce as possible. We were intrigued.
During our foraging excursion, we spoke with Chef Matt and Chris about the Crowne's restaurants and they confirmed all we had heard. They are both passionate about using local products and working directly with farmers from the region. What's more, they aim to educate their diners about the quality produce available in New Brunswick and the importance of nose-to-tail eating. It's not always an easy fight in a place like New Brunswick, but awareness about slow food is growing and foodies are venturing out of their comfort zones.
Their philosophy is supported by the hotel, which is a Green Key property. We've stayed in a number of these sustainable hotels in Europe, including the Thon EU in Brussels, and appreciate their high standards for environmental and social causes.
Like the Thon EU, the Crowne has beehives and a container garden on the roof. The honey is used in the restaurants and also goes into the production of mead, a fermented honey liqueur, appropriately named The Crowne Jewel. We also spotted window boxes filled with micro-greens in the main dining room. Chris pointed out the 'wall of heroes' dedicated to the various local farms that provide the key ingredients used at the Crowne.
All of these things were exciting, but what are the restaurants actually like? It was high time we investigated.
James Joyce Pub
We hadn't had much time for lunch and had worked up an appetite foraging so we decided to have a pre-dinner snack and drink at the James Joyce Pub. Irish pubs are a dime a dozen in Eastern Canada and, as elsewhere in the world, are usually generic at best.
Walking into the James Joyce, you can spot a difference right away. Behind the bar is a line of over twenty beer taps – all from New Brunswick craft breweries. It's the largest selection of NB craft beer anywhere and it's always changing. Some of the beers here aren't available anywhere else (besides their respective breweries). Andrew was in craft beer heaven.
While my husband was busy debating which beer to try first, I was drawn to a chalkboard on the wall listing the local cheeses and charcuterie. We didn't need to look at a menu to know what we would snack on. We asked our server to surprise us with a platter of two kinds of cheese and two types of meat and he chose well. We enjoyed a local gouda and a blue brie, with a spicy local salami and a smoky, dry aged sausage. Also on the plate were crisp toasts, fresh fruit, two homemade chutneys, and pickled carrots that were a revelation. Everything is made in-house or locally sourced and the boards are a steal at 5$ per item.
The James Joyce offers the kinds of pub food you would expect like burgers, club sandwiches, and nachos. But here the burgers are made with local beef and cheese on homemade buns. The fish and chips and hot wings are made to order and the fries are hand cut. There are a few surprises for an Atlantic Canadian pub; Cornish game hen and Moules Frites aren't standard fare in these parts. We definitely want to go back and sample more. This time, however, we didn't want to fill up before the main event.
The Maverick Room
When it was time for dinner, Chris led us to the Maverick Room. To get there, you must first pass through the Crowne's main dining room, The Terrace. True to its name, The Maverick Room is literally a room inside the Terrace. It's a restaurant within a restaurant. And while The Terrace is fine dining, the Maverick Room takes it up a notch, if not a whole other level.
Stepping inside is like stepping into a different world. The space is 20's speakeasy meets modern elegance. It is both comfortable and refined and utterly decadent – the perfect setting for the meal we were about to enjoy.
Now we've had some great meals in New Brunswick, particularly in Fredericton, but until this point, we had lacked a certain refinement we enjoyed in Belgium. The Maverick Room and Chef Matt MacKenzie's menu for the evening were exactly what we had been missing.
The Maverick Room's menu changes with the seasons and currently includes items like: PEI Blue Dot Striploin, with pave potato, morel mushrooms, roast pearl onions, baby carrots, asparagus tips and demi-glaze, and rack of lamb with house-made sausage, celeriac puree, baby potatoes, broccolini charred onion and mint compote. But the real highlight is the Chef's Surprise Tasting Menu – a three-hour dining experience of six courses for 89$ pp.
We left ourselves entirely in Chef Matt's capable hands to prepare a feast of our foraged foods. We asked our server to pair our courses with local wines and settled in for a foodie extravaganza.
It wasn't long before our amuse bouche arrived. The tasty mouthful included a pickled dandelion flower, with foie gras mouse on rhubarb compote. It was rich, tart, sweet, and savoury. The amuse was paired with Infusion, a sea buckthorn wine from Big Sky Ventures. We had visited this fascinating farm in the autumn and were excited to see their wines on the menu. It was the perfect kick-off to our meal.
While we waited for our starter, our server arrived with fresh brioche-style bread and maple butter, (Ah Canada). Then she poured us glasses of Summer Solstice, from Mott's Landing, a local winery we had heard a lot about.
Chef Matt's first fiddlehead creation arrived shortly thereafter. Three perfectly seared scallops were side-by-side with bacon and fiddleheads, sprinkled with crisp, fried red clover we had gathered while foraging. These were served on parsnip puree with those wonderful pickled carrots making an appearance again. Delicious.
To cleanse our palates for the main course, we were served a strawberry rhubarb sorbet with a tiny spruce tip.
Our red wine, Sabrevois, also came from Mott's Landing. Our server told us people had a love-it or hate-it reaction to this particular wine. We were firmly in the love it camp, finding it much more in a minerally French-fashion than the overly sweet wines we often find here on the east coast.
When our main course arrived, it was clear Chef Matt had been listening to us earlier that afternoon as we lamented the lack of good local lamb, since returning to Canada. On our plates were perfectly cooked lamb racks in a clover and spruce crust. The lamb came with a spruce demi-glaze, mushrooms, confit potatoes, a few more fiddleheads, and a Bourbon squash puree. It was magic. Rather than being overpowering, the spruce was in perfect balance with the lamb. It tasted of the forest, in a good way. I dubbed the dish a lamb in the woods.
The spruce theme continued in our dessert; churros dusted with sugar and spruce, with a spruce and chilli mole. I'm not usually a dessert fan but the hit of spice and spruce with the dark chocolate hit all the right notes. It was divine. Dessert was paired with blueberry mead from the Pollen Angles line by Sunset Heights Meadery.
The fact our entire meal was conceived on the fly, that afternoon, based on the ingredients we foraged, made it all the more exceptional. We were truly honoured Chef Matt prepared this one-of-a-kind meal for us. It's one that will stay in our foodie highlights list for life.
The Terrace
It's hard to imagine eating all that amazing food and waking up in the morning to eat again. However, we had one more of the Crowne's restaurants to try. We are nothing if not dedicated to our research. Also, Andrew loves breakfast, and when he heard eggs bennie were on the menu, skipping was not an option.
We made our way to the Terrace passing the extensive buffet. Not being a breakfast eater myself, I usually find hotel breakfasts particularly lacking. The buffet at the Terrace looked quite good, but Chris had told us about a couple of the menu items we just had to try.
As expected, Andrew chose the eggs benedict, served on house-made sausage patties and sweet potato cakes.
I opted for the egg sandwich with maple smoked bacon and local cheese. This was what an egg sandwich should be but so rarely ever is (I'm looking at you golden arches.)
While enjoying our breakfast, we took a peek at the main menu. (No, we couldn't possibly eat again.) Menu items include Bay of Fundy salmon, confit chicken nuggets, and a burger called the Big MacLeod that looks epic. We'll be making a return trip… for more research.
We are happy to stand corrected. Not all hotel food is bland and mediocre; at least, not if you are dining at any of the restaurants at the Crowne Plaza in Fredericton, New Brunswick. More hotels would do well to learn from the excellent example set by Chef Matt and Manager Chris. As the tourist's introduction to regional delicacies, hotel food can, indeed should, highlight the best local produce available, while setting a standard of excellence for other local restaurants. We can't wait to see what this duo cooks up next and we'll be first in line to taste it!
The Restaurants of the Crowne Plaza Fredericton – Lord Beaverbrook
James Joyce – Terrace – Maverick Room
659 Queen Street
Fredericton, New Brunswick
Canada
We want to express our sincere thanks to Matt and Chris for spending the afternoon foraging with us and presenting us with this wonderful meal. We'd also like to thank the Crowne Plaza Fredericton – Lord Beaverbrook and Fredericton Tourism for organising our stay. As always, all opinions expressed are our own.
Latest posts by Alison Cornford-Matheson
(see all)