THIS POST MAY CONTAIN COMPENSATED LINKS. FIND MORE INFO IN MY
DISCLAIMER
.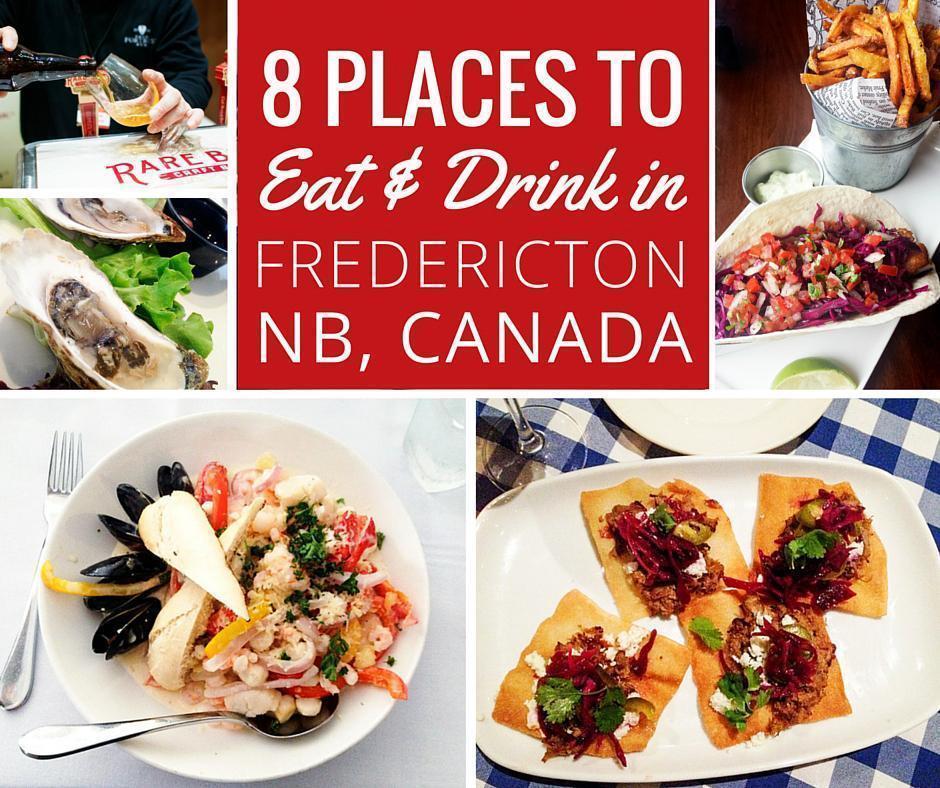 We share 8 great places to eat and drink local in Fredericton, New Brunswick, on Canada's East Coast.
Last week we introduced you to Quartermain House, the #1 rated B&B in North America, located in Fredericton, New Brunswick. While you'll be set for breakfast (and probably still full by lunchtime) after the stunning spread at Quartermain House, there are plenty of other culinary delights to lure foodies to Fredericton.
Today we want to share 8 of our favourite local foodie finds for Fredericton, so you know exactly where to eat and drink in New Brunswick's capital city.
1. Wolastoq Wharf Restaurant
If I only had time for one meal in Fredericton it would be at Wolastoq Wharf. This fine dining seafood restaurant is a bit out of the way but it's well worth the trip to Fredericton's north side. The restaurant is owned and operated by the St. Mary's First Nation and had been awarded top marks by both Trip Advisor and Where to Eat in Canada. (For another great cultural and foodie experience don't miss the St. Mary's First Nation PowWow!)
The casual looking exterior belies the tastefully decorated interior and extraordinary food. Locally sourced ingredients include fresh scallops, lobster, clams, mussels, and fish. There are a variety of gluten-free and vegan options as well as daily specials. Be sure to save room for dessert!
Wolastoq Wharf
527 Union Street
2. The Palate Restaurant
The majority of Fredericton's best restaurants are located right downtown, within easy walking distance of each other and Quartermain House. One of our top picks for dining downtown is The Palate. This restaurant is the perfect mix of casual and fine dining offering dishes refined enough to impress your date in a relaxed and friendly atmosphere.
The menu is a true fusion of flavours using local ingredients. Choices range from pasta to meat to seafood with flavours from Morocco to Thailand, and right here in the Canadian Maritimes. We LOVED the Pulled Pork "Nacho" starter and the Lemon Meringue Salmon was creative and delicious.
The Palate
462 Queen Street
3. Isaac's Way Community Kitchen
For a more casual and quirky but equally tasty meal in Fredericton's downtown, try Isaac's Way. This community kitchen makes its home in the historic York County Court House building, dating from 1855. Everything possible is sourced in New Brunswick, from the local meats right down to the coffee mugs! In fact, art takes centre stage in the bright and cheery interior. The walls are decorated with works by local artists that are auctioned to raise money for local youth charities.
The lunch menu features a variety of creative soups, salads, and sandwiches while the evening menu ranges from seafood to steak and duck. Vegetarians will find plenty of selection here and gluten-free options are available.
Isaac's Way
649 Queen St
4. 540 Kitchen & Bar
For an authentic Gastro Pub experience, head to 540 Kitchen for tasty food and a great craft beer selection. The lunch menu is limited but varied with offerings from Mac & Cheese to Indian Butter Chicken. My fish tacos were divine and Andrew was a big fan of his Cuban sandwich. The accompanying sweet potato fries were crispy perfection.
540's dinner menu is more extensive including seafood, lamb, duck, pork, steak, and vegetarian dishes, with many of the ingredients sourced locally. The restaurant has a young, hipster vibe (luckily they still let us in!) and a friendly, knowledgeable staff.
540 Kitchen
540 Queen St.
5. Hilltop Pub
I had to include the Hilltop Pub in this list as it is a true blast from my past. It's the only restaurant on this list I remember visiting as a teen when I lived in NB. The Hilltop has a traditional pub feel, with TVs tuned to sports channels and a rowdy atmosphere on weekend evenings when it's taken over by local university students. Head to the Hilltop for lunch however and you'll find a relatively calm family-friendly environment.
The Hilltop's menu is huge and features typical pub fare but done to a high standard. The burgers are particularly creative. Andrew is a raving fan of the 'Grilled Cheese Burger,' a beef patty sandwiched between two grilled cheese sandwiches. I enjoy the hot wings (which actually are as spicy as you want them to be) and the Down East Cod Cakes are a traditional favourite. The portions are enormous so go with an empty stomach.
Hilltop Pub
1034 Prospect Street
6. Fredericton's Craft Beer Festival
Fredericton is the beating heart of the craft beer scene in New Brunswick and we were lucky enough to visit during the city's Craft Beer Festival. Andrew was in beer heaven tasting his way through craft beer, cider, and even mead brewed here in Eastern Canada. We discovered every style of beer from Belgian saisons to hearty stouts. Andrew even fell in love with a pumpkin beer! The festival definitely wet his whistle to discover more about the New Brunswick craft beer scene so stay tuned to read about his favourite discoveries.
7. Corked Wine Bar
As repayment for my eternal patience, while Andrew 'researched' Fredericton's craft beer scene, we spent a lovely evening, pre-dinner at Corked, a delightful wine bar downtown. Although it has been around since 2013, Corked was recently taken over by the new owner, Charlotte Burhoe, who guided us through our flights of delicious wines from around the world.
The wine bar hosts regular events from the relaxing 'Sip and Paint' art instruction evenings to live music. Charlotte also informed us she's in the process of applying for a food licence so we look forward to returning when we can sample some tasty treats with our wines.
Corked
83 Regent St.
8. Boyce Farmer's Market
Saturday morning is the highlight of the foodie week in Fredericton as locals flock to the Boyce Farmer's Market to stock their pantries. The market has been in operation for more than 60 years and vendors range from local meat and vegetables to craftspeople and caterers. If it's made in New Brunswick, chances are good you'll find it at Boyce Market.
When I was a teen the highlight of the farmer's market was the fresh-baked samosas in a whole range of flavours and spicy heat levels. Andrew and I were happy to find the samosas were just as good as we remembered. The outer courtyard is the spot to dine at Boyce, from sausages to poutine to greek pitas, and yes, the incredible samosas.
My fellow cheese-lovers are also well catered to at Boyce, with several fromageries selling cheeses both local and from around the world. I was finally able to get my French cheese fix and discover some gorgeous local goat cheeses too.
Boyce Farmer's Market
665 George St.
[UPDATE November 2016] Since writed this article we've been back to Fredericton numerous times, always on the lookout for more great food. Thanks to your suggestions, we visited all three of the restaurants at the Crowne Plaza Lord Beaverbrook hotel, including the amazing Maverick Room and a special slow food dinner. We highly recommend them all.
We also made a trip to the Fredericton Cultural Market and fell in love. If you enjoy International Cuisine as much as we do, don't miss this gem of a market!
There are many more places on our 'must try' list for Fredericton so we expect this list to grow over the coming months. Rest assured we will continue our dedicated 'research' so you know exactly where to eat and drink in Fredericton and elsewhere in New Brunswick, Canada.
Latest posts by Alison Cornford-Matheson
(see all)