THIS POST MAY CONTAIN COMPENSATED LINKS. FIND MORE INFO IN MY
DISCLAIMER
.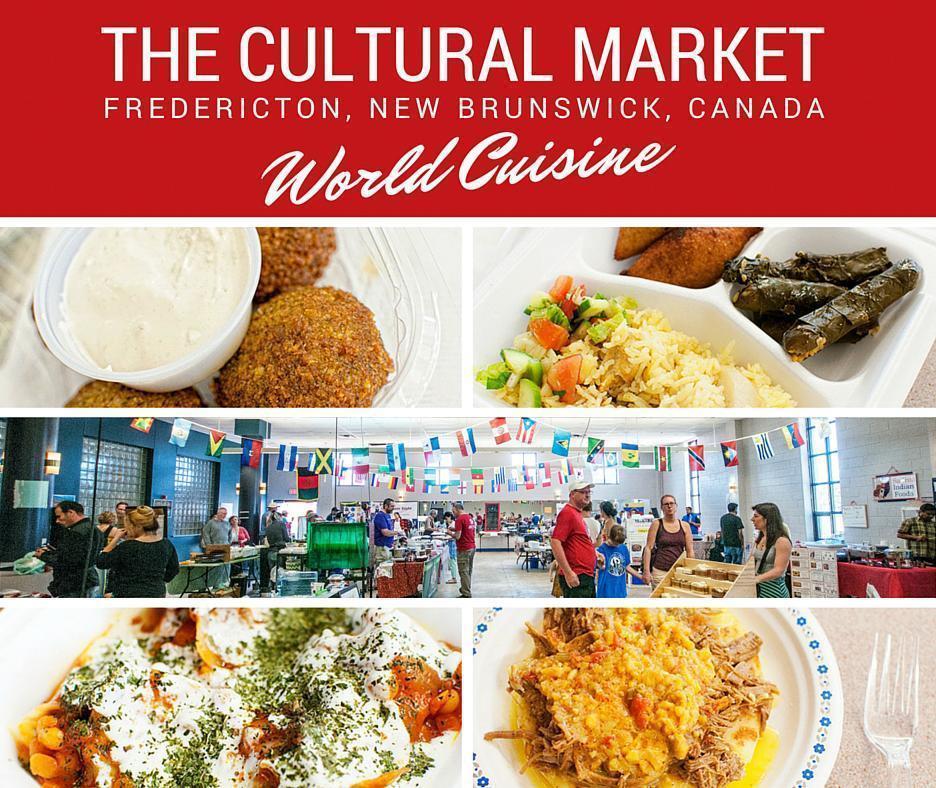 The Cultural Market in Fredericton connects people through world cuisine. Join us as we eat our way around the world.
We have long been fans of Fredericton's Boyce Farmer's Market, where we can connect with local farmers and producers every Saturday morning. Since connecting with locals and shopping at markets are both part of our slow travel philosophy, it makes sense.
But we also love trying new global cuisines and aren't able to travel too far from home right now.  So when we learned we could eat our way around the world without leaving New Brunswick at Fredericton's Cultural Market, we knew we had to check it out. We weren't disappointed.
The Cultural Market is held each Saturday (from 9am-4pm) at the city's Cultural Centre in the former YMCA building (on 28 Saunders St.). The centre is Fredericton's hub for non-profit organisations and multicultural associations, so it's a natural fit for a market focused on global cuisine.
The market began last August, with 24 vendors and has grown to almost 40 in under a year. It's an incredibly inclusive environment drawing locals of all ages and backgrounds, as well as a few in-the-know travellers.
Nearing lunch, last Saturday, we followed our noses and the enticing smells of spices to the former gymnasium. There, we were greeted with the vibrant colours of flags from around the world and the smiling faces of the vendors.
The market truly is a United Nations of food. As we wandered through, deciding which countries' delicacies to sample we spotted dishes from India, Iraq, Colombia, Venezuela, Korea, China, Afghanistan, Japan, Israel, Iran, Pakistan, and more. There were even two Syrian families, recent refugee arrivals in Canada, introducing the community to their cuisine. It seemed like the perfect place for us to start our culinary journey.
We decided to try the sampler plate from Suphieh's Taste of Syria. We were delighted to find it was similar to Lebanese cuisine which is one of our all-time favourites. The plate included dolma (grape leaves filled with spiced rice), Kibbeh (a sort of meat and bulger fritter), and a spiced rice with chicken and vegetables. At only 10$, it was a great value for a tasty and healthy home-cooked meal.
While we were waiting for our Syrian food to be dished up, I spotted La Cochina, Colombian food. This stall is run by a Colombian father and daughter duo that have been in Canada since 2008. I decided to try an arepa, a sort of gluten-free corn pancake topped with braised beef. It was heavenly.
Although I was tempted by the Indian and Korean stalls, we wanted to take the opportunity to try cuisines we had never experienced before. So, for our next round, we headed to the Afghan stall. (They don't have a website yet, but you can find them at booth 34 near Gangnam Style Korean food) The speciality is mantos (or mantus), beef dumplings topped with a tomato-based sauce, lentils, yoghurt, and spices. It was love at first bite. This dish somehow included a bit of all of my favourite foods: Chinese dumplings, an Indian curry-like lentil sauce, and a Mediterranean spice profile. I will definitely be going back for this dish again!
Despite wanting to try a few more stalls (ok, all of the stalls) we were hitting our limit. Andrew commented, "They need someone selling Turkish coffee here."
I smiled, pointed to the lady behind us heating a copper pot on a hotplate, and said: "They already have someone."
Andrew was already out of his seat and chatting up the friendly Persian lady running the Falafel Delight stall. Knowing my weakness for good falafel, he returned to our table with a package of 4 falafels and our two Turkish (Iranian) coffees. The falafel was excellent; the best I've had in New Brunswick so far. We appreciated the dark, rich coffees too.
The Cultural Market brings people from diverse cultures, backgrounds, and experiences over the great unifier – food. We all need to eat, and who doesn't love sharing their local cuisine with new people? We can't think of a better way to introduce people to new cultures, and we can't wait to return and try more delicious foods.
Do you know of any more great markets or ethnic food stalls or restaurants we should try? Leave them in the comments below and we'll add them to our ever-growing list.
We'd like to thank Fredericton Tourism for organising our recent visit to New Brunswick's capital city. As always, all opinions expressed are our own.
Latest posts by Alison Cornford-Matheson
(see all)