THIS POST MAY CONTAIN COMPENSATED LINKS. FIND MORE INFO IN MY
DISCLAIMER
.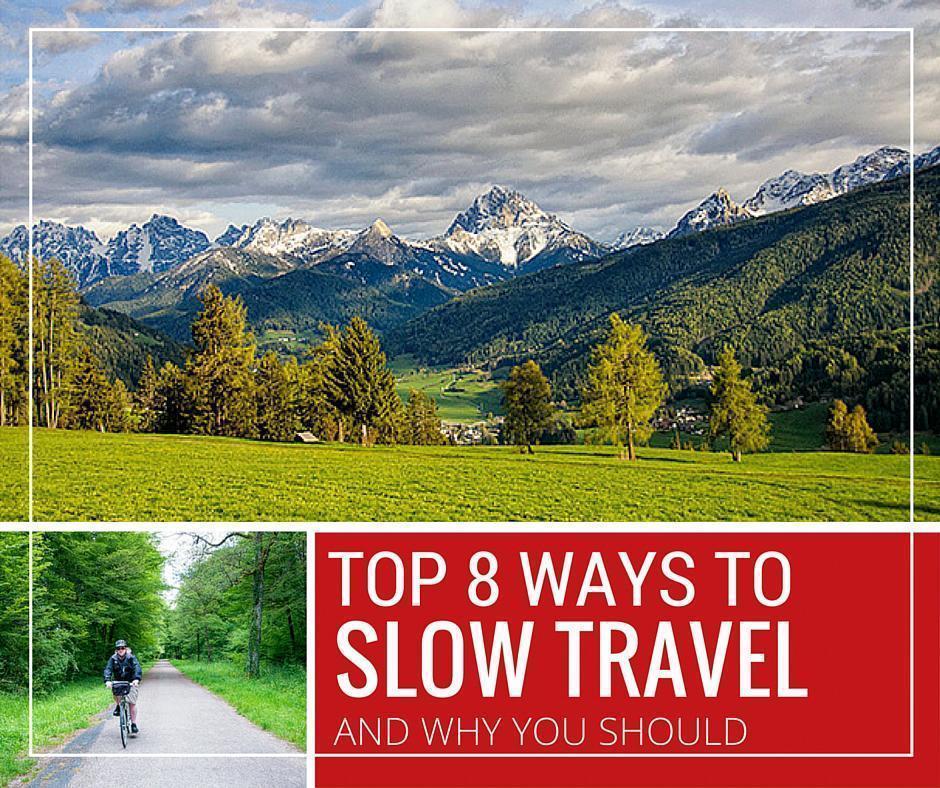 Do you wonder what the heck slow travel actually is? We share our philosophy and how to apply our 8 principles of slow travel to your next trip.
Here on CheeseWeb, we talk about slow travel all the time. However, unless you've happened to read our About page, you may be wondering what 'slow travel' is exactly and why it's so important. While we hope our articles drive home the significance of slow travel, we wanted to define what slow travel means to us and how we apply it to all of our travels, near and far, so you can have your own slow travel adventures.
What is Slow Travel?
Unlike the Slow Food Movement, started in Italy, there's no one governing body that dictates what exactly slow travel is. At its most basic level, slow travel is about slowing down, about taking the time to see, experience, and, most of all, understand the places we visit. However, there is so much more to it than simply the speed at which we travel.
For us, slow travel is a mindset rather than a bunch of rules, and the most important aspect of slow travel is connection. We believe travel should be about fostering connections between different cultures and belief systems and between humans and nature. Slow travel is about opening ourselves up to new experiences wherever they may happen whether it's halfway around the world or in our own backyard. It should challenge us by pushing our boundaries and help us open our minds to new ideas and ways of thinking.
This is all well and good, but on a practical level, how do we apply this slow travel philosophy to our travels and our lives every day?
1. Connect with locals
If you only apply one of our slow travel tips to your next holiday, choose this one. Connecting with locals is the easiest thing you can do and will add the most value to your experience and understanding of a place.
As a natural introvert and rather shy gal, I'll admit, connecting with people I don't know can be intimidating, especially if we don't share a common language. While it helps I have Andrew, my personal extrovert, to pull me along, I have gotten better about taking the initiative myself, particularly since we've been rewarded time and time again.
We're not saying you have to walk up to people on the street and start asking questions (although if you're that brave, go for it!) Rather, engage with the people you're interacting with anyway: the cab or bus driver, the waitress, the hotel clerk, the shopkeeper. Ask them about their local favourites; where they like to eat, what they like to do for fun, where the best secret sites are. The truth is, most people are excited to share their local knowledge and are thrilled if you are interested in their area, culture, or local specialities. They are the experts after all.
Some of our best discoveries have come from these kinds of interactions. In Malta, we asked our bus driver where he liked to eat lunch. He pointed us to an unassuming seafood restaurant where we had one of the best meals of our holiday. A tip from our hotel owner in Italy sent us to one of our top 10 meals of all time. Similarly, our B&B hostess in Auvergne pointed us to the delightful village of Charroux and highlighted the local businesses we should visit. We were even invited to a Sunday lunch of local specialities after a conversation with a couple at our camping spot in Aveyron, France. None of these memorable experiences would have happened if we hadn't asked questions and engaged with the locals.
2. Go where the locals go – and eat!
If you're not brave enough to talk to the locals – stalk them… in an entirely non-creepy way. Instead of heading for restaurants and shops that are clearly targeted at tourists, head for the local hangouts. How do you know the difference? Well, chances are pretty good, if you are close to a major tourist attraction or in a heavily touristic neighbourhood, the nearby businesses will be targeted at tourists too. Now we're not saying all of these businesses are bad, but as a general rule, they will be more expensive, substandard because they don't get repeat business, and you won't find any locals there.
Instead, venture off the beaten path a bit. Usually just a few blocks are all it takes. If you pass a busy restaurant filled with locals and not a backpack or multi-language menu in sight, you're on the right track. Be brave and choose your meal at random or ask the waiter (or a nearby diner) what's good. It's a great way to discover the local specialities.
We believe one of the fastest ways to connect with a culture and its people is through food. We all need to eat and who doesn't love to share their favourite dish? Understanding the local cuisine is the first big step in understanding a new culture. Besides, who wants to travel halfway around the world and eat the same food as at home?
Another great way to go local is to visit the nearest market. Instead of stocking up at a chain grocery store, visit a produce, fish, or farm market and see what's fresh and local. In many cases, stall holders will be happy to answer your questions (as long as they aren't too busy) and may even give you cooking tips.
3. Stay local
We stay at our fair share of chain hotels for a variety of reasons: ease of booking, a known standard of quality, and points programs to name a few. However, the majority of our most memorable accommodations have been much more local. There are so many options to choose from: smaller, family-run hotels, B&Bs and guesthouses, and farm-stays in anything from a beautiful chalet to a motorhome parking space. You can get even more local by using services like Couchsurfing and AirBnB, house-sitting, or choosing to rent an apartment in a non-touristy part of town.
In all of these situations, you'll come in contact with both the property owner and the local neighbourhood, in a way you wouldn't by choosing a big, corporate hotel in the city centre.
4. Take the back roads
Road trips have always been our favourite form of travel – that's one of the main reasons we decided to live in a motorhome full-time. Driving may not be the slowest form of travel (more on that in a moment), but it affords the opportunity to see a lot of spectacular countrysides – provided you get off the highways.
One of the things we love about our motorhome is it forces us to slow down. If we drive too fast, not only do we spend a fortune on fuel, but things in our mobile house start to rattle and shake – including our cats!
Taking the smaller back roads and scenic routes allows us to see much more than if we just zipped from point A to point B on the motorway. We get to see everything from the type of houses people live in, to small, local businesses, to weird and wonderful roadside attractions we would have missed otherwise. Last summer, we had no plans to visit a French chateau built inside a cave – until we discovered it by accident.
Above all, we've gotten to experience some stunning nature and views that took our breath away.  If we took the highway, we would have completely missed the Picos de Europa, one of the most spectacular views of our European travels last summer.
5. Take alternative forms of transportation
When we think of going on holiday, many of us think of flying to our destination first. While airplanes are a great way to get to far off destinations, you don't see much on the way other than the latest James Bond movie.
We've already stated above why we love road trips, but there are plenty of other forms of slow travel too. In the last two years, in addition to travelling by motorhome, we've also taken the train on a number of long distance trips. We went from Brussels to the south of France on the Thalys; I took the ICE train to Munich, and I rode from Toulouse to Paris to catch my flight to French Guiana last year. The train can be a great way to sit back, relax, and enjoy the journey, even before you get to your destination.
Here in Canada, one of our goals is to travel on the Rocky Mountaineer Train through the Canadian Rockies. I would also love to take some of epic rail journeys to the Indian hill stations and who could resist a ride on the Hogwarts Express.
But there are ways to make slow travel even slower. We spent more time on bicycles in France last summer than we had since we were kids. We'd love to return and explore the Loire a Velo route past the stunning Loire Valley chateaux.
My bucket list also includes the slowest form of travel – walking. I'd love to walk the Camino de Santiago, like our friend Sherry of Ottsworld did a few years ago.
But slowing down your travels doesn't have to mean epic walks or biking through multiple countries. You can apply these principles once you arrive at your destination. Instead of immediately jumping in your car or grabbing a cab, go for a walk or choose public transportation. You'll see a lot more, be able to stop along the way, and come into contact with more locals.
6. Stay Put
It seems counterintuitive to stay put when we're travelling. I am a recovering 'must see EVERYTHING' traveller. I used to travel with a checklist and try to cram as many destinations as possible in a two week holiday. I think it's only natural we want to make the most of our time off, but the truth is you'll NEVER see everything a place has to offer. Hell, we lived in Belgium for 11 years, and I still have a huge list of places we didn't have time to visit.
Over the years, I've learned to slow down and not try to see absolutely everything. Instead, we focus on a few attractions we really want to see and take our time there. We also make time to sit, have a coffee or a snack, and soak up our surroundings. Besides, if we schedule our whole trip in advance, we don't allow any time for happy accidents or discoveries.
I shudder when I see articles on how to see ten countries in 11 days. We've been there; in fact, that's what our first trip to Europe looked like. While we have no regrets, I can't imagine travelling that way today. Not only was it exhausting, but we had absolutely no time for authentic, local experiences. These days, I'd much rather spend 11 days in one or two places, actually taking the time to get to know and understand them. It wasn't until I slowed down and visited Paris with absolutely no plan that I fell in love with the city.
7. Leave your comfort zone
We mentioned in our definition of slow travel we think it's important to push your boundaries and leave your comfort zone. We're not suggesting you become adrenalin junkies or start taking unnecessary risks. We simply believe travel should be about new experiences as well as new places. Try a new food, learn a few phrases in a new language, do something you've never done before.
We understand missing foods and other comforts from home when you're travelling, especially when you've been on the road for a long time. What we don't understand is the desire to seek out only the things you're used to at home. If you don't try anything new, why leave home at all?
8. Everywhere is somewhere
To us, 'everywhere is somewhere' is more than just a catchy phrase; this sentiment is so critical, we made it our tagline. We used to think travel was about jetting off to exotic locations. I mean, who doesn't want to hop on a plane to Tahiti or the Maldives? But over the years, we've learned every single location has a unique story to tell and some of the best experiences can be had in the most unassuming of places.
Everywhere is somewhere also reminds us to stop and enjoy the places on the way to our destination; to visit the under-rated locations that aren't listed in the guidebooks, the small towns and villages, the cities that sit in the shadows of their more glamorous neighbours. Just because a French city isn't Paris, doesn't mean it's not worth your time.
To that end, we've also learned you don't have to travel far to experience something new. In fact, you don't have to travel at all. We've written a whole post about how to travel when you can't leave home, but the key is to look at every place with the eyes of a traveller – even your hometown.  Remember, your home is exotic to someone from the other side of the globe.
Bonus – Save Money
Saving money isn't a slow travel tip, but it is a happy side effect. Many of the ways we use to slow down and connect with locals are cheaper than traditional methods of travel and are the budget secrets of full-time travellers.
Renting apartments for longer term stays is much cheaper than paying by the night at hotels
House-sitting can provide free accommodation for just a little effort
Under-rated destinations are usually cheaper to visit than tourist hot-spots
Meals at local restaurants often cost a fraction of those in touristy neighbourhoods, and the food is better too.
Shopping for your own ingredients at farmers markets and cooking meals at your rental apartment is cheaper than eating out.
Driving, cycling, and walking are cheaper than flying
Not rushing down the motorways saves money on tolls and fuel
These are just a few of the ways slow travel can save you money.
We can't extoll the benefits of slow travel enough, and we hope we've convinced you to apply even just one of these principles to your next trip. We promise you'll become as hooked on slow travel as we are.
Latest posts by Alison Cornford-Matheson
(see all)