THIS POST MAY CONTAIN COMPENSATED LINKS. FIND MORE INFO IN MY
DISCLAIMER
.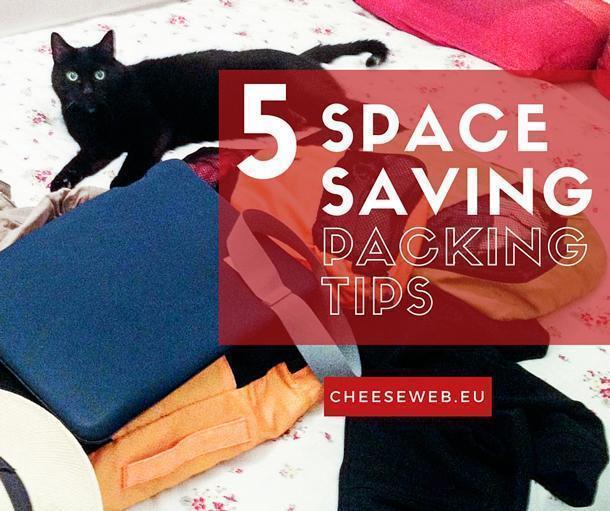 Maximizing small spaces is not just important in a motorhome but is also key when packing. Here are our 5 best packing tips for traveling.
Recently we've been talking a lot about small space living, prompted by our recent article on the minimalist eco-cabins at Le Bois Basalte. One benefit of small space living is realizing just how little you need to get by on a day-to-day basis. When you have less space, there is reduced pressure to fill the space with stuff. It's a kind of forced minimalism.
Even if you are not interested in small space living, traveling requires you to become a minimalist. There is only so much we can pack due to third party restrictions (airlines, tour operator, costs, etc) or our own physical ability to carry everything. We must do more with less.
Mr. Bean's packing method is not for everyone…
Fortunately, there are a few products and techniques we use to help us get the most out of our limited space. As frequent travelers, we want to share our top 5 recommendations to get the most out of packing for your next adventure:
#1 – Roll clothing rather than fold
You've likely heard this before, but it really is a space saver. Tightly rolling your clothes eliminates air pockets and also minimizes wrinkling. This works as well for drawers as it does your suitcase. I have too many t-shirts but rolling them allows me to fit them all in a tight space.
Pro Tip: Consider shoving your rolled socks or smaller items into shoes or other items you can't roll.
#2 – Store clothes in packing cubes
Alison loves to be organized and packing cubes allow her to simplify her suitcase (and our motorhome). Mesh packing cubes allow you to compress your rolled clothing so you can get a lot more into one space. Plus when you need to grab a shirt you don't have to take your entire suitcase apart. Just grab the cube you need.
Combined with tip #1, we fit a month's worth of clothes into two carry-on suitcases when we traveled to Morocco. We also use packing cubes extensively in our motorhome; organizing our clothes into the various cabinets. They make our small space so much more organized and easier to navigate in the morning.
Our recommendation is to get the eBags 6PC Packing Cube Starter Kit (also on Amazon UK). We've tried an assortment of brands over time and eBags have the best build quality.
Pro Tip: Get a variety of colours so you can colour code your packing: purple for pants, green for shirts, etc.
#3 – Use a collapsible packing organizer
On a road trip and find you are constantly unpacking? THE PACK is an excellent solution if you are staying in a different place every night. THE PACK enables you to pack and organize all your belongings one time allowing you to remove your entire "travel closet" from your 30L backpack or 22" suitcase and hang it in your hotel room. With four pockets closed by adjustable straps and two sturdy hooks you can take it just about anywhere.
For us, THE PACK is perfect for carrying our clothes and toiletries to the shower blocks at campgrounds where there is never anywhere to hang up our stuff. It is also great when we stop at hotels, because we can just grab the things we need and hang it up in the room.
Pro Tip: Combine THE PACK with some small packing cubes and you have a hanging set of drawers.
#4 – Use vacuum bags for bulkier clothing
What if you are going to the beach followed by a trek to a glacier? Packing for longer trips with varied climates really challenges minimalist packing. Our secret is to use vacuum bags for the bulkier stuff. It's amazing how much air fills our clothing, especially sweaters and jackets. A vacuum bag allows us to suck all that extra air out and flatten our clothes into a much smaller space.
Pro Tip: Buy vacuum bags with a hand pump (also on Amazon UK) so you don't have to worry about finding a vacuum.
#5 – Put loose items in Ziploc bags
Cords, jewelry, makeup, and other odds and ends also take up space. Keep them together by putting them into Ziploc bags of various sizes. They also do double duty if you have wet clothes or other liquids you want to keep separate from your clothing. Get a variety of Ziploc sizes so you can mix and match based on your needs.
Pro Tip: Get the heavy duty freezer bags (also on Amazon UK) so they last longer and can take more strain.
BONUS – Buy collapsible luggage
Empty luggage takes up a lot of space in your closet, garage, or storage room. In our flat, half of our storage space was taken up by a ridiculous number of suitcases of varying sizes (mainly due to changing airline dimensions over 10+ years). Of course, we could have bought duffel bags but we didn't want to sacrifice four rolling wheels and durability.
Then Alison's mother introduced us to Biaggi bags. Well-built and featuring the four wheel spinner models we prefer, Biaggi bags also collapse down when they are not being used. The ZipSak models fold down into a small carrying case a fifth the size of the bag itself allowing you to store it just about anywhere (e.g. under the bed, on a shelf, etc.). These bags are perfect for small space or minimal living.
Pro Tip: If your suitcase doesn't fold down, try packing suitcases inside each other.

There are plenty of other packing tips out there but these are the ones we use every single time we travel. The PACK organizer is a new one for us and one we wish we had when we started out in our motorhome. Those hanging hooks are a great feature and I can think of lots of ways to make use of it.
Bon voyage!