THIS POST MAY CONTAIN COMPENSATED LINKS. FIND MORE INFO IN MY
DISCLAIMER
.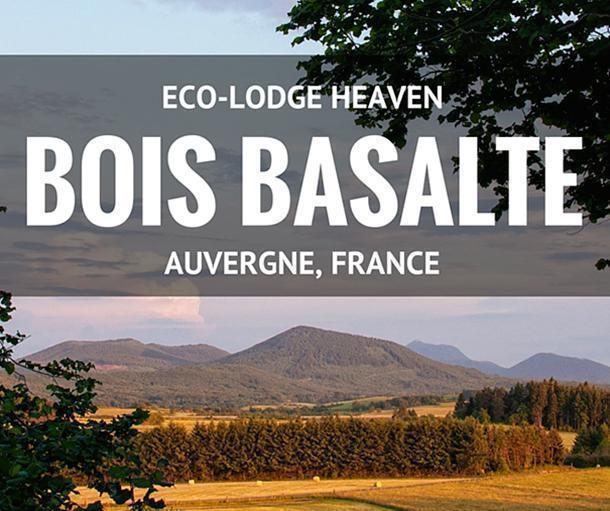 We never expected to become minimalists, but after a night in an eco-cabin at Bois Basalte in Auvergne, France, we are all about small space living.
Andrew and I jokingly refer to ourselves as accidental minimalists. We never set out to be part of the tiny house movement; it just sort of happened. When we bought our first house in Canada, 15 years ago, it was an older bungalow with a finished basement. It was small by Canadian standards and we considered it a starter home. To date, it's been the largest home we've lived in.
When we moved to Belgium, we had only a few boxes and suitcases worth of belongings and it didn't seem necessary to rent a huge detached home. We opted for a semi-detached instead. Moving into central Brussels, three years later, we downsized again and loved the efficiency of our little flat. Even then, we figured this would be as 'tiny' as we'd go.
As our motorhome adventure plans started to take shape, however, we realised we were living in a palace, compared to the living space we'd have in a motorhome. We would have to work, sleep, cook, wash, eat, and travel in a tiny house on wheels – with two cats. I started reading every article on coping with minimalist living I could get my eyes on.
In a lot of ways, downsizing the second time wasn't as difficult. We had done it before and it didn't kill us. In fact, we could hardly remember most of the items we had given up to pursue our life in Belgium. Eight months after leaving Brussels in our motorhome, Amelia, the memories of our former belongings are already cloudy. Our tiny house on wheels has everything we need and we have little desire to fill it with more.
I'm fascinated by others who choose minimalism as their path, especially since returning to Canada and feeling surrounded by consumerism at every turn. The tiny house movement is growing by leaps and bounds in North America and we've talked about what a home-base would look like for us if we decide we need more stability than four wheels and an open road.
What we didn't expect was for these discussions to be brought to the forefront in the middle of France. But while travelling through Auvergne, we had the opportunity to stay in an uber-minimalist eco-cabin, and we started questioning how much we truly need to be happy.
Bois Basalte Eco-Cabins Auvergne, France
We knew very little about Bois Basalte before our stay and we weren't sure what to expect. Winding deeper and deeper into Auvergne's chain of Puy Mountains, we knew we were in for a remote experience.
Arriving at the parking area, we were a bit early for our rendezvous so we decided to walk along the nature trail leading from the site.
The trail took us through the forest, the first part of Bois Basalte's namesake, to a former basalt quarry, the second namesake. Interpretive signs told of the area's history, flora, fauna, and unique geology.
We made the short walk back to the main building and learned Bois Basalte wasn't quite finished yet and we had arrived a few weeks before the official launch. Other than one of the owners and some workers, we would have the place entirely to ourselves.
Bois Basalte's short history is an interesting one. It was the brainchild of four young architects who returned to Auvergne with a wish to build a sustainable business and to share the area's natural beauty with others. In order not to harm this unique natural site, they wanted to create something with as minimal impact as possible and with nature itself as the main attraction.
When we arrived at our home for the night, we saw instantly they succeeded.
We were staying in one of four two-person cabins, named 'Latite.' It was two tiny storeys of minimalist perfection. On the bright and open main floor, was a tiny table for two, a minimalist kitchen with all of the supplies we needed including a hot-plate, and a composting toilet and cold water sink.
The entire front opened out onto a terrace with sweeping views of Auvergne's Puys. There were two comfortable deck chairs and even wifi reception (not that we wanted to be online at that moment.)
Up in the loft was our sleeping area. That same magical view was perfectly framed from our bed.
While all of this minimalism was perfect for one night, (especially when our self-contained home was parked just a few minutes' walk away) I am a woman who likes a good hot shower. Just a few steps from our cabin was another building containing private shower rooms for each of the cabins: modern, eco-friendly, deliciously hot rain showers.
The only thing left to consider was the evening meal. Even that was taken care of for us. A basket of regional charcuterie and cheeses (and you know how much we like Auvergne's cheeses) with wraps and fruit was delivered to our door. We had a bottle of wine from Chateau Feely we had been saving for a special occasion and an eco-friendly candle we brought from the motorhome. Our meal was absolute perfection.
The evening's entertainment was perfection as well. We pulled the chairs onto the deck, settled in with our wine glasses, and watched the sun set behind the Puys.
We talked at length about paring our lives down to the bare necessities and how we could live permanently in a space not much bigger than our cabin at Bois Basalte (although it would definitely need its own shower and a real stove.)
We weren't tempted to get online, or watch television, or do anything other than enjoy each other's company and the beauty around us. In that sense, the architects behind Bois Basalte achieved exactly what they set out to do. We wanted for nothing and our impact on the nature around us was minimal.
When we awoke the next morning, breakfast had arrived the same way dinner had the night before. Our little picnic basket was stuffed with everything we needed to start the day and our cabin was equipped with a French press for coffee.
We took a tour of the rest of Bois Basalte before departing. In addition to four cabins identical to ours, there are three larger cabins for four people and one cabin for eight. If you really want a wilderness experience, there are four 2-4 person tents constructed on platforms.
But let's face it; nothing about Bois Basalte is really roughing it, especially when you have access to the excellent showers, a huge common room complete with bar and light restaurant, and a sauna and Norwegian bath. If all wilderness experiences were this good, I'd never need a city again.
When we visited, Bois Basalte wasn't yet certified by Auvergne's Nattitude program (which we described in our article on Au Jardins des Thévenets).  We're happy to see it is now listed as part of this special regional designation.
If you're looking for the ultimate eco-escape to one of the most beautiful parts of France we've ever visited, put Bois Basalte on your bucket list. You don't have to be a minimalist (accidental or otherwise) to enjoy losing yourself in the stunning nature and simplicity of this retreat. With prices starting at 85€ a night or 440€ a week, you don't have to be rich either.
Le Bois Basalte
Sauterre
63410 Manzat, France
We'd like to thank the team at Bois Basalte for an incredible stay. (We'll be back!) We'd also like to thank the Région Auvergne Tourism office for hosting us in the area. As always, all opinions are our own.
Latest posts by Alison Cornford-Matheson
(see all)