THIS POST MAY CONTAIN COMPENSATED LINKS. FIND MORE INFO IN MY
DISCLAIMER
.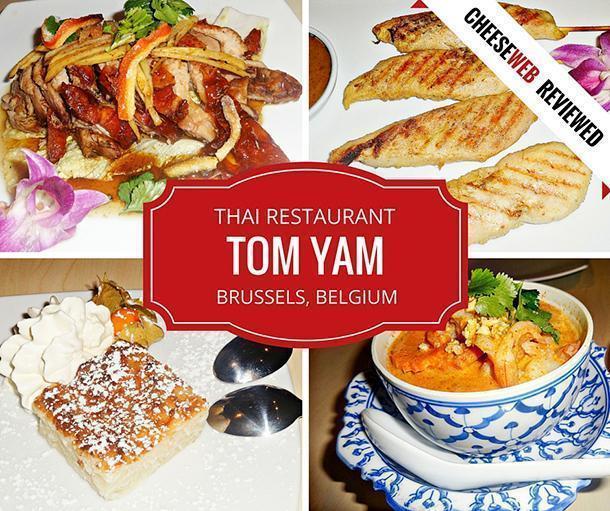 A new restaurant in Ixelles is taking Thai cuisine to a new level. Monika reviews TOM YAM by Walkin'Thai, in Brussels, Belgium.
Keeping with the popularity of Thai cuisine, Brussels has a lot of Thai restaurants, varying from reputed brand names to nondescript restaurants serving stale meats dunked in viscous sauces and curries in the name of Thai food. Thai cuisine celebrates the fusion of different flavours: sour, sweet, salty, spicy, and bitter in an amicable way and this hallmark transforms the food in TOM YAM restaurant from ordinary fare to an incredible dining experience!
We had previously tried the food at Walkin'Thai, near Place Flagey, (where we love their Pad Thai) and couldn't wait to try out their new restaurant, TOM YAM. The restaurant has been recently renovated after Bo and Mathieu, the duo from Walkin'Thai, took over the space. While the focus in Walkin'Thai was to recreate a street food experience (with chairs and hygiene in place), TOM YAM focuses on bringing the essence of real Thai food to your table in a refined setting. The emphasis is on fresh, good food without the addition of the controversial compound monosodium glutamate, frequently abbreviated as MSG.
We visited TOM YAM one evening. It's conveniently located in Ixelles and has its own parking/valet service, which is helpful on busy Chaussee de Booendael. What struck me first was the dramatic, but elegant décor. The restaurant is spread over two floors and is wonderfully done in shades of black, neutral gold and beige, with wonderful additions of Thai wall art and brassware.
My other half wanted to try out a Thai beer while I asked for a mojito. The Singha beer was mild whereas the mojito had all the right punch. The drinks were served with crunchy wafers that tickled our sweet and sour taste buds at the same time.
The next on our menu was the Sate Kai or grilled chicken skewers with satay sauce. I loved the satay sauce (I am partial to it anyway) and it went perfectly well with the chicken skewers. My other half is a great enthusiast for soups and ordered the Tom Kha Kai or chicken soup with coconut milk. This was absolutely heavenly, with flavours of fresh coconut milk, lemongrass and lime zest offering a perfect base for  the chicken, button and shiitake mushrooms.
We then asked for 'orange and ginger roasted duck' and 'Massaman curry' for the main course. Massaman curry is a spicy preparation, using dried spices. The curry is then mellowed with the addition of coconut milk, peanuts, and waxy potatoes. Though the curry did not have the smooth, creamy texture I was expecting, it had a nice aromatic flavour, was rightly spiced, and the shrimps in the curry were pink, fresh and had a bit of a bite. The duck can be a tricky bird, but it was roasted well with a crisp outside and a soft inside and was served with slivers of orange and ginger in a soy sauce glaze.
To continue with my 'coconuty' theme for the day, I chose a coconut cake for dessert.
The cake was richly flavoured with coconut milk, had generous coconut shreds and an icing of toasted coconut. The dessert was truly divine and raised our dinner experience to another level…definitely recommended.
Tom Yam is an excellent initiative, as the food is fresh, has low-calorie and vegetarian options as well. They will soon be introducing a lunch menu. The prices are fair and the restaurant is perfect if you are planning to host a small party for friends or family. They also have a terrace that can be used during the summers. If you are feeling lazy, you can even call or order online and the food will be delivered to your doorstep!
If you prefer to eat at the restaurant, you can reserve a table at Tom Yam via TheFork.be. They've even got a special on now for Valentine's day!
TOM YAM
Chaussee de Booendael/ Booendaelsesteenweg 341,
Ixelles 1050,
Brussels