THIS POST MAY CONTAIN COMPENSATED LINKS. FIND MORE INFO IN MY
DISCLAIMER
.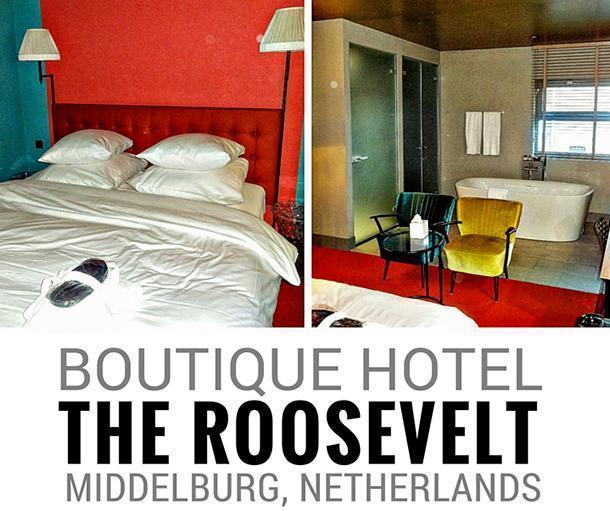 Monika reviews The Roosevelt, a boutique hotel in Middelburg in The Netherlands' province of Zeeland, perfect for a weekend escape.
These days, people travel more frequently than days gone by and more travel means experiencing different kinds of hotels and accommodations. Some of these accommodations are unique and make a lasting impression and some are best forgotten. The Roosevelt Hotel in Middelburg, Netherlands belongs to the first category.
We spent a weekend in this beautiful and stylish boutique hotel in Middelburg and came away completely impressed. The Roosevelt Hotel is located close to the centre of town but is nestled away from the main street. It announces itself with a quiet sophistication, in an understated manner. The hotel retains its local flavour; the building was initially used to collect taxes for water. However, the present owners have renovated it and styled each of the guestrooms in a unique way, making sure the client has a different experience with repeat stays as well. The Roosevelt also boasts a sauna and a Jacuzzi and has an expansive terrace for those sunny summer days.
We chose a grand deluxe room (number 25), which has walls painted in deep, warm colours and a giant bathtub for a relaxing soak. There was an additional shower, a separate toilet and robes and slippers were provided. The toiletries from Bigelow, an American apothecary company with time-trusted personal care products, immediately reminded me of my visit to Minnesota many years ago. My sister-in-law had introduced me to Bigelow's products and I have been a fan ever since.
Our room also had an interactive television, mini refrigerator, tea and coffee making facilities and a very efficient wifi network. The colours and room décor enveloped us in a warm and special feeling.
The next morning, we woke up to a wonderful breakfast presented in the most distinguished manner. The plate included the softest fresh cream, delicious soy milk, juice, nuts, ham, different varieties of bread and, obviously, Dutch cheese. We could also order eggs of our choice.
We enjoyed our breakfast in the tastefully decorated lobby, which also houses a bar where one can sit and relax while enjoying a drink. The hotel will soon be offering options for meals with a 'table d'hôte' concept or a community kitchen wherein the chef will cook and present meals.
Small establishments tend to call themselves 'boutique hotel' without having the design or the character to back up the claim. The Roosevelt, in Middelburg, is one of a kind, has an individualistic atmosphere with each of its 28 rooms designed as different from each other as possible. There are classic rooms, deluxe rooms, family rooms (for a family of four), and also duplex rooms in case you are planning for a longer stay. Each room has its own distinct style and the décor is avant-garde, hinting a great deal of thought has gone into the creation of such a property. There are still nods to the building's past as a water tax collection point, adding just the right touch of vintage atmosphere.
From Brussels, we drove an hour and a half to Middelburg, making it a perfect weekend getaway. The Roosevelt Hotel, in Middelburg, is a good base to visit Zeeland, the north-western province of Netherlands, whether you are exploring Middelburg or visiting the beautiful village of Veere. Hotel service is top notch and parking spaces are available nearby at a small fee. Do visit Middelburg for its rich historic heritage and enjoy your stay at the chic Roosevelt Hotel.
The Roosevelt Hotel
Nieuwe Burg 42,
4331 AH Middelburg,
Netherlands
We'd like to thank the staff of Roosevelt Hotel for inviting us to review their accommodations. As always, all opinions are our own.