THIS POST MAY CONTAIN COMPENSATED LINKS. FIND MORE INFO IN MY
DISCLAIMER
.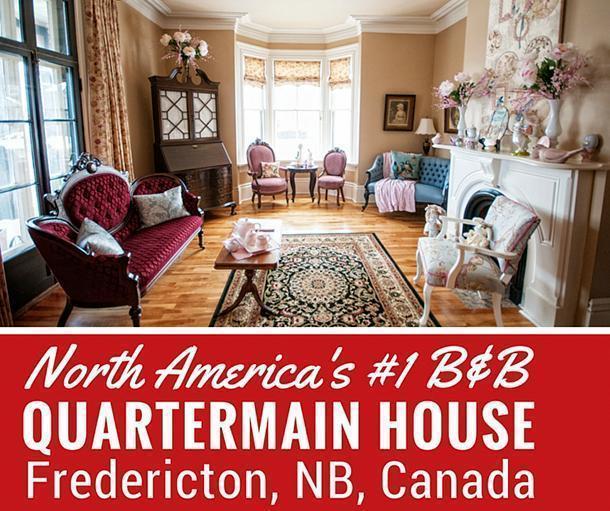 What does it take to be the #1 bed and breakfast in North America on a top travel booking site – not just once, but two years running? We travelled to Quartermain House in Fredericton, New Brunswick to find out.
When we started planning our exploration of New Brunswick, Canada, it made sense to begin in the province's capital city, Fredericton. When we explained our slow travel philosophy to our contact at the tourism office her first words were, "You have to stay at Quartermain House." She went on to explain how in three short years of operation owner, Debra Quartermain, has achieved a 9.9 rating on Booking.com to become the #1 bed and breakfast in all of North America, two years in a row.
Now Fredericton is lovely (as we hope you'll see through our upcoming articles) but it's certainly not a huge hub of tourism compared to other cities across the continent. We were intrigued to see what made Quartermain House so special guests left nothing but rave reviews.
When we're not travelling by motorhome, we love staying at bed and breakfasts. These accommodations suit our slow travel lifestyle. B&Bs each have a distinct, local character; they are small and family-run; they are normally located in neighbourhoods or communities where locals live, rather than on the outskirts of cities like many chain hotels; and, most of all, they provide instant access to local expertise.
But, just like hotels, not all bed and breakfasts are created equal. Good friends of ours who happen to be B&B owners once told us 'If you're going to run a B&B, you absolutely need to do two things well – the bed and the breakfast.' While this makes perfect sense, we've learned the difference between a good B&B and a great one is more than simply a good bed and a good breakfast.
We've had the pleasure of staying in a number of exceptional B&Bs over the years and they all have one thing in common – great hosts. It takes special people to run a bed and breakfast well. They not only have to welcome guests into their homes but also make them feel both at home and on holiday while making sure they have everything they could possibly need. It's a tall order, but Debra Quartermain is the reason Quartermain House shines.
Arriving at Quartermain House we discovered a beautiful brick red Gothic Revival home with dark green gingerbread trim. The welcoming porch was decorated for Easter and beckoning us inside.
Debra greeted us at the door like long lost friends and immediately led us into the beautiful entryway. To our left was a formal sitting room bedecked for spring. To our right was my dream library, complete with fireplace, floor-to-ceiling bookshelves and cosy sofas.
Debra gave us a brief overview of the house as she led us up the stairs to the largest of the B&B's three rooms. Opening the door to our sanctuary for the weekend, we could immediately see why everyone speaks so highly of Quartermain House. While our room wasn't huge, it was cosy and inviting; tastefully decorated and had literally everything we could possibly need to make our weekend stay perfect. Coffee maker and a selection of gourmet coffee and teas – check. Wine glasses and a corkscrew – check. Maps, guides, and information about the area, with personalised restaurant recommendations – also check. There were even chocolate Easter bunnies and a welcome note just for us.
That would have been more than enough to make me a happy traveller – but then I opened the bathroom door. Being a sucker for a great bathtub I was ready to stay in for the entire weekend, (luckily for Andrew, we already had plenty of plans for Fredericton.)
A sneak peek revealed the other two bedrooms were just as lovely as ours and each has its own unique décor and character. The bedrooms share a cosy sitting-room flooded with morning light. We could curl up in the waiting armchair and peruse the books on local history or enjoy a snack of apples and fresh cookies laid out for us by Debra. Another small common room held a watercooler, an extra coffee-maker, fridge, and microwave should we require a snack.
We took our time exploring the house and learning about its history. This prestigious house was once home to the president of the nearby University of New Brunswick, as well as a Premier and Lieutenant Governor. It has a fascinating history and, like all good historic houses even has a benevolent ghost. Acclaimed Canadian poet, Bliss Carmen, lived across the street from Quartermain House and, some say, he still stops by for an occasional visit.
For better or worse, Andrew and I had Quartermain House entirely to ourselves, as there were no other guests (living or otherwise) during our March visit. We can report to sleeping like the dead, however, on the blissfully comfortable bed.
With the bed having passed muster, it was time to check out the breakfast. We settled in the sun-drenched dining room and were quickly greeted by Debra and her homemade blueberry pastries. She promptly made sure we were caffeinated before chatting about our evening on the town and our plans for the day.
Then she started bringing us food – lots of food. Now I'm not normally a breakfast eater; as long as the coffee is strong, black, and copious, I'm happy. Andrew, on the other hand, could eat breakfast morning, noon, and night. Both of us were deeply satisfied with Debra's breakfast. We began with grilled pineapple (one of my favourite fruits) atop a blueberry compote and sprinkled with cinnamon. It was heavenly and frankly would have been more than enough for me. Then came the main course – a perfect asparagus omelette, with crisp bacon, fresh strawberries and toast. Needless to say, we didn't need to eat lunch that day.
The following day's breakfast was just as lovely. A dish of doughnut-muffins (yes, it's a thing) hot from the oven was waiting for us. We could have sat there eating them all day. Debra told us she always makes a double batch because they seem to disappear. As we busily stuffed them in our mouths we couldn't imagine why… (yes, we could.)
While we were waiting for our main course (and possibly to distract us from eating ALL the doughnut-muffins) Debra brought us more fresh strawberries and blueberry compote. Our main course was a slice of frittata with potato and red pepper, quite similar to my favourite Spanish tortilla, again with crispy bacon and toast. Delicious.
While we ate, we chatted with Debra about her #1 in North America status. According to her, a good B&B host should be able to intuit exactly what the guest needs on both a practical and emotional level.  Although she's obviously proud of her achievement, it wasn't her goal when she opened Quartermain House three years ago. She is simply treating her guests the way she would want to be treated and making her visitors happy brings her great joy.
We were certainly feeling joyful after a weekend at Quartermain House, especially when Debra handed us a bag of doughnut-muffins to go. Debra's warmth, hospitality, and attention to detail are what make Quartermain House a truly special B&B. Even if Fredericton wasn't a fascinating little city, it would be well worth the trip simply to stay at Quartermain House. However, in our upcoming articles, we'll share many more reasons you should visit the capital of New Brunswick, Canada.
Quartermain House B&B
92 Waterloo Row
Fredericton, New Brunswick
Canada
Latest posts by Alison Cornford-Matheson
(see all)