THIS POST MAY CONTAIN COMPENSATED LINKS. FIND MORE INFO IN MY
DISCLAIMER
.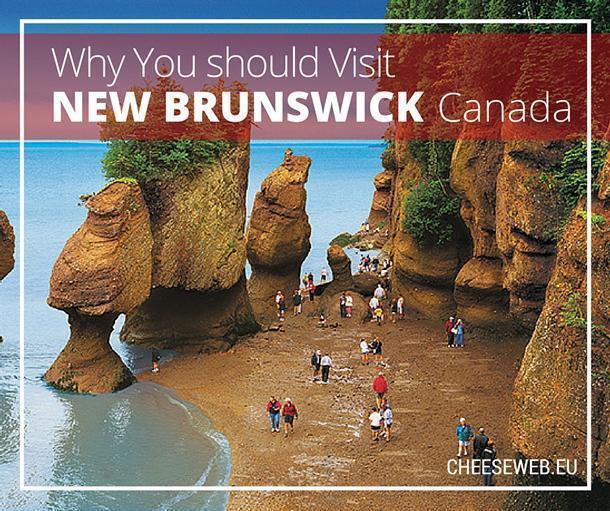 New Brunswick, Canada has dramatic landscapes, charming cities and towns, and friendly people. Yet it's a tragically underrated tourist destination. We share why you should care about this Maritime Province.

"I'm from New Brunswick." "Um… is that in New Jersey?"
That was the typical conversation I had as a child travelling through the United States. While living in Europe, I rarely even uttered the words, New Brunswick, unless I was speaking with a fellow Canadian. 'Eastern Canada', 'the east coast', 'on the Atlantic', and 'close to the US border' were ways I described where my home province was.
Saint John, the city I grew up in, is equally a minefield. Even most Canadians default to St. John's, Newfoundland, rather than Saint John, New Brunswick.
Although my parents still live in the house I grew up in, I haven't actually lived in New Brunswick since I was 18 and moved to neighbouring Nova Scotia for university. I met Andrew, graduated, got a job, and lived happily in Halifax until we moved to Belgium in 2005. In fact, I was much more likely to call Halifax 'home' than Saint John.
Returning to New Brunswick to live, after so (so) many years has been eye-opening in many ways. There have certainly been changes, but, I think the biggest change is how I view the province of my birth. Rather than with the eyes of a child who was itching to go out and see 'the world,' I'm viewing New Brunswick as a woman who is both well-travelled and a travel writer. In both cases, I like what I see.
The biggest revelation is just how similar New Brunswick and Belgium actually are.
Like Belgium, New Brunswick is terminally underrated. It's 'the drive-through province.' It's 'boring.' 'There's nothing but trees.' 'There's nothing to do there.' Like many folks who haven't bothered to give New Brunswick a chance, I've said all of these things myself. However, just like the naysayers in Belgium, they're wrong.
My mission for the coming months is to re-discover my home province through the eyes of an outsider; as someone who loves underrated destinations; as a writer seeking a deeper connection than just the top ten tourist attractions. I also hope to educate others about New Brunswick, while I'm reminding myself why I'm proud to be from here. I want you to want to discover New Brunswick too.
I've written before about why you should visit Canada's Maritime Provinces, New Brunswick being one of them. But I want to tell you more about New Brunswick and why you shouldn't just drive through on your way east.
If all of this has got you saying 'Ok Alison, but where exactly IS New Brunswick?' It's right here:
Between Quebec (ie what Europeans think is 'Eastern Canada') and Nova Scotia (as far east as you can actually get without being in Newfoundland.)
It looks small, right? Well, it's actually 72,908 km2 (28,150 sq mi) – That's almost 2.5 times bigger than Belgium (at 30,528 km2). Canada is really freakin' big and much of it is devoid of people. This wilderness is one of the things that makes Canada, including New Brunswick, great. But it also makes it challenging for tourists.
I'll be the first to admit, if you stick to the highways in New Brunswick, the drive is boring; epically so. I mean, I like trees as much as anyone, but a four-hour drive with nothing but trees is tedious. Of course New Brunswick looks boring, if you're zipping through on the Trans-Canada highway and the most exciting thing you see is the occasional Irving Big Stop (That's a local gas station for my foreign friends).
But get off those highways and you'll see what makes New Brunswick shine. You'll pass through loads of picturesque farmland, small towns (and even smaller towns), and bustling cities; but let's face it, even our largest 2 cities, Saint John and Moncton, barely crack 70,000 inhabitants. Our population density was 10.51/km2 in 2011 vs Belgium's 363.6/km2 – just a slight disparity there.
That's probably why New Brunswick is so damn friendly. Seriously – I thought it was normal to smile and say hello to everyone I passed on the street until I moved to Belgium. Cue funny looks and frantic side-stepping. Just don't expect to get far in New Brunswick (and Eastern Canada in general) without having a conversation, about the weather, about where you're from (and where you got that funny accent), about what to see and do in New Brunswick, probably all coming back around to the weather again.
What New Brunswick lacks in population it makes up for in natural beauty; not the least of which being the dramatic coastlines. In fact, if you Google New Brunswick one of the first images you see will likely be something like this:
These are the Hopewell Rocks carved out by the Bay of Fundy; home to the highest tides in the world. In fact, the Bay of Fundy (top tip: no one ever calls it Fundy Bay) is still carving. Just a few weeks ago a large section of these rocks fell, changing the tourism landscape once again.
I took this nature for granted as a child. In fact, my family's home overlooks the Bay of Fundy. The dramatic tides and rocky shores seemed normal to me until I started exploring Belgium's flat, built-up coast. I never did grow to love beaches surrounded by the impact of humans, no matter how much I love being by the sea.
Being by the ocean also means great seafood – something New Brunswick has in spades. Since I've been back I can hardly get my fill of lobster, fresh fish, clams, and other treats from the sea. Seaweed has also become a booming industry in recent years, as sustainable food sources and superfoods are all the rage. Here in New Brunswick, we've always eaten seaweed as a salty snack called dulse. It's incredibly good for you and addictive once you acquire a taste for it.
The coastline isn't the only place to get wet in New Brunswick. The province has almost 1500km2 of fresh water: rivers, lakes, ponds, and streams. This brings me to another famous sight in New Brunswick – covered bridges. There are 60 of them here, including the world's longest; the Hartland Covered Bridge, spanning the St. John River. It doesn't get more picturesque than a rustic covered bridge over a rushing stream, surrounded by vibrant autumn leaves. (Are you packing your bags yet?)
One of New Brunswick's biggest crops is one my Belgian readers will appreciate – potatoes. I'll be the first to admit, Belgian frites are so much better than French fries anywhere else, including New Brunswick, but local potato companies export spuds around the world; including to Belgium. We also have a potato research facility and a potato museum. Seriously.
But New Brunswick has more in common with Belgium than potatoes. The biggest similarity is the combination of diverse cultures and the benefits and struggles this brings.
Although Canada is an officially bilingual country, only one province is officially bilingual. Any guesses? It's not Quebec, our francophone province, and it's not Ontario, home to Canada's capital city, Ottawa, it's New Brunswick.
Much like Belgium, New Brunswick is linguistically divided through the middle. Here, the north is primarily Francophone and the south is primarily Anglophone. Moncton is the city caught in the middle. While I think multilingualism is always a good thing, as in Belgium, it has led to tension, arguments, wasted public funds, and some ridiculous policies in New Brunswick. (Can't we all just get along?) But on an individual basis, New Brunswickers are happy to talk to you and give you a helping hand whether they speak your language or not.
One thing to note about the French in New Brunswick – it is NOT like Quebecois. New Brunswick Francophones (like those in Nova Scotia) are Acadian. You've heard of the Cajuns in New Orleans? Well, they came from this part of Canada during the Great Expulsion when the British and French were fighting over 'the New World.' Some stayed and some returned, but all of the Acadians here are proud of their heritage and their distinct culture. (Just don't tell them how cute their accent is – even though it is.)
As a southerner, I grew up Anglophone and was the first person in my family to become officially bilingual in school. My teachers were a mix of Acadians and Quebecois, with a few bilingual Anglophones, teaching from 'standard French' texts. My French accent and education were scattershot but when we moved to Belgium I was grateful for the background no matter how different it was from European French.
But, as with all of North America, neither the English nor the French was the first to set foot on this vast territory. The First Nations people were here long before the rest of us knew how to draw a map. New Brunswick is home to 15 first nations, all of which are part of either the Mi'kmaq or Maliseet groups. One of my goals while back in my home province is to learn more about the history, traditions, and rich cultures of these groups and hopefully share it with you.
My hometown, Saint John, was the first incorporated city in Canada, in 1785 (only about a hundred years older than my house in Brussels…). Around town, you'll hear a lot about the Loyalists, the refugees from the United States who remained loyal to the British crown. We even celebrate May 18th, as Loyalist Day, in New Brunswick. If you enjoy historic re-enactments and period costumes, it's a fun time to visit.
So why then, with its complex and interesting history, beautiful nature, and warm friendly people is New Brunswick such an underrated tourist destination?
Again, the answers are much the same of those in Belgium. With so many distinct cultures, New Brunswick's identity is hard to define. From a marketing perspective, there is no one clear vision of New Brunswick to sell.
Compared to its neighbours, it's small and its attractions are spread out. Sure you may get more bang for your tourism buck in Montreal or PEI, but you won't experience as much diversity there as you will in New Brunswick and here you'll have fewer people vying for the same attractions.
Most of all, though, I believe, like Belgians, New Brunswickers are humble. We know we have it good here but we don't like to brag too much. If you make the effort to exit off the highways we'll happily share our hidden gems with you, but if you're in a rush, feel free to pass on through. We'd prefer to wait for the people who will take the time to slow down and appreciate what's here like we do. Ready to see more? Discover New Brunswick through our articles.
Latest posts by Alison Cornford-Matheson
(see all)