THIS POST MAY CONTAIN COMPENSATED LINKS. FIND MORE INFO IN MY
DISCLAIMER
.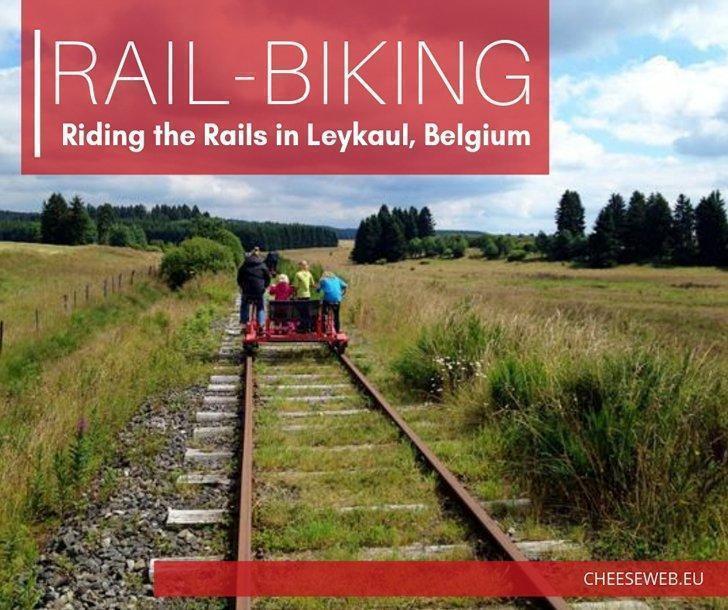 The railroad used to travel to many corners of the world, carrying people and freight. But what happens with the tracks when they are no longer used? We went to visit Railbike.be in Leykaul, Belgium to find out one family-friendly alternative.
Canadians aren't strangers to abandoned railroad tracks. Railroads used to be the main link to some pretty remote locations, but cars and trucks replaced trains in the 20th century. The unused tracks were abandoned until the price of steel was high enough to justify removing them.
Today, some of the railbeds have been turned into trails for walking or cycling. For others, all that remains are the scars created when the tracks were cut through the forest and hills. But in Eastern Belgium, one group preserved a section of rails, through the countryside, and opened them up for people to enjoy via a special cart – a railbike or 'draisine.'
When I heard about Railbike.be, I couldn't wait to check it out. It sparked a memory of a childhood desire to ride the rails, the way they did in old TV Westerns. Of course, in those shows, the cart had a pump in the middle rather than two bicycles, and I wasn't running from the law, but you get the general idea.
I booked a cart via the Railbike.be website for an upcoming Saturday. Unfortunately, Alison was away on her tour of Europe, but I enlisted the support of our friend and cycling powerhouse, Gilbert.
Driving to Leykaul, Belgium can be a bit tricky, depending on your navigation system, because Leykaul is right on the German border. My navigation system took us through a small section of Germany and had me wondering if we had entered the right place. [The Railbike.be website suggests you use 4750 Elsenborn for your GPS] If you are driving from Brussels, I recommend you give yourself at least 2 hours to get to this corner of Liege province comfortably.
The Railbike headquarters is located in the former Kalterherberg station. Here you will sign in, board your railbike and proceed +/- 7km to Sourbrodt Station. This first section is slightly uphill, so you'll feel the workout. Not to worry though because when you come back, it's all downhill!
The journey takes you through forests and fields. There are few houses along the route, allowing you to enjoy the environment around you.
The carts themselves make a fair amount of noise, so don't expect to sneak up on any wildlife. However, if you are in the lead railbike, you may catch a glimpse of something before you rattle through.
Once you arrive at Sourbrodt, you have a 30-minute break to stretch, get something to eat and drink, and catch your breath. You can buy snacks and drinks there, but we noticed most people brought their own.
Soon enough, it's time to hop back on the railbike and head back to Kalterherberg. While we were relaxing, the staff had turned the carts around with a nifty little device (see video). For me, the return journey was the most fun because it was all downhill. I could sit back and enjoy the ride.
2012 Railbiking from Alison Cornford-Matheson on Vimeo.
At the end of the trip, we rewarded ourselves with some waffles from the cafe conveniently located in a converted dining car just next to the station. An excellent finish to an enjoyable and active day!
The duration of the trip depends on the speed of the slowest railbike team but should take no more than 2 hours. Although it does require some physical exercise, I think just about anyone can do it. Since two people power the cart, you share the load. With a couple more friends (and a bottle of Belgian bubbles?) the physical part is reduced even further.
I enjoyed the trip and found it a great way to spend a Saturday morning. We had a great time, got some exercise, and enjoyed a corner of Belgium few have discovered.
The Rail-bike rental costs €32 and holds up to 4 people: 2 cycling and 2 enjoying the ride.