THIS POST MAY CONTAIN COMPENSATED LINKS. FIND MORE INFO IN MY
DISCLAIMER
.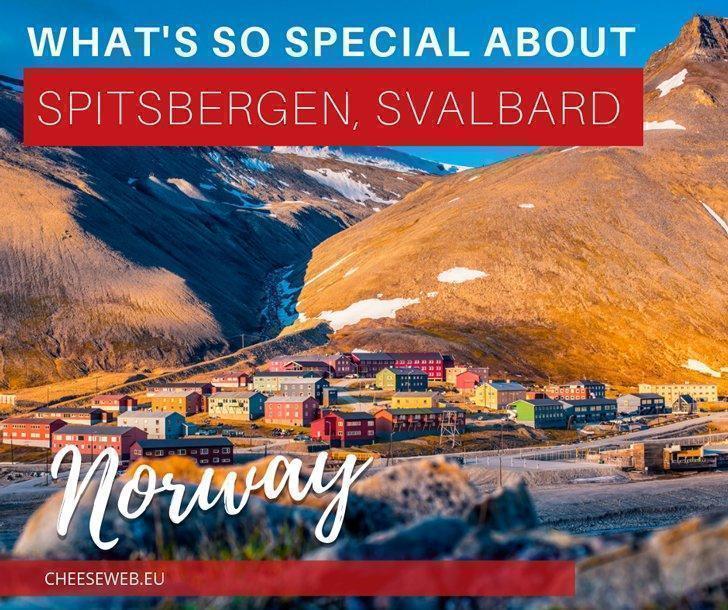 Situated in the Svalbard archipelago, this northern Norwegian hotspot is growing in popularity for wildlife and nature enthusiasts. Our guest contributors answer the question – what's so special about Spitsbergen?
Where is Spitsbergen, Svalbard, Norway?
Spitsbergen is the only populated island in the Svalbard archipelago in northern Norway. It's the largest island in the archipelago and its rich natural habitat inspires visitors to think seriously about endangered species. Despite its remote location, Spitsbergen is home to various types of wildlife.
If you're planning a trip to Svalbard, make sure to pack your thermals! Its dramatic coastline may distract you from the temperature. But it's better to be safe with a pair of earmuffs and snug boots to get settled into the snow. With so much to see, what makes Europe's northernmost destination so special?
Best Things To Do in Spitsbergen, Svalbard, Norway
Wonderful Walruses
Walruses are large marine mammals who love the Arctic, especially the ocean. Brown in colour, these wild creatures are usually spotted in Spitsbergen. They're incredibly social animals who like to keep to their pack.
Pacific walruses are endangered, so they're exclusively protected on the island. The loss of sea ice is severely impacting their ability to catch mussels and clams. Platforms for these mammals to rest on are slowly evaporating. They're forced to seek refuge elsewhere and fall prey to vicious predators. There's no better time to witness these walruses in their natural environment!
You can take an expedition to Kapp Lee, another reason to visit Norway this winter, to watch the walruses being lazy on shore. As long as you keep a safe distance, you can capture some awesome photos.
Spitsbergen is also famous for its walrus safaris tours. Special boats will take you along the Arctic Ocean and provide a panoramic view of the gorgeous surroundings.
The walrus's sharp tusks are truly fascinating, as is their majestic stature. Seeing these wonderful animals in real life is a must-do activity. Cameras to capture these moments and woolly hats are strongly recommended!
Alkefjellet Bird Cliffs
The bird cliffs of Alkefjellet are certainly a sight to see! If you take a Spitsbergen cruise, you'll circle their surroundings and get to gaze at their magnificence.
The types of birds you'll see will vary. From determined diving ducks to barnacle geese, Svalbard has it all.
Another famous flock of birds to see are the Atlantic puffins. The puffins here are a little larger than the average size. They absolutely love to breed in the sub-Arctic, and you may see them hanging around Alkefjellet, eyeing up their next sea snack.
Bird watchers and nature lovers enjoy cruising around the cliffs as it gives them plenty of time to peek through the binoculars. To admire these birds, it's best to do so with patience. You don't want to be rushing around on a relaxing retreat away.
Plus, the cliffs themselves are a sight to behold! Spectacular in size, the basalt pillars are impressive. Known as 'Bird Mountain' by the locals, it's easy to access via the sea. It has also been the subject of hundreds of wildlife documentaries.
Fortunately, the water is deep enough for boats and ships to get close to the cliff face. This works well if you fancy staying onboard. You can choose to either gaze up at their splendour or discover the cliffs on foot.
Arctic Foxes
Furry Arctic foxes roam freely around Spitsbergen. Their white winter fur helps them through the harsh weather, and they're seriously cute! If you're an animal lover, the island offers many endangered species to observe.
Otherwise known as 'the blue fox' by local inhabitants, the arctic foxes of Svalbard attract hundreds of visitors each year. Svalbard doesn't have many rodents for the foxes to feast on, that's why they eat anything they can get their paws on.
Arctic fox activity is under observation by many wildlife societies. This species' mortality rate is sadly increasing due to illegal fur farms and trading.
Native populations do hunt the fox for food and material wealth. But this is embedded in their tradition and should not be judged by others. You must remember when visiting a country and experiencing its culture that everyone is different. What you find abnormal, others may find completely normal. Cross-cultural communication is a tricky skill to learn. So is adapting to new and foreign environments. However, the more you travel, the more you'll understand. Your mindset will slowly expand, and you'll begin seeing life through other's eyes.
Protected Reindeer Packs
When you think of reindeer, you may think of beautiful sleighs in the snow. Or you may think about Rudolph, Santa's favourite friend! Whatever comes to mind, these adorable animals are often seen in Spitsbergen.
You can go on scenic rides with the reindeer, or you can watch them while they run free in their wild habitat. The local nature society protects them, and it's a great pleasure to get the chance to admire them up close.
According to The Telegraph, reindeer are decreasing in size. Unfortunately, this is a result of climate change. The article states the warmer winters have caused wet weather which has ruined the deer's natural food source. In Svalbard, a sixteen-year survey took place to analyze the animal's progress. The results showed that by 12 percent, the reindeer had declined in weight. It's a great shame global warming is negatively affecting the local habitat. That's why it is so important to see these majestic animals while you can!
Ride Snowmobiles
Do you love speed and snow? If YES, you're in for a treat. Spitsbergen offers a range of snowmobile trips around the island. On a snowmobile, you're in charge. Of course, for safety measures, there will be a trained tour guide on hand to help. However, you'll get your own snowmobile to glide across the powdery Svalbard snow.
Snowmobiling provides a superb rush of adrenaline. But you must take precautions. For instance, watch out for ice! If you run your machine across thick ice, there's a risk of sliding around and a potential crash.
Always wear protective clothing and ensure the tour gives you a snowmobile suit to wear. This sport is ideal if you want to go off the beaten path and delve into the island's hidden corners. With so much to see, this might make your trip to Spitsbergen extra special!
Hotels in Spitsbergen, Svalbard Norway
If you're wondering where to stay in Spitsbergen, here are some of the best hotels in Svalbard, Norway:
Radisson Blu Polar Hotel, Spitsbergen – A four-star hotel in Spitsbergen with airport shuttle and an excellent breakfast. Check latest rates here.
Svalbard Hotell Polfareren – A centrally located 4-star design hotel offering full luxury. Check latest rates here.
Apartment in Longyearbyen – A stunning 2-bedroom apartment, perfect for families and long-term visits. Check latest rates here.
Hostel Pomor – Clean and comfortable budget accommodation in an ideal location. Check latest rates here.
Latest posts by Agness and Cez
(see all)