THIS POST MAY CONTAIN COMPENSATED LINKS. FIND MORE INFO IN MY
DISCLAIMER
.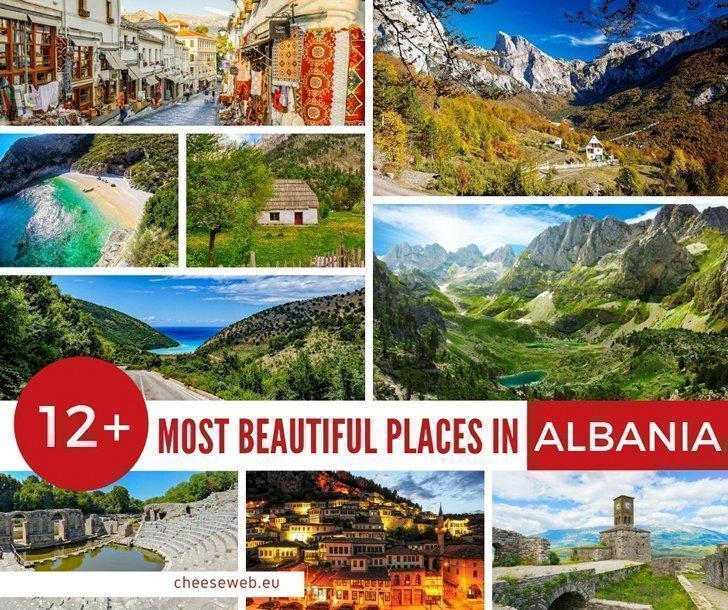 From lively cities to National Parks to the stunning beaches of the Albanian Riviera, we share the best places to visit in Albania and the very best things to do in Albania.

Albania is a small country, but it is brimming with exciting destinations. The long coastline is both rugged and remarkably beautiful and is slowly becoming a more popular tourist destination.
Along with stunning Ottoman architecture, the magnificent beaches and crisp Mediterranean air make Albania a must for any traveller who prefers the path less travelled. It is also a surprisingly affordable vacation destination, making it an excellent location for budget-conscious travellers.
Where is Albania
Located in southeastern Europe, Albania is bordered by the Adriatic Sea on the west side. Montenegro is northwest of Albania, while Kosovo is nestled to the northeast. Albania also shares borders with the Republic of North Macedonia and Greece, to the east and south, respectively.
Why Visit Albania?
Albania was a fairly isolated nation until it broke free of communist rule in 1991. Over time, travellers have increasingly headed to Albania for the breathtaking scenery, magnificent beaches, and historical sites across the nation.
The countryside is filled with a variety of tourist destinations, ranging from old castles to vibrant cities to ambling countryside locations. Many of the towns are incredibly picturesque, and the beaches often feel like hidden jewels many travellers have yet to explore.
Is Albania Safe?
While there was a brief period of unrest in 1997, Albania hasn't been part of a major conflict since World War II. Random acts of violence are exceptionally rare, and even pickpocketing isn't common.
Albania is also very welcoming to tourists, just like much of the rest of Europe. Since outside visitors are still uncommon, many Albanians view tourists with a bit of curiosity, and they will often go out of their way to help out visitors who may be a bit lost.
The only area where Albania may seem particularly dangerous to tourists is on the road. Albanians aren't always quick to follow local traffic and driving laws, which may startle some visitors. However, that isn't necessarily abnormal, as much of Southern Europe is the same way.
The Best Places to Visit in Albania
When you are looking for the best places in Albania to add to your travel agenda, you have a variety of options. From bustling cities to magnificent beaches, there's something for nearly everyone. Plus, numerous historical sites are sure to catch any history buffs attention.
Best Cities in Albania
From larger cities to quaint towns, Albania has a lot to offer travellers who prefer to experience daily life as the locals do. Here are a few cities in Albania that you shouldn't miss.
Durres
Durres
was once the capital of Albania. Nestled near the coastline, Durres does have some nice beach areas. However, the seafront is also dotted with fabulous restaurants selling fresh seafood, making it an excellent option for foodies.
The stunning Roman amphitheatre and amazing archeological museum in Durres just shouldn't be missed. Just keep in mind Durres can get a little crowded during the summer, so you may want to schedule a spring or fall trip if you prefer things a bit quieter.
Gjirokastra
Gjirokastra
is a UNESCO World Heritage city filled with prime examples of Ottoman architecture. Many of the homes resemble small castles, making them fun sights as you explore the city. Additionally, there is a military museum and an art gallery in town.
Every five years, Gjirokastra hosts a folklore festival in a castle; the most recent took place in 2015. If you happen to be able to travel to Gjirokastra for the next one, likely in 2020, then it is certainly a must-see.
Also, plan on stopping at the Ottoman bazaar, as it should similarly be on every traveller's to-do list.
Berat
Known as "the Town of a Thousand Windows,"
Berat
is considered by many to be one of the most beautiful cities in all of the Balkans. The Ottoman-era mosques and Byzantine churches are wonderful examples of historic architecture. Plus, there's a 13
th
-century castle on the hilltop which offers stellar views of the surrounding countryside.
If you want to spend some time exploring history, consider making a trip to two unique museums. There, you can see intriguing local costumes and various artifacts.
Best Beaches in Albania
With its substantial coastline, Albania's beaches should make it one every traveller's list. However, with so many to choose from, figuring out where to go isn't easy.
If you want to focus your agenda on the must-see beaches, here's a look at some of the best beaches in Albania.
Palasa Beach
If you decide to brave the journey across
Llogaraja
Pass, reward yourself with a trip to Palasa beach. Magnificent stretches of white sand and blue water are waiting for those who make the trip.
The beach is genuinely pristine, and the town is dotted with quaint cafes and even a nightclub. However, this isn't a common tourist destination, so it always maintains its charm and is a perfect option for anyone who prefers to avoid crowds.
Gjipe Bay
Many consider
Gjipe
a must-see for anyone travelling through the Albanian Riviera. It is one of the most stunningly beautiful places to visit in Albania, located conveniently between Dhermi and Himare.
Those who journey to Gjipe will discover a clean, sandy beach and crystal clear blue waters. While it is becoming increasingly popular, it rarely feels overcrowded, which makes it an excellent choice for those who prefer some quiet time while soaking up the sun.
Borsh
Easily considered one of the best beaches in Albania,
Borsh
is a perfect option for anyone who wants to leave the hustle and bustle of city life behind. Borsh is home to the longest single stretch of beach in the entire country, so sunbathers can spread out and give each other space.
If you want to get a fantastic view of the beach, plan to head up to Borsh castle ruins. It sits on a cliffside overlooking the brilliant blue waters, and many tourists don't even realize it is there.
Kakome Gulf
Kakome Gulf doesn't seem like just any other a quiet beach; it almost feels like a magical hidden paradise. White sand, lush greenery, and clear, blue waters make the area especially picturesque. Plus, it is accessible by car, though some may prefer to take a boat for easier travelling.
Pema e thate
Located near Ksamil and Corfu, a Greek island, Pema e thate is a small beach that is ideal for visitors with children. The water doesn't tend to get very deep, so kids or those who aren't strong swimmers are often very comfortable here. Plus, the water is amazingly clear, and the beach is rarely overcrowded.
Lake Ohrid
On the shores of Lake Ohrid, you'll find Pogradec, home to one of the most amazing beaches in Albania. It is very popular with locals and tourists alike and is home to numerous waterfront hotels and fun restaurants ready to welcome travellers.
When the weather is on your side, you can even see the nearby mountains reflecting off the water, making it exceptionally beautiful. Plus, colourful umbrellas and fishermen's boats make the beach feel vibrant, adding an energy you won't always find at other beaches.
Best National Parks in Albania
For travellers who enjoy immersing themselves in nature during their journey, making time for Albania's amazing national parks is a must. There are several options worth exploring, so one could easily plan a trip around these incredible destinations.
When it comes to national parks, here are some of the best places to visit in Albania.
Theth National Park
Possibly one of the most beautiful locations in all of Albania is
Theth National Park
. Visitors often flock to the Lock-in Tower and Grunas Waterfall, both of which are spectacular. Plus, there are ample hiking trails and opportunities to explore nature, making it great for travellers who enjoy spending time outdoors. While there, you may even spot golden eagles, brown bears, wild goats, and even a lynx or two.
Karaburun-Sazan Marine Park
The only marine park in the entire country,
Karaburun-Sazan Marine Park
is located near Vlore in the southwest of Albania. It protects a large portion of the sea and is home to underwater ship ruins, some of which date back to Roman times. Many head to the area for scuba diving and snorkelling opportunities, giving them a chance to peer into the depths.
Marine life is plentiful at Karaburun-Sazan Marine Park as well, so you might spot otters, roe deer, and wild boar. Three kinds of sea turtles also call the park home, and dolphins are regular visitors as well.
Valbona River Valley
If you are looking for things to do in Albania, hiking between Theth and Valbona is a great option. It is one of the least travelled paths in all of Europe, making it a unique experience.
However, even if you don't have hiking on your agenda, heading to Valbona Valley is an excellent addition to your trip. Located in the north of Albania, Valbona Valley National Park is an ideal place for exploring the Albanian Alps, filled with glacial springs, waterfalls, and dramatic summits.
Butrint
Considered the site of some of the most spectacular ruins in the Albanian Riviera,
Butrint National Park
truly is a unique option among all of the Albania tourist attractions. The picturesque location is part historical and part natural. In the park, you can explore ancient city walls, a Byzantine Basilica, the remains of a Roman theatre, and even two castles.
Along with the ruins, which cover a surprising 2,500 years of history, you may spot some of the 1,200 animal and plant species that reside in the hills, wetlands, and surrounding islands.
Latest posts by Catherine
(see all)