THIS POST MAY CONTAIN COMPENSATED LINKS. FIND MORE INFO IN MY
DISCLAIMER
.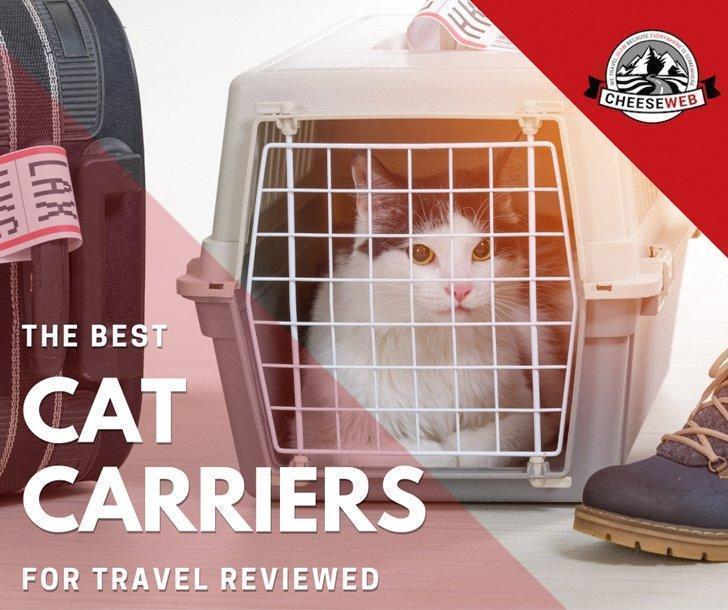 After 20 years of travel with cats, we share our reviews of the best cat carriers for travel with your feline friends from airline approved pet carriers to cat carrier backpacks we have you and your furry friend covered.
[Editor's note] If there is one thing Andrew and I have had a lot of experience with, it's travelling with cats. From moving from Halifax to Amsterdam with four (!!) felines in cargo to RVing with our kitty companions in Europe and Canada, we have experienced every mode of travel with cats. We've also tested a wide variety of cat carriers over the years. I've asked Catherine to summerise our favourites in this handy guide. If you plan to travel with your feline friend by car, boat, plane, or train – Read this first!
Travelling with a cat can be challenging. Whether it's a quick trip down the road to the vet, a long road trip, or an overseas flight, having the best cat carrier you can find is essential.
Cat carriers aren't just a convenient way to cart around your feline friend; they also keep them safe during the journey. Plus, having a cat carrier may be a legal requirement. You can't fly with your cat without an airline-approved cat carrier, and travelling by car without one could get you into trouble if your cat could harm your driving ability.
Most cats don't spend much time in a carrier, but that doesn't mean you shouldn't find the best cat carrier you can. That way, your feline friend is safe and comfortable, no matter where the journey may take you.
What to Look for in a Cat Carrier
A cat carrier is more than just any old box, so you need to think carefully before making a purchase. After all, it will keep your cat safe and secure, so you want to choose one that will meet their needs and yours.
Here are some of the main things you should examine if you want to select the best cat carrier for your feline friend:
Adequate ventilation
Attached food and water dishes
Easy carrying and cleaning
Door opening size
Safety features
Style/material (soft side, hard side, etc.)
Carrier interior dimensions
If you aren't sure how big the carrier needs to be, a good rule of thumb is your cat needs to be able to stand, sit, lay down, and turn around once inside. However, too much space might leave them feeling insecure, so don't go overboard either. Instead, make sure they can move around as described above but still feel cozy and protected.
To help you decide, here is a look at some of the best cat carriers available today.
Best Cat Carrier Overall
If you are looking for an all-around excellent cat carrier, the Sherpa Travel Original Deluxe Airline Approved Pet Carrier is a great choice.
This soft side carrier is incredibly well ventilated. It has a cushioned bottom perfect for cats who like to knead, and it is also machine washable. Plus, it has a sturdy but flexible wire frame, making it easy to place your cat under an airline seat.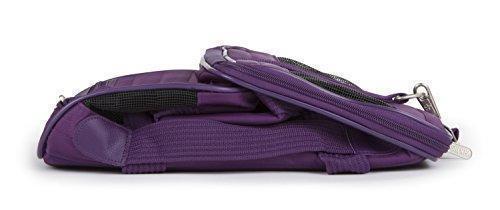 For ease, you can use one of two zipper openings to load your cat into the carrier. Both of the zippers lock, so you don't have to worry about your cat pulling a Houdini while they are in transit.
[Editor's Note:] We used two of these carriers to fly Buddy & Orange from Spain to Canada when we returned home. They are easy to store and carry, durable, and easy to clean.
Best Airline Approved Cat Carrier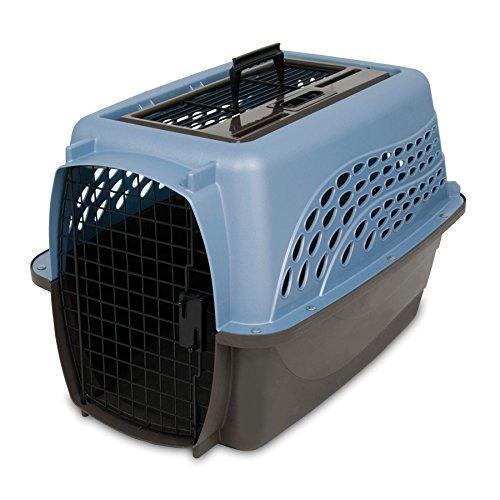 The best cat carrier for a plane is one that is airline-approved. Just because a cat carrier is available online or in stores doesn't mean it meets the strict criteria set by airlines and various government travel authorities.
If your cat can't travel in the cabin with you, then a hard side carrier is a better choice. The Petmate Two Door Top Load Kennel has well ventilated sturdy plastic sides. The doors latch securely but are easy enough to open from the outside, making it simple to operate. Plus, it is cargo approved on most airlines, and you can add a clip in food and water dish for longer journeys.
Best Cat Carrier for Nervous Cats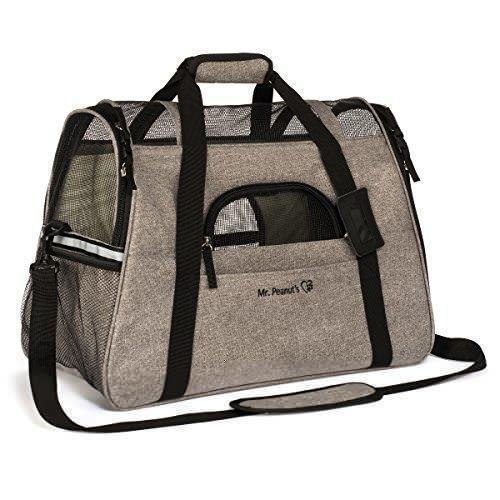 Mr. Peanut's Airline Approved Soft Side Luxury Pet Carrier Tote is undoubtedly the best cat carrier for difficult cats who aren't amazing travellers.
While it is well ventilated, visibility is a bit reduced, which may make a cat with anxiety more comfortable. Plus, the bedding is fleece-lined (and removable for easy cleaning), keeping your cat cozy during the journey.
Self-locking zippers will keep your feline friend secure while in a car or an airline cabin. It even comes with clips that attach to a car seatbelt, ensuring the carrier remains in place while you are on the road. Carrying the cat carrier is also pretty comfortable thanks to the padded handles and straps.
Best Cat Carrier for Car Travel
If you are looking for the best cat carrier for long car trips or short drives around town, the PetLuv Happy Car Premium Soft Sided Foldable Pet Carrier is a solid choice. It can be folded completely flat, making it very easy to store. But the sides still have a sturdy frame, ensuring it doesn't collapse while your feline friend is inside.
This cat carrier also comes with a seatbelt lock, ensuring the carrier remains in place even on the windiest of roads. Inside, your cat can enjoy the padded rest pillow, which is made of a washable material and is easily removed for cleaning.
Thanks to all of that, it's easy to see why the option from PetLuv is one of the best cat carriers for car travel around.
[Editor's Note:] We love these carriers because they fold flat when not in use so they are great for small space and RV living while still offering your cat plenty of room to move.
Best Cat Carrier for Two Cats
If you need to travel by car with two cats, the Necoichi Portable Stress-Free Cat Cage is worth checking out. In just seconds, the frame pops up to create a comfy tent featuring two fabric sides, one mesh side with an adjustable cover, one mesh side, and a solid fabric top and bottom.
This cat carrier is pretty large, so it may take up the whole rear trunk area in a hatchback. But, that also means your cats can remain secure together in a contained space, giving them room to stretch and sleep. You could even bring it into a hotel room to give your cats their own cozy section.
Since this one is bigger, it also qualifies as the best cat carrier for a large cat too. Just keep in mind that it doesn't mean airline requirements, so this is strictly an option for car-based travel.
Best Cat Backpack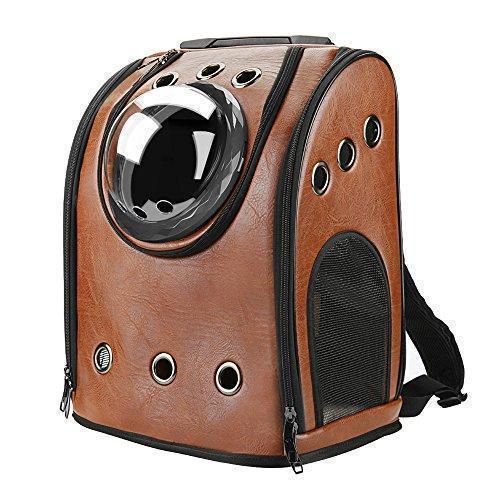 If the idea of hand carrying a carrier doesn't appeal to you, then the Texsens Innovative Traveler Bubble Backpack Pet Carrier might be a better option. This airline approved options features great ventilation and has a clear bubble that serves as a window. That way, as you walk, your cat can take in the world.
The backpack has a sturdy frame to make sure your cat has enough room. Plus, you can enjoy the padded, adjustable shoulder straps or use the carrying handle, which gives you some flexibility. This carrier can also be attached to a car seatbelt, ensuring your feline friend stays put in your vehicle.
It is important to note larger cats may not fit well in this backpack. While it can technically hold a cat up to 13 lbs., your feline friend wouldn't have a ton of space if they are that big. With that in mind, it is best only to explore this option if your cat is 10 lbs. or less.
Latest posts by Catherine
(see all)