THIS POST MAY CONTAIN COMPENSATED LINKS. FIND MORE INFO IN MY
DISCLAIMER
.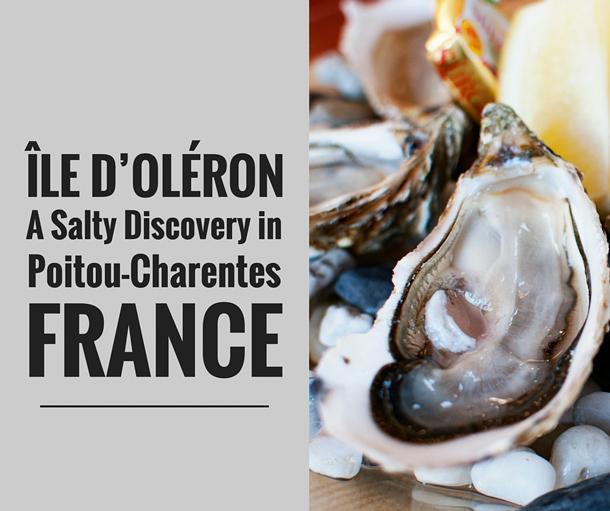 From oysters to sea salt, Restaurant Le Relais des Salines and La Salørge highlight the best products the Île d'Oléron in Poitou-Charentes, France, has to offer.
Salt – It's something we use every day; something our bodies require, but most of us don't spend much time thinking about where it comes from.
Over our years in Europe, we've actually visited a number of the larger salt production regions of France, like the Camargue and Guérande, and we've even visited an underground church and spa carved from a salt mine, in Poland. Despite this, I knew little about the process of harvesting salt, using traditional, artisanal methods.
Confession time: I became a bit of a 'fancy' salt junkie when I started cooking more seriously. I have owned salts flavoured with herbs, spices, and even truffles. Although my stash has been whittled down since we moved into our motorhome, Amelia, I've still managed to make room for my Himalayan pink, Indian black, and a number of French sea salts. Since our visit to the island of Oléron, off the coast of Poitou-Charentes, my salt stash has increased again considerably…
Unlike Île Madame, the Île d'Oléron is large; Metropolitan France's second largest island, after Corsica. It's connected to the mainland by a bridge and is home to roughly 22,000 inhabitants. Although it's virtually overlooked by outsiders, it's a wildly popular holiday destination for French tourists looking for a coastal escape.
Traditionally, folks made their living on Oléron in one of two ways: from the land or from the sea.
While the seafood on Oléron is spectacular (and we'd be tasting it soon) we first arrived in Le Grand Village Plage to learn about traditional sea salt production.
We arrived at the picturesque restaurant, Le Relais des Salines, a series of colourful fishing cabins lining the dock, where we met Chef James Robert. We knew right away, Chef Robert was our people – a foodie and traveller, passionate about quality local produce.
Looking to promote the island's traditional high-quality salts, Chef Robert partnered with one of the last remaining sauniers, salt harvesters, on the Île d'Oléron, Olivier Anjard. Anjard is a quiet contrast to the gregarious chef, but when he starts talking about salt, it's easy to see the men share a passion for perfection.
Anjard's salt flats don't look like much, to the untrained eye. A small, shallow pond is divided into rectangular pools, called pans. But, on closer inspection, we can see the complexity involved in draining the water in just the right way.
Anjard describes how he creates the pools by hand and shows us the tools he uses to harvest the salt. They haven't changed much, in the centuries people have been harvesting salt on Oléron. It's a far cry from the huge salt raking machines we saw in the Camargue.
The goal here is to create fleur de sel; that flakey, salty delicacy prized in the kitchen. Fleur de sel is the first layer of crystalized salt, harvested before it sinks into the salt pans. But the coarser salt isn't neglected. Chef Robert uses the coarse salt for his delicious blends.
The men lead us to a small, black fishing shed, with a sign reading La Salørge, and I find myself in salt heaven. I can tell by the look on Andrew's face, he's already trying to figure out where I'm going to stash still more cooking supplies in our microscopic kitchen. Too bad.
After I taste Anjard's delicately perfect fleur de sel, Chef Robert begins handing me bags of his flavoured salts. Aromas of garlic, herbs, Moroccan spice, and tandoori fill my nose. I can't resist. After all, the best souvenirs are edible.
From there Chef Robert leads us to his restaurant, where we'll be in his daughter's capable hands for the evening. Before heading out to an evening engagement, he asks where we're parking for the night. When we explain our difficulty finding a suitable spot to park Amelia, he tells us he may have space on a property he owns. We load into his truck and he drives us to a gated road just minutes from the restaurant. We're sure it will do for the night.
Back at Le Relais des Salines, things are getting busy. There's no question what we'll be having for our starter – oysters. This part of Poitou-Charentes is famous for them and we'd eat them at every meal if we could. For once, it's Andrew who orders the fancy preparation: 6 warm oysters with the local pineau rouge, we had tasted in Cognac.
I have mine as nature intended and they are briny perfection.
For the main course, I can't resist mackerel, especially not when it is served on carrot waffles (I'm half-Belgian these days after all.)
Andrew opts for roasted cod with a terrine of vegetables; also mouth-wateringly good.
My dessert is lemon, lemon, and more lemon, and I love it.
Andrew's macarons are filled with salted caramel, his favourite French dessert.
We leave the restaurant with Chef Robert's excellent menu swimming in our heads (also possibly some of the local wine) and bump our way down the dirt road in Amelia. What had looked like a humble parking spot behind a shed turned out to be one of our camping spot highlights.
How could we resist the Île d'Oléron with views like this to fall asleep to:
Le Relais des Salines
Port des Salines
17370 Grand Village Plage
We'd like to thank Chef James Robert, Olivier Anjard, and the staff of Le Relais des Salines for a lovely afternoon, a fabulous meal, and a parking spot with a view. Thank you also to the Région Poitou-Charentes Tourism office for hosting us in the area. As always, all opinions are our own.
Latest posts by Alison Cornford-Matheson
(see all)