THIS POST MAY CONTAIN COMPENSATED LINKS. FIND MORE INFO IN MY
DISCLAIMER
.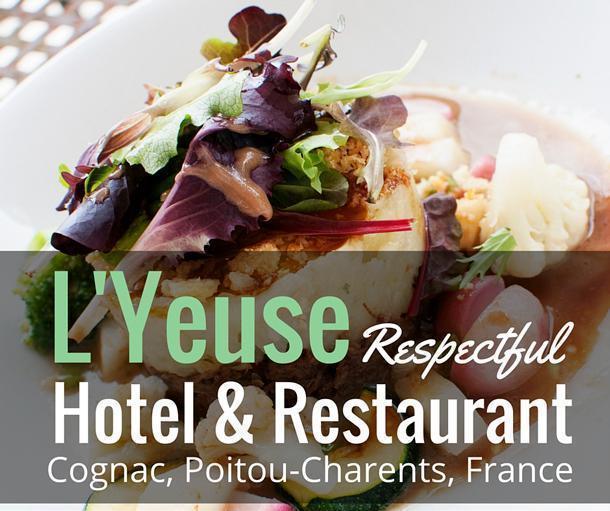 L'Yeuse Hotel and Restaurant respects the environment of Cognac in Poitou-Charentes, France, through its Jardin Respectueux and local menu.
Perched on a hilltop, on the outskirts of Cognac, tucked under ancient shade trees, sits a striped brick chateau, oozing old-world charm. L'Yeuse is a boutique hotel and restaurant that respects the local environment, products, and traditions, and we came to the Charente department of France, to see what makes it so special.
Welcomed inside by the hotel's charming owner, Céline Desmazières, we quickly see there is more to L'Yeuse than meets the eye. Despite its traditional architecture, L'Yeuse's bar and restaurant decor is beautifully modern, contrasting with the original architectural features.
Only the spectacular Cognathèque takes a step back into fully traditional luxury. Who wouldn't want to curl up by the roaring fire and warm their insides with a glass of cognac?
Forgoing the cosy Cognathèque's appeal, as our visit was at the end of May, we took advantage of L'Yeuse's sunny terrace with a view, for our dining experience. But, before we could eat, we wanted to discover just what makes L'Yeuse so 'respectful.'
Céline introduced us to landscape architect, Rémi Marcotte, the driving force behind L'Yeuse's stunning setting. Surrounding the hotel and pool are lovely landscaped grounds, but the pièce de résistance is not immediately visible.
Rémi led us through a nondescript door, down a wooded path, hugging the hillside. "Bienvenu dans le Jardin Respectueux," he smiled, welcoming us to the Respectful Garden.
Not far down the path, we were met by a sign listing the principles of the garden. These include: maintaining the biodiversity of the area, planting native species, creating compost and bettering the soil ecologically, conserving water, leaving completely natural spaces, and respecting the freedom of visitors. Structural elements in the garden are reclaimed and repurposed. And, although it is a place of beauty, it is, above all, an educational space – a lesson in conservation and respect for Cognac's natural environment.
As we wound down the hillside, we learned the Respectful Garden isn't all about Cognac's plants. Incorporated into the garden are works of art, by local artists and landscape designers. Each piece connects with nature; either in general or to a specific species.
Some parts of the garden are playful, like the emerging salamander sculpture and Genius Loci, the guardian of the garden. Others, like the bamboo forest, are tranquil and meditative.
Reaching the bottom of the hill, the Respectful Garden becomes, even more, educational, with observation points for local birds and mammal species, an active beehive, and an organic kitchen garden. This garden is the birthplace of many of the local vegetables that appear on the menu, up the hill at L'Yeuse.
Here also is a gathering area, with structures of reclaimed materials that play host to group activities, from organic pizza feasts to scavenger hunts, to cooking foraged food. Although our visit was too early in the season to see this part of the garden at its peak, we could definitely feel the potential for family-friendly fun. We could also feel Rémi's passion for the garden and the local environment, in each new element he showed us.
But our walk through the garden and all the talk of organic, local produce had made us hungry. (Who are we kidding? We're always hungry for good food!) We worked our way back up the steep hill, feeling thoroughly justified in enjoying a big lunch.
We settled ourselves on the terrace of the P'tit L'Yeuse Bistro, overlooking the sweeping valley below, and let the chef take us on a culinary tour of Cognac.
No culinary tour of Cognac would be complete without, well, Cognac (especially after our organic Cognac tasting earlier that day). While this delicacy is typically reserved for the end of the meal, our lunch began with a crisp Cognac cocktail, which was completely refreshing after our slog back up the steep garden path. Paired with unctuous rillets and crisp bread, we were definitely ready to begin.
I began with a salad of fresh greens, so loaded with duck and foie gras I completely mitigated the virtue of ordering a salad. It was heavenly.
Andrew was tempted by a vol au vent inspired creation of mushrooms and pastry, also paired with a salad.
For my main course, I opted for the local Charentais beef, which was melt-in-the-mouth tender and topped with potatoes and Cognac.
It didn't come as a surprise when Andrew ordered roast pork and it looked simply mouth-watering, even to this non-pork fan.
We could hardly make it to dessert. But, honestly, how could we resist?
The meal was a testament to Cognac and Charentais ingredients and we couldn't think of a better way to end our stay in the region of Poitou-Charentes unless it was staying at L'Yeuse for even longer.
For a respectful stay in Cognac, don't miss L'Yeuse Hotel and Restaurant and a visit to its beautifully educational Jardin Respectueux.
L'Yeuse Hotel & Restaurant
65 rue de Bellevue
16100 Châteaubernard – Cognac, France
We'd like to thank Céline Desmazières and Rémi Marcotte for their warm welcome at L'Yeuse and the Jardin Respectueux. Thank you also to the Région Poitou-Charentes Tourism office for hosting us in the area. As always, all opinions are our own.
Latest posts by Alison Cornford-Matheson
(see all)