THIS POST MAY CONTAIN COMPENSATED LINKS. FIND MORE INFO IN MY
DISCLAIMER
.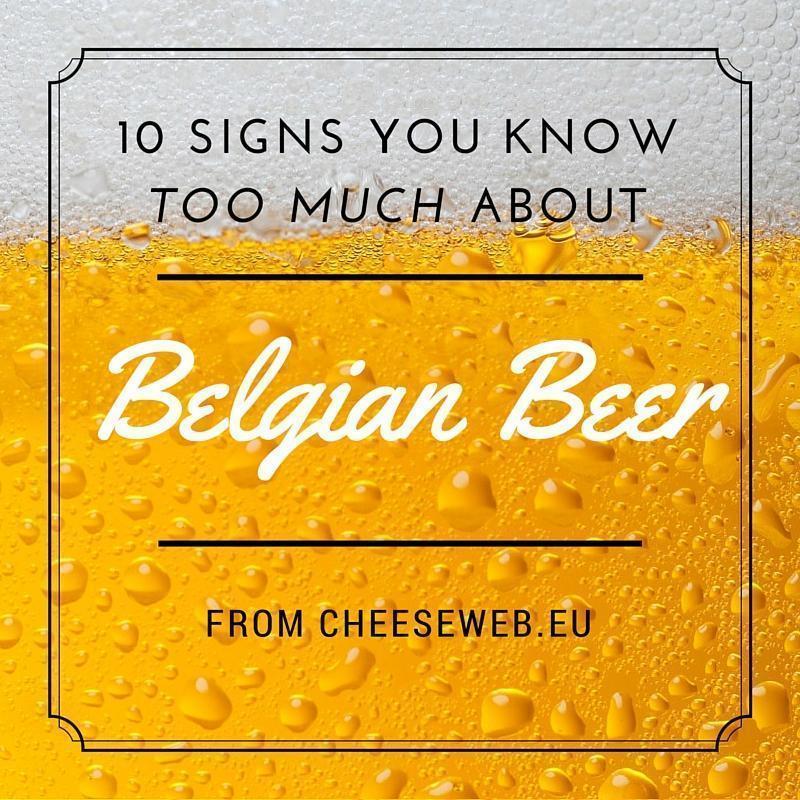 Is it possible to know too much about Belgian beer? Find out if you're a Belgian beer snob with our 10 signs you know too much about Belgian beer. 
When I started this series about Belgian beer, I did it for two reasons: to learn more about beer myself and to make Belgian beer more approachable for others.
However, there comes a point when perhaps you've had a bit too much 'education'. I fear the day when I tip the scales and become a total beer snob. I'm close. I can already tell. So I've invented a simple test.
Answer the following questions and score one point for each time you can answer positively to find out how much you know about Belgian Beer.
—
You know the difference between lambic and gueuse (and you wax poetic about them).
Off to a great start. I've been known to provide recommendations on what to pair with certain lambics. (+1)
You have the official glass for each Belgian beer you've purchased.
Well, I had a lot*. I didn't have every one, but I had about 50 different glasses. (I'll award myself +0.5.)
*sold most as part of our downsizing
You know all 6 Belgian Trappist breweries (if you know the other five outside Belgium, add another point).
West Vleteren. Orval. Chimay. Rochefort. Westmalle. Achel. Bonus: La Trappe (NL), Engelszell (A), Spencer (US), Zundert (NL), Tre Fontane (IT). *ahem* Definitely got the extra point. (+2)
You know the names of all the beer made by the Belgian Trappist breweries.
That would just be showing off. But feed me a few beer and I might relent. (+0.5)
Few have ever heard of your favourite Belgian brewery.
De Dochter van de Korenaar. Heard of it? You have now and you should seek it out.  (+1)
The name of your favourite Belgian beer is unpronounceable.
I fail at this one. My favourite is Embrasse (especially the oak aged version) by De Dochter van de Korenaar. However, there are some beer with names which are only pronounceable having imbibed a few first.
Seasons of the year are based on what style of Belgian beer is available.
Guilty. I look forward to both the summer 'saison' style and the winter spiced beer. Simply because they offer something a bit different and they are harder to get outside of their season. (+1)
The dates of upcoming Belgian beer festivals are already marked on your calendar.
Less of an issue for me as I have attended very few beer festivals. After attending the Brussels festival a couple of times, I'm a little put off this format of mass tasting. I'm willing to be convinced otherwise…
You know which Belgian beer pairs best with frites.
My pick is Zinnebir by Brasserie de la Senne. It works well against the grease of the frites and the slight bitter finish cleanses the palate for the next bite. Ummm… well I guess that's another (+1).
10. You have several books about Belgian beer on your bookshelf but you never refer to them anymore.
*whew* I still refer to mine on a frequent basis (especially the Good Beer Guide to Belgium and All Belgian Beers).
Bonus Question: Who was Michael Jackson?
Oooooh! I know! But I'll keep quiet to see if anyone else will jump in.
If you've scored:
Less than 5 points, then you have some work to do.
Between 5 and 9 points and you are doing well but you need to step up your game.
Greater than 9 points? We are not worthy! You are a Belgian beer aficionado!
In the end, I seem to have scored an 8. I'm happy with that, but I think I could do better. Only one more point and I could be up there with some of the greats!
How did you score? Share your total in the comments below, your answer to the bonus question, and any insight you have gained into Belgian beer. Find out more about Belgium's favourite beverage on our Guide to Belgian Beer and Breweries in Belgium page.
Cheers!
Read more from this series...