THIS POST MAY CONTAIN COMPENSATED LINKS. FIND MORE INFO IN MY
DISCLAIMER
.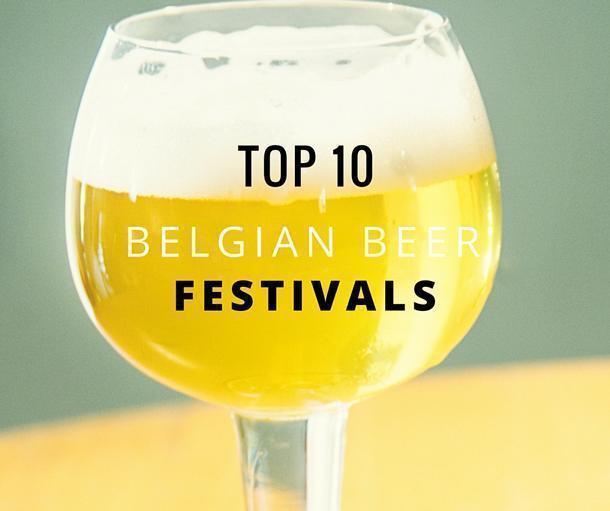 Belgium produces lots of beer, but it can be hard to find beer from smaller producers. The solution? Attend a Belgian beer festival. We share ten Belgian beer festivals you should put on your calendar.
Belgium is renowned for its beer. Home to arguably the world's best beer, Westvleteren, as well as more than 180 breweries and beer companies, you can't visit Belgium without tasting a local brew.
Although Belgian beer is now fairly easy to find in shops around the world, it is hard to find the products from the smaller breweries, even in Belgian grocery stores. To get a real taste of Belgian beer variety you need to visit one of Belgium's many beer festivals.
Beer festivals happen year-round, in Belgium. Big or small, these festivals draw people from around the globe, to sample the latest suds, from both new and old favourite brewers. Festivals are where you immerse yourself in like-minded enthusiasts and discover new things about beer, the makers, and your own tastes. But let's be honest, it is primarily about drinking beer.
It is impossible to provide a full list of festivals. Some events are so hyper-local or driven by particular breweries, you only hear about them if you're already following them or if someone tells you about it. Nevertheless, there are lots of established festivals that will keep your taste buds happy no matter what season of the year you visit.
The following is a selection of festivals I've gathered. I haven't been to all of them so I've tried to identify ones that offer something a bit special or different. Regardless of the festival you attend, you are sure to encounter beer you've never tried.
1. Zythos Beer Festival, Leuven
End of April (2016: April 23-24)
Arguably one of the most important beer festivals in Belgium, the Zythos Beer Festival features around 100 stands offering hundreds of beers to taste. Zythos, a national association of beer consumers, works to promote Belgian beer and supports numerous festivals around Belgium.
If you can only make one festival in the year, this is the one I'd recommend. Many participating breweries bring their latest creations, plus some of their more popular standards. Further, if you get bored with the festival, the city of Leuven runs an entire beer weekend, complete with a beer market, evening lectures, beer tours, and more.
2. Belgian Beer Weekend, Brussels
First weekend in September (2016: Sept 2-4)
Organized by the National Federation of Belgian Brewers, Belgian Beer Weekend is Brussels' largest beer festival. With about 50 breweries and hundreds of beers on offer, the festival takes over Grand Place for the weekend. Beyond the beer, the weekend includes other events, such as the consecration of the beer, the induction of new members to the Knighthood of the Brewers' Mashstaff, the procession of historical cars and beer wagons, and a parade of bands and brewers' fraternities through the streets of Brussels. It's one of our favourite food and drink festivals in Brussels.
3. Bruges Beer Festival, Bruges
Early February (2016: Feb 6-7)
Brugse Autonome Bierproevers (BAB, or Bruges Autonomous Beer-tasters), the local Zythos association, runs the annual Bruges Beer Festival with around 80 brewers and more than 350 beer. Some local restaurants also produce beer inspired menus and the festival organizers have spiced up the event with lectures, debates, and a culinary showcase.
4. North Sea Beer Festival, Ostend
Last weekend in August (2016: August 26-28)
A new entry in the beer agenda, the North Sea Beer Festival brings 20+ breweries to the Belgian coast. We love Oostende so a beer festival just makes it more appealing. The organizers have also partnered with local restaurants to create special food options, at the festival, making it somewhat unique.
5. Christmas Beer Festival, Essen
Mid-December (2015: Dec 19-20)
The Christmas Beer Festival, in Essen, is a showcase of Christmas and winter beers brewed in Belgium. They also include wood-matured beers, mulled kriek, and more. Christmas beers are a special variety of beer and should definitely be enjoyed during the season.
6. De Nacht van de Grote Dorst, Eizeringen
Every other year in April (2016: dates TBD)
Every two years, De Nacht van de Grote Dorst, or The Night of the Great Thirst, festival is held in Eizeringen. This festival is special because it is the only one focusing on Lambic and Gueuze beer. It's a great way to experience the variety of flavours from this uniquely Belgian form of brewing beer.
7. Brassigaume, Marbehan
First half of October (2016: dates TBD)
The Brassigaume festival focuses on craft beer from microbreweries in the Gaume Region and abroad. It is a tasty showcase of what is being produced in this distant corner of Belgium, along with a taste of foreign flavours. Here you'll find Gaumaise products from Brasserie Artisanale de Rulles, Millevertus, and St-Hélène.
8. Bierpassie Weekend, Antwerp
End of June (2016: dates TBD)
Bierpassie Weekend is organized by the Flemish magazine, Bierpassie, in the heart of Antwerp. It features around 50 mid-sized brewers and includes live music. The organizers also hand out awards, like the Michael Jackson award (named for the beer writer, not the pop icon), which goes to the person who has contributed the most to the Belgian beer industry in the previous year.
9. Poperinge Beer Festival, Poperinge
October (2016: dates TBD)
What would a list of festivals be without a festival at the home of hops, Poperinge? The Poperinge Beer Festival features 25 breweries and over 100 different beers. In 2015, the festival includes beer around the theme of World War I remembrance, a 20th-anniversary beer, and the launch of a number of new beers.
10. Modeste Bierfestival, Antwerp
Early October (2016: dates TBD)
Hosted by De Koninck Brewery and organized by the Antwerp Beer College (yes, there is a beer college!), the Modeste Bierfestival includes around 30 brewers. Although one of the smaller festivals, it features some of the smallest breweries from around Belgium.
If the festivals above don't tickle your fancy, there are plenty more to choose from in Mons, Sohier, Zottegem, Gembloux, Waregem, Archennes, Hasselt, and beyond!
If beer is your thing, then Belgium has a beer for you. Sometimes it takes a while to find the perfect beer, but these festivals make it easy to play the field. What I love about the festivals is the opportunity to meet the brewers and talk to them, especially at the smaller events. Don't expect to get a lot of time with the brewers at Zythos, but check out events like Brassigaume to learn more about the beer, the brewery, and, the answer to my favourite question, why they started to brew beer in the first place.
Do you know a Belgian beer festival to add to this list? Add a comment below with the details, dates, and a link to the festival's website so others can learn about it.
What's your favourite Belgian beer festival?
Find out more about Belgium's favourite beverage on our Guide to Belgian Beer and Breweries in Belgium page.
Read more from this series...