THIS POST MAY CONTAIN COMPENSATED LINKS. FIND MORE INFO IN MY
DISCLAIMER
.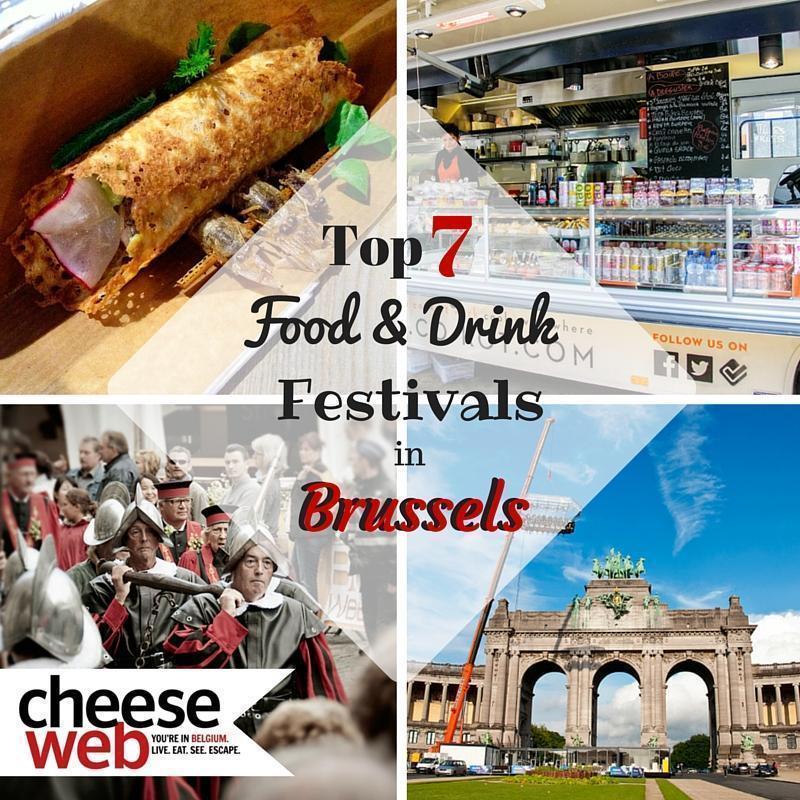 While Brussels, Belgium has great food to choose from year round, we're sure to mark our calendars when these 7 food and drink festivals take place each year.
EAT! Brussels
If we could only make it to one food festival, this would be the one. EAT! Brussels is a weekend-long celebration of the city's restaurants, bars, and caterers in the lovely Bois de la Cambre park. It's a great way to sample the cuisines of more than 25 of Brussels restaurants, without the risk or expense of booking a table for an entire meal.
Visitors purchase bags of tokens that can be exchanged for food or drink at any of the stalls. The restaurants range from neighbourhood favourites to Michelin-starred fine dining. We've discovered some great new (to us) restaurants at past events.
In addition to Brussels-based cuisine, there are always a number of regions from elsewhere in Europe, and around the world. The 2014 edition will include food from Sichuan and Beijing China; Katanga, Congo; Rabat-Salé-Zemmour-Zaer, Morocco; Sofia, Bulgaria; Ljubljana, Slovenia; Bratislava, Slovenia; Quebec, Canada; the Île-de-France Region, and the Mazovia Voivodship in Poland.
The 2014 event will also include wines from throughout the Bordeaux region and a special Wine Pass will be available for purchase.
For a taste of the event, check out our full review of the EAT! Brussels Festival in 2013.
For information and tokens, visit the EAT! Brussels website.
Brussels Food Truck Festival
The Brussels Food Truck Festival was brand new in 2014 and we see huge potential for it to grow. Food Trucks are quickly popping up around the city, but without one fixed place for them to set up, it's difficult to discover new ones. At the Food Truck Festival, you can taste-test your way through more than 30 trucks from around Belgium, the Netherlands, France, and Luxembourg.
We braved the rain to discover some new favourites like, Chang Noi Thai (our favourite bite of the day was their shrimp spoon!), Co-kot (We loved the 'black' tuna burger), Urban Cosi (the truffle eggs and truffle croquets were heaven), and Le Canard Huppe's 'duck balls' were delish.
We can't wait to watch this festival grow into a world-class event.
For more information, watch the Brussels Food Truck Festival website.
Culinaria
Like EAT! Brussels, Culinaria is a place for Belgian chefs to show their stuff. Not limited to Brussels, it attracts the top chefs from around the country, many of them sporting a Michelin Star or two (or three!). The standard of the food is extremely high (especially considering the volume of dishes produced) and the cuisine is innovative. Over the past years, Culinaria has grown to add classes, display cooking, and other foodie mini-events. It has also grown beyond Brussels and now hosts events at the Belgian coast.
In all honesty, we have mixed feelings about Culinaria. The first year, we loved Culinaria. We attended the second year and, although it was larger and the food was excellent, it was disorganised and we left with mixed feelings. The third year we attended, we were very disappointed. The service just wasn't there: Reception was frosty; we signed up for a class and the instructor didn't show up; several of the restaurants ran out of food well before the end of the event and we just generally felt we didn't get our money's worth. We decided to take a year off and didn't attend this year. That said, the event has tremendous potential and we know many folks who love it (including us in the beginning). We're willing to give it another chance in the future and hope that some of the service-related kinks are worked out.
For more information, visit the Culinaria website.
Dinner in the Sky
Who doesn't want to eat an incredible meal, prepared right in front of you, by a Michelin-starred chef, in a location with a gorgeous view? Every summer in Brussels, you can do just that – dangling from a crane, suspended over the Brussels skyline at Brussels in the Sky.
This isn't a festival exactly, and when we participated, we thought it would be a one-time thing (well, for us it was.) The experience is incredible, even for someone as scared of heights as me.
Read all about our experience with Dinner in the Sky above Parc Cinquantenaire.
For more information, visit the Dinner in the Sky website
MegaVino
We can't have food without wine and Brussels is home to the biggest wine festival in Benelux. MegoVino, at the Brussels Expo, is host to over 360 wine exhibitors from around the world, organised by region. Of course, you can find plenty of your favourite French, Spanish, and Italian wines, but you can also taste wines from some lesser-known regions. We were thrilled with our Bulgarian wine discoveries, and the wines we tried from Uruguay were excellent. We also tried many Belgian wines that pleasantly surprised us. Our local wines are seriously underrated.
For the cost of your admission, you receive a tasting glass and a catalogue of available wines (so you can be sure to track your favourites). Of course, being in Belgium, those wines need to be paired with great foods too and you'll find a variety of gourmet delicacies to take away and eat onsite.
For more information, visit the MegaVino website.
Belgian Beer Weekend
Beer culture is essential in Belgium and there's nowhere you can see more of the history and tradition around Belgian Beer than the Belgian Beer Weekend, held every September in Brussels. Of course, there's plenty of beer drinking, but the festival celebrates more than just beer appreciation.
You can experience the 'benediction of the beer' as it is blessed in a church in honour of the patron saint of brewers, Saint Arnould. There are historic processions, seminars, and plenty of music.
The beer tents on Grand Place host almost 50 brewers, from giants like AB INBEV and Palm, to small organic brewers like Caracole. Six of the ten Trappist breweries are scheduled to attend the 2014 edition as well.
For more information, visit the Belgian Beer Weekend website.
Winter Wonders, Brussels Christmas Market
We know the Brussels Christmas Market, Winter Wonders, is much more than food. However, honestly, for us, the food is the best part. All year, we look forward to our annual tradition of oysters and foie gras, under the twinkling Town Hall.
We love discovering the special guest regions, so we can sample some delicacies from abroad. We enjoy our glühwein and sausages and I try to track down a tartiflette. We also shop for goodies to stock our cupboards, from the many producers selling their wares from the little wooden chalets.
For more information, visit the Winter Wonders website.
We know there are many more great foodie events in Brussels we have yet to attend. Rest assured dear readers, we will investigate them for you, in the name of research. What not-to-be-missed foodie events are on your calendar?
For more great restaurants in Belgium and beyond, check out our Restaurant Review page.
Latest posts by Alison Cornford-Matheson
(see all)