THIS POST MAY CONTAIN COMPENSATED LINKS. FIND MORE INFO IN MY
DISCLAIMER
.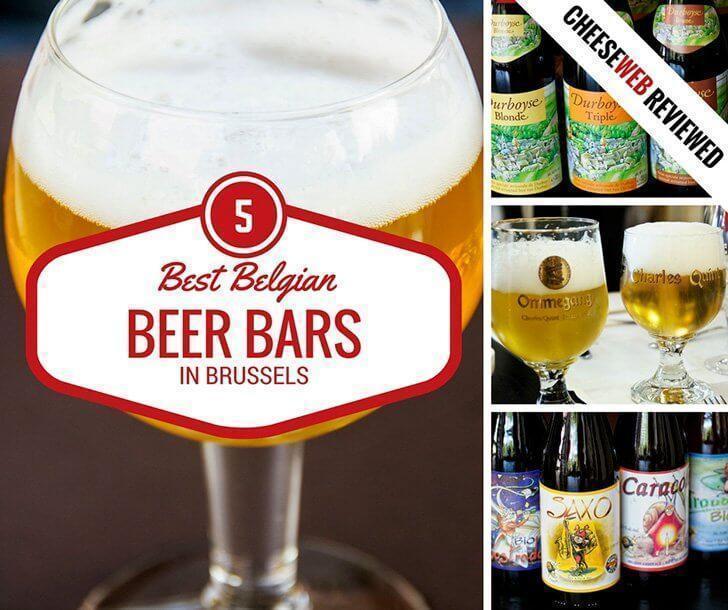 Most bars in Brussels serve beer, but few offer an extraordinary selection. So today, we share our five best beer bars in Brussels for tasting Belgian beer.
Belgium is known for beer (and chocolate, waffles, and frites, but I'm just going to focus on the beer for now). I started writing about Belgian beer because I felt the variety, although wonderful, makes it inaccessible. If you know nothing about Belgian beer, then you will have no idea what to buy or why. Gaining confidence requires tasting a wide variety – a chicken and egg problem.
Earlier in the series, I taste tested the monthly beer box from Belgian Beer Discovery, a simple way to discover a different brewery each month. They've also just released their own guide to tasting beer, a welcome addition for learning about the different beer styles.
However, the oldest, most traditional way to discover beer is to visit a pub or a bar. Fortunately, many of the best bars in Brussels feature beer. But, like the beer itself, if you don't know where to go, finding a good Brussels beer bar is daunting. Today I will share my five favourite spots in Brussels for enjoying a Belgian beer.
Moeder Lambic Fontainas
The best bar in Brussels, to discover beer, is Moeder Lambic Fontainas. Located near the Bourse, it offers 40 beers on tap and a rotating list of 'guest' beer from around Belgium and the world. There is plenty of seating inside and out, making it a good place to meet up with a friend or two. The staff is well versed in the options and they are happy to make suggestions based on your preferences.
I like sampling the beer on tap, as it is unusual to find so many options for draught beer in a bar. Ask for a recommendation, if you are not looking for something particular. Food is limited but good quality and includes tartines, quiches, excellent cheese boards, and charcuterie.
Moeder Lambic Fontainas
8 Place Fontainas
1000 Bruxelles
Moeder Lambic's original location is a small one-room bar in Saint-Gilles. It is a cozy spot with a great selection of beer (of course). If you are in the area, it is also worth visiting (if you can find space).
Moeder Lambic Original
Rue de Savoie 68
1060 Saint-Gilles
Bier Circus
My 'local' beer bar, Bier Circus, comes a very close second to Moeder Lambic. With 200 types of beer available, there is something for everyone. The staff is also very helpful and happy to offer suggestions.  Where it really shines though is in the food. Simple, but homemade and tasty, each meal features the use of beer. It is a great way to explore beer in a different way.
The owner carefully curates Bier Circus' beer catalogue. I am particularly happy they carry a nice selection of beer from my favourite brewery, De Dochter van de Korenaar. Bier Circus has a cozy tasting corner as well, although I recommend getting there early.
A final note: Bier Circus is very close to the Cirque Royal concert hall, so if there is an event on the bar may be busy before and after the show.
Bier Circus
57 Rue de l'Enseignement
1000 Bruxelles
La Porte Noire
A recent discovery, La Porte Noire occupies a red brick cellar, down the hill from Sablon. This Brussels' beer bar's entrance is quite imposing, as it is literally a black door behind an iron grate. The bar isn't visible until you descend the stairs and enter the cellar.
La Porte Noire features a dozen or so beer on tap and 100+ different bottles of beer. They also offer one of the better whisky selections in the city (an extra bonus for me!) The room contains simple benches and tables and sometimes features live music. The staff is very well versed in the beer, however, it is often quite busy and noisy, making conversations with the bartender difficult.
I love the atmosphere of this dark cellar. The beer selection on tap is always interesting and I've discovered quite a few new beer from their taps. I would recommend visiting La Porte Noire if you want a livelier atmosphere and are willing to try what's on tap.
La Porte Noire
67 Rue des Alexiens
1000 Bruxelles
La Porteuse d'Eau
Located between the Metro, Porte de Hal, and the Parvis in Saint-Gilles, the La Porteuse d'Eau surprised me, but it turns out to be one of the best Brussels bars. Built in a faux Art Nouveau style, it features over 70 beer varieties and offers a hearty selection of classic Belgian dishes. It is a great place to unwind after exploring the Saint-Gilles market.
I know the Art Nouveau décor is imitation, but I loved the details and the spiral staircase. It is a beautiful spot to enjoy a beer and a bite to eat. The big windows and high ceilings make it feel open and inviting. If the upstairs is open, you can hide up there all afternoon.
La Porteuse d'Eau
48 Avenue Jean Volders
1060 Saint-Gilles
Au Daringman
This one is a bit special. Daringman is what many refer to as a "Brown Cafe." As far as I can tell, a 'brown' cafe is a simple, neighbourhood, working-class bar. Certainly, at Daringman, just up from Place St. Catherine, there is no pretension. It is a simple, straightforward good bar in Brussels. They have a good selection of Belgian beer and the staff is willing to help you make a choice. It is a busy spot, but definitely a worthwhile experience.
I like the local vibe. It is not a typical tourist trap, as it looks a bit rough. However, it has a friendly atmosphere, with people meeting to chat about the day's events. It's a great spot to enjoy a beer and check out the local life.
Au Daringman
37 Rue de Flandre
1000 Bruxelles
Of course, there are plenty more beer bars in Brussels. A few I still want to visit include: Le Corbeau, Cafe Bizon, Goupil Le Fol, and Poechenellekelder. I'm certain more will come along after writing this article. Each one of these bars will help you discover Belgian beer in a relaxed way. Choose your style, and dive in. It is the best (and tastiest) way to learn!
I didn't find these beer bars on my own. Rarely do people in Brussels find great places without a recommendation from someone else, myself included. Most of these bars I discovered through our friend Gilbert. Over the years, he has shared his discoveries with me and I want to acknowledge and thank him for doing so.
Do you have a favourite place to discover beer in Brussels or elsewhere in Belgium? Please share your recommendations in the comments below, so others and I can discover them for ourselves.
Recommended Belgian Beer Books:


Good Beer Guide Belgium
This is a great overview of Belgian beer, bars, breweries, history, events, and more. It is probably the most up-to-date and comprehensive book around.
All Belgian Beers (English and French Edition)
A handy reference for tasting notes and for the basics about hundreds of beer.

The Foodie Guide to Brussels: Local Tips for Restaurants, Shops, Hotels, and ActivitiesLearn all our favourite spots to eat and drink in Brussels!
Be sure to check out our Guide to Belgian Beer and Breweries in Belgium.
Need a place to stay in Belgium? Book hotels at the best available rates below:


Read more from this series...
Top 5 Belgian Beer Bars in Brussels: Belgium in a Glass