THIS POST MAY CONTAIN COMPENSATED LINKS. FIND MORE INFO IN MY
DISCLAIMER
.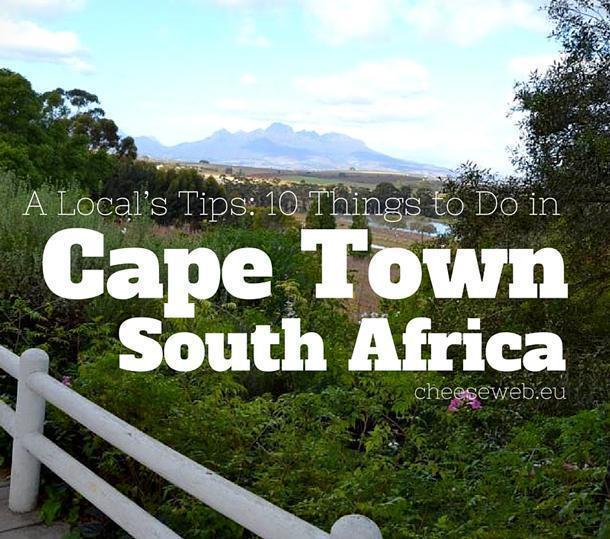 South African expat in Brussels, Maxine, shares her top 10 things to do in Cape Town, from penguins and cheetahs to tea and wine. We can't wait to visit for ourselves!
HIM and I were married in South Africa in November 2013 and were fortunate enough to be able to celebrate with friends from around the world who had travelled there to be with us. This also meant we had the opportunity to showcase just a smidgen of the beauty our country has to offer – especially in and around the Cape Town area.
I have lived in Europe for seven years and have done some extensive European city visits, but I will confess my heart is (and always will be) in Cape Town – one of the most beautiful, dynamic and activity friendly cities in the world!
These are my top 10 tourist "must see" activities in Cape Town:
1. Get Personal with Penguins
Check out the Penguins at Boulders Beach near Simon's Town. Although you are not able to access the beach directly to 'get close,' there are wooden walkways allowing people to walk amongst the dunes and still get 'up close and personal' without invading the penguins' habitat. (Entrance fee of R40.)
2. Scale Table Mountain
Take the revolving Cable Car up Table Mountain or if you're brave or fit enough – you could walk/hike up one of the routes, enjoy a refreshment at the café at the top, then take the cable car back down again. I do however, stress walking/hiking should be done on a clearly marked path and essentials should be kept on your person at all times (i.e. jacket, water, etc) as the weather tends to change quickly around the mountain. (R205 return for the cable car.)
3. Get Back to Nature at Kirstenbosch Botanical Gardens
Visit the Kirstenbosch Botanical Gardens – and if you are lucky enough to be in the area on a Sunday in summer, you can also buy tickets for live open-air concerts (just bring your picnic and a blanket)! Plus, there is now an exciting Centenary Tree Canopy Walkway called "The Boomslang" (meaning tree snake) around the garden, providing an amazing viewpoint to enjoy nature. (R45 entrance fee while prices for Sunday sunset concerts are generally higher.)
4. Set Sail to Robben Island
Make sure you save at least half a day to enjoy a boat trip to Robben Island, which includes a 3.5hr tour of the island's prison, where Nelson Mandela spent part of his 27 years of incarceration. (Ferry tickets cost R250 and include the island and prison.)
5. Enjoy Family Fun on the V&A Waterfront
For a whole range of activities that appeal to the ENTIRE family – from shopping to restaurants, activities and tours (boat or helicopter trips; aquarium, buskers, concerts, etc), I would definitely recommend visiting the V&A Waterfront for a day. (Open daily from 9am to 9pm.) Although souvenirs and trinkets in some of the mall shops can be a bit pricey (in SA terms), I would recommend heading next door to the Red Shed Craft Workshop where the most amazing handmade items can be found! Plus, the area offers loads of activities for children – including my all time favourite – Scratch Patch (where you get to scrounge around in a pit full of semi-precious stones and take home as many as can fit into your pre-purchased container!).
6. See the Sights by Bus
If you are stretched for time and can't make it into all the actual attractions/activities, I am a firm believer in any city's Sightseeing Hop On Hop Off bus tour – of which Cape Town offers 2 different routes. The starting point of either tour is at the 2 Oceans Aquarium, another fantastic activity at the V&A Waterfront. (Bus costs R170 for a 1-day ticket or R270 for a 2-day ticket, with discounts offered if you pre-purchase your ticket online.)
7. Take Time for Tea at the Belmond Mount Nelson Hotel
The 'pink' Belmond Mount Nelson Hotel and its magnificent gardens is an institution in colonial style buildings. But the Afternoon High Tea is a treat – a wide array of teas with a stupendous buffet table of offerings (cakes, sandwiches, savouries… you name it!) – All accompanied by the music of pianist… (R235)
8. View Cape Town from the Rhodes Memorial
Don't forget to include a visit to Rhodes Memorial, built for the SA (although English born) politician Cecil John Rhodes, which offers a magnificent viewpoint to see Cape Town plus a wonderful little tea garden!
9. Meet a Cheetah at Cheetah Outreach
Cheetahs are arguably the fastest animal on the planet and amazing to watch. If you want to get up close, please visit the Cheetah Outreach in Somerset West, which offers an educational and community-based programme to raise awareness while campaigning for their survival. (R10 entrance, plus R220 for a cub visit or R110 for an adult Cheetah visit.)
10. Explore the South African Wine Routes
Finally, with the wine routes (Paarl, Franschhoek, Stellenbosch, etc) in such close proximity to the city, the opportunity for a day-trip into the countryside, to sip and savour wine becomes easily done! We do however recommend designating a driver for the day, as drinking and driving in SA is a BIG no-no! On our recent trip, we made use of a tour guide/driver, Clive, who helped us plan a tailor-made wine route itinerary (including the visit to the cheetah outreach, Brandy/Chocolate tour and tasting along with many other highlights) – so we highly recommend him!
How to get to Cape Town from Belgium:
Although there are no direct flights between Belgium and South Africa, there are numerous different airline options, including KLM via Amsterdam, British Airways via London, or Lufthansa via Frankfurt (offering the shortest transit times at less than 17 hours). While airlines like Emirates via Dubai, and Turkish Airlines via Istanbul, are usually cheaper, they do normally require more than 20 hours of travelling.
Things to Know Before You Visit Cape Town:
The currency in South Africa is ZAR (South African Rand) and currently (August 2014) the exchange rate is 1€ = R14 (14ZAR).
In European summers, South Africa and Belgium have the same time zone, while there is a 1-hour difference in winter.
Electricity is 220/230 volts or 15amps. Plugs generally have a 15 A version, with a larger line and two neutral pins (i.e. three round pins that go into the socket) – but adapters are generally easy to find for the 2-point plugs Europeans normally travel with.
You are not able to use your ING bank card in SA to withdraw funds. I strongly suggest contacting your bank at least one week in advance and ordering some currency. Alternatively, you can easily change Euro to Rand, either at the airport or most major malls in SA (at a Currency Exchange desk attached to bank).
Visa, Mastercard, and American Express (somewhat) are widely accepted.
We'd like to thank Maxine for sharing her fantastic insider tips for Cape Town! (Now we want to go even more!) Have you been to South Africa? Share your top tips in the comments below.