THIS POST MAY CONTAIN COMPENSATED LINKS. FIND MORE INFO IN MY
DISCLAIMER
.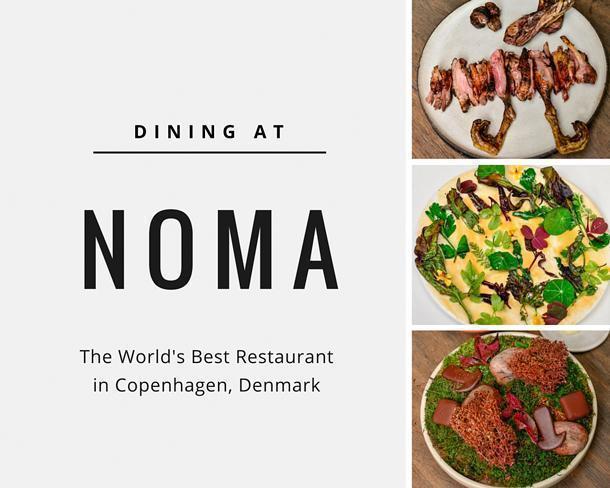 Our correspondent, Adi, shares her once-in-a-lifetime meal at 'the best restaurant in the world,' Noma, in Copenhagen, Denmark. Yes, we're jealous!

I want to mention, right from the start, my visit to Noma was not sponsored by anyone. I am just a simple traveller, with a long-time wish of eating at the best restaurant in the world. Eating at Noma, in Copenhagen, Denmark, was on my travel wish list, since I first heard of René Redzepi and his interpretation of Nordic cuisine, bringing nature closer the table.
How to Reserve a table at Noma
The process of getting a reservation, at Noma, is pretty straightforward but requires a bit of patience.  The Reservations page has instructions on how to book a table online, as well as a private dining experience.  The reservation is made three months in advance on a specific day, decided by Noma.
From my experience, to increase your chances of getting a table reservation, when the day comes, go to the reservations page as early as possible. You will see a countdown to when the bookings begin. When the countdown ends, you are then assigned a number in line, and you must wait again to have your turn.
When your turn comes, you are allowed 10 minutes to complete the reservation. I did it in much less than 10 minutes and, as soon as I was finished, I was immediately kicked out of the reservations page. I nearly froze in fear thinking I didn't get the reservation, after waiting for 2 hours to get to this point. But, 5 minutes later, I had an email confirming my reservation.
You will be asked to reconfirm your reservation, two weeks before dining at Noma. Not showing up means getting charged for the entire price of the menu. You can, however, cancel up to 5 days before your reservation date.
Dining at Noma
Noma is located in an old warehouse, on the waterfront, in the Christianshavn neighbourhood of central Copenhagen.
Our reservations were for lunch, and the excitement was a little much for me so, my husband and I made it there about an hour early.
The first thing I noticed was just how inconspicuous it is, with an arrangement of native Nordic plants and volcanic rocks around the restaurant.  Being that we were there a little early, we decided to walk around the building where Noma resides.  As we were doing this, we were hit with the smell of something being smoked or grilled, and the adventure had begun.
We saw numerous chefs running in and out of a makeshift building and plumes of smoke flowing out as they opened and closed doors.  Just what were they making in there?  What did we have in store for lunch?
It's clear from the moment you enter Noma; you are in a whole different category of restaurant. The entire team of chefs greets you at the door smiling, wishing you a good time, while in their company. And trust me, a good time is ensured.
As soon as you are seated at your table, you can tell they want to do everything in their power to make you feel comfortable and at home. It was bizarre to me. While I knew I was inside a 2-star Michelin restaurant, I felt so comfortable and familiar; like I was having dinner with good friends or with family. The sensation is almost indescribable. I had imagined a sort of stiffness that often comes with the prestige of the Michelin stars and was instead met by the warm feeling of a place where everybody knows your name.
The Danes are famous for the concept of hygge (pronounced "hooga"), which essentially means creating a warm atmosphere and enjoying the good things in life with good people.  For me, Noma seemed to deliver just that.  I was in the company of my dear husband, enjoying a sensational meal, surrounded by smiles and kindness.
Experiencing the Noma Menu
Noma's menu is fixed which I love; I did not have to deal with the eternal struggle of what to choose.
You begin with a choice of water, juice, or champagne. My recommendation is to choose the juice. It's homemade, and the flavour will impress you. It's just simple apple juice and herbs, but it has a flavour like I've never tasted before.  Of course, there is nothing wrong with starting with champagne, but I didn't want to try a French product, in a restaurant famed for the exquisite Nordic cuisine. I wanted to keep it Noma pure.
Midway through the menu, the wine and juice pairings begin and I, again, recommend pairing the food with the Noma juices. The wines are foreign, and to be honest, living in Germany; I can probably buy them on my own. But the juices are a taste trip on their own, with flavours such as apple and pine, turnip and green strawberries, apple and herbs, cabbage, rose tea, carrot and gooseberries, and sorrel.
The big question is – does the Noma menu deserve the hype? Yes, it does! This is not just food; it is art experienced on multiple dimensions. It's delicious, filling, and beautifully presented.  The earth to the table concept is present in all 18 dishes, with food coming from beaches, forests, the sea, and local farms. Each one is unique and unforgettable. Everything was amazing. But what truly stood out for me were the fermented plum and wild beach roses, in which every bite tasted different as well as the sea urchin and hazelnuts. I will never forget the taste of the sea and its creaminess. The mahogany clam, the sliced squid, and the pumpkin with beechnuts, caviar and roses were also big hits on my pallet.  The desserts were unique, with flavours that have no comparison in my dining experience. The chocolate was better and more interesting than everything else I've ever tasted.
Our full menu at Noma:
Inside the Noma Kitchen
After our meal, we kindly asked if it was possible to have a tour of the kitchen and one of the chefs was more than happy to assist us.  I was impressed by the openness they have toward the guests, and the willingness to share their knowledge.
He showed us the kitchens, the smokehouse behind the restaurant, and even the area where the entire staff hangs out. This is where we saw the main man himself, René Redzepi.  I admit I got soft in the legs, in the presence of such culinary genius, but he was as casual as can be. It's funny how we imagine famous people have much more prominent personalities, only to discover most are people just like you and me.
Eating at Noma is not cheap. Our meal, paired with the juice menu, set us back $800. [Noma's menu costs 1700DDK per person, plus 700DDK for juice pairings, or 1100DDK for wines.] It was something we had saved money for and will likely not happen again for a while. However, it's the perfect gift for an exceptional occasion or a long-time wish.
I want to thank the staff, for the outstanding treatment we received in the 2 hours spent with them, and to Chef René Redzepi for sharing his knowledge of food with the world. It is truly a gift.
After being closed in Copenhagen for several years to pursue pop-ups in South America and Australia, Noma has re-opened in Copenhagen. Visit their website for more details and reservations.