THIS POST MAY CONTAIN COMPENSATED LINKS. FIND MORE INFO IN MY
DISCLAIMER
.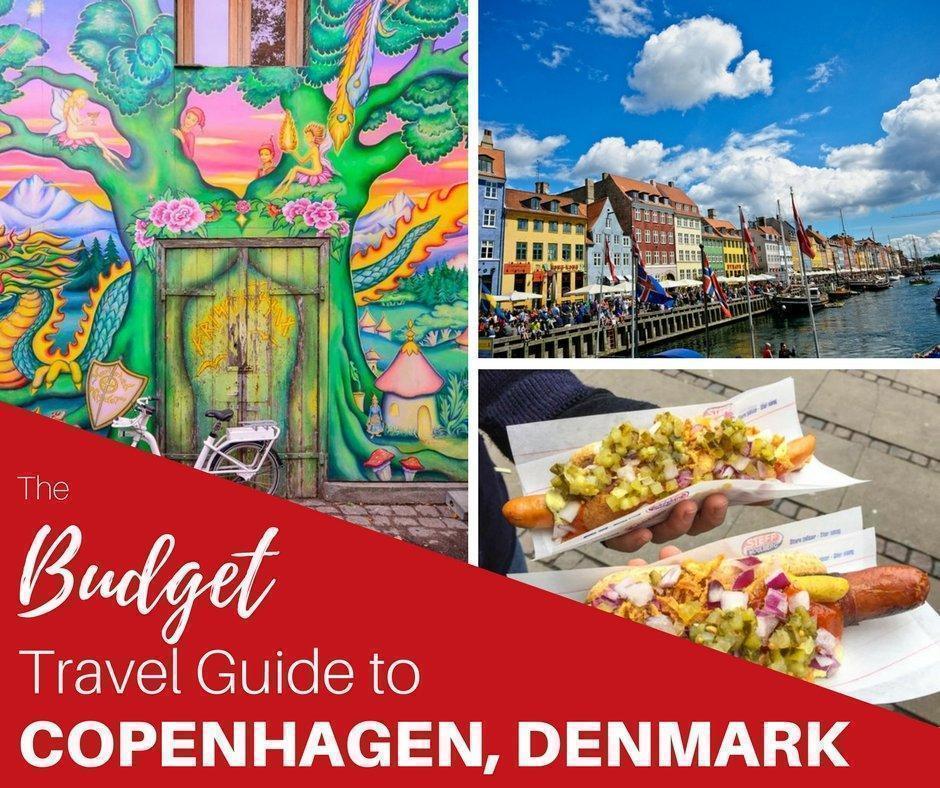 Adi shares her top tips on how to visit Copenhagen Denmark on a budget, including what to do in Copenhagen, budget hotels in Copenhagen, and cheap eats, in the Scandinavian city.
Scandinavia has a reputation for being expensive and, of course, it can be, but we discovered plenty of things to do in Copenhagen, Denmark on a budget.
Top Tips for Copenhagen on a Budget
Before you set off to see Copenhagen on your own, you should sign up for the free 2.5-hour walking tour of the city. The free Copenhagen tour is led by a passionate local who shares the fascinating history of this vibrant city.
If you plan to visit a number of attractions around the city, be sure to purchase your Copenhagen City Card in advance. It includes more than 70 attractions as well as a canal cruise and discounts on restaurants. Best of all, you have unlimited use of the city's public transportation system.
Best Things to do in Copenhagen on a Budget
1. Explore Nyhavn Harbor
The colorful Nyhavn harbor is located in the heart of Copenhagen and is picture perfect. It is lined with little restaurants and cafes and, if you travel in the off-season, they offer excellent deals and combos on their menus. Here you can also take a boat tour of the harbor, recommended even in less than great weather. Outside the peak season, there are few tourists around, so walking up and down the harbor is a pleasure. Price of admission – FREE.
2. Discover the National Museum of Denmark
Also located in the heart of Copenhagen, the National Museum of Denmark is the country's largest museum of cultural history. Its permanent exhibitions, the Danish Prehistory, the Danish Middle Ages and Renaissance, Stories of Denmark, the Royal Collection of Coins and Medals, Classical and Eastern Antiquities, Ethnographic Collections, and the Children's Museum, will keep you busy for hours. Price of admission – FREE.
3. Wander through the Botanical Garden
First established in 1600, and then moved twice, before it was ultimately given its current location in 1870, the Botanical Garden covers an area of 10 hectares and contains 13.000 species of plants. Among them are Danish plants, perennial and annual plants, rock gardens with plants from mountainous areas in Central and Southern Europe, and Conifer Hill, planted with coniferous trees. One of the newest inclusions is a rhododendron garden. During fall, the garden will not be blooming much, but I really enjoyed the walk in the mountainous area, where colorful shrubs and plants bring the place to life. Price of admission – FREE.
4. Take a stroll in Tivoli Gardens
Tivoli Gardens is very pretty in October. Decorated for Halloween, it brings in a lot of people but, due to the moody weather, it's nowhere near the as crowded as summer. It felt like the majority of people there were locals. The tickets can be expensive but, luckily for us, there is a cheap ticket option (allowing you to skip the line) offering the opportunity to just walk around inside. Since we did not travel with kids, we chose this option, which is great for solo travelers, and couples who want to visit the park without going on rides. Price of admission (no rides) – 99DKK (13EUR or $15USD) Alternatively, you can book a 1-day unlimited rides ticket online before you visit.
5. Set Sail at the Viking Ship Museum
The Viking Ship Museum is in Roskilde, so getting here requires leaving Copenhagen by train or car. We took the train for 98DKK/person one way (round trip cost us about $60 which is much cheaper than renting a car). The train ride is 25 minutes, is very comfortable, and offers free wifi. Alternatively, you can book the In the Footsteps of Vikings Day-Trip which takes you to the Viking Ship and Lejre Museums and Roskilde Cathedral by mini-bus.
This museum is the Danish National Museum for ships, seafaring, and boatbuilding in the prehistoric and medieval period, and it houses the Skuldelev ships. These were deliberately sunk, in the year 1070, to protect Roskilde from an enemy attack, and were later excavated in 1962. The museum was built especially for these ships, plus 9 more discovered later, including the longest warship ever discovered, at 36m long. Price of admission – 130DKK (17EUR or $21). Cheaper after Oct 18th.
6. Find Peace in Roskilde Cathedral
Roskilde Cathedral was the highlight for me, while in Roskilde.  A UNESCO World Heritage Site, it has been the burial place of Danish monarchs since the 15th century.  The cathedral itself has been continuously built upon and, today, it has reached huge proportions. It's a must-see if you decide to make the trip to Roskilde. Price of admission – 60DKK (8EUR or $9).
7. Say Hello to the Little Mermaid
The bronze statue of the Little Mermaid, by Edvard Eriksen, is displayed on a rock, by the waterside, at the Langelinie promenade, in Copenhagen. Traveling in the off-season means she is alone. There are no tourists hanging at her neck or long lines to see her. It also means bracing some insane winds coming from the Baltic Sea, but it's worth it. Price of admission – FREE.
8. Chill Out in Freetown Christiania
Freetown Christiania was a weird place to me. It's the most hippie part of town and it's a self-governing society, where every individual is free to express himself while still being responsible for the community.  There are 3 rules in Christiania: have fun, don't run, no photos. If you can respect these rules, you are more than welcome to walk around. The "Green Zone" is interesting, with vendors, with covered faces, sitting in makeshift booths, draped in military-style camouflage netting, to protect their identities, while selling marijuana and hashish.  It looked a bit intimidating but we were assured we had nothing to worry about. Price of admission – FREE. To learn more about Christiania and Copenhagen's hippie past, book the Alternative Copenhagen walking tour. It's 2.5 hours and visits two different neighbourhoods for under 20EUR per person.
9. Visit the Amber Museum
The Amber Museum is a cute little museum, right in Nyhavn Harbor. The bottom floor is an amber boutique while the next 2 floors are the museum.  It contains a series of objects and artifacts, as well as a pretty impressive collection of entombed insects from prehistoric times. Price of admission – FREE.
10. Admire the view from the Danish Parliament
There are many towers in Copenhagen offering a bird's eye view of the city for a price. The tower of the Danish Parliament building, however, is free of charge. Price of admission – FREE.
Find more great ideas for things to do in Copenhagen here:
Cheap Eats in Copenhagen
While there are plenty of affordable things to do, in Copenhagen, the same applies to food. Here are the top budget restaurants in Copenhagen we found.
1. Restaurant Klubben
We tried Restaurant Klubben because it was walking distance from our apartment and it served traditional Danish dishes, at reasonable prices. The ambience is nice, the service is fast, and the portions are mammoth-sized. Seriously, go there hungry. We tried the pork and beef platter and both were gorgeous. Price for 2, including water was $60.
2. Torvehallerne
Torvehallerne was recommended, by the staff at Noma, and was, by far, the best place to hang out and enjoy great cheap food. It's an indoor/outdoor market, famed for the best fresh fish. If you are renting an apartment, in Copenhagen, and are able to cook, this is the place to go for the ingredients. What I loved is the majority of the vendors also make food right there, so you can enjoy different fresh bites. I recommend trying the Smørrebrød here. It's a Danish open sandwich, with many toppings to choose from.
3. Hija de Sanchez Taqueria
Another place to eat, recommended by Noma, was Hija de Sanchez. Run by a Chicago native and former Noma chef, it's located outside Torvehallerne. They sell the best tacos I've ever had in Europe. They use corn tortillas and plenty of cilantro, unheard of until now, in my quest for the best European tacos. They serve tongue tacos (a favorite), spicy salsa and avocado tacos, and the best of all, tacos with a soft fried egg, crunchy pork belly, and lots of cilantro. Heaven! A 3 taco combo will cost you 100DKK (13EUR or $14).
4. Hot Dogs
Last, but not least, you cannot visit Copenhagen without tasting the famous Danish hotdogs. It was our first and last meal, in Copenhagen, and we managed to squeeze a few in the middle too. They are so filling, inexpensive, and delicious. I could have lived on hot dogs alone. Get all the toppings on your dog (fried onion, fresh onion, relish, ketchup, mustard, and remoulade sauce) relax and enjoy. Prices vary, 29DKK-49DKK (3Eur/$4-6EUR/$7).
Bonus Money-Saving Tips for Copenhagen
Take Public Transportation: Don't rent a car, unless you really want to. There are 1 day/3 day and longer passes for public transportation covering the entire city of Copenhagen, in the zones 1-4. The ticket machines have the option for English. Public transportation is very reliable with buses coming every 8 minutes.
Use Cards: You can pay with a credit card everywhere, including the little street food stands, so there's no need to carry lots of cash or incur bank machine fees.
Free Wifi: While on the bus and train, you get free wifi. It's the same for most places in Copenhagen. As soon as you enter a café, restaurant or public place you can ask for the wifi password.
Ask for help: Everybody speaks English so do not be intimidated to ask questions or directions.
Travel off-season: If you are like me, and want to avoid the tourists, travel during the shoulder season. You will have some rain and cold weather but it's so nice to not bump into people everywhere you go.
Rent an apartment: Hotels are ridiculously expensive, in Copenhagen, but we booked with Airbnb for a fraction of the cost. [If you haven't used Airbnb before, use this link to get a discount on your first booking] Martha's apartment is perfect for a solo traveller or a couple. It's very clean, comfy, with great communication, and has easy access to restaurants, and to the center of Copenhagen. You also have access to the rooftop, which, if you are lucky, will give you a superb view of the sunrise.
Read about more great things to do in Copenhagen and elsewhere in Denmark.
Looking for more cheap hotels in Copenhagen? Book hotels at the best available rates below: