THIS POST MAY CONTAIN COMPENSATED LINKS. FIND MORE INFO IN MY
DISCLAIMER
.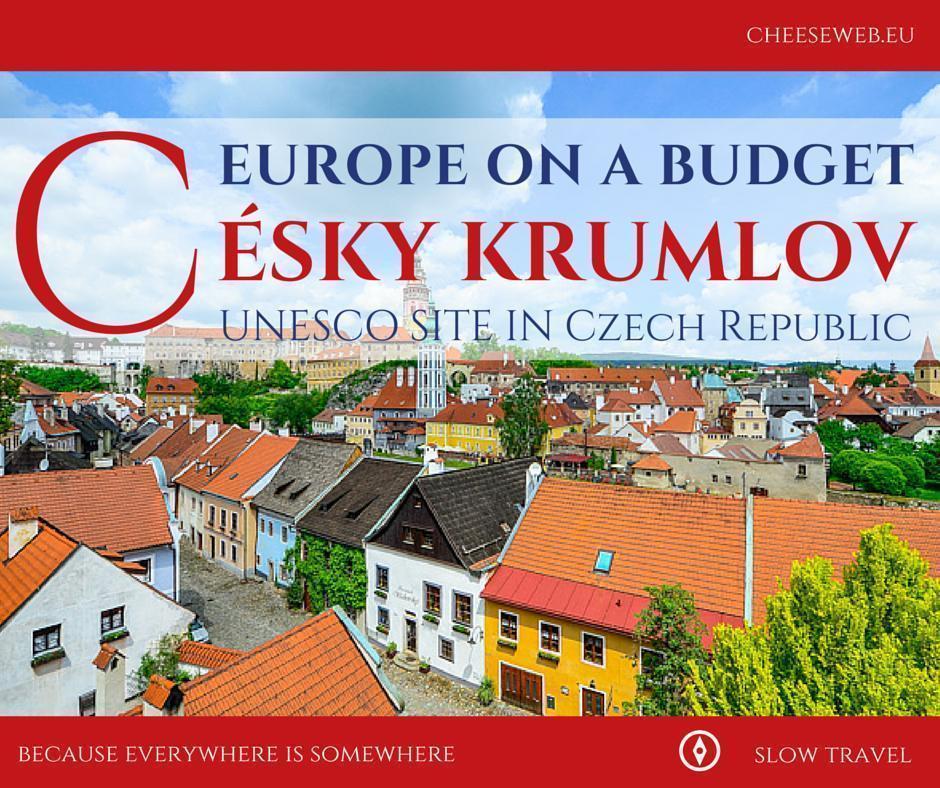 Our contributor, Adi, shares a budget and family-friendly destination in Czech Republic – the beautiful, UNESCO listed, Césky Krumlov.

We spend our money on what we love most, travel. But when it comes to travel there is never enough money, so I try to find beautiful and fascinating destinations on a budget.
I had never heard of Césky Krumlov until recently, while searching online, I found one of those "50 places you must visit before you die" lists. Césky Krumlov was listed, and it looked gorgeous, so we gave it a shot.
While researching, I found Césky Krumlov dates back to the late 13th century and it's situated in the South Bohemia region of the Czech Republic. It has been a UNESCO world heritage site since 1992.
Where to Stay on a Budget in Césky Krumlov
As a family of four, lodging is never cheap in Europe. However, I was pleasantly surprised at the multitude of pensions in Césky Krumlov, with more than affordable prices for family-sized rooms.  We chose Pension Baroko because it was situated in the heart of the historic centre, they had a reasonable price, and it looked stunning.
Upon arrival, I was not disappointed with my choice. This little pension, dating back to the year 1360, has only six rooms that exude charm and character. All rooms are furnished with heavy Baroque style, mahogany furniture.  The owner, Helena, could not be nicer and more helpful. Our stay at Pension Baroko was very pleasant and I highly recommend it.
Where to Eat on a Budget in Césky Krumlov
Eating out in Césky Krumlov is compatible with small budgets and the menu is very meaty. The mammoth size meat dishes will satisfy the most voracious appetites without breaking the bank. Our family of four averaged around 55 euros for a meal, which included starters, mains, drinks, and, sometimes, deserts.  Our favourite restaurants were Krčma V Šatlavské and Catacombs.
Krčma V Šatlavské, translates to "Tavern in the dungeons", and has capitalized on its location in the Gothic dungeons of the old town prison to offer an experience as close to an authentic medieval feast as you'll ever find without actually traveling back in time.
Clad in peasant garb, the waiters haul out heavy jugs of mead and huge cuts of meat grilled over the roaring open fire, while you sit at heavy wooden benches and contemplate the five centuries of stories you'd hear if only the brooding stone walls could talk.
Catacombs restaurant can be hard to spot, situated under a Chinese restaurant, in the centre of the town. You open the heavy door and go down a narrow stone stairway, which opens to an area that looks like the Middle Ages: large heavy tables and chairs, animal fur on the walls, and huge plates of meat being taken to tables.
Here I loved the starters (which, to my surprise, were on the house) and tried fried Camembert cheese – delicious. One piece of advice, make reservations. The restaurants are small and fill quickly. Krčma V Šatlavské restaurant has a constant line of people outside the door, waiting to get in.  It's very creepy to be honest. They sit right at the door looking in like a hungry pack of zombies. You do not want to be one of them, so reserve ahead.
For a cheap, tasty treat on the go, try the trdelník (also known as kürtőskalács), made from rolled dough wrapped around a stick, then grilled and topped with a sugar and walnut mix. The shop is just outside Pension Baroko, on the main road.
Where to Shop in Césky Krumlov
When it comes to shopping, again, most things are inexpensive. Bohemian crystal, crafted to perfection, is a fraction of the cost of the Waterford crystal in Ireland. Beautiful pottery shops riddle the small alleyways. My favorite shop of all, in Césky Krumlov, Botanicus, sells soaps, essential oils, candles, even hand-made art, all made from plants.
When to Visit Césky Krumlov
The best time to travel is either May or September. This way you avoid the crowds and have decent weather.
If you are like us, always looking for a travel bargain, I strongly recommend Césky Krumlov. It will not only give you the opportunity to discover a beautiful little town but it will be easy on your wallet.