THIS POST MAY CONTAIN COMPENSATED LINKS. FIND MORE INFO IN MY
DISCLAIMER
.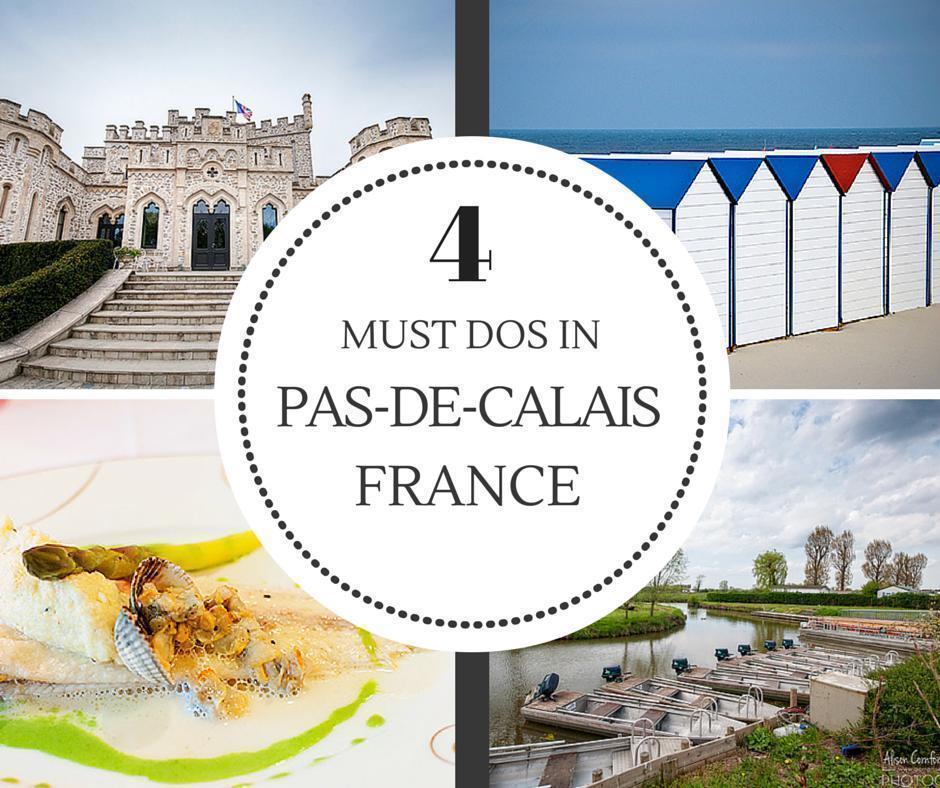 From sparkling coastlines to biodiverse marshes, Pas-de-Calais in Northern France has plenty to offer for a unique holiday. We share 4 must dos in the region.
When we think of visiting France, most of us think of the big cities like Paris or Lyon, or the glamorous wine regions of Bordeaux or the Rhone Valley. Northern France is what we typically drive through to head south, but these regions shouldn't be overlooked.
Belgium's closest neighbour, Pas-de-Calais, has been home to some of our favourite, and most unexpected French adventures. We recently spent a few more days in the region in our motorhome and discovered even more reasons to make Pas-de-Calais the destination for your next weekend getaway.
1. Walk on the Opal Coast
We discovered the Opal Coast a few years ago when we were invited to discover Nausicaa, Boulogne-Sur-Mer's UNESCO recognised aquarium. While Nausicaa is worth the trip to the Opal Coast in itself, it would be a pity to miss visiting the dramatic ocean, which is home to many of the aquarium's residents.
The white sandy coast is unexpected, pristine and dramatic. We've had the pleasure of visiting in the off-season and had the beaches almost entirely to ourselves. True, it's too cold for swimming in May, without a wetsuit at least, but there are plenty of lovely walking trails and things to see along the route.
If you're in a motorhome, like us, there are also plenty of places to park overnight along the way, from affordable Aires (costing 5-9 euro on average) to full-service campgrounds. (We spent two nights at the peaceful Camping Les Cytises, outside Boulogne-Sur-Mer, in Isques.)
If you prefer non-mobile accommodations, we highly recommend the Hotel Chateau Clery where we had a lovely stay two years ago. Read our full review of the hotel and its gastronomic restaurant Berthier.
2. Explore the Marshes of Clairmarais
While Pas-de-Calais is known for its coastline, there is another body of water that is equally fascinating. Near St. Omer, in the commune of Clairmarais, the marshes of the Romelaere Nature Reserve are a hub of biodiversity so important they are protected by UNESCO.
But this doesn't mean the marshes are untouched by humans. In fact, it was humans who created this environment and they must continue to manage it to preserve it. The marshes (or marais) are reclaimed agricultural lands, like the polders of Flanders and the Netherlands, and agriculture is still the main industry here. All manner of fruit and vegetables grow in Clairmarais but the area is most known for its cauliflower.
The best way (and in some areas, the only way) to explore the marshes is by boat, and the experts in all things boat-related are the folks at Isnor. Isnor rents boats of all sizes, from large group barges down to traditional wooden 'barques.' They also have a restaurant specialising in roast pork, a lovely terrace, bicycle rentals, and accommodations.
This large, family-run business is headed by Herve Leleu, who was once a kinesiologist. He vowed that at the age of 50 he would switch careers. So, when the day came, he purchased Isnor, which he continues to expand and grow. M. Leleu took us on a tour of the marais in a traditional boat (a barque) which was used to transport people, livestock, and produce.
It's impressive how many people still live in the marshes. Some homes are still only accessible by boat. The joke is that every town built on water is called 'The Venice of X' but this area reminded me more of the backwaters of Kerala than Venice – with people still living a rural, agricultural lifestyle on the water.
This is truly a unique corner of France and a lifestyle you won't see just anywhere. Check out our short video to experience the marsh.
3. Tour an English Castle in France
You may wonder what an English-style castle is doing in Northern France, but the Chateau de Hardelot stands as a symbol of friendship between the two countries. The current chateau was built in the middle of the 19th century on the foundations of the former 13th-century French fortress. The modern castle had a succession of British owners, with ties to France, and the castle interior reflects these two nationalities.
Chateau Hardelot has undergone extensive renovations, most recently on the interior. The furnishings have been donated by a number of museums from around France, to give a feeling of what the castle may have looked like in its heydey. The study, in particular, has a wonderful, almost Harry Potter-like atmosphere, and you can imagine secret rooms hidden away behind the bookcases.
The Chateau isn't particularly large and a guided visit takes only an hour. Currently, the vast gardens are being restored and were closed during our visit. This summer an amphitheatre is also under construction on the grounds, which will host plays in both English and French.
The Chateau is surrounded by a series of walking trails and, during our visit, locals were taking advantage of the nice weather to walk their dogs, ride horses, cycle, and enjoy the lovely natural space.
4. Enjoy the 'Fruits of the Sea'
No trip to the Opal Coast (any coast as far as I'm concerned) is complete without enjoying the wonderful seafood on offer. In French, seafood is 'Fruits de Mer' and the Opal Coast is a great place to feast on all the fruits of the sea.
During our latest visit to Pas-de-Calais, we enjoyed two different seafood experiences. The first was a casual affair in the small coastal town of Audresselles, at a traditional seafood restaurant, called La Marie Galante. The restaurant is famous for its seafood platters and those we saw coming from the kitchen were a sight to behold indeed.
Being on a limited (and in this case sponsored) budget, we opted for the three-course menu. We toasted Pas-de-Calais with a glass of champagne each and continued with red wine. Andrew opted for a goat cheese salad to start while I had a plate of cold, juicy prawns with a horseradish mayonnaise. They were excellent. I was that tacky person, who orders steak in a seafood restaurant, but as the other option (which Andrew chose) was cod cooked in beer; I didn't want to chance my beer allergy kicking in. The cod looked (and tasted) great and was served with a waffle. My steak was good too and served with fries and a small salad. We finished up with tiramisu and moelleux.
The following evening we went more upscale, and dined at the one-star Michelin restaurant, La Matelot, in Boulogne-Sur-Mer. The restaurant is right across the street from Nausicaa, making it a perfect choice for a fantastic meal after a day of sight-seeing in Boulogne.
The gastronomic restaurant is headed by Tony Lestienne who focuses on local produce, meaning plenty of treats from the sea. You can order a la carte (meat-lovers are also well catered to here) or choose from one of several menus. We had the six-course 'Tastes of the Sea' menu, for 64€ pp. It was fantastic and a great value for the amount, quality, and presentation of the food. The service was warm and helpful, and the setting is modern yet comfortable.
Our courses went as follows:
Pas-de-Calais is a small region of France that continues to surprise us with its variety, diversity, and quality. Our latest visit simply confirmed how much this region has to offer. If you live in Belgium, Pas-de-Calais is within easy reach for a day or weekend trip. If you live farther away, there is enough to see and do in Pas-de-Calais to fill a week-long (or more!) visit. For more on this unique and surprising region of France, visit our Pas-de-Calais travel information page.
We'd like to thank Pas-de-Calais tourism for their support while we visited the region, and the continued support of Atout France Belgium, while we slow travel through France. While some of our meals, accommodations and activities are sponsored, we write about only those we truly recommend to our readers. As always, all opinions are entirely our own.
Latest posts by Alison Cornford-Matheson
(see all)