THIS POST MAY CONTAIN COMPENSATED LINKS. FIND MORE INFO IN MY
DISCLAIMER
.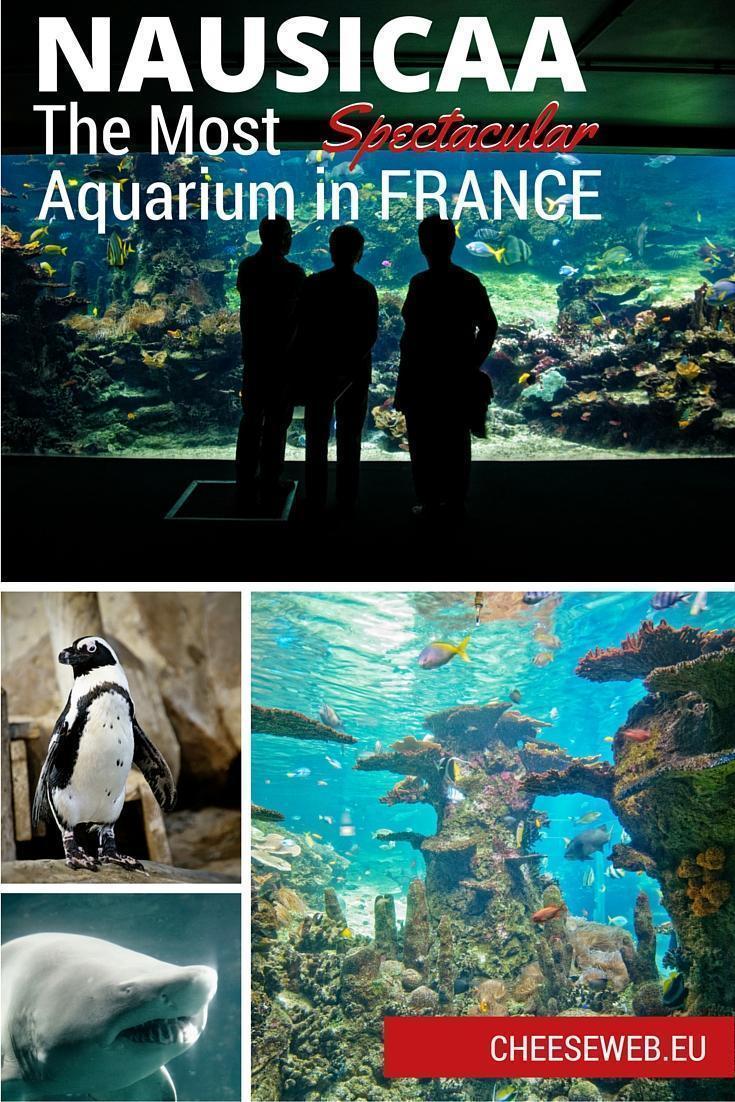 In a rather unassuming concrete building, on the edge of Boulogne-sur-Mer, France, is an aquatic wonderland, waiting to be discovered, just a short drive from Belgium. Its name is NAUSICAA and it is an aquarium like no other.
We love spontaneous travel and discovering new places. So when I opened my email one morning and found an invitation to visit NAUSICAA, I was definitely intrigued. As I started researching Boulogne-sur-Mer and France's Opal Coast, I was even more excited. How could such an important facility exist, in such an interesting region, so close to Belgium, without us knowing about it? It was time to rectify our lapse and what better time to visit France's best aquarium than World Oceans Day?
NAUSICAA is more than just a place to admire sea creatures. Named for the heroine who cared for the shipwrecked Ulysses, in Homer's Odyssey, NAUSICAA is an educational and research facility, breeding centre, and rescue hospital for sick and injured animals.
In 1999, only 8 years after opening, NAUSICAA was named the first Centre of Excellence by UNESCO's Intergovernmental Oceanographic Commission (or IOC). It is Northern France's most popular cultural attraction and one of the top tourist sites in the country – and it's only two hours from Brussels by car.
Arriving at NAUSICAA, we were first greeted by a large (Free!) parking area, overlooking Boulogne's long sandy beach. The city is France's largest fishing port; a fitting location for an education centre about what lies beneath our waters.
Despite the early hour, NAUSICAA was gearing up for the World Oceans Day celebrations and a festive bustle was already beginning. We were soon joined by several other journalists and bloggers from London (only 2 hours by train), Paris and, fellow Belgian blogess, Emma (If you read French check out the wonderful Au Gout d'Emma).
We were greeted by NAUSICAA's brilliant communications team and were split into French and English groups. Our Anglophone group was lead by the lovely Claire, whose passion for her work at NAUSICAA was evident from the moment she began our tour.
NAUSICAA's size is deceptive. From the outside, it doesn't look like it could hold 35000 animals, including 1000 different species of fish, Andrew and I couldn't stop remarking on how big the aquarium seemed once we were inside.
Our first stop was the Coral Lagoon. This enormous tank is accessed both from above and below. From above, this area of NAUSICAA transported us to the tropics. We visited giant tortoises, walked through mangroves and watched the feeding frenzy as the fish in the Coral Lagoon got their lunch.
From there, we descended the stairs to view the lagoon from below. This giant tank contains 200 different species, 30 of which are regularly breeding. The colours were mesmerizing and we easily could have passed hours watching this tropical dreamscape.
Behind us, lurked some of NAUSICAA's most fascinating residents, the sharks. The utmost care is taken by NAUSICAA's staff, to ensure the health and happiness of these magnificent creatures.
Not all of NAUSICAA's residents spend all of their time in the water. Some, like the penguins, are only part-time ocean dwellers. To visit these personable birds, we took a virtual ride on board Jean-Michel Cousteau's ship and 'sailed' to the tip of Africa. We could have watched the colony of 20 African penguins for hours.
Next, it was off to visit some of our favourite marine mammals, the California sea lions. Andrew and I have been fortunate to see sea lions in the wild, on the California coast. NAUSICAA's six sea lions were bred in captivity and have an incredible indoor/outdoor pool to play in. What was most interesting for us, having watched sea lions perform at many different aquariums, is that NAUSICAA's sea lions don't perform 'tricks.' Rather, their training is done for health reasons: they learn to have their teeth brushed, be x-rayed, have various parts of their body examined, etc. After the show, we were able to interview one of NAUSICAA's sea lion trainers about her job. (Video to come soon!)
One of the best things about NAUSICAA is the level of interactivity. Throughout the aquarium are opportunities to become part of the exhibits. The best example of this is at the large touch tank. Here you can get up close and personal with rays and various other fish. In fact, one ray in the tank really seemed to enjoy having his 'wings' rubbed by visitors and kept swimming by for more.
But it wouldn't be CheeseWeb if we didn't discuss food. (That's right; we can even find foodie topics on an aquarium visit.)
One of the goals of World Oceans Day and of NAUSICAA is to educate the public about sustainability, as it applies to our oceans. Of course, we in Brussels love our seafood. But how conscious are we of what species we are eating, how they are fished, and what impact that has on our global oceans?
NAUSICAA is trying to raise awareness of sustainable seafood through its Mr. Goodfish campaign. Instead of telling people what not to eat, Mr. Goodfish aims to provide us with sustainable seafood alternatives. The program has rolled out across France and will hopefully soon extend to other European countries.
The chefs at NAUSICAA's restaurant had prepared some sustainable seafood dishes to sample for World Oceans Day. We tried slipper shells (and invasive species in Northern Europe) and four different kinds of seaweed and were able to vote on the items we liked and didn't like. (We liked them all!)
In fact, we liked everything about NAUSICAA and can't wait to return. We had a full day to enjoy the facility, but we easily could have spent even more time. It makes a great day-trip to enjoy with the whole family, but there was plenty to entertain us childless folk too.
If you've not yet discovered NAUSICAA for yourself, it's well worth the trip from Belgium. We'll be spending more time in the Boulogne area so stay tuned for more from France's lovely Opal Coast.
Our thanks to the wonderful staff at NAUSICAA for inviting us to spend World Ocean's Day at their wonderful facility and to Tourisme Boulonnais for facilitating our stay in the region.
For even more coastal destinations in France, check out our Wanderlist on AFAR:
Latest posts by Alison Cornford-Matheson
(see all)