THIS POST MAY CONTAIN COMPENSATED LINKS. FIND MORE INFO IN MY
DISCLAIMER
.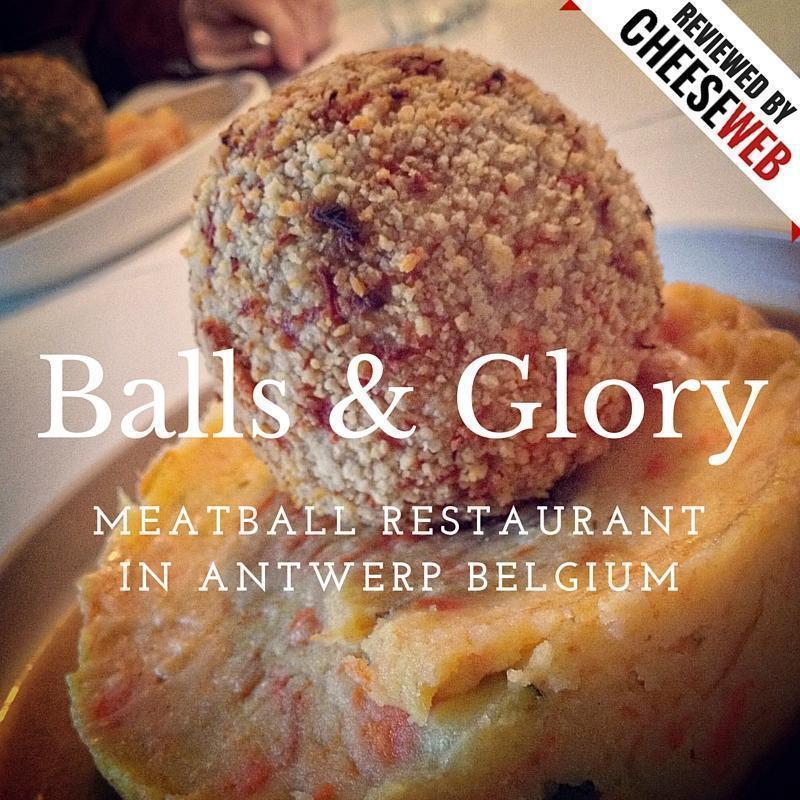 Traditional Belgian meatballs are taken to a whole new, tasty level at Balls & Glory meatball restaurant in Antwerp.
Meatballs may make you think of Italian food, (or at least North American-style Italian food) but they are one of the classic dishes of Belgium.
Called boulettes in French and bollekes in Flemish, Belgian meatballs can be served with tomato, cream, or even Belgian beer sauce. If you think meatballs sound boring or dated, you need to try Balls & Glory meatball restaurant.
We stumbled upon Balls & Glory on a recent visit to the MAS Museum in Antwerp. (Balls & Glory also has a Ghent location.) I remembered reading reviews on several food blogs and we decided it would make a good lunch treat.
Balls & Glory doesn't serve traditional plates of golf ball sized meatballs covered in sauce. Instead, they hand roll giant balls of pork mince, straight from their own farm. The sauce is on the inside, giving you a portable snack with a flavour explosion in the middle.
There are about a dozen flavours on offer to take away, but we opted to eat in the cosy, communal dining area. We especially loved the up-cycled pallet furniture and industrial looking décor.
Lunch at Balls & Glory offers a choice of one of two 'balls of the day.' Neither Andrew, nor I could resist the mushroom and truffle ball, while our dining companion opted for the blue cheese and pine nut ball.
The balls are served with your choice of stoemp (mashed potato and vegetables) or a salad. (Spinach and couscous were on offer when we visited.) The dish also arrives with two sauces and free water with lemon is on every table (a refreshing sight in Belgium!)
Now I'm not a lover of the traditional meatball and I'm not a huge pork fan, but our 'glory balls' were out of this world. The crispy coating adds a nice texture to the hot, gooey meatball. The stoemp was flavourful and filling on a cold winter day and the sauces added just the right amount of moisture and flavour to the dish.
I couldn't dream of eating more, but the homemade ice-cream bars, seduced Andrew and I must admit, they looked mighty tempting.
The Antwerp Balls & Glory is attached to a lovely little gourmet grocery. We spotted a number of Italian delicacies, a nice variety of wines, and even some artisanal gins.
Balls and Glory is exactly what we want to see more of in the foodie world: passionate people, using farm-fresh, local ingredients, doing one thing with care and attention.
We're obviously not alone in our opinion. Balls & Glory also sells their 'glory balls' in select foodie shops in East and West Flanders and even a number of Delhaize shops, including one in Antwerp. If you live in Ghent or Antwerp, you can even get meatballs delivered to your door.
Alas, we will have to wait until our next train trip to Flanders, but we live in hope, Balls & Glory will come to Brussels too. (Or at least the food truck will stop by!)
Balls & Glory
Felixpakhuis De Markt
Godefriduskaai 30
2000 Antwerp
&
Jakobijnenstraat 6
9000 Ghent
Latest posts by Alison Cornford-Matheson
(see all)