THIS POST MAY CONTAIN COMPENSATED LINKS. FIND MORE INFO IN MY
DISCLAIMER
.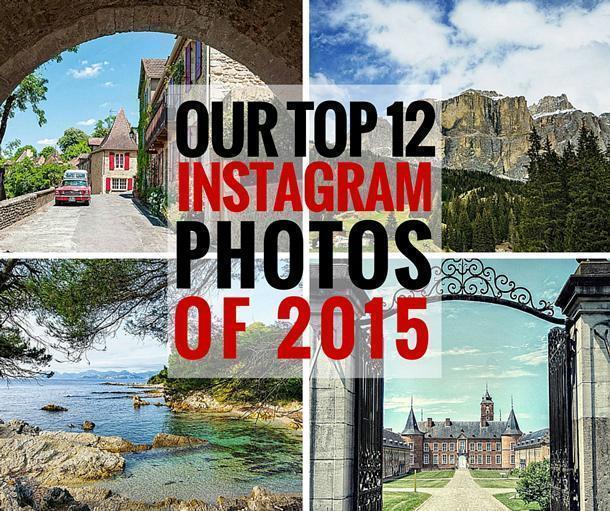 Today we share our 12 favourite photos on Instagram from 2015, including a few fan favourites, from our slow travels in Europe, by motorhome, car, and airplane.
We share loads of photos here on CheeseWeb.eu, but often, some of our favourite photos just don't fit with any one particular post. We also love the community we're slowly building on Instagram and we enjoy connecting with fellow travellers, foodies, motorhomers, and even animal lovers. That's why we wanted to share a few of our favourite Instagram photos from the past year – some taken 'live' and others uploaded after the fact.
If you're on Instagram, give us a follow and be sure to comment and let us know you're a reader so we'll be sure to follow you back!
1. The Dolomites, South Tyrol, Italy
Our first photo is the one that garnered the most likes on Instagram; 90 thus far. It was actually taken this time last year as we were driving through the UNESCO listed Dolomite mountain range in South Tyrol. This is still one of our favourite trips of all time.
2. The South Tyrolean Wine Road, Italy
With 85 likes on Instagram, South Tyrol also holds down our number 2 slot for popularity, although this time it's for something other than its stunning mountains. With an entire road dedicated to wine, is it any wonder why we love this region so much?
3. Limeuil, Dordogne, France
While we were making our way around France in our motorhome, Amelia, we visited a number of France's Plus Beaux Villages. Tiny, hilltop Limeuil in the Dordogne region was one of them. Can you see why?
4. Chefchaouene, Morocco
We didn't always find Morocco easy but we can't say it wasn't photogenic, particularly the 'Blue City' of Chefchaouene. I also particularly enjoyed photographing the Medina of Tetouan.
5. The Alhambra of Grenada, Spain
I've visited Grenada, Spain's Alhambra twice now and taken hundreds of photos of the stunning architecture. Although I've posted a number of them on Instagram, this one is my favourite.
6. Ile Sainte Marguerite, Cannes, France
Another fan favourite on Instagram comes from the beautiful French Riviera, although this location is more secluded than you would think. The Ile Sainte Marguerite is off the coast of Cannes, but feels a world away.
7. Alden Biesen Castle, Limburg, Belgium
Of course I have to include a photo from our beloved Belgium. It was tough to choose but this photo of Alden Biesen Castle, in Limburg, is my favourite. We highly recommend a visit in the spring when the gardens are in bloom.
8. Cacao Market, French Guiana
This year I made my first foray into South America, without leaving France! French Guiana was a revelation I've written extensively about and you'll find plenty of photos from my trip on our Instagram feed. This photo from the market in Cacao is my favourite.
9. Cărturești Carusel, Bucharest, Romania
Right before we left Brussels on our motorhome adventure, I also had the opportunity to cross another country off my bucket list. Although I was only able to visit the capital city of Bucharest, I loved this quirky country and can't wait to return. How can you not love a city with the world's most beautiful bookstore?
8. Mézières Les Cléry, Centre, France
We managed to find some amazing places to park Amelia for the night. Not the least of which was facing this stunning poppy-filled field in Mézières Les Cléry, France. Another bonus – we were parked at a vineyard and were able to have a morning wine tasting. For more of our Motorhome Adventure, join us on CamperCats.com.
11. Puerto Cudillero, Asturias, Spain
Although finding free overnight parking for motorhomes is more complicated in Spain than France, we did manage to find a number of beautiful overnight stops along the northern Spanish coast. We stayed a few nights at the port of Cudillero. Even though the parking lot itself wasn't beautiful, we sure couldn't complain about the view.
12. Our 'Camper' Cats
As we all know cats rule the internet (especially in Belgium!) we couldn't choose our favourite Instagram posts without including our favourite fur-babies. They have done extremely well adapting to life on the road.
So remember to join us on Instagram, just give us a follow for more Slow Travel goodness from Europe and beyond.
Latest posts by Alison Cornford-Matheson
(see all)