THIS POST MAY CONTAIN COMPENSATED LINKS. FIND MORE INFO IN MY
DISCLAIMER
.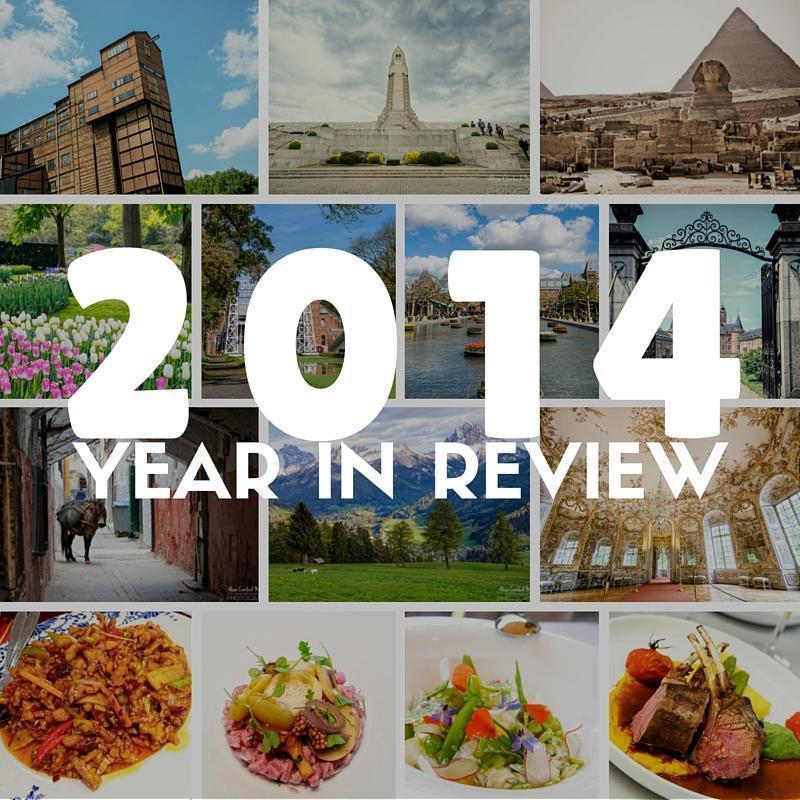 Every year, I take great joy in sitting down to write our year in review post. It reminds how lucky we are and how much we've accomplished. It's not always pretty, but it's always an adventure!
With our constant focus on what's happening next, we often forget to look back over what we achieved. This was even more important this year, as we've been so focused on the 'new phase of CheeseWeb' both as a website and business and as our life.
Before we launch ourselves into the unknown of 2015, we're inviting you to join us on a journey though our past year.
At a high level, we both visited 1 new continent (Africa), 2 new countries (Morocco for both of us, Egypt for me and Cyprus for Andrew), 3 new regions (South Tyrol, Brittany, Nord-Pas-de-Calais, and I also discovered Munich) and I added 10 new UNESCO Sites to my list.
January
In the first days of the year, we boarded a plane to Malaga, Spain, where we would spend a night before catching a train to Granada. There we were to meet our dear friends Warren and Betsy and start the year off with an adventure… It was doomed from the start.
Andrew was called to the UK for work, at the last minute. He missed out entirely on our planned relaxation time in Granada. Despite this, he surprised me with a celebratory post for CheeseWeb's 10th Anniversary, which resulted in tears of thankfulness for all of the wonderful people in my life. I was completely and utterly surprised.
Warren, Betsy, and I met Andrew again a few days later at the ferry terminal to Morocco. It was our first foray into Africa. Our plan was to spend the month working on several projects and testing our ability to work from the road – a sort of trial run for our Motorhome Adventure.
Things didn't go according to plan from the start. The internet was impossible, making work difficult at the best of times. The city we chose was difficult. We had unforeseen expenses cutting into our budgets for travel.
We don't regret the trip but we aren't itching to return any time soon. That said, we learned a lot. We accomplished a lot. We laughed a lot. (We also drank a lot… but it did help us come up with some great business ideas.)
We returned to Andalusia, earlier than originally planned, and that was just fine with all of us. I still haven't written about the experience. Honestly, I still haven't processed it all. However, I did share a few of my favourite photos from Morocco and Andalusia.
One of the things I did accomplish in Morocco was a great deal of writing. In fact, I wrote one of the posts I am most proud of, called A Love Letter to Belgium.
February
We returned to Belgium in early February and I began a partnership that would last the rest of the year. I was asked by Radisson Blu Hotels to be one of their ambassadors. I travelled to Paris to meet my fellow #BluBloggers, learn about the program, and visit three of the Radisson hotels in the city.
Closer to home, we were also invited to discover the Timmerman's Brewery, just outside of Brussels.
A few of my favourite articles of the month include my Bicycle Tour of Brussels' Secret Gardens and my Foodie Guide to Lille.
March
March began with one of my strangest (and favourite) press trips yet. I was invited to celebrate the UNESCO recognised Carnival in Binche. I have a long overdue post about this coming this month, in time for you to plan your own visit.
The following week I boarded a plane on assignment for AFAR and USTOA. I was going back to Africa. (When it rains, it pours.) This time, I was headed to a country that wasn't high on my wish list at all – Egypt.
I spent three jam-packed days there. I had a total of 7 hours sleep on the entire trip. I loved every minute of it.
Egypt surprised me in so many ways. With my two trips to Africa, I learned a lot about preconceived ideas, expectations, and going with the flow – lessons that would repeat themselves throughout 2014.
As for favourite articles from March, there were quite a few. I shared a fabulous getaway in the Belgian Ardennes, the spectacular Ommegang Festival in Brussels, one of our favourite hotels in Brussels, and a great cheap foodie find in central Brussels.
April
In April, we stayed a lot closer to home, but that's not to say we weren't busy. We visited surprisingly nearby Champagne for the first time, while discovering the fantastic Expat Club in Brussels. A few weekends later, we joined them again to explore the battlefields of Verdun.
We also made a return visit to Keukenhof (10 times and counting!) and got a behind the scenes look at one of my favourite places on earth. We also revisited the Rijksmuseum in Amsterdam and witnessed the beautiful restoration of this stunning building. It was well worth the 10-year wait!
In Belgium, we made another quirky yet wonderful discovery – the Venetian Carnival Festival at the Annevoie Gardens. It was simply magical.
We also wrote about our visit to the brand new Bastogne Museum, a goat cheese farm in Wallonia, and had our most controversial guest post of all time.
May
May started with a bang resulting in our favourite new European destination discovery – South Tyrol, Italy. We jumped in the car and drove 11 hours, to find ourselves nestled between the stunning Dolomite Mountains. Not only did we get to check off a UNESCO site with the mountains themselves, we explored the South Tyrolean Wine Road, met warm and friendly people, ate incredible local food, and discovered Roter Hahn, a farm-stay organisation whose philosophy we love.
We fell hard for South Tyrol and vowed to return (of course we didn't realise at the time how soon that would happen!)
Back in Belgium, I took an Indian cooking class, we learned mixology at The Hotel, attended the first annual Brussels Food Truck Festival, and had a quick trip to Ypres. We also had our first Radisson #BluBlogger stay at the Radisson Blu Royal, in Brussels.
Sleep in May? Not so much.
But wait – there's more. At the end of the month, I was invited to discover Munich, Germany. Once again, my preconceived ideas were completely wrong. I loved this vibrant city both for its traditional Bavarian culture and for its modern design innovation. Oh, and did I mention Munich's food scene. Yeah, that too.
June
No sooner had I unpacked from Munich, then we were jumping on the train and heading to Liege for a weekend. This time it was all about Andrew's discovery of memorial tourism in the area. Of course, there was a bit of time for me to sneak in a UNESCO site too. And amazing food. Always.
The following weekend we were in Flanders to rediscover Maasmechelen Village and the Limburg region. While there, we explored the beautiful Alden Biesen Castle and gardens.
Warren and Betsy hadn't had enough of us in Morocco, so they came to spend a week in Brussels. We made a return trip to Champagne and spent a night on our favourite farm in Belgium.
July
We decided to spend our summer in Belgium, focusing on finally crossing off some of the places on our must-visit list. (We had no idea at the time this would be our last summer before leaving Belgium on our Motorhome Adventure.)
We set ourselves a challenge to eat at a new restaurant every week for the summer months. This resulted in new foodie favourites in Brussels and new restaurant discoveries in Wallonia and Flanders.
We made a day-trip to our favourite zoo in Belgium, Pairi Daiza, to meet the panda bears. Although we thought we were going to visit Tongeren, we had an 'accidental' weekend trip south of the border to an undiscovered corner of Nord-Pas-de-Calais instead, reaffirming our lesson in going with the flow.
We spent time with good friends, rediscovered our city, and spent a lot of time working.
August
We started August with a very late night visit to the UPS air hub in Germany, with the Expat Club. We didn't write about it as I wasn't allowed to take photos inside (boo!) but it was fascinating. If the opportunity comes around again, it's well worth visiting so watch the schedule.
Since we had a relatively quiet and work-filled summer, we decided to take a long weekend break, mid-month, and explore Brittany. We were blessed with gorgeous weather, great seafood, a lovely place to stay, and we discovered a fascinating historic site. Overall, it was exactly what we needed.
Because we spent most of the summer holiday period working, we decided to treat ourselves to some great meals, continuing our summer 'New Restaurant Challenge.' We wined and dined at two-star Michelin, Bon Bon in Brussels and discovered the super-authentic and budget Chinese Restaurant, Le Nid Savoureux. (We've been back three times since!)
We also did some exploration of ethnic grocery stores in Brussels, we have our favourites, but we also compiled a huge database of every shop we could find in Brussels.
At the end of the month, we actually did make it to Limburg again to spend a weekend in Tongeren, discovering a new B&B and the city's sights.
September
September was the month our whole world shifted on its axis. It started out relatively calm. We were both busy working, getting ready to go home for our annual visit to Canada at the end of the month.
We had a great time at the EAT! Brussels festival (um, twice) and discovered the Radisson Blu EU hotel with the #Blubloggers. We also took a Sunday drive to Hasselt to dine at one-star Michelin JER.
Then the bottom fell out. Andrew was laid-off just days before we were set to fly home. On the up side, it gave us more time to spend with our families. It also gave us some time to figure out our next move. That's when we decided to accelerate our travel dream by a year.
October
We arrived back in Brussels in mid-October with a new (greatly reduced) budget, and a new plan – transition our lives and CheeseWeb towards our new goal of slow travelling around Europe.
Because our car belonged to Andrew's company, we had to give it back when we returned. We had one last weekend of automotive freedom, so we decided to visit our last UNESCO sites in Belgium.
Our only night away from home was just outside of Brussels where we discovered B&B Hippo-Droom and the incredible glass-village of Hoeilaart growing the world's best grapes.
These days, on the rare occasions we go out to eat, it's at our favourite cheap-eats in Brussels or we hit up a food-truck.
November
November was a continuation of work, downsizing and selling all of our stuff, and launching our very first ebook.
One of our main challenges before we leave, next spring, is to sort out Andrew's citizenship – an on-going saga. He has been consoling himself with Belgian beer and BBQ.
At the end of the month, I made my last #BluBloggers visit to Cannes, France – a nice way to finish the year indeed.
December
December arrived before we knew it, and with it came a few unexpected surprises we'll be writing about in the coming weeks. First, despite our strict budget, I was able to enjoy a meal at Sea Grill as a wrap up to our #BluBlogger year. While there, I crossed an item off my personal bucket list – seeing one of the last lobster presses in Europe, in action.
Our second surprise was a quick trip back to the year's best discovery – South Tyrol. We were invited to discover the spa and wellness traditions of the region and we had some time to check out a few Christmas Markets too. We can't wait to share these stories with you in the coming weeks.
Speaking of Christmas Markets, we made a snowy day-trip with good friends to Monchau, Germany, which we loved. We also explored the markets here in Brussels and Leuven. We enjoyed plenty of festive spirit(s) and Andrew has had his fill of sausages.
This month, we also launched our new video series, the Motorhome Diaries, where we share our thoughts about next year's big adventure. (We even introduce you to our cats!)
For Christmas, we spent some quiet time off-line, reflecting on 2014, and planning for the coming year. Most of all, we continue to count our blessings – our supportive families, wonderful friends around the world, and the best audience in the world – you guys!
2015
At this point, 2015 is a blank slate. I've already had one invite to a HUGE bucket list item of mine, which, fingers crossed, will happen in early April.
We're trying to keep our motorhome travel plans wide open, but with so many possibilities, it's hard not to start making a destinations list. (We'd love to know where you think we should go!)
We've both chosen a theme for this year and hope they will guide us through 2015. For me, it's balance. I've found that even though I'm doing what I love, often I work so much I forget to slow down, take stock, and enjoy the experience. In 2015, I hope to further embody our slow-travel/slow-living philosophy. Andrew's theme is discovery. After 16 years of working for the same company, he's now free to follow his own passion – once he figures out exactly what that is. For him, 2015 will be about trying new things and being in charge of his own destiny.
Whatever the New Year brings, we're ready to go with the flow and embrace the adventure! We hope you'll join us on the ride.
Latest posts by Alison Cornford-Matheson
(see all)