THIS POST MAY CONTAIN COMPENSATED LINKS. FIND MORE INFO IN MY
DISCLAIMER
.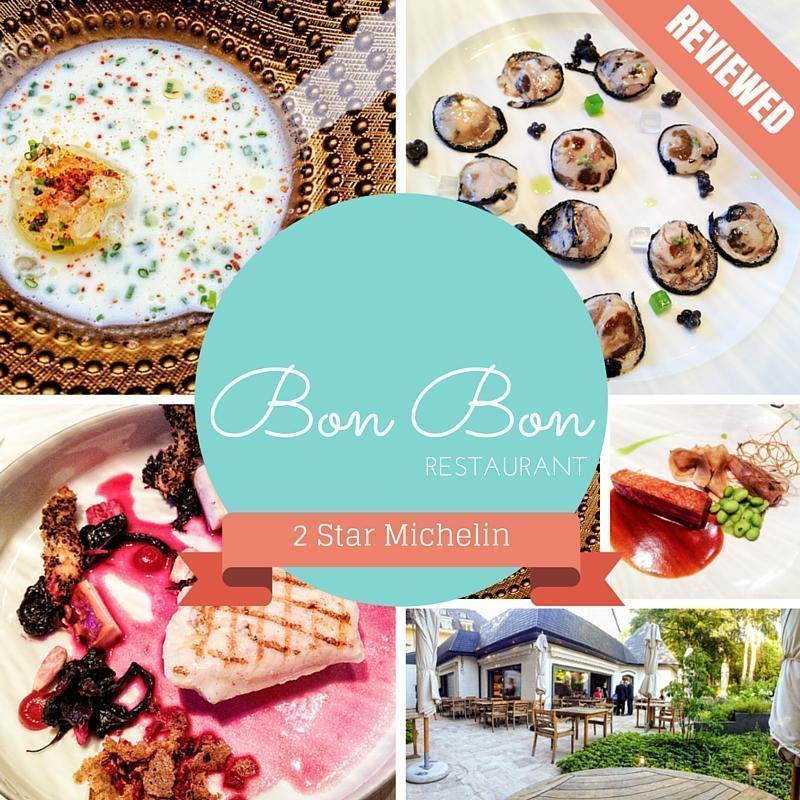 We tested out 2-star-Michelin Bon Bon Restaurant in Brussels, Belgium and share our menu with you.
While Andrew and I eat out regularly, we don't often go out to discover new restaurants in Brussels just the two of us. So, this summer, we set ourselves a 'Wednesday Date Night Challenge.' At the start of the summer, we each picked five restaurants we wanted to try for the first time. One of the five would be our 'splurge' restaurant. We then scheduled them in our calendars (yes we're nerds) alternating his choices and mine.
You'll see many of these new restaurants popping up in our social media feeds and in our weekly newsletters, (we still have a few left to try). The best ones will wind up in our Restaurant Round-up articles here on the site.
So far, one restaurant has stood out, as a true 'gastronomic experience,' and I wanted to share it in a full post, as I've found little detail about their actual menu online. The restaurant was Andrew's 'splurge choice' and has two Michelin stars (although we didn't realise it at the time) – Restaurant Bon Bon, in Woluwe-Saint-Pierre.
First of all, the location is lovely. It's in a large white house in a green and residential part of Woluwe-Saint-Pierre. It was particularly pleasant on the warm summer evening we visited, because we could enjoy our apéro in the garden terrace. We even saw the chef nip out to the little potager to pick herbs for the dishes – a clue to the freshness. (Our menu also noted the restaurant works with 95% bio-organic produce.)
For our meal, we had a choice of ordering a la carte or choosing a five-course "Menu Impro" or seven-course "Menu Passion," both served with or without wines. We opted for the Menu Impro with wines, which was still a splurge (all current prices listed below). In retrospect, I'm glad we didn't do the full seven courses, as the food was endless with just the Menu Impro.
While we were making our choices, little treats started appearing before us. I don't have the fancy names for these as they weren't listed on our menu cards, (you'll see what I mean in a moment). I'm also missing a photo of one dish that was just impossible to photograph.
After we enjoyed our three pre-menu starters, we were escorted to our table inside to begin the 'Menu Impro.'
At this point, I will also say the staff was excellent. They were extremely professional, while still being warm and helpful. We had a nice chat with the sommelier while he served our first wine and, as we waited for our first official course, a server arrived with a little menu card listing the dish. Initially, we thought these were for the servers to remember who was getting what dish, but all was revealed at the end of the meal…
Our first course, won the dish of the night award from both of us, although it was a tough race.
Les Bijoux d'Huitres "Perle Blance" Menthe corse et gelée de vodka-tonic. Jewels of 'White Pearl' oysters with Corsican mint and Vodka-tonic gels. Everything about this dish came together perfectly and we loved the little explosions of vodka-tonic from the gels. I would definitely order this dish a la carte.
Salaison de lieu jaune de L'ile d'Yeu au sel de sapin et choux Fermenté. Salted Pollack from Yeu Island with pine salt and fermented cabbage. This was a light and refreshing dish. I really enjoyed the pine salt and acidity from the cabbage.
Sole de grand fond "Purple Style." Sole 'Purple Style.' I was actually surprised how much I enjoyed this dish as I normally dislike beets and even the slightest hint of them turns me off. Despite the purple colour, the dish was not 'beety' at all and had a nice combination of textures.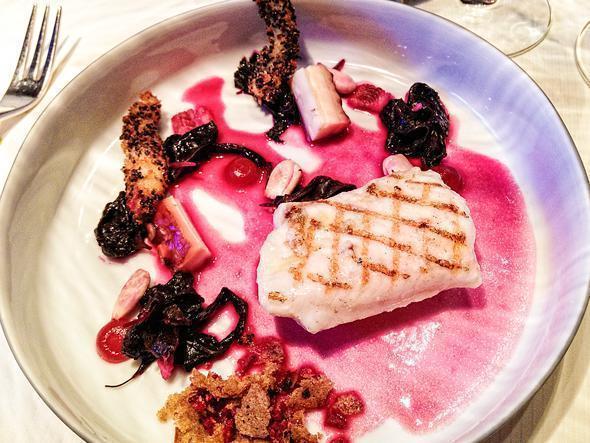 L'Agneau de l'Averyron Cuisiné comme un souvenir du Sénégal. Lamb from Aveyron cooked like a memory of Senegal. The lamb was exquisitely tender and the sauce had a subtle peanut-y flavour. This was a close runner-up for best dish for me.
Le café turc Revisité. Turkish coffee revisited. Crunchy, icy and delicious; a nice palate cleaner after the rich main course.
Glace Turron espagnole fruits secs caramélisée et herbes cristallisées. Spanish Turron (nougat) ice with caramelised dried fruits and crystallised herbs. This was my favourite dessert and sadly, the photo does it no justice – perfectly balanced and lovely.
This is where our menu ended, but the food kept coming. First, there was a dessert cart, because obviously, two desserts simply isn't enough.
I know it's hard to believe, but I couldn't find room for cheese. It would have cost extra and I simply didn't have anywhere to put it. But just look – it's a thing of beauty.
Oh, and coffee… well, that came with more desserts, because you can't have coffee in Belgium without a little something…
As we settled our bill, a server returned with all of our menu-cards bundled together in a little souvenir book of our meal. What a great touch!
Overall, our meal at Restaurant Bon Bon was fantastic. But the big question (with this and really any Michelin-starred restaurant) is was it worth the price. We actually debated this all the way home and still couldn't come up with a great answer.
For your reference, the current prices break down like this:
A la carte starters €28-66
A la carte mains €36-80
Le Menu Marché (3 course lunch only) €80
Le Menu Impro – €145 (with wine €200)
Le Menu Passion – €175 (with wine €255)
For us, it was a once in a lifetime thing, much like our Dinner In the Sky experience. Would I recommend it for a very special occasion (or a regular occasion if you have much bigger wallets than we do)? Absolutely.  We had an incredible meal and don't regret the expense for a wonderful night out in Brussels together.
Have you been to Restaurant Bon Bon or another Michelin-Starred restaurant in Brussels? Tell us about your experience in the comments below. Want more great dining suggestions? Check out our Restaurant Review Page for more restaurants in Belgium.
Restaurant Bon Bon
Avenue de Tervueren 453,
1150 Woluwe-Saint-Pierre, Brussels, Belgium
Latest posts by Alison Cornford-Matheson
(see all)